Are you in need of cheap all on four dental work? Los Algodones , California has dental clinics who provide inexpensive dentistry work while not letting up on the their quality.
Los Algodones, is located in Baja California and is a small Mexican town situated on the extreme northeastern tip of the municipality of Mexicali, approximately 16 km west of Yuma, Arizona. Though this town is small, it dentistry is a big competitor to other Californian dental offices.
It's Dental Departures pleasure to provide you with a few of Los Algodones most popular dental clinics.
With more than 30 dentists in 3 different locations and 30 years of experience, Sani Dental Group is the most complete dental facility in the Southern Californian/Northern Mexican area.
Sani Dental Group's team will help you during your complete dental vacation experience. Offering the best dental work in Mexico is just part of their job. You are not only saving thousands of dollars, you're also traveling, relaxing and creating a brighter future with a new smile when you visit Sani Dental Group.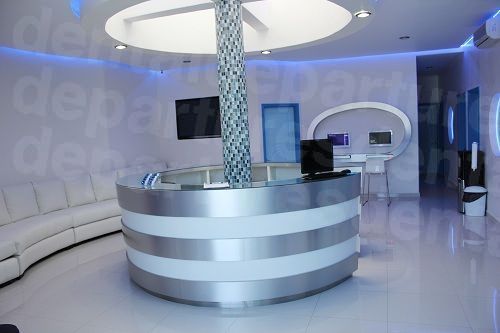 The prices for Sani Dental's all on four procedure is as follows: USD 8,950 | EUR 7,679 | GBP 6,868 | CAD 11,183 | AUD 11,281 | NZD 12,043
CIRO Dental
CIRO Dental's team members each have graduated from highly regarded Universities. They rely on their clinics modern equipment for diagnostics as well as offer complete dental service at an affordable price where you can save up to 70% in comparison with other western country prices.
The prices for CIRO Dental's all on four procedure is as follows: USD 9,000 | EUR 7,721 | GBP 6,907 | CAD 11,245 | AUD 11,344 | NZD 12,110
CIRO guarantees their services; on your first appointment you will receive an examination and digital radiographic study, avoiding about 90% of radiation. This clinic also provides free Wi-Fi and pas well as free international calls.
Simply Dental is situated in Los Algodones B.C, with the sole intent of addressing all dental needs of their patients for guaranteed satisfaction. The new office provides the warm reception that will leave you impressed with the overall experience of the facility.
The prices for Simply Dental's all on four procedure is as follows: USD 8,600 | EUR 7,378 | GBP 6,600 | CAD 10,746 | AUD 10,840 | NZD 11,572
The clinic's staff use of the latest state-of –the-art equipment to enhance delivery of services that range from general examination, fillings to teeth whitening. The team of experts at Simply Dental will not only address specific issues for men and women of all ages, but also respond to general queries for those seeking clarifications.
Castle Dental believes everyone deserves the benefits of an attractive, healthy smile with a level of service driven by their patients' needs rather than their finances.
Consistent with this belief, this practice advocates conservative options and competitive pricing to suit individual budgets. For this reason, Castle Dental continues to offer free examinations.
Along with routine examinations and cleanings, the treatment options Castle Dental's practice has the following treatments available:
Tooth-Colored Fillings
In-Office Teeth Whitening
Zirconia Crowns and Bridges
Porcelain Veneers
Dental Implants
Root Canal Therapy and Extractions
Removable Complete and Partial Dentures
Expect prices for Castle Dental's all on four procedure to be roughly USD 9,000 | EUR 7,721 | GBP 6,907 | CAD 11,245 | AUD 11,344 | NZD 12,110
Each of these clinics offer cheap all on four dental work. Los Algodones' dental clinics are affordable for all, so book today! For more information or any questions please contact our customer services hotline.