Where can you find the best dental crowns? Bangkok is most definitely a good place to start if you're thinking about a dental holiday.
Bangkok, Thailand's capital, is a large city with the busy Chao Phraya River feeding a network of canals. The Wat Pho Temple is one of the most famous sights here, with a colossal lounging Buddha overlooking, on the adjacent shore, the steep steps of the Wat Arun Temple with its Khmer-style spire.
Bangkok is famously known for a variety of different reasons such as its ornate shrines, vibrant street life as well as its cosmetic and dental industries.
Without further hesitation, its Dental Departures pleasure to introduce to you Bangkok's finest dental clinics in regard to crowns.
Bangkok Smile MALO Dental Clinic
Since 2003, Bangkok Smile Dental Group has been providing exceptional dental care services to people from around the world who want two things: receive excellent dental care and enjoy what Thailand has to offer for an amazing vacation holiday.
The group roots back to its humble beginnings with a single clinic opposite the former-British Embassy along the Ploenchit Area which was named Bangkok Smile Dental Clinic by its owner and later on the founder of the Bangkok Smile Dental Group, Dr. Sermsakul a.k.a "Bob" Wongtiraporn.
The price for Bangkok Smile's crown placement is as follows: USD 367 | EUR 315 | GBP 282 | CAD 459 | AUD 465 | NZD 494
Compared to the western price of a crown placement: USD 1,200 | EUR 1,031 | GBP 922 | CAD 1,502 | AUD 1,520 | NZD 1,617
Bangkok International Dental Center (BIDC) - Main Headquarters
Bangkok International Dental Center (BIDC) was established with the aim of forming global alliances with a global management perspective in placing their dental center and dental clinics in Bangkok on the world scene.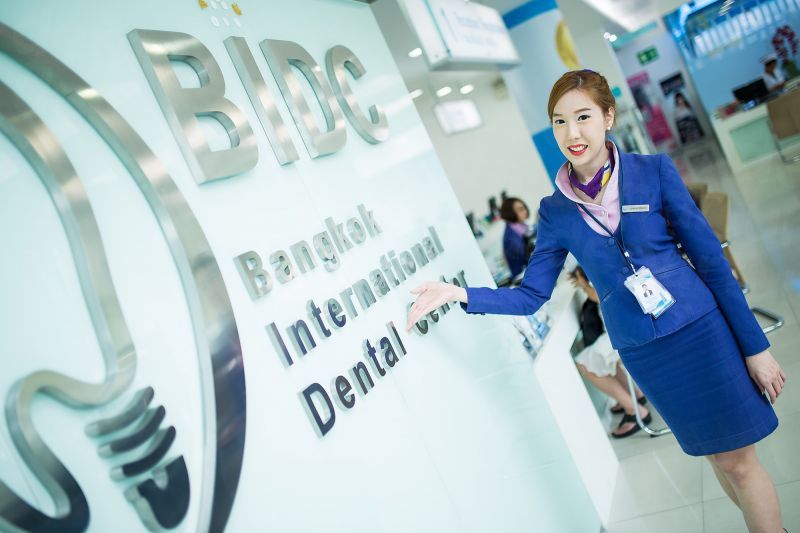 BIDC's vision and mission is to be a leading international dental care provider in Thailand. This dental center treats residents and international visitors seeking dental treatments and dental specialists skills.
The prices for BIDC's crown placement is as follows: USD 291 | EUR 250 | GBP 224 | CAD 364 | AUD 369 | NZD 392
Smile Signature at Siam Square is easily accessible by BTS Skytrain. This dental clinic is within walking distance of BTS National Stadium station as well as BTS Siam Station.
Located at the center of Bangkok's shopping district, Smile Signature at Siam Square's team of English-speaking customer service and dentist services a large percentage of international patients allowing family and friends to shop whilst individuals have their dental treatment done.
The price for Smile Signatures' crown placement is as follows: USD 291 | EUR 250 | GBP 224 | CAD 364 | AUD 369 | NZD 392
Thantakit International Dental Center
Having been in dental care business for 7 decades since World War II in 1945, Thantakit is a third-generation owner and dentist. Its practice is still run in a family business way since by considering each of their patients family members.
The prices for Thantakit's crown placement is as follows: USD 254 | EUR 218 | GBP 195 | CAD 318 | AUD 322 | NZD 342
Which city offers the best dental crowns clinics? Bangkok is the simple answer! Please, if you have any questions or would like to learn more, contact Dental Departures customer service hotline.