Experiencing chronic tooth pain? Want to enjoy an affordable alternative to traditional dentures? You can save a fortune with All-on-6 in Bali and combine a relaxing vacation to the "Island of the Gods."
Replacing an entire arch of teeth can be performed in less than 24 hours thanks to our skilled dentists deploying the latest techniques, materials and equipment. Find, choose a book a quality-checked specialist with Dental Departures and let us put a smile back on your face with top-notch, inexpensive All-on-6 care.
Filled with distinct landscape, unsullied shorelines and offering world-class healthcare, thousands of Australian and New Zealand patients benefit every year from superior clinical care—at a fraction of the price back home. Check out our best price guarantee for unbeatable deals on All-on-6 procedures at one of our quality-assured clinics in Bali, whilst relaxing and recovering in style.
All-on-6s—Explained
All-on-6 is a tooth replacement system that refers to the replacement of the entire set of teeth in either the upper or lower jaw by a bridge, supported by 'six' dental implants .
The implants are placed into the jaw bone at an angle, which provide sufficiently strong support to allow for same-day manufacture and installation of crowns.
Why Is Bali So Appealing for All-on-6?
Aside from a leading tourism sector, Bali provides a groundbreaking dental infrastructure that is second to none, catering to cross-border and international patients, seeking value-friendly, top-quality treatment. Easy access by air, first-rate service and competitive clinical pricing makes this idyllic destination extremely appealing for All-on-6 patients.
Known as "teeth in a day," All-on-6 implants are hassle-free and can be fitted in a matter of hours, saving considerable time and money. Without the need for bone-grafting, time-conscious patients who cannot have traditional implants are likely to be suitable for this specific procedure.
Our quality-assured All-on-6 clinics feature bilingual staff, modern interiors, highly-trained implantologists and the latest equipment, ensuring a relaxing, superior dental experience. We background-check dental qualifications, stringent hygiene, memberships, saving you time and helping to alleviate any concerns you might have about quality of care.
Get your dental health back on track whilst recuperating in style with premium, inexpensive All-on-6 treatment in Bali.
Will I Receive the Same Level of Treatment in Bali?
Adhering to our quality standards, we background-check every clinic, undertaking on-site visits before appearing on our site, ensuring All-on-6 patients receive a first-class experience.
We make finding and booking a suitable All-on-6 dentist a seamless process. Check out extensive specialist listings, view maps, virtual clinic tours and high-res images. Notable clinics include Bali 911 Dental Clinic and the ultra-modern Bali International Dental Center , delivering a range of general and specialist dental care.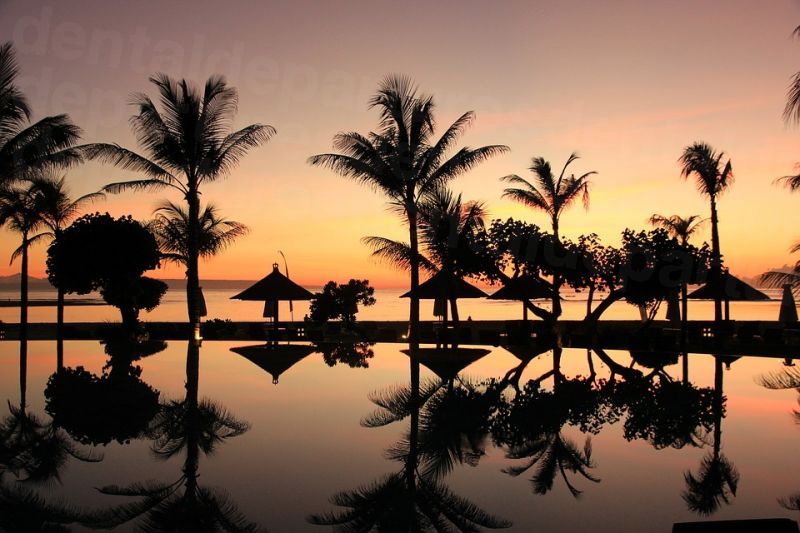 What is the Price of All-on-6 in Bali?
Save up to 70% on All-on 6-price Bali procedures:
· All-on-6 in Australia: 38,000 AUD
· All-on-6 in New Zealand: 39,000 NZ
· All-on-6 in Bali: 11,200 AUD; 16,750 NZ
Why Choose Bali For All-on-6?
Over the years, Bali's healthcare infrastructure has improved significantly due to skilled dental specialists calling Bali home and establishing top-quality clinics all over the island.
Highly-accessible for dental tourism patients, Bali is rich in ancient temples, culture and glorious beaches, making it an ideal place to combine fun in the sun with top-notch, inexpensive All-on-6 treatment.
Considered to be one of the globe's most exotic dental tourism magnets, All-on-6 patients fly to Bali's Denpasar International Airport, with numerous low-cost, local airlines providing affordable fares across Asia and Oceania.
From sapphire-coloured waters, perfect for diving to amazing landscapes and 10,000-plus temples, Bali ticks all the boxes for dental travellers.
Head to Seminyak and Kerobokan for retail therapy, discover Kuta and Legian's nightlife scene or snorkel in Nusa Penida. Outdoor-enthusiasts won't be disappointed with horse- riding, dolphin-watching, elephant safaris and exclusive Eco-tours.
Accommodation in Bali
An abundance of lodging choices await All-on-6 patients in Bali with a number of different wallet-friendly options.
Popular places to stay include Denpasar, Kuta Beach, Seminyak and Nusa Dua and the Colonial-inspired Singaraja. For something quieter, head east or stay near Mount Agung.
How Do I Book All-on-6?
Book, superior, inexpensive All-on-6 treatment at one of our quality-checked clinics in Bali today . View specialist profiles, compare prices and uncover exclusive discounts. Ready to book? See below for ways to contact us or to find out more about All-on-6 in Bali, or any other dental procedure, get in touch via our Customer Care Team.