In Mexico, it's possible to save between 60% and 75% on your dental bills, a fact which sees thousands of Americans and some Canadians head south every day in search of more affordable work, such as new dentures.
For those looking to get the most out of the "vacation" aspect of their dental vacation, it doesn't get much better than Cancun on Mexico's spectacular Yucatán Peninsula next to the Caribbean Sea.
For sun, sea, sand and savings on your new dentures of around $1,000, check out this Dental Departures guide.
Cancun for Dental Tourism
This attractive vacation spot draws in over five million international visitors every year thanks to its miles of golden-sanded beaches, all-inclusive hotel deals, a pleasant year-round climate and host of activities, such as scuba diving and visiting ancient Mayan ruins—for the more adventurous.
With an excellent tourism infrastructure already in place, more and more North Americans and Europeans are flying here not only to soak up the beach life, but also to take advantage of the low-cost medical and dental care available, with everything from tummy tucks and nose jobs to fillings and full mouth restorations being performed by world-class professionals.
Dentures in Cancun
If you have been suffering from lost teeth or gaps in your mouth but cannot afford dental implants, dentures are most definitely the second-best choice.
Other patients who already have dentures may also consider going abroad for treatment to have them replaced, which is advisable every five to eight years.
The process of getting dentures in Cancun is the same as back home, with our verified clinics offering a range of options including:
Complete dentures (conventional or immediate)
Fixed partial dentures
Removable partial dentures
Fixed bridges
Implant-supported dentures
Snap-on dentures
Learn more about the process of getting new dentures made and fitted here.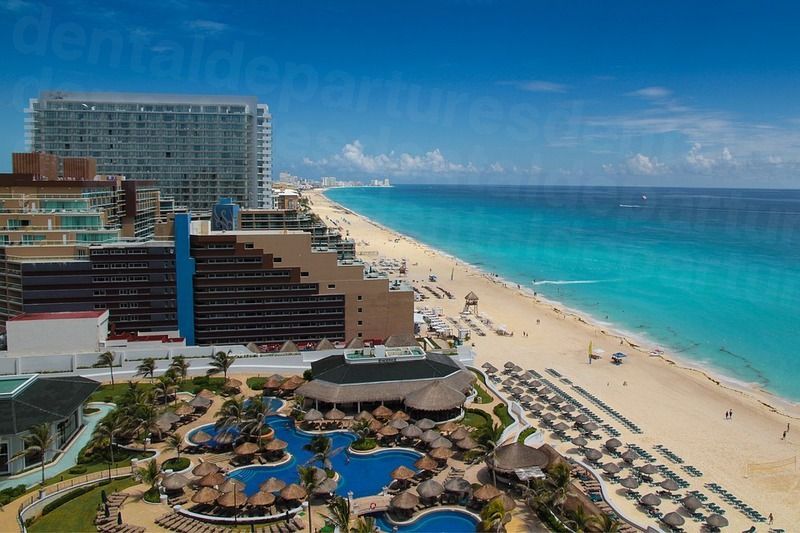 Dental Clinics in Cancun
While savings of at least 60% are not hard to find in Cancun, finding a specialist who can provide quality results takes a little more time.
This is where Dental Departures can help, a leading online hub for dental tourism around the world. We have already background-checked and verified all of the clinics listed on our site, making it easy for you to search for a reputable dentures provider in Cancun.
Dental Departures is an independent body that is not attached to any clinic, so we can offer you unbiased and impartial advice every time, as well as free access to photos, unedited reviews and transparent prices.
Here is a list of highly recommended clinics in Cancun for your dentures:
Prices for Dentures in Mexico
Now we have found some quality clinics that merge price and quality, it's a good idea to understand the pricing for dentures in Cancun (so that you don't get ripped off.)
For example, in Mexico, you can expect to pay around USD $669 (CAN $836; UK £500; Euro €570; Aus $855; NZ $926) for new dentures at one of our partner clinics.
This is compared to the prices in the US which are around $1,826 (CAN $2,344; UK £1,366; Euro €1,622; Aus $2,376; NZ $2,443) for the same treatment.
[Please note that these are estimated prices at the time of writing. See our individual clinic listings for latest prices.]
How Do I Get Started?
Skip to our full list of verified Cancun denture clinics here, compare prices and book your free appointment using our online scheduler - with no upfront costs.
For more information, get in touch with our Customer Care Team via the toll-free number provided, or leave us your details and we'll call you back at a time convenient for you.
Sources:
Number of international tourist arrivals in Cancún, Mexico from 2016 to 2019. Statista. 2021. https://www.statista.com/statistics/805974/number-international-tourists-cancun/
Dental Health and Dentures. Website accessed: 21 January 2021. https://www.webmd.com/oral-health/dental-health-dentures#1
Full Dentures, Partial Dentures, Denture Care—Learn More. Colgate. Website accessed: 21 January 2021. https://www.colgate.com/en-us/oral-health/cosmetic-dentistry/dentures/full-dentures-partial-dentures-denture-care-learn-more
Alderman, Lesley. For Most, Implants Beat Dentures, but at a Price. New York Times. Website accessed: 21 January 2021. https://www.nytimes.com/2010/07/31/health/31patient.html