What's worse than a toothache? The bill from the dentist's office. In a country like the United States, 40% of the population is living without access to dental insurance. That means that every trip to the dentist comes directly out of their pockets, and the price is not cheap. With the rising costs of dental care in other countries, like Australia, New Zealand, the UK and Canada, it is no surprise that every year, more people are packing up their bags and heading abroad in hopes of finding affordable dental treatments. In Kuala Lumpur, quality dental care is finally within your reach. In this article we will discuss why you should go there, the level of quality you will receive, and what customers have to say about their experiences.
Why Kuala Lumpur?
Kuala Lumpur is the capital and the largest city in Malaysia. With a population of about 7 million people, and 15 million more visitors coming in every year, Kuala Lumpur is a hustling bustling city. The city has much to offer its visitors, with the most popular tourist attractions being the Petronas Towers, Bukit Bintang shopping district, Kuala Lumpur tower, museums, fine dining, and much more. But the sights are not the only reason so many people are going to visit the city. Hundreds of people are also arriving in Kuala Lumpur every year to take advantage of the low rates for dental treatments and procedures. In Malaysia, the average price of dental services is about 70% lower than what you would expect to pay in western countries.
Is the quality the same as at home?
When considering any dental procedure, the quality of the work is a top concern. Sure, you can find cheap dental care, but if the quality is poor, the procedure is hardly worth it. But fear not. In Kuala Lumpur, the top dentists maintain the same high standards of care that they do in countries like the US, Australia, New Zealand, and Germany. With lower operating costs, insurance rates, and company overhead, clinics in Malaysia can offer the same services you are used to at home, for just a fraction of the price.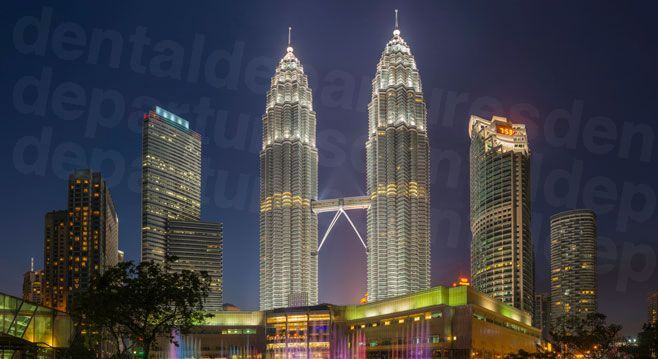 What procedures are available?
Regardless of the procedure you need, Kuala Lumpur dental clinics can cater to your needs. If you are looking for a full mouth reconstruction, fillings, dentures, root canals, crowns, or dental implants, Kuala Lumpur is the place to go. There are no limits to the types of procedures available, and each clinic will be happy to work with you to determine what course of treatment best fits your needs and your budget.
What are customers saying?
Customers have been leaving glowing reviews about the quality of Kuala Lumpur dental work. Let's hear what some of them have to say.
Dave from Michigan, USA says:
"The service was excellent and the quality of care was top notch. My procedure was completely successful and I would be very likely to visit again."
Johana from Munich, Germany says:
"I was thrilled with the results of my procedure. I would have had to pay double the price for the same treatment at home. I will definitely recommend it to a friend."
Eric from the UK says:
"In Kuala Lumpur, quality dental care is both accessible and affordable. I can't believe it took me this long to come out here."
To read more customer reviews, or watch video reviews, check out our website: Kuala Lumpur - Dental Clinics .