Have you ever thought about going to a foreign country for dental treatments? It really is something worth considering. The rise of "dental tourism" in North America and Europe has seen more and more people travelling abroad every year, in hopes of finding affordable high quality dental solutions. Maybe you know somebody who has done it before, or maybe you have even considered do it for yourself. It can be hard to know where to go in another country and which clinics can be trusted. We're here to make your life a little easier. In this article, we will tell you everything you need to know about how you can save thousands of dollars on dental work in Thailand, and which Pattaya dental clinic you need to visit!
Where is Pattaya?
Pattaya is a small city located on the coast of Thailand. It is a beach community offering its guests a wide variety of 5-star hotels, islands tours, snorkeling, ancient temples, cuisine, and lavish entertainment. However, those are not the only factors drawing in so many people. Every year, hundreds of people flock to Pattaya to take advantage of the extremely low prices of dental care. On average, dental care in Thailand is about 70% cheaper than it is in western countries such as Australia, Germany, the US, or the UK.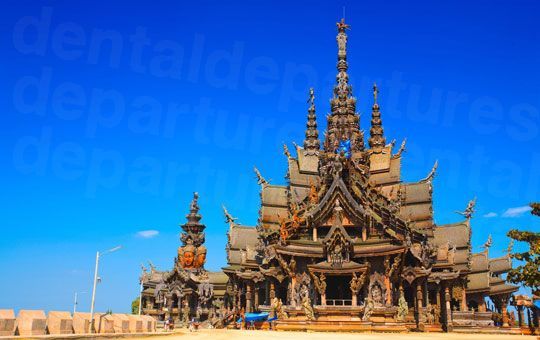 What procedures are available?
In Pattaya, you will have access to almost any procedure that you can imagine. From a simple treatment such as teeth cleaning, to a complex operation such as All-on-4® treatment concept by Nobel Biocare, the highly skilled dentists are more than capable. Other available procedures include dentures, crowns, fillings, veneers, braces, tooth extraction, whitening, root canal treatments, and much more. And the best part is, they all can save you money! A full-arch implant treatment can cost more than $26,000 in the USA. That's enough money to buy a new car! However, in Thailand, you can get the same treatment for only $11,000. With $15,000 extra dollars in your pocket, you can easily cover the cost of your airfare, accommodations, food, entertainment, and still have plenty left over!
What are the best clinics?
Looking for a good clinic in Pattaya? Check out our top recommendations.
The Dental Design Center -they are specialized in a wide range of dental treatments including general and cosmetic dentistry, implants, orthodontics, and restorative dentistry. With their team of English speaking dentists, you can be sure that you are in good hands.
OrthoSmile Dental Clinic – conveniently located in the downtown area, they have years of experience serving foreign patients in their state of the art medical facilities. The dentists are all knowledgeable and friendly and are more than willing to take the time to address any questions or concerns that you may have.
Dente Smile Clinic – also located in the downtown area, Dente Smile Clinic offers it patients low cost high quality solutions for all of their dental needs. Their services include gum care, oral surgery, fillings, sealants, crowns, bridges, veneers, dentures, root canals, and more.
For more information about procedures, pricing, or a Pattaya dental clinic, check out our listings, or speak with one of our customer service agents, always ready to help.