Are you interested in Ho Chi Minh City dental services? Then you have come to the right place! We have thoroughly researched and background checked clinics so that you will know the best places to go to receive quality treatment.
Why Travel To Ho Chi Minh City?
The bustling metropolis is an exciting and vibrant tourist destination. It also has modern infrastructure and a high-quality health care system, that has paved the way for many excellent dental clinics. By combining the two you can have an awesome holiday why also restoring your smile.
The Best Places To Get Quality Dental Work
The best clinics have dentists trained to an international standard, while also having many years of experience in achieving perfect results. The clinics should also have extremely advanced dental technology, while the staff should also be very friendly and organized. Taking these factors into consideration we have established the top clinics in Ho Chi Minh City. Read on for a short description of these locations.
Top Dental Clinics in HCMC
This is a small, specialist clinic. It caters efficiently to international patients, with its convenient location in the tourist area, as well as its staff being fluent in English. As for the dentists themselves, they are highly skilled and professional.
This is another fantastic clinic. The latest in imaging technology will allow its dentists to get to the root of your problem, and fully solve it, resulting in the perfect outcome.
Worldwide Beauty and Dental Hospital:
This clinic has been operating since 1994. During this time it has developed an impressive reputation within the dental profession. The vast majority of its patient have been fully satisfied with the service and quality of their treatment, causing them to leave fantastic online reviews.
If you desire the most state-of-the-art treatment, then this is the location for you. The team of dental specialists can solve any ailment and undertake any implant procedure to meet, and surpass, your needs. Get in touch with them today.
Serenity International Dental Clinic Ho Chi Minh City Branch:
The Ho Chi Minh branch, of this renowned company, has a lot to offer dental tourists. The branch may have only been operating since 2013, but it has already racked up thousands of fully satisfied patients. In fact, you could be the next one!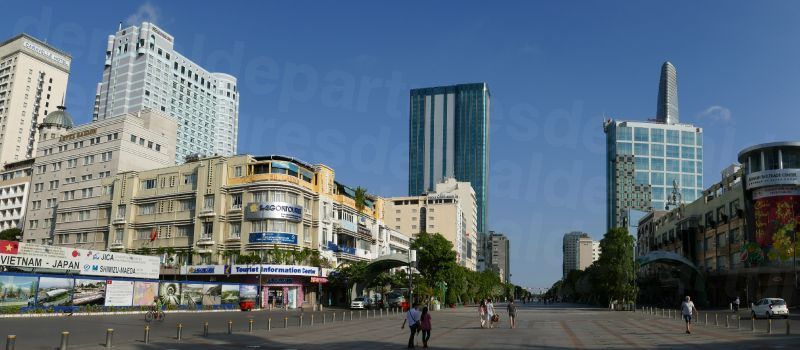 The Best Prices
The aforementioned clinics also have amazing prices. Check out the table below to see how much you can save.
| | | |
| --- | --- | --- |
| Dental Procedure | Price in Australia (AUD) | Price in Ho Chi Minh City (AUD) |
| Surgical/Impacted Extraction | $530 | $150 |
| Root Canal Treatment | $2,900 | $1,000 |
| All-on-4® treatment concept | $34,000 | $17,000 |
| | | |
| --- | --- | --- |
| Dental Procedure | Price in New Zealand (NZD) | Price in Ho Chi Minh City (NZD) |
| Surgical/Impacted Extraction | $570 | $160 |
| Root Canal Treatment | $3,100 | $1,200 |
| All-on-4® treatment concept | $37,000 | $18,000 |
[Note: These figures are estimates at the time of writing; please check our clinic listings for up-to-date prices.]
What's Stopping You
There you have it! Five amazing Ho Chi Minh City dental clinics with extremely affordable prices. Don't overpay at home, but instead, take a trip to Vietnam to fully restore your smile.