Looking to combine an unforgettable vacation with low-cost dental care? If you're in North America, it's possible to save more than 65% on dental implants in Mexico when booking with Dental Departures.
Brimming with palm-filled beaches, Aztec ruins and Mayan heritage, patients can expect top-notch, inexpensive care at our range of fully background-checked Mexican clinics.
World-class facilities and a burgeoning dental tourism sector ensure many budget-conscious American and Canadian patients benefit from superior, cost-effective dental care—at a fraction of the price.
Why Choose Mexico For Dental Implants?
Mexico's accessibility and year-round warm climate make it extremely appealing for cross-border patients seeking the same level of care as back home—just for considerably less money.
Affordable rates, convenience and short flights are some of the reasons so many overseas patients travel here for dental implant treatment. In fact, going for just one implant could save you a few hundreds of dollars, while replacing a whole arch of teeth using multiple supporting implants is often over ten thousand dollars less.
For Southern Californians and Arizona residents, Tijuana and "Molar City" (Los Algodones) offer same-day treatment with return visits just a short drive or flight away. Alternatively, you could combine a stunning vacation to one of Mexico's beautiful resorts such as Cancun, Playa del Carmen or Puerto Vallarta.
We only work in conjunction with fully-approved, highly-trained implantologists in Mexico, utilizing the latest in terms of dental equipment and premium-branded materials.
Continually staying up-to-date with industry trends, our background-checked partner clinics and dentists normally have international affiliations with professional organizations such as the International Congress of Oral Implantologists. Not only does Dental Departures act as a safety net in case of complications but all our fully-verified Mexican dentists offer warranties on dental care and lab work.
Recommended Clinics in Mexico
To get started, check out Sani Dental Group in Los Algodones which provides 30-plus dentists across three locations. Based in "Molar City," the main clinic boasts more than 20 dental chairs with highly-skilled dentists specializing in a comprehensive range of dental treatments from implants and oral surgery to cosmetic dentistry, periodontics, endodontics, and orthodontics.
Other highly-rated clinics in Mexico for dental implants are: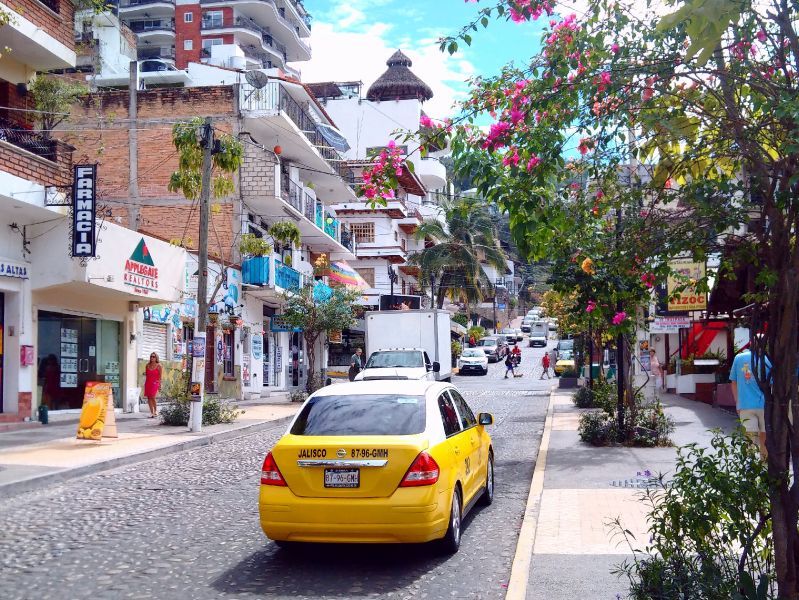 How Long Does Dental Implant Treatment Take?
Your first visit will take less than a day, when the implant(s) is/are inserted into the jaw bone, acting as an artificial, stable tooth root. This is known as the "surgical phase".
An abutment joins the crown to the implant. A crown is an artificial tooth that fits on top of the abutment that is specifically created to match your other teeth in shape and tone.
For other implant procedures where more than one tooth is being replaced, the implants may be used to support a dental bridge or even a whole arch of replacement teeth.
Your follow-up visit will take place between three and six months later, so the bone and implant can fuse together in a process called osseointegration. The abutment and crown are placed on this second trip. For a permanent full-arch restoration, your custom-made dental prosthesis (holding a whole row of replacement teeth) will be attached.
Different factors will influence the implant completion time, such as whether you require teeth extraction; the strength and density of the jaw bone and the time required for the bone to fuse with the implant.
Note that one exception to the rule is an "immediate implant" procedure," which can be performed in just a few hours.
Booking Treatment in Mexico with Confidence
We understand how difficult it is finding and choosing the ideal specialist for your dental implant procedure in Mexico. Dental Departures makes the decision-making process hassle-free due to our rigorous background checks on all our fully-approved Mexican clinics.
We meticulously vet dental memberships, qualifications and undertake on-site visits, ensuring our patients come first. You can check out virtual clinic tours, high-definition photos, dentist profiles and verified dental implant reviews in Mexico by browsing through our listing pages - making your decision-making process straightforward.
What Is the Price of Dental Implants in Mexico Compared to the US and Canada?
You can save up to 70% on dental implant work in Mexico. For instance:
Average dental implant price in the US: $3,913

Average dental implant price in Canada: $5,026 CAD

Average dental implant price in Mexico: $1,250
Why Else Should I Choose Mexico?
Mexico has fast become a dental tourism magnet for many American and Canadian patients thanks to low-cost, superior dental treatment.
This enduring tourist destination has seen an influx of patients looking for both an idyllic holiday hotspot and identical clinical care, experienced back home. Alongside affordable prices and quality care, Mexico provides visitors incredible mountain ranges, historical archaeological sites, old-world villages, modern cities and, awe-inspiring coastlines.
Experience more than 30 UNESCO World Heritage sites, national parks and an array of flora and fauna. With countless international and domestic flights available, patients can explore this incredible country from Tijuana's lively border city atmosphere to Cabo's beaches and diverse nightlife and Mexico City's historic attractions.
Stop off at Puebla, near Mexico City, home to around 200 museums and galleries, discover mountain villages of Todos Santos or sample incredible water-sport activities, including diving and snorkeling.
Mexico's coastal resorts featuring Cozumel provide azure-colored waters and a plethora of dining options, whilst Cancun and Playa del Carmen are unmissable for spectacular shorelines and the ruins of Tulum, just an hour away.
Enjoy Puerto Vallarta's bars and exotic beaches, Mexico's pre-Hispanic civilizations, dormant volcanoes, steamy rainforests and savor mouth-watering authentic cuisine in a taquería.
What's Next?
Browse before you book to find a dentist in Mexico that's right for you. When you are ready to book your dental implant treatment in Mexico, call our toll-free number, e-mail, use our live chat facility or book online today.
Sources:
International Congress of Oral Implantologists. Website accessed: 9 November 2020. https://www.icoi.org/
Immediate Load Implants. Dentistry iQ. Website accessed: 9 November 2020. https://www.dentistryiq.com/articles/wdj/print/volume-5/issue-4/you-and-your-practice/immediate-load-implants.html
Larson, Jennifer. Everything You Need to Know About Getting a Dental Crown. Healthline. 31 October 2019. https://www.healthline.com/find-care/articles/dentists/dental-crown
Medical Tourism in Mexico Generates Significant Revenues. Tourism Review News. 21 June 2019. https://www.tourism-review.com/medical-tourism-rise-in-popularity-news11062
Jacobs, Harrison. This tiny Mexican town has more than 350 dentists — and treats the thousands of Americans who flock across the border for dental care. Business Insider. 3 January 2018. https://www.businessinsider.com/andrew-waits-photos-of-molar-city-2014-6