With enticing savings off laser teeth whitening in Denpasar, why not combine a relaxing trip with finding and booking high-quality dental care with Dental Departures. Affordable tourism is becoming increasingly popular with many international travellers from Australia and New Zealand. As a result, Indonesia, and particularly Bali, rank high as a top dental tourist destination.
What Makes Denpasar So Appealing for Teeth Whitening?
We are linked to a number of different dental clinics in Denpasar, all of which have been thoroughly screened by Dental Departures. In addition, patients benefit from quality checks and verification of dental qualifications to ensure you receive first-class dental treatment.
Clinics here only use the latest technology and diagnostic equipment and are trained in detailed restorative procedures. All our clinics fully comply to the highest dentistry standards in Bali.
What Exactly is Teeth Whitening?
This procedure lightens teeth, whilst removing the entire stain or discolouration. You can use "do-it-yourself" paste or gels to lighten teeth. However, the safest and most effective method is to visit one of our specialist-approved dental clinics in Denpasar such as Kamandhani Dental Care . Here, clients are provided with affordable specialist dental care, including teeth whitening.
Better known as laser teeth whitening, a trained dentist will carry out this quick procedure according to strict health and safety guidelines. Eye wear and a rubber sheet will be utilised to protect gums and soft tissue from the whitening gel. While results are almost immediate, certain stains may be more difficult to eradicate.
Firstly, extrinsic stains usually appear on the tooth's surface due to food, tobacco and dark-coloured drinks. Intrinsic stains can be seen on the inside of teeth because of too much fluoride, or ageing. A fully trained dentist will discuss the process with you in detail, including any factors to be wary of.
How Much Does Teeth Whitening Cost in Denpasar?
Premium quality care does need not come at a price. Thanks to our fully approved clinics, trusted reviews and qualified dentists, Dental Departures has a wide choice of dental clinics in Denpasar . Enjoy nearly 60 percent off what you would normally pay at home.
Teeth whitening price Denpasar figures are found below;
Teeth whitening in Australia: AUD 870
Teeth whitening in New Zealand: 894
Average teeth whitening in Bali $281
Why Choose Denpasar for Low-cost Teeth Whitening?
Brimming with stunning beaches and rich in Indonesian culture, Denpasar has a unique heritage. Discover numerous arts, pottery, and crafts at Pasar Badung market or sample a mouthwatering array of cuisine on Jl. Teuku Umar. Puputan Square is home to Bali Museum, whilst you can hop around the island in a traditional bemo van. With an enticing array of cafes and restaurants, Denpasar is just as much as slice of Bali as the monuments and rice paddies.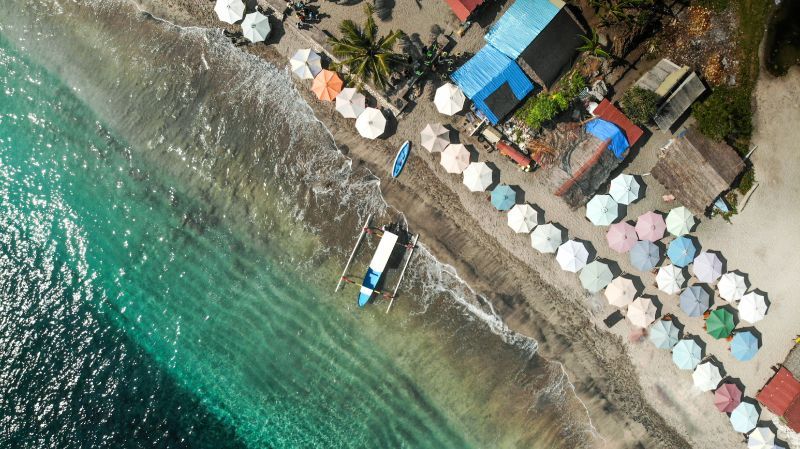 Planning a Stay in Denpasar
Looking for accommodation in Denpasar? Travellers will find a broad choice of options for a pleasurable stay. These include exclusive villas, guest houses and modern boutique hotels. Some of the most popular beachfront resorts to stay in Denpasar include Kuta and Legian Beach.
How to book
Browse our listings to find the right clinic for your specific needs. When you have settled on the ideal clinic for teeth whitening in Denpasar, get in touch via Customer Care or call our toll free number today.