Thousands of overseas patients visit dentists in Bangkok every year. Those in-the-know realize that they can get superior dental treatments, in state-of-the-art custom-built facilities, for a fraction of the prices that are being demanded by the dentists in their home countries.
How Much Can I Save by Having my Treatment in Bangkok
On average, you will find that going to a Bangkok dentist can reduce your dental fees by around 50%-80%. This can be the difference between having to sacrifice something like the family holiday in order to undergo essential dental treatment or, possibly, shelving plans for some cosmetic work that you'd really like but just can't afford. Here are a few examples of the savings that can be made: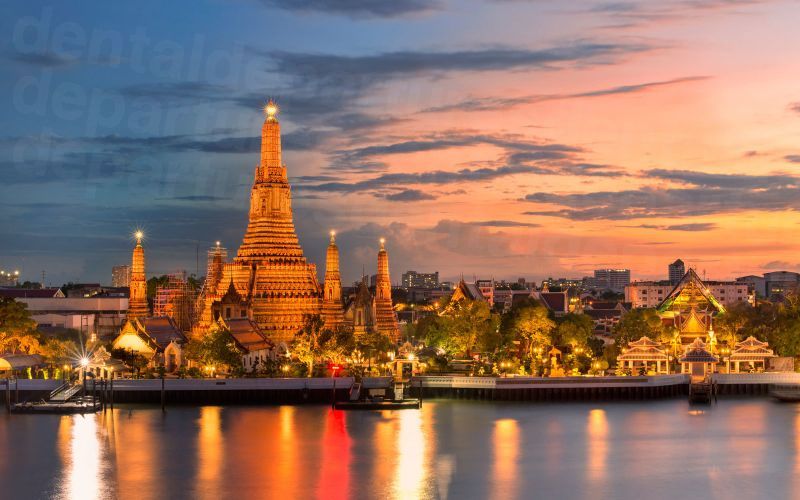 | | | | |
| --- | --- | --- | --- |
| | Australia | Bangkok | Saving |
| Dental Implants (AUD): | $5,000 | $1,800 | 64% |
| Dental Fillings (AUD): | $200 | $39 | 80% |
| Root Canal (AUD): | $1,600 | $280 | 82% |
| | | | |
| --- | --- | --- | --- |
| | New Zealand | Bangkok | Saving |
| Dental Implants (NZD): | $5,500 | $1,978 | 47% |
| Dental Fillings (NZD): | $219 | $43 | 72% |
| Root Canal (NZD): | $1,758 | $307 | 80% |
U.S

Bangkok
Saving
Dental Implants (USD):
$

3,913

$1,900
51%
Dental Fillings (USD):
$155
$38
75%
Root Canal (USD):
$1,275
$230
82%
U.K
Bangkok
Saving
Dental Implants (

GBP

):

£2,928

£1,563

47%
Dental Fillings (GBP):

£116

£32

72%
Root Canal (GBP):

£954

£190

80%

How Does The Standard of Treatment Compare to That of Domestic Dentists
In Bangkok, dental tourism is a major part of the local economy. There have been massive investments in facilities and dental training within the city and, in fact, throughout the whole dental industry in Thailand . This has resulted in Bangkok becoming home to some of the finest dental facilities and surgeons currently available anywhere in the world.
The Bangkok Smile Dental Group are at the forefront of the market when it comes to catering for the needs of international clientele. With 8 clinics throughout Thailand, and 4 branches in Bangkok alone, they are the benchmark for dental excellence that all other providers aspire to. In fact, they are the only dental clinic in Thailand with International Organization for Standardization accreditation for both their in-house dental laboratory and dental clinic.
What Safeguards Can I Put in Place to Ensure That Everything Runs Smoothly
Dental Departures can help you to find the best dentist in Bangkok with our exclusive dental listings. All the clinics on our website have passed a series of background checks to validate qualifications, professional memberships, etc. We've also carried out site visits and post Bangkok dentist reviews from real patients to help you decide where to book your treatment.
We can also help with additional medical insurance through a variety of independent insurance providers to give you extra peace of mind before you commit. We also have a best price guarantee that ensures you get the best deal on the market when book you book an appointment through us.
Use our exclusive listings of dentists in Bangkok to find your ideal match. Once done, get in touch with our Customer Care Team to book your appointment and see how much you could save.