Dental Work in Thailand at the Top Prices: Implants in Hua Hin at a Glance
While Hua Hin is a somewhat lesser known province of Thailand, it is an emerging tourist destination. After the Royal Family of Thailand built a holiday palace in Hua Hin, this magical resort town rose to international prominence. But apart from its national park, sea food, and a bustling nightlife, Hua Hin is also an excellent avenue for quality and affordable dental work at the top prices. Implants in Hua Hin, to be specific, cost half of what they do in your country. That makes a pretty solid case for choosing Hua Hin as a dental vacation spot.
Prices for Implants in Hua Hin
Medical tourism in Thailand has seen a surge in the last decade, and cost, as already stated, is the main reason. In Australia and New Zealand, the average prices for dental implants are AUD $5098 and NZD $5238 respectively, but the same procedure costs more or less AUD $2393 and NZD $2577 in Hua Hin. Even apart from dental services, Thailand is very affordable in other aspects as well.
Bangkok Hospital Hua Hin (Dental Center)
The top clinic for dental implants and even other dental services in Hua Hin is the Bangkok Hospital - Hua Hin (Dental Center). The dental clinic is located inside the prestigious Bangkok Hospital, which has branches all over Thailand. The Hua Hin dental clinic has a team of specialists for all sorts of dental procedures using state-of-the-art equipment and in compliance with international hygiene protocols.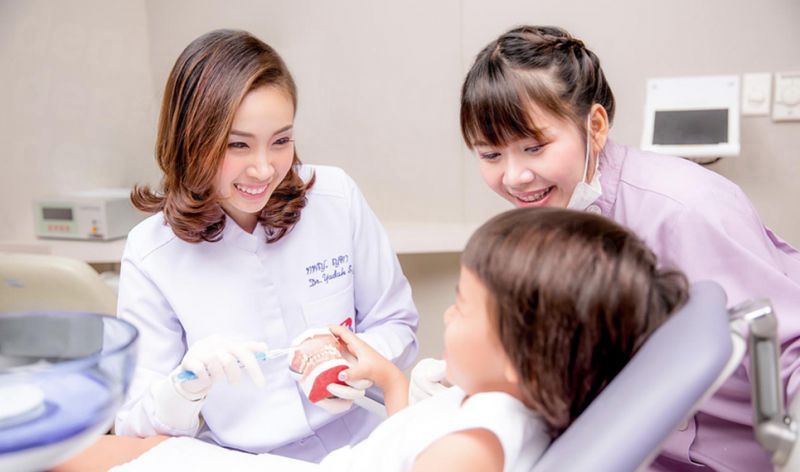 Medical tourism sometimes gets bad press that hospitals in host countries like Thailand are not up to international standards. However, top healthcare facilities like the Bangkok Hospital challenge this perception. This hospital has received the HA local accreditation as well as ISO and JCI certification. Moreover, the Bangkok Hospital has received accolades like the Asian Hospital Management Award (AHMA), HRM Award of Excellence in Labour Relations and Welfare Superbrands Award and also the Prime Minister's Award.
You can easily get quotes for dental implants and also schedule a consultation at the Bangkok Hospital here are Dental Departures.
Getting Around Hua Hin
After flying to Bangkok, getting to Hua Hin is very easy. You can avail a variety of transportation options, rail being the most convenient. Trains go to and from Bangkok to Hua Hin several times a day. It is a 4-hour journey, but it can prove quite fun. Tickets costs around AUD $6 and NZD $7, which is quite reasonable.
Things to Do in Hua Hin
Of course you are travelling for a dental procedure, but that doesn't mean you cannot explore this unique beach resort town. A major benefit of travelling to Hua Hin is that the beaches are not as crowded as in Phuket or Bangkok. This also makes it an ideal family vacation spot. Things to do include kite surfing, golfing, and visiting the national park.
To sum up, Hua Hin dental clinics offer a great destination for dental work at affordable prices. Implants in Hua Hin are not only affordable, but an opportunity for a fun vacation as well.