Over the past decade, Turkey has emerged as a go-to health and dental tourist destination, welcoming hundreds of thousands of visitors each year who are seeking more affordable treatment.
But why is Turkey proving such a popular option for major dental work, like dental implant treatment?
The biggest reason is that dental prices in Turkey are much less than in the UK thanks to healthy competition between clinics and an overall lower cost of living. However, these lower prices doesn't make Turkey unique; patients are also flocking here to combine their treatment with a holiday, among other reasons which we'll look at in this article.
Lower Prices in Turkey
How low are we talking?
Dental implants in Turkey cost, on average, £503 (€600). This is a pretty nifty deal compared to the £2,928 (€3,480) you would have to pay in the UK for the same course of treatment.
Even bigger savings can be made on the All-on-4® treatment concept, which is used to replace a whole arch of teeth with an implant-supported prosthesis. In the UK, the average price for this is £19,382 (€23,130) but in Turkey, it starts at around £5,000 (€5,500).
Saving ten thousand pounds is quite doable when undergoing major dental work in Turkey, even when factoring in two separate trips (one for the surgical phase and a follow-up for the restorative phase of your treatment).
Quality of Care You Don't Have to Compromise on
Despite the lower prices, our partner dentists in Turkey offer world-class dentistry. Many of them have received at least part of their training in the UK or the US.
We can be confident of the standard of care due to the fact that we always carry out a number of background checks on each and every dentist we partner with. These include:
Legal and criminal records checking

Visits to the clinics

Staff qualification verification

Dental association membership verification
We also collect authentic patient reviews so you get a balanced view of the clinics. You can read all of these on our site, as well as browse through clinic photos, price comparisons and dentist profiles.
The Chance to Enjoy An Amazing Holiday
Turkey is a Eurasian country, spanning two continents; Europe and Asia, and has always enjoyed a geographical significance throughout history. Today, the location results in the country being a major tourist destination, especially its "cultural capital", Istanbul, which is where most of Turkey's dental clinics are.
Most of the city's historic monuments are from the time of Ottoman Empire as well as Roman times. Sultanahmet Mosque, Hagia Sofia and Topkapı Palace are among the most famous sites. Another important site in this transcontinental city is the Bosporus Strait, which separates Europe and Asia.
Other top destinations include the official capital, Ankara, as well as coastal cities like Izmir and Antalya.
Currently, Turkey is free to enter for Brits and other Europeans with a simple visa-on-arrival system. The non-stop flight from London to Istanbul is about four hours with airfares starting from £96 (€110). Average rates of three-star and five-star hotels are £40 and £72 per night, respectively.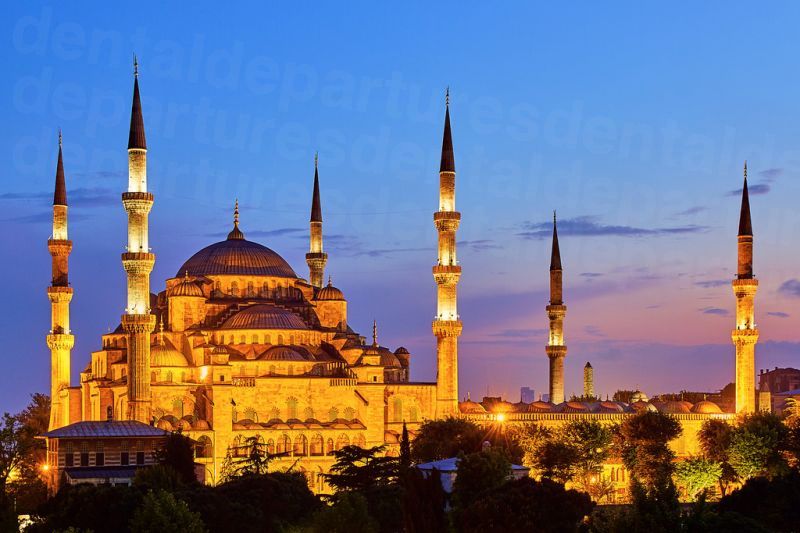 Planning Ahead
Here are some things you should do before you book that flight to Turkey:
Get personalized quotes from different clinics

Understand the procedure you are getting

Pack all dental records (both hard copies and digital files)

Ask our support team about hotel deals and airport/hotel transfer service after you book through our site

Consider taking someone along
Our dedicated team will be happy to answer any questions you may have.
What's Next?
With our help, you can make the most of the three key advantages when travelling to Turkey for dental work: quality of care, a holiday and those cost savings.
Take a look through our clinics in Turkey; to book, simply head to your chosen listing page on our site and click on the orange 'schedule appointment' button. You will be asked for your preferred time and date, your contact details, and that is it!
Alternatively, get in touch with our Customer Care Team here.
Sources:
Cost of living in Turkey. Expatistan. 2020. https://www.expatistan.com/cost-of-living/country/turkey
Which Dental Prosthesis Is Right For You? Colgate. Website accessed: 31 October 2020. https://www.colgate.com/en-us/oral-health/life-stages/adult-oral-care/which-dental-prosthesis-is-right-for-you
Visa Information For Foreigners. Republic of Turkey Ministry of Foreign Affairs. Website accessed: 31 October 2020. http://www.mfa.gov.tr/visa-information-for-foreigners.en.mfa
GoTurkey. Website accessed: 31 October 2020. https://www.goturkey.com/