As the largest dental tourism booking platform, we here at Dental Departures are quite aware of just how expensive dental treatments are becoming in America, especially more complex mouth restoration procedures, like All-on-6 implants.
While the cost at home may well be prohibitive—forcing most people with missing teeth to opt for removable dentures (a much cheaper option)—heading south to Los Algodones on the Mexican border can save patients up to 70%.
And for a procedure that costs up to $30,000 back in the US, three-quarters off equates to well over ten grand saved—after factoring in two or three separate trips to the dentist in Mexico.
Read on to learn more about undergoing All-on-6 treatment in Algodones and find out how to book with Dental Departures.
Where Is Los Algodones?
Los Algodones' location right next to the US-Mexico Border makes this small town particularly convenient to reach for people based in Southern California or Arizona who can drive south, securely park their car on the US side and walk across to their appointment.
As the northernmost city in Mexico, Algodones is 7 miles west of Yuma, which has an international airport, with most daily arrivals arriving from Phoenix and Dallas.
What Are All-on-6 Dental Implants?
The term All-on-6 refers to a teeth replacement system that uses six dental implants per jaw. 'All' of the teeth can be replaced in either the upper or lower jaws—or both at the same time as part of a full mouth restoration.
The first stage involves the surgical placement of the implants, which are normally made from titanium. While an immediate "healing" denture can be worn, patients will need to return to the same clinic after a period of four to six months to have their permanent replacement teeth attached, which are fixed onto a custom-made prosthesis or bridge.
If you need to have any extractions, these can be done at the same time or back home in advance.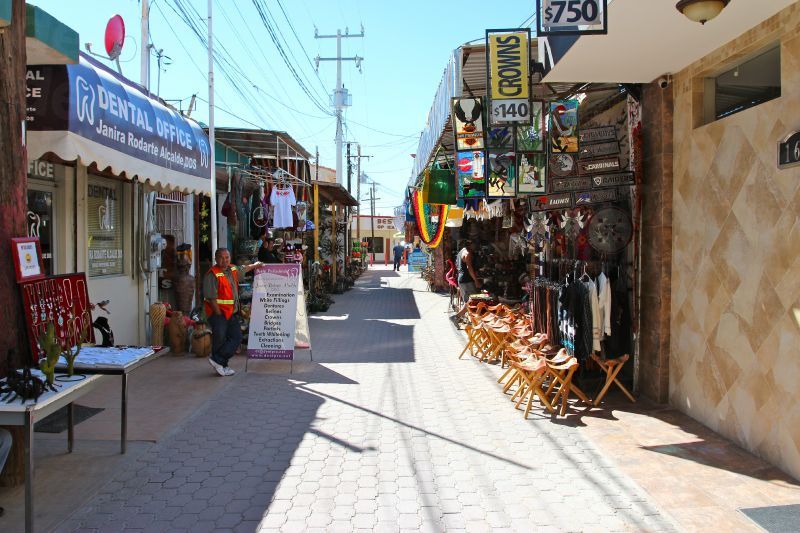 How Much Do All-on-6 Implants Cost?
Prices for this procedure vary from country to country, but you can see from the table below that All-on-6s in Algodones are generally at least 60% less.
| | | | | |
| --- | --- | --- | --- | --- |
| PROCEDURE | US$ | CAN$ | AUD$ | COMPARISON |
| ALL ON 6 | $30,000.00 | $37,538.00 | $38,134.00 | INTERNATIONAL |
| | $12,750.00 | $15,953.00 | $16,207.00 | LOS ALGODONES |
| | 42.50% | | | % YOU PAY |
| | $17,250.00 | $21,585.00 | $21,927.00 | YOU SAVE |
[Please note that these are estimates at the time of writing.]
Dental Departures' Recommended All-on-6 Clinics in Algodones
Below, we've listed some of our most popular options for All-on-6 and other types of dental implant treatment in Algodones, complete with exclusive promotions and discounts available when booking through our site.
Simply Dental - See their exclusive Dental Departures promotions below:
Free consultation and shuttle services available
Dr. Sonia Edeza Morales - See their exclusive Dental Departures promotions below:
Free teeth cleaning and temporaries available
Castle Dental - See their exclusive Dental Departures promotions below:
Free oral exams, x-rays and shuttle services available
What's the Next Step?
Take a look through our recommended options above, compare prices and read about our exclusive DD promos. Our full list of verified All-on-6 dentists in Algodones can also be found here.
For more information, get in touch with our Customer Care Team via the toll-free number provided, or leave us your details and we'll call you back at a time that works for you.
Sources:
Stanton, John. BuzzFeed News. Dental Work Is So Expensive In The US That Thousands Of Americans Are Going To Mexico To Get It Done. 15 June 2017. https://www.buzzfeednews.com/article/johnstanton/americans-going-to-dentists-in-molar-city-mexico
Dental Prosthesis. Science Direct. Website accessed: 20 January 2021. https://www.sciencedirect.com/topics/medicine-and-dentistry/dental-prosthesis
Mancuso, Antonio, DDS, MAGD. Treatment Planning: The Full Mouth Reconstruction. Oral Health Group. 23 November 2016. https://www.oralhealthgroup.com/features/treatment-planning-full-mouth-reconstruction/
Yuma International Airport. Website accessed: 20 January 2021. https://www.yumaairport.com/yumahome.nsf/