Los Algodones has become a dental magnet for savvy American patients looking for more affordable care just across the border.
As a result, there are now literally hundreds of dentists to choose from for your dental implants, which cost only half or even a third of what you'd normally pay back home.
The only problem: where to go?
Thousands of money saved for top-class implants—and Dental Departures assures you that your trip to this dental utopia will be worth it.
What Makes the Trip Worthwhile?
The cost of the implants tops the list, with savings of four or even five figures to be made (even when factoring in travel costs).

You can expect to receive high-quality care and treatments when booking in at one of our verified Algodones clinics.

You can take advantage of the long list of exclusive promotions offered by Dental Departures, such as free transportation and hotel stays.

For those based in the south, Los Algodones can be reached by car; for others, the international airport at Yuma (close to the California-Arizona state border) is just 30 minutes away.
Where Is Los Algodones?
Los Algodones is a border town between the countries of Mexico and the United States.
Algodones boasts not only fantastic affordability in terms of dental care, but also in optometry and pharmaceutical services. There are dentists in almost every corner—so make sure you read on and choose the best from the litter!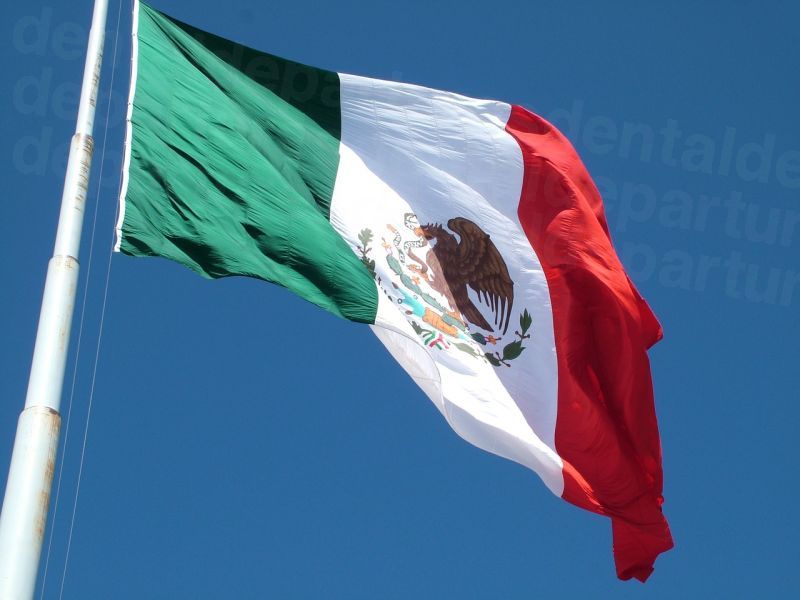 What Are Dental Implants?
Dental implants are titanium posts that serve as tooth roots.
They are implanted through the gums, into the jawbone and the posts allow a tooth, or teeth (bridges) to be mounted securely and serve as a permanent replacement for a missing tooth.
Implants are also used as part of full teeth replacements, such as All on Four/Six treatment, whereby a custom-made prosthesis containing a full arch of replacement teeth is attached to either four or six implants that have been inserted into each jaw.
How Are Dental Implant Procedures Carried Out?
Dental implant procedures can be narrowed down into three main stages:
The titanium post is implanted into the gums, and into the jawbone. Once done, it will require three to six months of recovery time for the implants to fuse with the bone - and for the gums to heal.

An abutment is placed in the gum line, and requires another set of recovery time. An abutment serves a middleman, per say, for the implanted to post and the prosthetic tooth.

Finally, the prosthetic tooth, bridge or other custom-made dental prosthesis is installed onto the abutment.
During the procedures, an anesthetic or a sedative is administered for the patients' comfort.
How Much Can I Save on Dental Implants in Los Algodones?
In the table below, you can see the average prices of dental implants and how Los Algodones dentists can help you save up to thousands. [Please note: these are average prices at the time of writing. Up-to-date quotes can be obtained, for free, from our Customer Care Team.]
| | | | | |
| --- | --- | --- | --- | --- |
| PROCEDURE | US$ | CAN$ | AUD$ | COMPARISON |
| DENTAL IMPLANTS | $3,900.00 | $4,880.00 | $4,957.00 | INTERNATIONAL |
| ABUTMENT AND CROWN | $1,770.00 | $2,215.00 | $2,250.00 | LOS ALGODONES |
| | 45.40% | | | % YOU PAY |
| | $2,130.00 | $2,665.00 | $2,707.00 | YOU SAVE |
Dental Departures' Recommend Clinics for Implants in Algodones
Sani Dental Group has a team of highly-trained specialists with state-of-the-art equipment and facilities to provide you high-quality dental procedures. Here are some of their exclusive Dental Departures promotions:
No Worries Warranty

FREE Transportation to Airport
Sani Dental Group – Platinum provides you with accurate diagnoses and assessments with their state-of-the-art facility and employs highly innovative procedures. They offer these exclusive promotions for you:
No Worries Warranty - Sani Dental Group - Platinum

FREE Airport Transportation
Supreme Dental Clinic prides itsself with top-notch restorations with their team of highly-knowledgeable professionals. Avail these promotions below that Dental Departures offer exclusively at the clinic!
No Worries Warranty

Get a free consultation during your visit!
Getting Started with Dental Departures
First, click through to see our recommended listings above or head to our full list of dental implant specialists in Los Algodones here.
Read patient reviews, dentist profiles, clinic descriptions and compare prices before setting up your free appointment through our site. To speak to one of our representatives, feel free to reach out to our Customer Care Team here.
Sources:
Yuma International Airport. Website accessed: 4 December 2020. https://www.yumaairport.com/yumahome.nsf/
Siadat H, Rokn A, Beyabanaki E. Full Arch All-on-4 Fixed Implant-Supported Prostheses with 8.5 Years of Follow-Up: A Case Report. J Dent (Tehran). 2018;15(4):259-265. https://www.ncbi.nlm.nih.gov/pmc/articles/PMC6218463/
Which Dental Prosthesis Is Right For You? Colgate. Website accessed: 4 December 2020. https://www.colgate.com/en-us/oral-health/life-stages/adult-oral-care/which-dental-prosthesis-is-right-for-you
Rose, Elizabeth. The Mexican Medical Border Town of Algodones. Trip Savvy. 1 June 2020. https://www.tripsavvy.com/visiting-algodones-mexico-1652900