For Kiwis, experiencing new and exciting places is in the blood. Thailand is, culturally, very different to New Zealand but it provides an exhilarating destination for a holiday, and affordable expertise for dental implants.
Thailand's dental tourism expertise
Thailand is recognized as one of the leading players in terms of medical and dental tourism. A pioneer of medical tourism since the 1990s, much of the world's medical tourism hotspots that have followed since have all looked toward Thailand for how it should be done. If you look online you'll find plenty of favorable Thailand dental implants reviews as this is one of the most common procedures to have here.
Hospitality:
World-renowned for its hospitality, Thailand makes the most of the generosity and politeness of its people. Customer service is one of the jewels in its crown and is something it takes very seriously. If you are coming as a dental patient you will feel valued, which will help to calm your nerves, giving you an altogether pleasanter experience.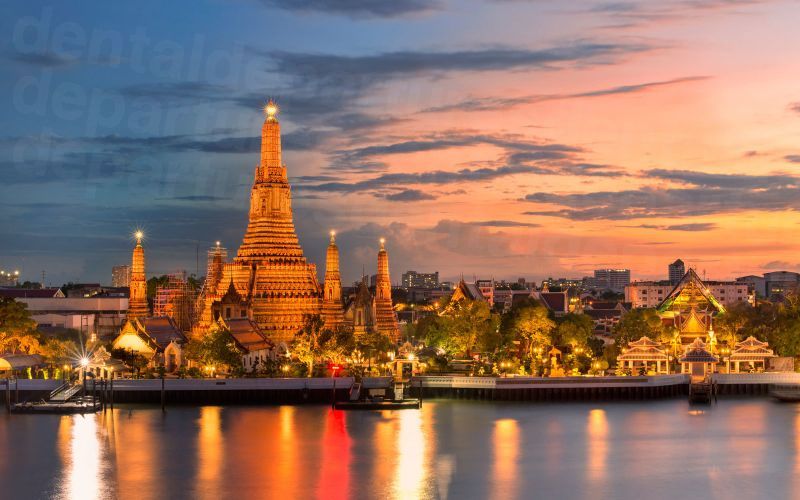 Technology:
Clinics offering dental tourism are typically gleaming, modern examples of 21st century technology. The facilities are very high-tech and include the latest diagnostic technologies, such as 3D computed tomography, which provides a 3D image of your jaws and skull enabling dental implants to be placed extremely accurately.
CAD/CAM (computer-aided design/computer-aided manufacture) is the technology that many dental clinics now use to design and manufacture prosthodontics (eg crowns, veneers, dentures) onsite, rather than having to send them out to be hand-forged at an outside laboratory. Not only is it quicker, but it is also accurate and the whole process is overseen by your own dentist, so quality control is maintained. It also costs less – and, naturally, you will benefit from the savings.
Expertise:
Dentists in Thailand have rigorous training and must have a valid registration to practice. They also undertake ongoing training throughout their careers to keep their skills and knowledge up-to-date, as well as obtain additional qualifications for specialist dentistry. If you are looking at dental implants in Thailand then you shouldn't worry that the dentists do not have the expertise. In fact, you will see a lot of dentists in Thailand offering dental implants are affiliated to the International Congress of Oral Implantology.
Cost:
The price is a major plus point – you can save thousands on the cost of just one dental implant in Thailand –
Cost of dental implants in New Zealand: NZD $5,200
Cost of dental implants in Thailand: NZD $2,700
That's more than enough to pay for your holiday to Thailand – and you'll find the country offers a lot in terms of things to see and do before and after your dental implant procedure.
Where should I have dental implants in Thailand?
Thailand offers a range of different locations to suit every taste – from the energy of Bangkok to the serenity of Chiang Mai. There are, of course, island to explore, the beaches of Phuket to laze on and the azure waters to swim, snorkel and dive in.
Add to this zip-lining, rock climbing, sea-kayaking and other adrenaline-fuelled activities, as well as the cabaret shows, spas, Thai cookery classes, shopping, restaurants, nightlife – and you'll not be stuck for ideas to fill your time before and after your dental implant procedure.