Why would someone from the UK travel all the way to Istanbul for dental work?
While it's probably not worth the 4-hour flight for just a filling or two, more and more patients are making savings of thousands of pounds on procedures like implants, veneers and dentures by booking in at one of our verified dentists in Istanbul.
Find out how much you could save in Turkey with this quick Dental Departures guide.
How Much Can You Save?
To help you understand how much you could save, below is an average price comparison for four common dental services. For Istanbul, we have listed prices from two of the top clinics.
Average prices in the UK:
Single dental implants: £2,928 (Ireland: €3,480)

Full-arch restoration with 4 implants: £19,382 (€23,130)

Crowns: £863 (Ireland: €983)

Fillings: £116 (Ireland: €132)
Starting Prices in Istanbul for the same treatment:
Single dental implants: £503 (€600)

Full-arch restoration with 4 implants: £838 (€1,000)

Crowns: £209 (€250)

Fillings: £101 (€120)
DentGroup International - Istanbul
Singe dental implants: £829 (€990)

Full-arch restoration with 4 implants: £4,271 (€5,100)

Crowns: £130 (€156)

Fillings: £42 (€50)
[Please note that these are estimated prices at the time of writing. See our individual clinic listings for latest prices.]
Quality of Care in Istanbul
The best part about these savings is that you never have to compromise on quality when booking through our site. It's a well-known fact that Turkey has emerged as a leading dental tourism destination, with many clinics in Istanbul now open seven days a week to deal with the large influx of dental tourists, many from the UK.
If you are wondering how are the clinics there able to offer such low prices, you are not alone. Rest assured that this has nothing to do with quality. It is simply the result of lower operating costs, lower living expenses and high competition.
The best dentists in Istanbul understand the importance of providing quality while offering lower prices, and so there is no trade-off when it comes to the standards of care.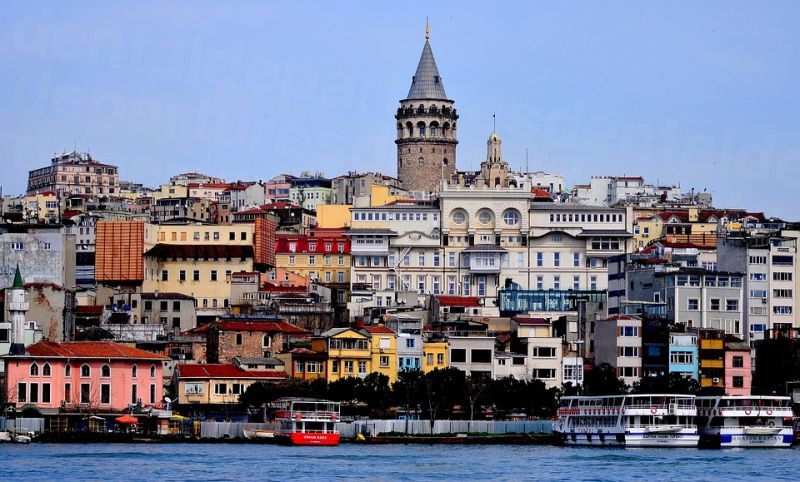 Head to Istanbul with Confidence
Dental Departures maintains an updated database of the most reliable dental clinics in Istanbul, as well as other popular cities in Turkey.
Our extensive screening process ensures that no sub-standard clinic makes it onto our listing pages. From conducting onsite visits and checking legal/criminal records to verifying staff qualifications and professional association memberships, we do it all. We also provide reviews and can connect you to past patients who have been to Istanbul. Dentist reviews and conversations with dental tourists help you better understand that process.
We do all of this because landing at a shady clinic is the closest thing to a catch when it comes to dental tourism. So if you stick to our listings, you will not have to worry about that, nor will you have to waste time in Istanbul hunting for a reliable clinic. Do all your preparation from the comfort of your home and head east with confidence.
Enjoy the Historic City
Istanbul is a transcontinental city, capital of the Eurasian country Turkey which has always been geographically important. You'll have the chance to visit magnificent palaces and mosques from the Ottoman era, as well as some from Roman times. The impressive Bosporus strait also runs across Istanbul, dividing the city and country between Europe and Asia.
As a UK citizen, you can enter the country for free with a visa on arrival, valid for 90 days. Cheap flights from London to Istanbul start at around £100 and the average nightly rates for three-star and five-star hotels are £40 and £75, respectively. You can also ask us for hotel recommendations.
The public transportation of Istanbul can be a bit confusing for tourists. Taxis are obviously relatively expensive but we recommend using them instead of renting a car. They drive on the right plus the traffic can give you a headache so it is best to be driven. You can also walk if the weather is good – Istanbul is a very walkable city.
Booking with Dental Departures
The Dental Departures online appointment scheduler makes it quick and simple to set up an appointment at any of our Istanbul dental clinics. Simply head to our listing pages on our site and click on the orange 'schedule appointment' button. You will be asked for your preferred time and date, your contact details, and that is it!
We will do everything else for you, and send you a confirmation once your appointment is booked in. You are also covered by a cancellation policy that extends to 24 hours before your appointment, along with the Dental Departures Best Price Guarantee.
To contact us, click here to reach our Customer Care Team.
Sources:
Holden, Alexander. Dental Tourism: Things to Consider Before Going that Extra Mile for Your Smile. The University of Sydney. 6 November 2018. https://sydney.edu.au/news-opinion/news/2018/11/06/dental-tourism--things-to-consider-before-going-that-extra-mile-.html
Cost of living in Turkey. Expatistan. 2020. https://www.expatistan.com/cost-of-living/country/turkey
Visa Information For Foreigners. Republic of Turkey Ministry of Foreign Affairs. Website accessed: 31 October 2020. http://www.mfa.gov.tr/visa-information-for-foreigners.en.mfa