Private dental care in the UK is some of the most expensive in the world, with many British citizens relying on state-subsidised dental care. But what happens when you simply cannot get the treatment you need from the NHS? Over one million Britons struggle to get an NHS dentist appointment, according to The Independent, and this number looks set to keep growing.
Patients who have damaged pulp within their tooth are likely to be in considerable pain, so quick and effective dental care is essential. You do not have to settle for the high prices set by private UK dentists; instead, you can choose to
have a root canal in Hungary and save hundreds of pounds.
What Makes Hungary Such a Great Dental Tourism Destination?
Modern dental clinics, highly-trained dentists, and affordable treatment prices are three of the top reasons why Hungary stands out as a top dental tourism destination. Journalist Sasha Issenberg explores more of the reasons why the country has become renown for dentistry in her feature titled, " Hungary: World Capital of Dentistry ," published in The Atlantic magazine. Hungary has a long history of international dental tourism, beginning with Austrian and German patients travelling overland to have their teeth treated for less than at home.
With low-cost airlines connecting every corner of Europe, getting to Hungary has become easier for the entire continent now, so patients come from further than just neighbouring countries. Direct flights from London to the Hungarian capital of Budapest take just under two and a half hours. The same can be said of many other international airports in the United Kingdom. Once in Hungary, the price of hotel rooms, restaurant meals, and taxi fares are noticeably cheaper than in the UK too.
How Root Canal Treatment Saves Your Tooth
Root canal treatment helps to maintain good dental health because your tooth will be saved from being extracted. When decay reaches the pulp of your tooth, or the pulp is damaged due to a hard impact, that pulp needs to be removed. Otherwise, infection is likely to set in and a dental abscess can also develop. Some people decide to have the offending tooth extracted instead of having a root canal filling, but this leaves a gap in your dental structure and can lead to further oral health issues. Most dentists will advise it's best to save the tooth if possible.
With a root canal filling, the structure of your tooth is kept intact. Although will not have any sensitivity in the tooth because it is dead, it is functional just like your other teeth. Over time your root canal-treated tooth is likely to become weaker and slightly darker in appearance. You will have the option to strengthen your dead tooth with a dental crown , either straight after your root canal treatment either at some stage in the future.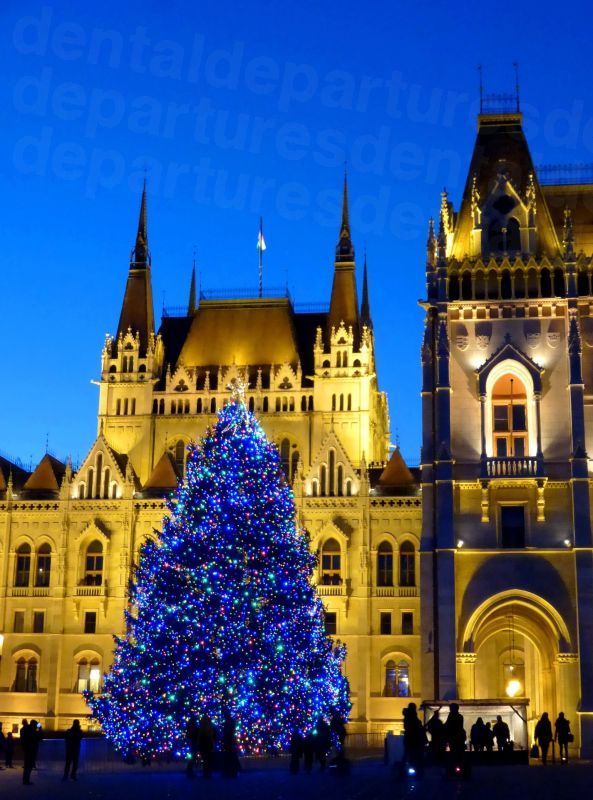 How Much You Could Save on Dental Work in Hungary
To begin, let's look at the root canal cost in Hungary compared to the UK price. Visit a British dentist and you can expect to pay around £625 to have root canal treatment on an anterior tooth, whereas at a Hungarian dental clinic the price drops to roughly £96. A root canal filling for a molar often costs in the region of £1,000 at UK dental clinics, but Hungarian dentists charge on average just £163 for this type of treatment.
It is not just root canal treatment that can save you money: everything from fillings and teeth cleaning to crowns and implants are cheaper in Hungary. Tens of thousands of British patients have already saved 70% off their dental bill by visiting a dentist in Hungary rather than one at home. You can do the same.
Choose a Top Dental Clinic in Hungary
With a 5-star rating for patient satisfaction and many positive reviews of their treatment, MDental is a leading Hungarian dental clinic . Located in the heart of Budapest, a wide range of dental procedures are available, from root canal fillings to full mouth restorations. The dentists here care for people from all over the world and speak a variety of languages, including English, German, French, and Italian.
Next up we have Evergreen Dental, a Hungarian-American clinic housed within one of the capital's UNESCO World Heritage Site buildings. This clinic is ISO 9001:2015 certified and employs an English-speaking team of dental professionals, from support staff to surgeons. The latest CAD/CAM dentistry technology is also available here, perfect if you need a dental crown for a tooth that had undergone root canal treatment.
Headed by the highly-trained and experienced Dr. Ali Dehghani, the Dentium Implant Center has been treating international patients since opening 18 years ago. This multidisciplinary dental clinic not only offers low-cost root canal treatment, but also crowns, implants, and veneers. Dr. Dehghani is also fluent in English, Hungarian, and Persian.
Another excellent choice for dental care in Budapest is Batorfi Dental Implant , founded by Dr. Bela Batorfi in 1992. He opened founded his clinic in 2008, featuring five treatment rooms kitted out with state-of-the-art dental equipment. Dr. Batorfi is registered with the General Dental Council in the United Kingdom, number 103348, and is a member of many international dentistry associations.
Book Your Visit to a Hungarian Dentist with Dental Departures
Arranging a consultation at any of these highly-rated Hungarian dental clinics can be done in a matter of minutes with Dental Departures. Just use the online appointment scheduler, available 24 hours a day, 7 days a week. All we need from you is your dental clinic choice, your preferred time and date for your appointment, plus an email address or phone number to contact you. We will be in touch shortly after you make your request to confirm your dental appointment has been set up.
You are free to change the time and date of your visit up to one day before your scheduled appointment at no extra cost. Additionally, free cancellations are offered if 24 hours notice is provided. When you book your dental work in Hungary with Dental Departures , you are also covered by our Best Price Guarantee. Do not put off important dental treatment any longer; take care of your oral health with low-cost dental care in Hungary.
Sources:
Matthews-King, Alex. More than 1 million patients unable to get NHS dentist amid rising tooth decay crisis. The Independent. 2 February 2018. https://www.independent.co.uk/news/health/nhs-dentist-appointments-tooth-decay-sugar-oral-health-a8759546.html" target="_blank
Friedman, Michael, DDS. Dental Health and Root Canals. WebMD. 17 March 2019. https://www.webmd.com/oral-health/guide/dental-root-canals" target="_blank
Issenberg, Sasha. Hungary: World Capital of Dentistry. The Atlantic. 22 February 2016. https://www.theatlantic.com/international/archive/2016/02/hungary-dental-medical-tourism-batorfi/470391/" target="_blank
Green, Jenny. When Is A Root Canal Without Crown Protection Wise? Colgate Oral Care Center.
https://www.colgate.com/en-us/oral-health/procedures/root-canals/when-is-a-root-canal-without-crown-protection-wise-1015\