Last fact-checked: 18 February 2020
Just found out you're in need of a root canal and shocked by the high prices being charged at home? Then here's a better solution: head off to Spain for good-quality, low-cost root canals in Almeria and save up to 60% on what you might expect to pay at home.
An old Spanish city in the Costa de Almeria on Spain's Mediterranean Coast, the region has amazing coastlines and provides a taste of authentic Spain that you can enjoy to the full while saving a fortune on your dental work.
How Much Do Root Canals Cost in Almeria?
The Root canal prices in Almeria are only around a third of the prices at home:
| | | | | | |
| --- | --- | --- | --- | --- | --- |
| Root Canal Prices – inc post core and crown | UK £ | EUR € | US $ | CAN $ | AUS $ |
| Root Canal Price - home | 1,718 | 2,000 | 2,200 | 2,900 | 2,900 |
| Root Canal Price – Almeria | 500 | 575 | 617 | 800 | 800 |
Why Would I Need a Root Canal Treatment?
A root canal is required to save the structure of a tooth if the soft, pulp centre becomes infected. This occurs if bacteria breach the pulp chamber, either through gum disease or through tooth decay. Once the soft tissues in the centre of the tooth, which includes nerves and blood vessels, becomes badly infected, there is no alternative other than to take out the infected material, down to the roots, cleanse the inside of the tooth and fill the chamber to protect the structure of the tooth.
What Happens During the Root Canal Procedure?
A root canal procedure is needed to solve problems such as infections in the root of the tooth (or dental pulp). Before modern root canal treatment, infections in the dental pulp usually led to the extraction of the tooth. Nowadays, a dentist is able to find and treat problems in the dental pulp without removing the tooth.
Root canal treatment takes one or two visits, dependent upon a number of factors, such as how extensive the damage is, or whether there is an abscess. These days, with the help of CAD/CAM and 3D milling, root canals can be performed by some clinics in a day.
After your treatment is complete, your root canal won't feel any more uncomfortable than having a dental filling.
On the first visit, x-rays are taken to confirm the extent of any disease and the damaged pulp is removed from the tooth under a local anesthetic. The tooth is thoroughly cleaned and filled with flexible plastic material. A temporary filling is put on top of that to prevent debris from entering the tooth and causing infection.
On the second visit, your dentist will then fit a permanent filling or a crown, providing there is no sign of infection. There is no reason why, with regular check-ups and good oral hygiene, your root canal treatment cannot last a lifetime.
Is a Root Canal Treatment Suitable for Dental Tourists?
Yes, and it's one of the many dental procedures travel for, as a root canal can be expensive in one's home country. The length of time you will need to be in Almeria may differ considerably depending on a number of factors, including whether you have an active infection in the tooth and whether you need a crown.
Dentists will not perform a root canal procedure if the tooth has signs of an active infection. Therefore, if you do have an infection, it will need to be treated with a course of antibiotics, which usually last for seven to 10 days. One way of reducing the time you need to be away from home is to commence a course of antibiotics at home so that the infection is clear by the time you arrive in Almeria.
Aside from the time the root canal procedure will take, you need not worry about downtime after a root canal . Although the procedure takes longer to carry out, there is very little difference between a root canal and a standard filling. Once your anaesthetic has worn off (just a few hours after the procedure), you should be able to carry on with your normal activities.
Will the Quality of a Root Canal in Almeria Be as Good as it is at Home?
Certainly. Spain is a member of the European Union and adheres to the same regulations on safety as other European countries. Generally, Spain's top international dentists deliver an excellent standard of care. In part, this is because they provide services on a private practice basis, which means it is in their interests to offer excellent standards as patients can easily go elsewhere if they are dissatisfied. This competitive environment is what keeps the quality high and the prices low, which can only be a good thing for patients.
Despite the thumbs-up for Spain's dental services, we recommend you do your due diligence when choosing a dentist—whether it's in Almeria or at home. It is your dental health and it is your responsibility to look after it the best you can—and this means choosing a reliable dental provider.
The providers Dental Departures has partnered with have all been background checked by us. We verify dentist qualifications and professional memberships, conduct onsite visits and publish real patient reviews under each listing. Our website has details, as well as prices, clinic photos and location maps to make your decision-making process far easier than sifting through endless internet search results.
Clinics you may want to take a look at for your root canals in Almeria include:
● Clinica Dental Alberto Fernandez & Ayora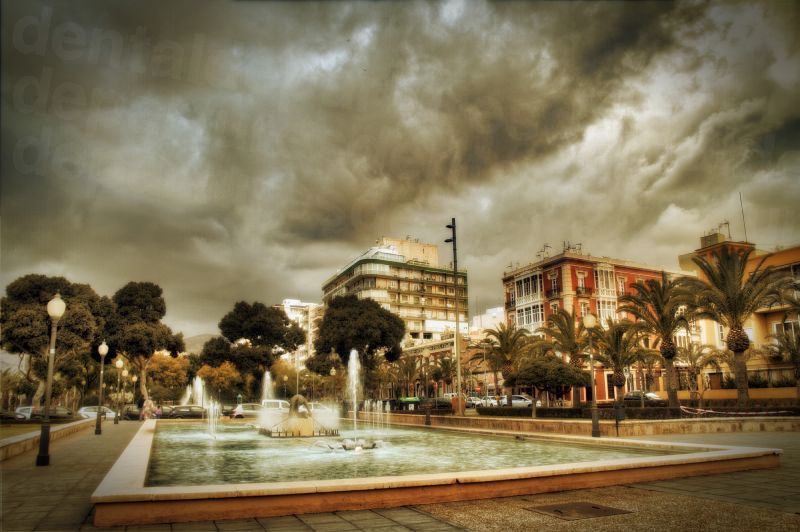 Booking a Root Canal in Almeria
Book online or speak to Dental Departures' Customer Care Team. They are on standby around the clock to provide more information about root canals in Almeria. Obtain a free quote, book an appointment and make the most of the services in this beautiful part of the world for your low-cost root canal or other dental needs.
Sources:
The Spanish Cities You'd Never Thought to Visit (but Really Should). The Telegraph. 15 January 2018.
https://www.telegraph.co.uk/travel/destinations/europe/spain/galleries/best-spanish-cities-to-visit/almeria/" target="_blank
Burhenne, Mark. Understanding the Root Canal. Ask the Dentist. 18 January 2018. https://askthedentist.com/understanding-the-root-canal/" target="_blank
Dental Health and Root Canals. Web MD. Website accessed: 21 February 2019.
https://www.webmd.com/oral-health/guide/dental-root-canals#2-5" target="_blank
Galan, Nicole. How Long Will Pain Last After a Root Canal? Medical News Today. 20 February 2018.
https://www.medicalnewstoday.com/articles/320978.php" target="_blank
An Overview of Root Canals. WebMD. Website Accessed: 9 April 2019.
https://www.webmd.com/oral-health/root-canals" target="_blank