Discover affordable root canal prices in one of Mexico's top border towns for dental tourism, as well as our recommended clinics, reviews, and more.
Here are Dental Departures' top 5 reasons to travel to Los Algodones for a root canal.
#1 A Root Canal in Los Algodones May Save Your Tooth
That may sound quite dramatic but the truth is that putting off treatment for too long can eventually lead to tooth loss.
Our partner dentists in Los Algodones will not only save you from more serious problems down the line but also put you at ease while repairing your decayed teeth. They use special tools in locating the root canal and removing the infected pulp.
#2 It's Incredibly Affordable to Get a Root Canal in Los Algodones
Savings those hard-earned dollars is always going to be the main reason why Americans and Canadians cross over the border for dental work. The price of a root canal in Los Algodones is generally hundreds of dollars less than the US and Canada.
An average price comparison can be found below.
Root Canal Price: Mexico vs. Other Countries:
| | | | | | |
| --- | --- | --- | --- | --- | --- |
| | USD | CAD | GBP | AUD | NZD |
| Cost in Los Algodones | USD $220 | CAD $297 | GBP 172 | AUD $292 | NZD $ |
| Other countries | USD $1,187 | CAD $1,602 | GBP 927 | AUD $1,573 | NZD $ |
[Please note that these are estimated prices at the time of writing. See our individual clinic listings for latest prices.]
The Clinics Are Ultra-modern
Each and every clinic verified by Dental Departures is equipped with ultra-modern technology and specialist equipment. In fact, some of the clinics in Los Algodones have built their own laboratories that are capable of producing dental restoration in just one day—perfect for dental tourists not wanting to stay overnight.
Review our quality-checked clinics in Los Algodones:
Clinics in Los Algodones also provide advanced dental procedures such as veneers, laser teeth whitening, crowns, and dental implants, all of which you can browse through on Dental Departures' listing pages.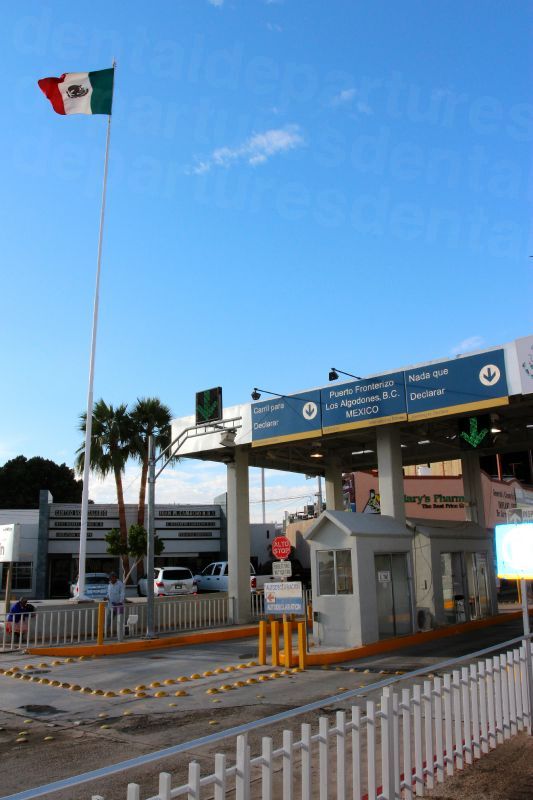 #4 You'll Be Taken Care of by Qualified Professionals
If you have never been abroad for dental treatment before, it is normal to feel a little skeptical about who will be prodding around your mouth—and what qualifications they hold. But rest assured: Dental Departures only works with the very best.
Our verified dentists specialize in endodontics, who are trained in root canal therapy, as well as periodontics, cosmetic dentistry, oral surgery, implantology, and other fields. The best dentists in Los Algodones are members of associations such as the American Dental Association (ADA), meaning they strive to deliver the same quality of care as you would expect back home.
#5 Los Algodones Is Easy to Reach From Across North America
Los Algodones is located near the borders of California and Arizona and is actually walking distance from Andrade, California. This close proximity attracts many dental tourists seeking low-priced treatment, as well as those wanting to find affordable pharmaceuticals and vision care.
For those based in major US cities or Canada, daily flights land at Yuma International Airport, which is just 30 minutes away from the border crossing into Algodones.
And then there is the novelty of being in Mexico—even if only for a day or two. Although Los Algodones doesn't promise idyllic beaches or fancy resorts found further south, you will discover plenty in the way of authentic Mexican food and inexpensive shopping options.
What's Next?
Los Algodones is well worth a visit if you are in need of a root canal and want to save a significant amount of money. A little research beforehand, and you can expect the same quality of care—just make sure to check our listings to find a clinic in Mexico for your root canal.
Our Customer Care Team can help you book an appointment with a quality, verified clinic in Mexico. Alternatively, schedule your appointment directly online with us at no charge to you.
Sources:
Brazier, Yvette. What to expect from root canal treatment. Medical News Today. 26 July 2017. https://www.medicalnewstoday.com/articles/142780
Dental Health and Root Canals. WebMD. 17 March 2019. https://www.webmd.com/oral-health/guide/dental-root-canals
What's the difference between a dentist and an endodontist? American Association of Endodontists. Website accessed: 22 December 2020. https://www.aae.org/patients/why-see-an-endodontist/whats-difference-dentist-endodontist/
Robert Elsenpeter. Bringing the dental lab in-house. Dental Products Report. Website accessed: 22 December 2020. https://www.dentalproductsreport.com/view/bringing-dental-lab-house
Yuma International Airport. Website accessed: 22 December 2020. https://www.yumaairport.com/yumahome.nsf/
American Dental Association. Website accessed: 22 December 2020. https://www.ada.org/en