Last fact-checked: 5 December 2022
Book an appointment with a quality-checked dentist in Colombia if you want to avoid high costs at home while combining reliable dental with a vacation.
Colombia is emerging as one of the holiday and adventure hot-spots of the decade, delivering fascinating locations, a rich culture and diverse landscapes that take in ancient ruins, the Amazon jungle, colonial towns and even some Caribbean islands.
If you're looking for something a little different and want to explore a country that is experiencing an incredible renaissance, then Colombia could well tick all the boxes.
Colombia – A Brief History
Historically, Colombia's indigenous population consists of Amerindians who inhabited the country thousands of years before the Spanish arrived in the 14th Century. Under the Spanish, the region became a colony for the importation of African slaves, who were
forced to replace the rapidly declining Native American workforce in extracting the country's natural resources, such as gold and sugar cane.
In stark contrast to its troubled past, the dawn of the 21st Century has seen a turnaround in Colombia. The death of drugs baron Pablo Escobar, the crushing of rebel strongholds and the peace deal with the FARC rebels were all major milestones that have catalyzed its revival. This, coupled with the country's prime location as a gateway to South America and launchpad to the North, has seen its economy far outstripping regional neighbours.
The last two decades have transformed the unlikeliest of places in the country, with even Medellin's Murder Capital tag replaced in 2013 by the Urban Land Institute as "the most innovative city in the world".
If ever there was a good time to visit Colombia, now is it. And if affordable, good-quality dental care is also on your agenda, it's surprisingly easy to combine it with your trip—it'll be worth it whether you have major work or just a check-up.
Why Visit a Dentist in Colombia?
The dental health crisis facing America is well-documented, with no sign of things getting any better any time soon for those struggling to afford important treatment. Savvy people looking to keep their dental health in check at affordable prices are now incorporating their dental care into their annual vacation. Sure—it's not most people's idea of fun, but a few hours out of your trip itinerary can save you a heap of trouble down the line—as well as hard cash. A simple check-up and teeth cleaning may be all you need to keep your oral health in tip-top condition for another year—and that's got to be worth it for peace of mind alone.
A couple of decades ago, you may have written off Colombia as a place to go for a vacation entirely, let alone for dental care. However, thanks to low prices and good-quality care, dental tourism in Colombia has been rising steadily in tandem with traditional tourist visits.
The best dental clinics are fully equipped with the latest technologies, including digital x-rays, 3D/CT scanning and CAD/CAM (computer-aided design/computer-aided manufacture ), allowing for accurate diagnoses and treatment planning. Some facilities have integrated on-site laboratories so that crowns and veneers can be measured up, manufactured and fitted in one single appointment, all done while you wait.
How Does the Cost of Dental Care in Colombia Compare with the United States?
Very favorably—otherwise we wouldn't be telling you about it!
The table below shows the comparative costs of popular dental treatments in Colombia, from basic fillings to complex dental restorations like the All-on-4® treatment concept by Nobel Biocare, against the US and Canada:
| | | | | | |
| --- | --- | --- | --- | --- | --- |
| | Price in the US (US $) | Price in Colombia (US $) | Price in Canada (CAD $) | Price in Colombia (CAD $) | Average Savings |
| All-on-4® treatment concept | 20,000 | 6,400 | 26,000 | 8,500 | 68% |
| Crowns | 1,200 | 500 | 1,600 | 663 | 58% |
| Fillings | 170 | 50 | 225 | 66 | 70% |
| Implants | 3,900 | 1,400 | 5,100 | 1,800 | 64% |
| Veneers | 1,461 | 420 | 1,937 | 556 | 7§% |
| Dentures | 1,700 | 320 | 2,254 | 424 | 81% |
| Root Canal | 1,700 | 650 | 1,254 | 862 | 61% |
| Whitening | 387 | 173 | 513 | 229 | 55% |
Where Are the Top Places to Stay in Colombia?
If you're heading to any of the main tourist destinations, including Bogota, Medellin and Cartagena, you'll find plenty of good-quality dental clinics in the vicinity. Accommodation options are plentiful throughout Colombia, from swanky five-star hotels through to trendy boutique stays and budget inns.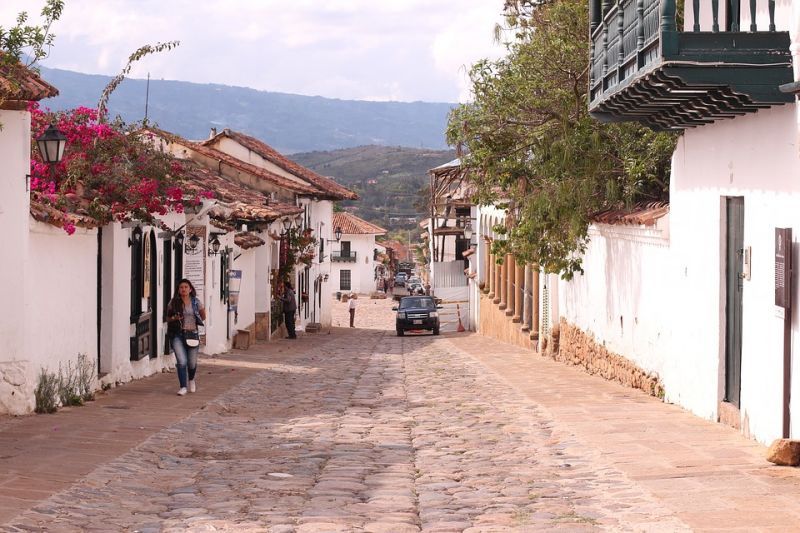 Will I Be Safe in Colombia?
Obviously, there is no comparison to how safe the country is now compared to a couple of decades ago. But like any other country in the world, there are still certain things you should be wary of. Any unfamiliar destination should be treated with caution and you should keep your wits about you, particularly at night.
You'd do well to heed the Colombian phrase 'no dar papaya', meaning 'don't give a papaya', or, to put it another way, don't make yourself an easy target. By this, don't display any obvious signs of wealth, your latest smartphone, or become obnoxiously drunk, at least not while out in public.
Avoiding awkward or dangerous situations mainly takes common sense and a little planning, especially in terms of how you're going to get around. Taxis and Ubers at night are a safe choice.
Is the Quality of Dental Care in Colombia Comparable to Back Home?
The key to choosing a healthcare facility abroad is to do your research beforehand. There are a number of ways this can be done; however, by booking an appointment through Dental Departures, you can rest assured that you'll be visiting a clinic that has been fully and independently background-checked.
Confirmation of dentist qualifications and professional memberships are just some of the checks we do, and you can see details of these under each individual clinic listing alongside other useful information, including patient reviews and clinic photos.
Take a look at our top clinics in some of the most popular tourist locations in Colombia:
● Dentica by Cristina Suaza in Bogota
●Colombia Care Dental in Medellin
● Centro de Implantes de la Costa by Julio Oliver in Cartagena
● Estetica Dental Avanzada in Cali
What Happens if Something Goes Wrong? Is My Dental Care Guaranteed?
When you book with a trusted clinic that caters to international patients, things are far less likely to go wrong. This fact runs true with the vast majority of our patients who receive excellent dental care all over the world.
For peace of mind, all our dental providers include r warranties on their treatments, as well as lab work for dentures, crowns and veneers, for example. This means that if any problems do arise you can return to undergo remedial treatment free-of-charge. Obviously, this may not be so easy to do if you have already returned home. That's why patients going for major work should consider taking out medical complications insurance , which for a small cost will pay your travel and accommodation costs should you need to return.
Do Dentists in Colombia Speak English?
Spanish is the main language spoken in Colombia, but all of our dentists speak English so you will be understood. The relevant steps of each procedure can also be explained for added peace of mind.
What Payment Methods Are Accepted?
Check out the individual listings on our site for the payment methods accepted at each clinic. Bank transfers, as well as Visa and Mastercard debit and credit cards are typically accepted, as well as cash and traveler checks.
When Is the Best Time to Visit a Dentist in Colombia?
Colombia's temperatures stay reasonably stable throughout the year at around 24C (75F) along the coast and several degrees cooler higher inland. However, rainfall varies throughout this vast country. Locals tend to agree that January to March is the best time to visit Cartagena when the weather is warm and not too humid. In Medellin, known as the City of Eternal Spring, temperatures are, not surprisingly, Spring-like all year round.
The busiest times of the year tend to be December through Christmas and New Year and Easter Week.
Our dentists are open throughout the year so if you can go out-of-season then you'll avoid the crowds and make big savings on accommodation and possibly flight costs.
What Is There To See in Colombia?
Thanks to Colombia's diverse landscape, you can kick-back on the beaches around the country's Caribbean coast, adventure through the Amazon rainforest region, and soak up the atmosphere in cities like Bogota, Cali, Cartagena and Medellin all in one trip. And that is before you've even considered exploring the nation's endless coffee plantations, vast lakes and miles of national parks.
Starting with the cities, Bogota is where most people fly into. It's the sprawling, resurgent capital that is positively booming. Budding entrepreneurs have brought the city to life with craft breweries, chi-chi restaurants and boutique hotels mushrooming across the city. The result? A welcoming, lively atmosphere for both locals and visitors with countless cool things to do. Check out the colonial La Candelaria historic neighborhood during the daytime for handicraft shopping and interesting eateries serving local dishes; at night, work up an appetite at a Salsa club or try your hand at tejo—a traditional ball-throwing game. There are restaurants, bars and clubs a plenty to take you through the night.
Meanwhile, 260 miles northwest of the capital sits Medellin, a city that has undergone a dramatic transformation in recent years. A cable car crisscrosses the metropolis connecting every corner, offering tremendous views of the mountains that surround in all directions. Take a walk in the Barefoot Park (shoes optional ) or relax in the Botanical Gardens. Visit upmarket neighborhoods and experience the Mercado del Rio—an upscale food court where you can take your pick from around 50 different eateries.
There's also the castle, El Castillo, perched atop a hill above Poblado with sweeping views of the city and lovely gardens to hang out in. For partying, Parque Lleras in upscale Poblado is the city's main nightlife hub with scores of bars and clubs. Medellin does museums well and you'll be spoilt for choice with the Museo de Antioquia, Museo de Agua and the Museo de Arte Moderno.
Cartagena de Indias on Colombia's Caribbean coast is one of the country's prettiest destinations. A walled port city, the Old Town is a UNESCO World Heritage Site . The quaint, cobbled streets and colorful colonial buildings are a joy to walk around; you can even get a bite to eat on top of the fortified walls, in between the old cannons, while admiring the views out to sea.
While there are beaches close to the city, they aren't the pristine, white tropical beaches you'll find in the Caribbean. That said, if you are longing for a taste of paradise, the island archipelago of Islas del Rosario is only a 90-minute speedboat ride from Cartagena . Day trips here are popular, with the islands promising coral reefs, sandy beaches and clear waters.
Other attractions include the Lost City of Ciudad Perdida in the Sierra Nevada mountains and the underground salt cathedral at Zipaquira, hewn from subterranean salt deposits. Opened in 1954 the site can be reached by the heritage railway departing from Sabana Station to Zipaquira every Saturday and Sunday.
One of the most important events in Colombia is the Barranquilla Carnival, which takes place 40 days before Holy Week and sees parades and parties thrown in the streets for four consecutive days. Giving Rio a run for its money, the event is a big tourist draw. If you are planning to visit a dentist during Carnival, be sure to book your appointment and accommodations well in advance.
Traveling to Colombia
Most people fly into Bogota, but there are international airports at major destinations, including Medellin, Cartagena, Cali and Barranquilla.
Visa Information
A visa is not usually required for stays of less than 90 days for Americans, Canadians, Europeans, Aussies and Kiwis.
Getting Around Colombia
There are a number of low-cost carriers for air travel between major cities (although booking in advance doesn't necessarily guarantee you the lowest fares). Otherwise, buses are a generally reliable way of traveling between cities. In town, pick-up truck, jeeps, buses and taxis are the way to go.
Distance from the Capital City (Bogota) to Other Major Tourist Locations
● Zipaquira, 27 miles (43 km)
● Medellin, 260 miles (421 km)
● Cali, 287 miles (463 km)
● Cartagena 660 miles (1,063 km)
● Barranquilla, 623 miles (1,004 km)
How do I Get Started Arranging a Dental Tourism Trip to Colombia?
The best way to get started is to search through our listings (we have dozens based in Colombia). This way, you can make an informed decision based on a wealth of information, which includes real patient reviews, clinic photos, price lists, maps and dentist qualifications.
Book an appointment online or speak to our Customer Care Team if you'd like to know more. And remember, booking with Dental Departures always guarantees you the best price .
Sources:
McGreevey, William Paul et al. Colombia. Encyclopaedia Britannica. 8 January 2019. https://www.britannica.com/place/Colombia
Riggs, Trisha et al. Which Cities Are The World's Most Innovative? Urban Land. 1 March 2013. https://urbanland.uli.org/economy-markets-trends/which-cities-are-worlds-most-innovative-winner/
Frakt, Austin. How Dental Inequality Hurts Americans. New York Times. 19 February 2018. https://www.nytimes.com/2018/02/19/upshot/how-dental-inequality-hurts-americans.html
Friedman, Sophie. How to Spend Two Days in Bogota. Forbes. 13 December 2018. https://www.forbes.com/sites/sophiefriedman/2018/12/13/how-to-spend-two-days-in-bogota/#1b47b14b293d
Aligh, Radhika. 10 Reasons to Visit Medellin in Colombia. The Evening Standard. 18 January 2018. https://www.standard.co.uk/lifestyle/travel/medellin-colombia-reasons-to-visit-where-to-stay-eat-a3741736.html
Port, Fortresses and Group of Monuments, Cartagena. UNESCO World Heritage List. Accessed: 17 February 2021. https://whc.unesco.org/en/list/285
Alcantara, Christian. 7 Ways to Feel the Love in Cartagena, Colombia. Travel Zoo. 10 October 2017. https://www.travelzoo.com/blog/7-ways-to-feel-the-love-in-cartagena-colombia/
World Bank. Website Accessed 17 February 2021. https://www.worldbank.org/en/country/colombia/overview
Frakt, Austin. How Dental Inequality Hurts Americans. The New York Times. 19 February 2018. https://www.nytimes.com/2018/02/19/upshot/how-dental-inequality-hurts-americans.html
CAD/CAM Dentistry: What Is It? Colgate. Website Accesses: 17 February 2021. https://www.colgate.com/en-us/oral-health/basics/dental-visits/cad-cam-dentistry--what-is-it-