Last fact checked: 20 February 2020
Bangkok is the world's most-visited medical travel destination – and with good reason. We'll show you how to find and book a quality-checked dentist in Bangkok for the ultimate in dental care.
Bangkok–In Brief
Welcome to Bangkok – the capital city of Thailand and one of the most dynamic cities in all of Southeast Asia. This pulsating metropolis is home to around 12 million people, and is also one of the world's most popular tourist destinations, with more than 20 million visits per year, including nearly two million medical and dental travelers.
From traditional floating markets on the network of canals to ultra-modern dental clinics boasting the latest high-tech equipment, Bangkok is a city of contrasts.
Dentistry here is big. There are so many dental clinics now established here – mainly to treat the influx of foreigners attracted to the cheap prices and high standards – that it is difficult to know where to start on choosing the right place. This is where Dental Departures can help. We are pleased to be working with some of the finest dentists in Bangkok, so you can be sure you will be receiving the very best in dental care.
Where is Bangkok?
Bangkok is in the centre of the Chao Phraya River delta in the Gulf of Thailand. It is recognized as one of the major international hubs for dental care in the heart of Southeast Asia. International flights from around the world, and in particular from neighboring countries, make Bangkok's dental clinics easily accessible for many patients seeking expert dental treatment.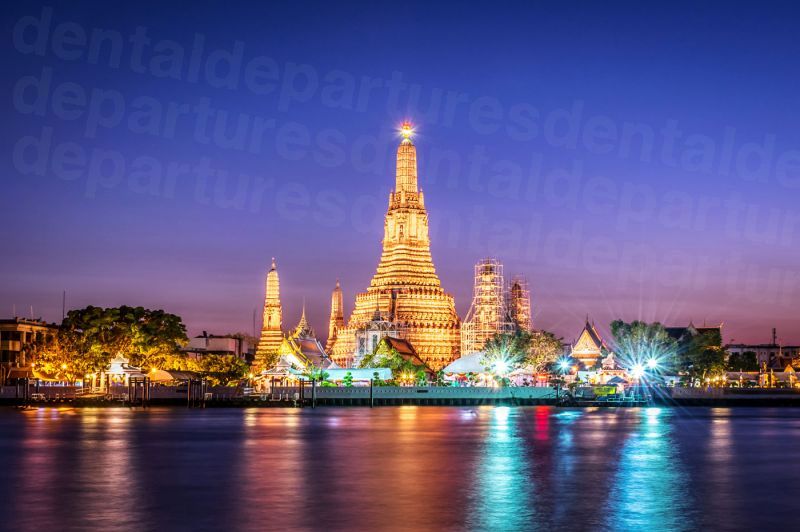 Why Visit a Dentist in Bangkok?
Bangkok is an exciting and awe-inspiring city. There are so many things to see and do, and just when you think you've seen it all, there is always something else to surprise you.
The dental facilities here are outstanding. Nowhere else in the world boasts a seven-story, purpose-built dental hospital with over 80 specialists like the internationally accredited Bangkok International Dental Center (BIDC). With a growing international reputation for quality dental care, BDIC is also equipped with its own on-site laboratories, so your treatment and lab work is all done under one roof, saving you precious time. BIDC even has its own boutique hotel, offering international patients a truly one-stop-shop for their dental care.
Bangkok dental clinics provide extra facilities that you just don't get at home. The Bangkok Smile Dental Clinic and Spa offers spa facilities to help you relax before or after your treatment.
Notwithstanding Bangkok's legendary reputation for clinical quality, visitors travel here for their dental treatment because the prices are up to 70% cheaper than found at home. Affordable prices do not mean a compromise on quality, and the standards here are every bit as good, if not moreso, than the care you might receive at home. Examples of the savings to be had are shown below:
Avg. cost of a single dental crown in Australia: $1,200 AUD
At a dentist in Bangkok: $280 AUD
Avg. cost, root canal, post, and crown in Australia: $2,375 AUD
At a dentist in Bangkok: $900 AUD
Avg. cost of dental implant and crown in Australia: $5,000 AUD
At a dentist in Bangkok: $2,000 AUD
Where to Stay in Bangkok for Your Dental Treatment?
There is no shortage of accommodation in Bangkok. The Sukhumvit area, named after the Sukhumvit Road which traverses the city, is popular place lodgings on any budget. The area is highly walkable, full of amenities, including restaurants, shops and the easily accessible Sky Train, Bangkok's public transit gem.
As Bangkok is a sprawling metro area with frequent traffic snarls, you'll want to book your lodging near to your selected dentist office. Many of our clinics offer discount rates on partner hotels; our Customer Care Team is happy to help with arrangements.
Is It Safe in Bangkok?
Bangkok is a safe city, with incidents of violence against tourists a rare occurrence. Although Bangkok is not inherently dangerous, as with any city anywhere in the world, it is always advisable to be aware of your surroundings. Crimes most common against tourists are pick-pocketing and scams involving fake goods or gemstones.
Buddhism is the main religion in Bangkok and throughout Thailand, and a source of Thailand's famed hospitality. The Thai people's intrinsic graciousness and tolerance, coupled with your own common sense, will make any visit to Bangkok safe and memorable.
Is the Quality of Dental Care in Bangkok as Good as Back Home?
While Bangkok's streets are filled with hundreds of walk-in clinics, the best dental facilities here are ultra modern and state-of-the-art, with some of the top specialists practicing their craft. Clinics are equipped with the latest dental technology and must adhere to international patient safety standards and sterilization techniques. Bangkok dentists have undergone rigorous training, many having trained at internationally-renowned dental schools in Australia, Germany, the US and the UK.
We at Dental Departures help to make your job of finding a reputable dental clinic in Bangkok easy and safe. We work only with registered, certified dentists that have passed our own stringent background checks for quality. Bangkok is also one of the world's centers for complex dental care, with implantologists, cosmetic oral surgeons and pediatric specialists capable of addressing nearly any dental condition.
Whether for a simple annual checkup or more complex work, patients from Australia, New Zealand, North America, the EU and all over the world have been to one of Dental Departures' clinics in Bangkok, with glowing praise on the standard of the treatment received. You can read their feedback and reviews, compare prices and check out your options.
What Happens if Something Goes Wrong? Do dentists in Bangkok Guarantee Their Work?

Competition for international dental patients is stiff in Bangkok, and it is in the clinics' best interests to ensure they provide outstanding quality treatment. However, in the unlikely event of a problem with your Bangkok dental care, your procedure, along with any lab work such as crowns or dentures, is covered under warranty. Furthermore, if your appointment has been scheduled through Dental Departures, you have peace of mind to know you are visiting a quality-checked dentist, and that we work with patients and the clinic to resolve any problems that may arise.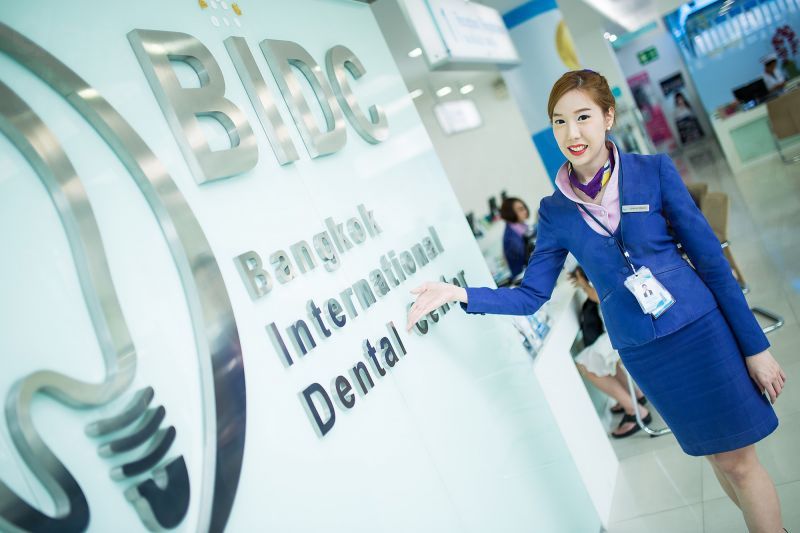 Do Dentists in Bangkok Speak English?
Yes, all our best clinics do; it's part of serving the international dental community. Many of Bangkok's dentists have trained in English-speaking countries, and have trained their staff to speak English. Our Customer Care Team can help direct you to dentists with a good command of English, or your native tongue.
What Payment Methods are Accepted?
• Cash (in Thai baht)
• Visa
• Mastercard
Credit cards are the preferred method of payment, although some clinics will accept a bank check or travelers checks.
When is the Best Time to Visit a Bangkok Dentist?
Bangkok is a year-round destination and the best time to visit for dental treatment is entirely your own choice. Peak season is between November and March, as this is when most people visit, as the weather is slightly cooler and the monsoons have passed.
While March through May tend to be the hottest time of year, a couple of important Thai festivals that are celebrated widely during this period – Songkran (Thai New Year) in mid-April and the Royal Ploughing Ceremony in May. A visit during these times is a cultural experience not to be missed.
May to November is monsoon season, and the least busy time of year. However, Bangkok has one of the best drainage systems in the world and well able to cope with the heavy downpours. It is a good time to have a relaxed stay in Bangkok, without the crowds, and you can often find bargain flights and good hotel rates during this time.
What Else is There in Bangkok?
It would be easier to ask what else isn't there? The main tourist attractions, such as the Grand Palace and the temples are musts for any first time visitor. Dine in five-star restaurants, or grab some delicious food-on-the-go from one of the many street vendors. Cruise the river or visit the floating market; mooch around the night-market in Patpong or max-out on plastic at one of Bangkok's many new glitzy shopping malls. Mingle with an eclectic crowd on the Khao San Road or chill-out in the Butterfly Garden. If you still have time on your hands there are Lady Boy shows, Thai cookery classes and even Segway tours. And no trip to Bangkok is complete without an authentic traditional Thai massage.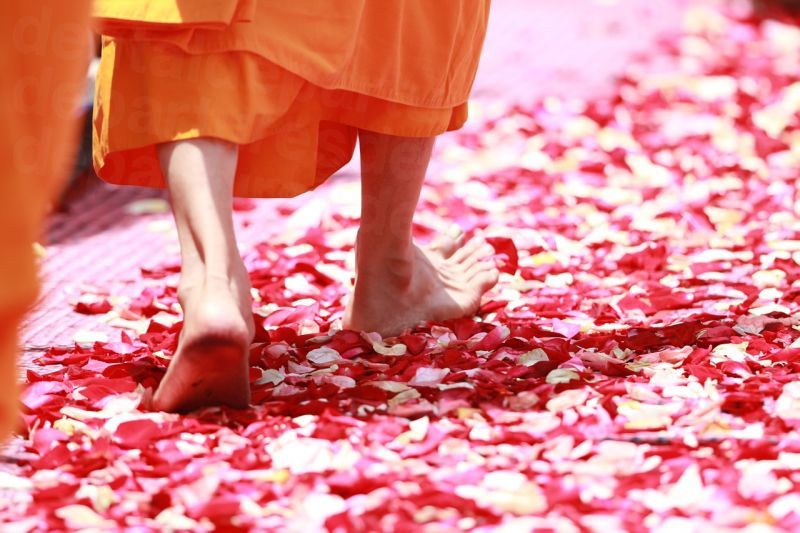 Traveling to Bangkok
Bangkok is a major Southeast Asian air hub, with dozens of airlines flying regularly from Australia, New Zealand, Asia, Europe and the US into Suvarnabhumi Airport, the new international airport. Thailand also has a number of airlines operating a large network of domestic air routes and these fly from Don Muang Airport.
Traveling from Bangkok's Airports
International flights arrive at Suvarnabhumi Airport, with a 30-minute taxi ride to your destination. There are, of course, car rental companies located within the airport. However, driving in Bangkok is not for the faint-hearted and, if you are a first-time visitor in particular, there are lots of other choices. Multiple taxi stands are easily located, and the stand operators can easily direct your driver to your hotel.
The newly opened Airport Express rail link is the quickest way to get from Suvarnabhumi Airport to Phaya Thai Station in Bangkok City Centre. Running every half an hour from 6.00am until midnight, the journey takes just 15 minutes on a high-speed non-stop train.
Other services from the here also include a limousine service, which can be booked online before you arrive, or at the desk inside the terminal.
If you have flown to Bangkok from elsewhere in Thailand you will more than likely arrive at Don Muang Airport, which receives all domestic flights. The best way to get into the City Centre from here is via taxi.
Getting around Bangkok
An array of good transport options are available for traveling in and around Bangkok; the city boasts one of the most advanced and speedy transit systems in the world. Although taxis and other forms of ground transport are inexpensive, the trick is to avoid Bangkok's heavy traffic if possible.

BTS Skytrain: The above-ground Skytrain is efficient, clean, easy to navigate, and is also the fastest way to get around Bangkok. The Silom line travels west to South, and the Sukhumvit line travels north to east. You will find the Skytrain easy to use and a super-efficient way to avoid the infamous Bangkok traffic snarls.
MRT (Mass Rapid Transit): The MRT underground train system runs a circuitous route through Bangkok and offers rapid, easy access to most popular destinations and points of interest in Bangkok. Several stations converge with the BTS Skytrain for simple transfer between both transit options.
Taxi: Bangkok's taxis are plentiful and cheap. They can be hailed pretty much anywhere in central Bangkok or your hotel can call one for you. There are also 24-hour "dial-a-cab" services available as well, not to mention Uber. Unless you enjoy urban sightseeing, Bangkok traffic can be challenging. The SkyTrain or MRT are usually much faster for traveling any distance. The taxis are fine for shorter routes, or during the off-peak traffic hours.

Motorcycle taxi: One of the most exhilarating and efficient ways of getting around the city, if not always the safest. Zipping through traffic and weaving through intersections, motorcycle taxis can navigate Bangkok much faster than a regular cab. Looks for the gaggles of parked cycles and orange-vested drivers. Helmets are optional!
Tuk Tuks: The ubiquitous three-wheeled motorized rickshaws can be a cheap way to get around, but are slower than normal taxis and motorcycle taxis, and can often get mired in the thick Bangkok traffic.
Bus and tram: A cheap, but often crowded way of getting about. Most run between 5 am and 11 pm; night buses run from 3 am.
Water taxi: Bangkok makes the most of its waterways and there are regular ferry services along and across the Chao Phraya River, and up the adjoining canals (khlongs in Thai). Water taxis are among the most scenic, exciting and inexpensive ways to get around and to experience the real Bangkok.
Car: Renting a car to drive around Bangkok is not recommended. Parking is difficult, traffic is tiresome and the rules of the road can be strange. However, if you want or need an auto rental, all the big car hire companies have offices in Bangkok and at Suvarnabhumi airport. A passport and an international driving permit are required.
Distance to Bangkok from Airports and Major Tourist Areas:
• Suvarnabhumi Airport 16 miles (25 km)
• Don Mueang Airport 19 miles (30 km)
• Pattaya to Bangkok 61 miles (97 km)
• Chiang Mai to Bangkok 362 miles (593 km)
• Phuket to Bangkok 417 miles (671 km)
How Do I Book?
Find your dentist in Bangkok and book online with Dental Departures any time of the day or night, at no charge to you. Check out our clinic pictures, view maps, read reviews and compare prices. Discover exclusive discounts and our best price guarantee to get the best deals. Contact us via online chat, e-mail or our freephone number if you have any questions, or would like to talk to us about your dental care–we're happy to help.
Sources:
1. Thailand dental tourism. Shannon Ullman, Huffington Post. https://www.huffpost.com/entry/the-5-benefits-of-dental_b_14083754" target="_blank
2. Quality of Thai dental care. International Living. https://internationalliving.com/au/3-top-asian-countries-high-quality-dental-care-low-cost/
3. Thailand travel. Lonely Planet. https://www.lonelyplanet.com/thailand/bangkok/things-to-do/temples-of-bangkok" target="_blank
4. Thailand tourism attractions. Tourism Authority of Thailand. https://www.tourismthailand.org/Attraction/Bangkok-Butterfly-Garden-and-Insectarium--58" target="_blank