Last fact-checked: 5 July 2022
If you've got a missing tooth or two, why not replace them with dental implants in Bangkok? You'll save more than 50% on the prices at home, and you get to enjoy the sights and sounds of this enthralling city. With Dental Departures, you can find a quality-checked dentist, compare prices and book your appointment online.
Bangkok is not only a world-renowned centre for dental tourism but is also one of the most excitingly modern cities in the world, offering dental implant patients a host of sights, activities and conveniences to enjoy outside their visits to the dental clinic.
It usually takes a couple of visits to complete the dental implant procedure. It is important, therefore, that you are comfortable in your surroundings and that your everyday needs and comforts are easily met. As one of Southeast Asia's most important cities, Bangkok is a heady mix of modern and traditional. New skyscrapers stand alongside Bangkok's canals and the Chao Phraya River, where a glimpse of Bangkok's past when travel and business were conducted on this network of waterways can still be seen in the floating markets.
Why Have Dental Implants in Bangkok?
Bangkok is a premier destination for dental tourists – its infrastructure, world-class facilities and state-of-the-art clinics consistently delivering quality dentistry.
Widespread air-travel and cross-border training have led to dentists throughout Thailand pursuing qualifications at prestigious universities abroad as well as membership of international societies such as the International Congress of Oral Implantologists. Dental implant patients can be assured their Bangkok dentist's training and qualifications are certainly on a par with dentists at home.
Moreover, as clinics aim to deliver ever-higher standards across every aspect of their services, including hygiene and safety standards, more are gaining accreditation with international organizations. A number of our Bangkok clinics are accredited with, for example, the International Organization for Standardization (ISO).
How Long Do Dental Implants Take in Bangkok?
Most dental implant patients need appointments over two visits to complete their treatment. Each visit is a number of months apart, usually between three and six months. If, before the treatment commences, you need a sinus lift or bone graft because you have lost your tooth through periodontitis (an advanced form of gum disease), your treatment may take longer.
On your first visit, the dental implant will be inserted. The implant procedure requires the dentist to open up your gum and insert the implant painlessly into your jaw bone. You will then wait for a period of around months for the area to heal and for the implant to fuse with the bone (a process called osseointegration).
On your second visit, the crown (replacement tooth) will be fitted. If your dentist is satisfied that the implant has successfully taken, impressions or digital scans will be made so that the crown can be custom-made to fit perfectly. The impressions or scans are sent to the lab to make the crown. In the meantime, you can enjoy the sights of Bangkok until your crown is ready.
On your final appointment, your dentist will fit the crown to the implant and your procedure is complete!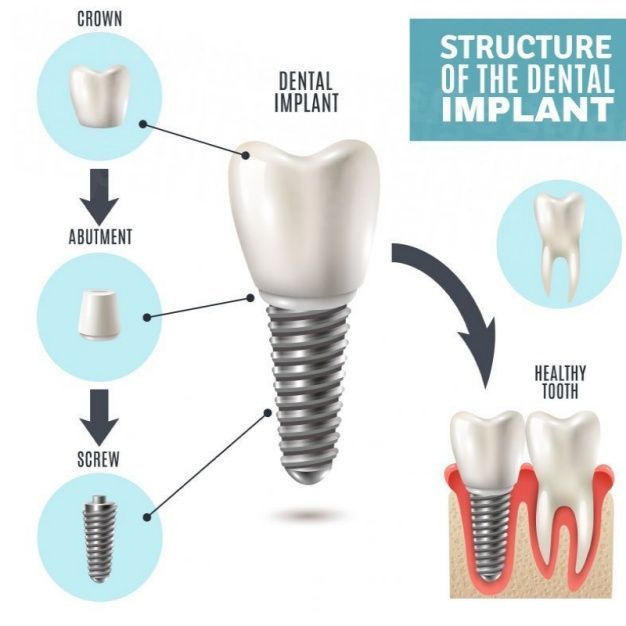 Image by macrovector on Freepik
How Much Do Dental Implants Cost in Bangkok Compared to Australia or New Zealand?
The table below shows you how much you save on dental implants in Bangkok:
| | | | | | |
| --- | --- | --- | --- | --- | --- |
| | AUS $ | NZ $ | UK £ | EUR € | US $ |
| Dental Implant Prices – at home | 5,100 | 5,500 | 3,000 | 3,600 | 3,900 |
| Dental Implant Prices – Bangkok | 2,300 | 2,439 | 1,262 | 1,428 | 1,594 |

Further Information:
Dental Departures' Customer Care Team will be happy to assist you. Or you can book your appointment online at any time of the day or night, at no charge to you.
See below for ways to connect and start planning your trip to Bangkok for dental implants.
Sources:
Faculty of the Columbia University College of Dental Medicine. Sinus Lift Surgery. Colgate Oral Care Center. 6 April 2013.
https://www.colgate.com/en-us/oral-health/cosmetic-dentistry/implants/sinus-lift
Krans, Brian. Bone Graft. Healthline. 6 November 2018.
https://www.healthline.com/health/bone-graft
Chouman, Sarah. Gum Disease: Stages, Prevention and Treatment. Ask the Dentist. 30 April, 2019.
https://askthedentist.com/gum-disease-stages-prevention-treatment/
Burhenne, Mark. Your First Dental Implant Procedure: What to Expect. Ask the Dentist. 27 March, 2019.
https://askthedentist.com/dental-implants/