Last fact-checked: 1 November 2022
Book an appointment with one of Dental Departures' quality-checked dentists for low-cost dental care, where every year thousands of dental travelers can save up to 70% on their treatment!
Los Algodones (which has now earned the reputation of "Molar City") is known as the dental capital of the world, with more than 300 clinics and 900 dentists.
Hundreds of thousands of patients from all over the United States and Canada have safely traveled to this bustling border town in northern Mexico for the express purpose of finding excellent quality dental care for 70% less than at home.
Book with a Trusted Dentist with Dental Departures on Your Side
Patients using Dental Departures⁠—which is the world's leading platform for booking at trusted, verified global dentists⁠—can look forward to saving thousands, if not tens of thousands of dollars, thanks to the substantial price differences between clinics in the US and Canada and those in Mexico, as well as Central and South American countries like Costa Rica and Colombia.
Traveling to Mexico for dental care has exploded in popularity over the last 20 years and Dental Departures is proud to work with the very best dental clinics in Los Algodones that deliver world-class care, quick turnaround times and impressive results that last.
We pre-screen every Algodones dentist we work with so you don't have to compromise when it comes to quality—or end up getting dragged into the nearest clinic to the border by a shop tout where you'll probably pay more than you should.
Keep reading to see how much you can save on dental implants, crowns, veneers, fixed prosthetics, dentures, root canals and more at our top partner clinics, as well as travel tips, booking information and other logistical information to make your dental trip go as smoothly as possible.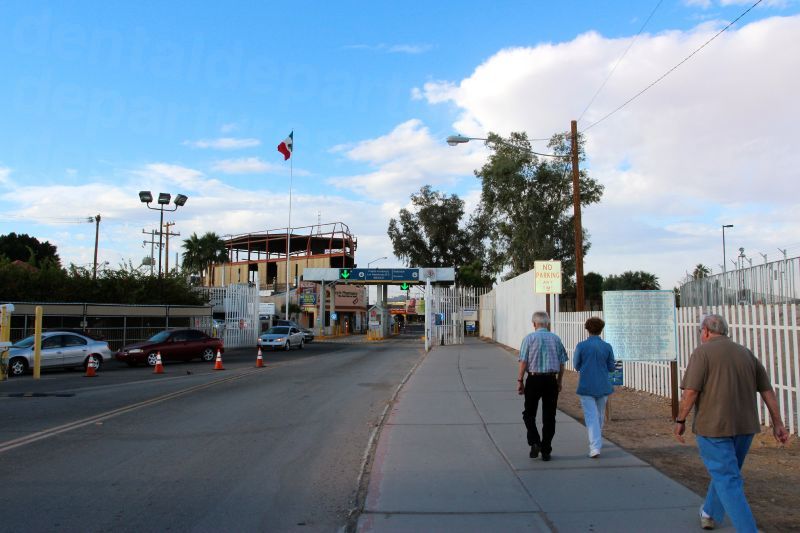 Several thousand patients cross the US-Mexico border every day for more affordable care in "Molar City", many arriving on foot via Southern Arizona.
Where is Los Algodones?
Los Algodones is the northernmost city in Mexico, located just seven miles west of Yuma near the southern borders of California and Arizona.
Most patients arrive by car from the large metro areas of Phoenix, Tucson, San Diego, Orange County and Los Angeles. Molar City dentists also treat tens of thousands of patients each year from Canada, the UK and all over the world.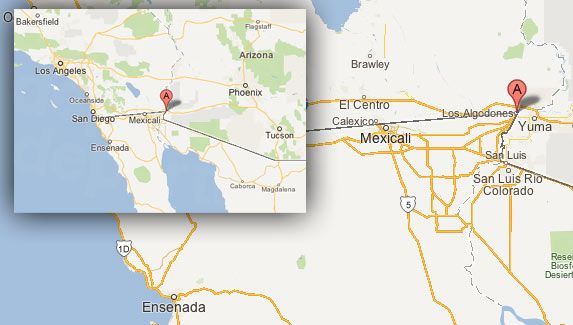 Map via Google: Los Algodones is located just past the border near Yuma, AZ
Why Is Los Algodones a Good Choice for Dental Work?
Los Algodones is a great destination to visit for affordable dental care, particularly for budget-conscious North Americans and Canadians who don't want to travel far for excellent care. Here's why:
Easy access. Within walking distance of the US-Mexico border crossing at Andrade are over 300 dentists situated within just a few blocks. You can drive or – fly-drive – leaving your car at one of the secure parking lots on the US side of the border, which means you need not worry about obtaining additional insurance for Mexico.
Excellent quality care. Our best dentists have been trained in the US and are likely to be members of the American Dental Association or accredited by one of the leading US accreditation agencies. Search Dental Departures for verified dentists with excellent reviews from patients who have experienced satisfactory outcomes.
Great prices. If you are among the millions struggling with the high costs of dental care at home, then Algodones could be just the place to get your dental health on track. Savings on most procedures range from 40-70%.
English spoken here. Because Algodones dentists cater largely to North American visitors, English is fluently spoken at all the best clinics.
Additional medical services. In addition to Los Algodones' wide choice of dental options, medical travelers also take advantage of affordable vision care (including check-ups and new spectacles) and less costly pharmaceuticals. Some 30 optical clinics and more than a dozen reputable pharmacies help make Los Algodones a one-stop shop for multiple medical needs.
How Much Does Dental Care Cost in Los Algodones Compared to the US or Canada?
| | | | | | |
| --- | --- | --- | --- | --- | --- |
| Price in: | Price in the United States ($) | Price in Canada (CAD) | Price in Algodones ($) | Price in Algodones (CAD) | Savings |
| All-on-4®treatment concept | 26,000 | 33,341 | 10,000 | 13,393 | 67% |
| Crowns | 1,164 | 1,483 | 500 | 669 | 57% |
| Fillings | 155 | 199 | 51 | 68 | 67% |
| Implants | 3,900 | 5,000 | 1,250 | 1,673 | 68% |
| Veneers | 1,245 | 1,599 | 477 | 638 | 62% |
| Dentures | 1,800 | 2,344 | 669 | 895 | 63% |
| Root Canal | 1,275 | 1,630 | 247 | 330 | 81% |
| Whitening | 668 | 858 | 174 | 233 | 74% |
[Note: These figures are estimates at the time of writing; please check our clinic listings for up-to-date prices.]
Where Do I Stay in Algodones?
Although you will discover only a few hotels in town, free or discounted rates can be arranged at the Hacienda; complimentary stays or discounted rates can be arranged through your appointment with Dental Departures, depending on the type and amount of work you require.
Many patients choose their lodgings in nearby Yuma or stay at the Quechan Resort and Casino, just two miles up the road from downtown Algodones.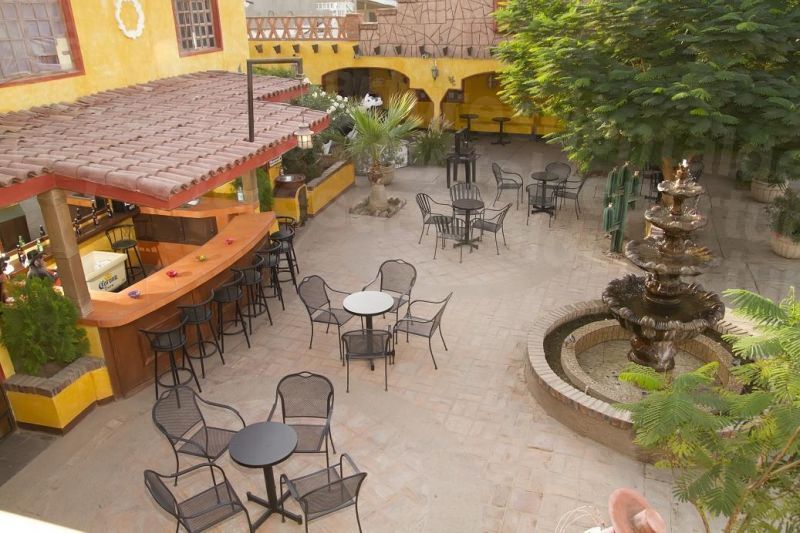 Hacienda Los Algodones: a comfortable popular hotel in town that partners with some of our top clinics.
Is Los Algodones Safe?
Yes. While horror stories abound about crime and social turmoil in Mexico, patients do not experience problems in this popular dental destination. The city has been recognized by the US government as a safe destination for tourists. Algodones is quite small (population 6,000) and relies upon providing tourists and visitors with a safe, friendly destination for their dental, vision and other types of treatment.
Thousands of seniors and retirees visit weekly to tend to their teeth, fill prescriptions inexpensively at one of the many reputable pharmacies or visit an optical clinic for a vision examination or new pair of specs. The town is safe for walking, safe to carry cash, and easy to navigate.
Is the Quality of Care in Algodones the Same as Back Home?
At a good clinic, absolutely. In fact, many of our patients tell us the facilities and quality of care is far better than what they experience at home. That said, of the more than 900 doctors in the area, some are better than others, and some have special skills to match your treatment requirements.
Let Dental Departures help. We only work with the most reputable clinics that have been background-checked, pre-screened, and vetted for quality. Read reviews, search and compare prices. We guarantee you will receive the lowest price offered to any patient by all our clinics: no haggling is required, and you can be assured you will have a great experience.
Some of our top-rated clinics in Los Algodones include: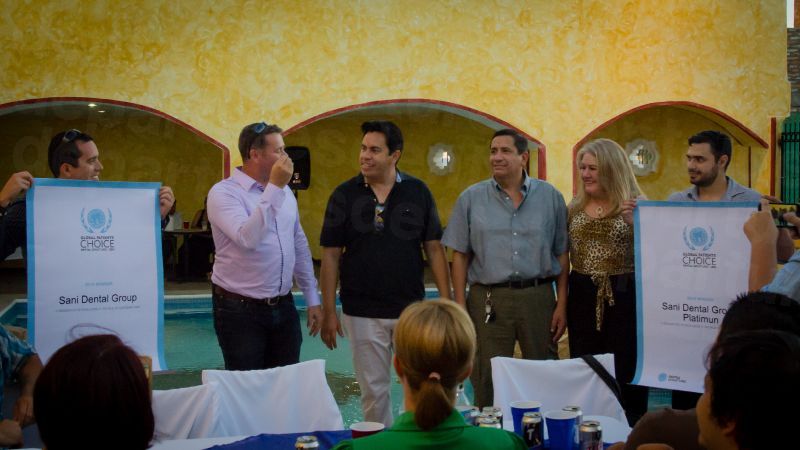 Above: The Dental Departures team together with management from Sano Dental Group, a "Global Patients' Choice" Clinic.
What Happens If Something Goes Wrong? Is My Dental Care Guaranteed?
Should you have any issue with your dental care, the procedures and lab work are covered under warranty. Competition for patients is steep; clinics only survive by providing excellent quality care. Further, when scheduling your appointment through Dental Departures, you can be sure you are visiting a quality-checked clinic and have an advocate for your care working on your behalf.
While no practitioner can guarantee 100% perfect work, fewer than one percent of our patients experience complications or other issues related to their treatment. If something needs to be fixed, we are here to help resolve any problems.
Do I Need to Speak Spanish?
No. Most of the dentists and docs in Molar City speak fluent English; if not, a dental assistant or staff member will be available to translate.
What Payment Methods Are Accepted?
While US cash is preferred by most dental offices, all the quality clinics accept traveler's checks, personal checks and credit cards. Credit card payments are typically subject to a small processing fee (typically around 3-4%). Inquire in advance which offices accept credit card payments.
Will My Algodones Dentist Accept US or Canadian Dental Insurance?
The dental clinics are not typically able to bill your insurance company directly, although you may be eligible for reimbursement upon your return home. Contact your dental insurance company to inquire if they reimburse for out-of-network care and if so, what documents might be required in order to successfully process your claim.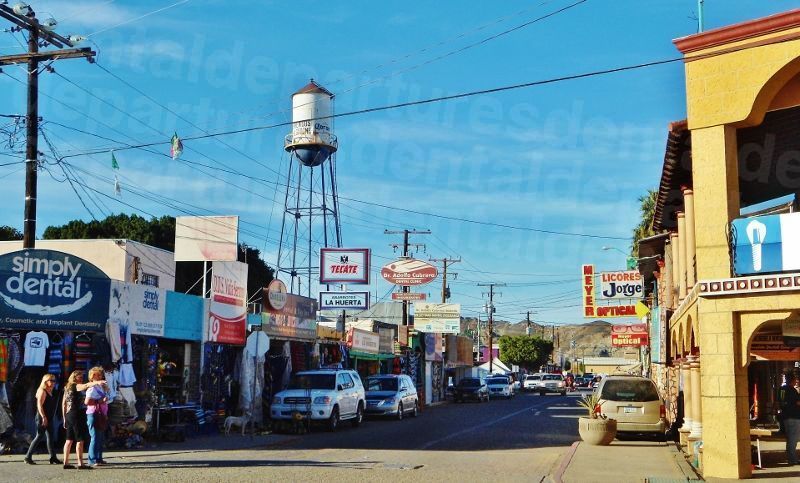 Blue Skies and Low-Cost Dentistry: Downtown Los Algodones a few blocks from the US-Mexico Border
When Is the Best Time to Visit?
During the winter months, retirees and snowbirds from all over North America pack the town. Peak season is December-March, and the dental clinics are quite busy this time of year. If you plan to visit during these months, border waits can be long, and you will need to schedule your appointment further ahead of time. The good news is the weather is the best during the winter; if you can't stand the heat, scheduling your visit during the winter is ideal.
Summer is the slowest time of the year, and while temperatures can run quite hot, you can take advantage of summer promotional prices while avoiding border waits. Late spring and early fall are also good times to visit a Los Algodones dentist.
Is Algodones Wheelchair Accessible?
While the streets and sidewalks improve every year, navigating a wheelchair remains a challenge. Many of our dental clinics offer shuttle services from the border, with ample lobby room for wheelchairs as well as disabled-friendly bathrooms. Many patients in wheelchairs do visit; we're happy to help facilitate your trip and get you to one of our great clinics.
Please contact us to find a clinic that can help shuttle you to the office from the border, and accommodate your needs.
What's the Downside? What Should I Know About Visiting?
Unlike many of the more exotic dental destinations like Cancun or Los Cabos, Algodones is not a resort destination and thus lacks the appeal and amenities common to leisure tourism destinations. Don't be put off by appearances; once you step inside our selected dental clinics in Algodones, you can expect to find first-rate facilities and cleanliness on par with your local dental office.
Pushy street vendors are common. In addition, you will also encounter "pickers" who are paid by unethical clinics to lure patients to their offices. They can be seen on the Mexican side of the border and will approach you when you cross. Clinics that employ pickers are generally not of good quality; the best dental clinics consider it unethical to employ street salesmen.
Just as anywhere, Algodones has great dentists and not-so-good ones. The majority of clinics are tiny single-dentist offices occupied by a general dentist and an assistant. For a filling or a cleaning, they are probably okay. While these clinics may offer full dental services, if you require more complex care, you should visit an established dental clinic that has a specialist qualified to treat you.
Our highest-rated clinics are hand-selected and thoroughly screened for quality. We can help find the appropriate specialist for your case.
Sedation is not widely available in Algodones, and gas (nitrous oxide) sedation is not offered. Of course, local anesthetics (numbing) is used for any treatment requiring it.
For patients who require sedation or anxiety medication for treatment, it is important to find a dentist who offers this. Anxiety medication such as Valium is available, which you can request prior to your visit. If you require full sedation, select clinics can provide this service with a licensed anesthesiologist available to provide sedation. The cost is typically $400-$600.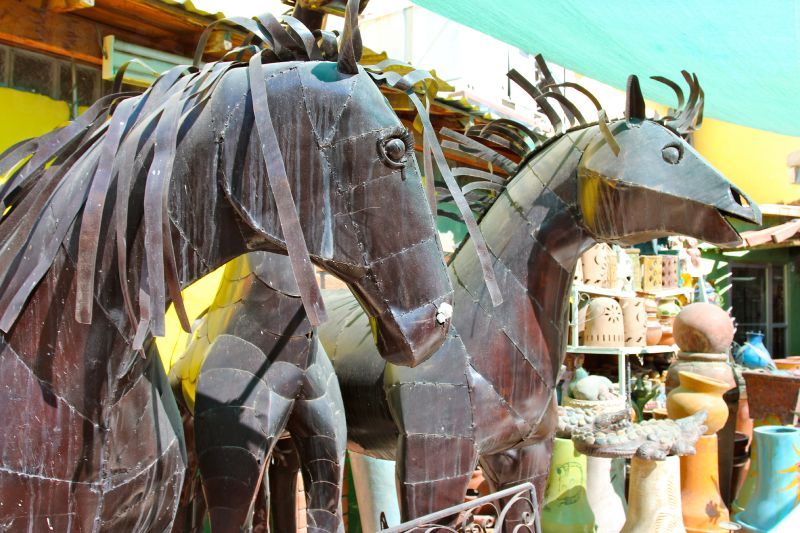 What Else Is in Town?
Dozens of reputable pharmacies and optical clinics provide prescription medication and optical services for steep discounts compared to the costs in the US and Canada. So long as you are there, you can save additionally money on your prescription medications and optical care.
Curio shops, alfresco restaurants, liquor stores, and souvenir stands provide other shopping opportunities. Our Customer Service Team can help refer patients to reliable vendors for these important add-on services.
Driving Directions
Most patients drive to the border to find affordable dentistry, although there are several options for flying in as well. To find the border and access the dental clinics from I-8, head south for two miles on Highway 186 (Algodones/Andrade Road).
For directions to the border on Google Maps or MapQuest, you can type in the address of the border crossing below:
235 Andrade Road
Winterhaven, CA 92283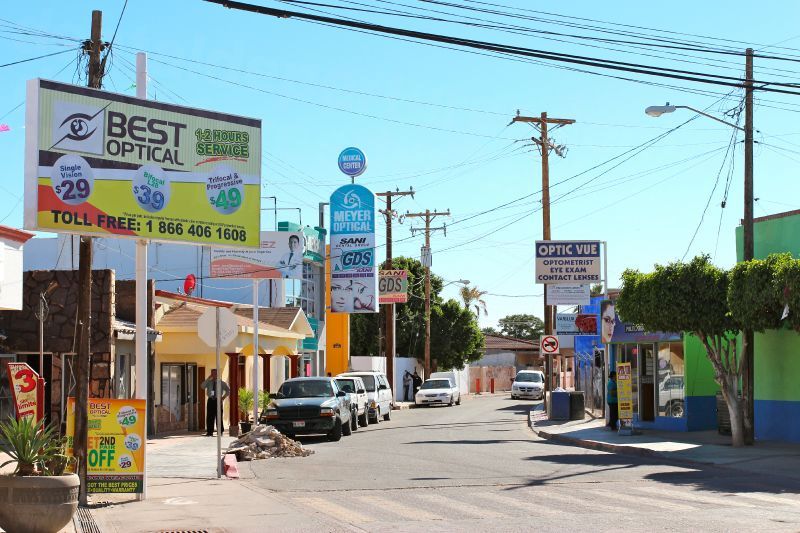 Parking
A large secure parking lot is located on the US side of the border with thousands of parking spaces available for all vehicles. RV's, large trucks, and 5th wheels are easily accommodated. Overnight parking is available as well.
The parking lot is owned by the local Quechan Indian tribe, and quite safe. Parking costs $5-10 a day. Or, if you're staying at the Quechan Casino Resort near the border, parking is free.
Mexican Auto Insurance
Usually, US car insurance companies don't offer coverage in Mexico, though some cover the first 25 miles. (The clinics are all less than one mile from the border). If your insurance company does not offer coverage in Mexico, you can buy temporary car insurance for Mexico. Some clinics do offer secure parking, and we can direct you to those offices.
Flying In?
The closest airport is located in Yuma (YUM), though flights into Palm Springs (PSP), Phoenix Sky Harbor(PHX), and San Diego (SAN) are also options. From the Yuma airport, you can take a taxi to the border at a cost of around $30. We recommended that you call a local taxi company ahead of time to schedule, as there are no taxi stands. Also, many of our better clinics offer free or inexpensive airport pickup and drop-off.
Yuma City Cab:

(928) 783-4444 (

928) 783-4444

Foothills Taxi Service:

(928) 446-8782

(928) 446-8782
A taxi can take you right to the border crossing, and the dental clinics in Algodones are all located within a four-block radius of the border. Rental cars are also available at either airport for you to drive down.
Distance to Town from Airports and Nearest Metro Areas
Approximate distances and driving times to the border crossing:
Yuma: 7 miles, 15 minutes
Phoenix: 200 miles, 3.5 hours
Palm Springs: 200 miles, 3.5 hours
San Diego: 165 miles, 2.5 hours
Las Vegas: 300 miles, 5.5 hours
Tucson: 250 miles, 4 hours
Los Angeles: 280 miles, 4.5 hours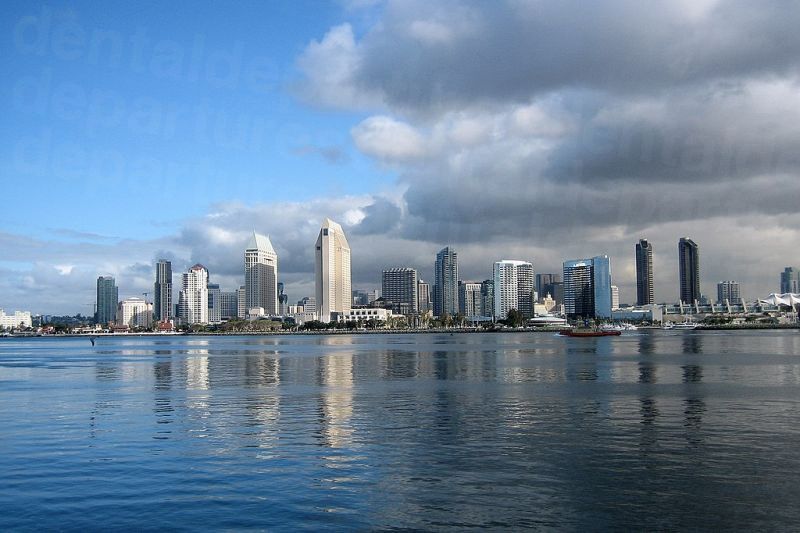 Downtown San Diego: A 2.5-hour drive from Los Algodones (Cr. Flickr, CC BY-SA 2.0, via Wikimedia Commons)
Border Crossing Document Requirements and Hours of Operation
The Andrade border crossing opens daily at 6:00 am and closes at 10:00 pm.
How Do I Get Started?
At Dental Departures, you can choose from thousands of clinics and oral surgeons from Los Algodones and around the world who deliver top-quality crowns at a fraction of the price that you would pay at home.
Our website contains all the information you need to research top clinic locations and start comparing prices. We offer a best-price guarantee to ensure that you get an unbeatable deal, and we also enjoy close affiliations with several independent insurance providers who can provide dental insurance for extra peace of mind.
If you have any queries, our Customer Care Team is always happy to answer your questions via our online chat facility, by e-mail or on our toll-free telephone number. Or if you're ready to schedule your appointment, you can book online with us right here, any time of the day or night, at no charge to you.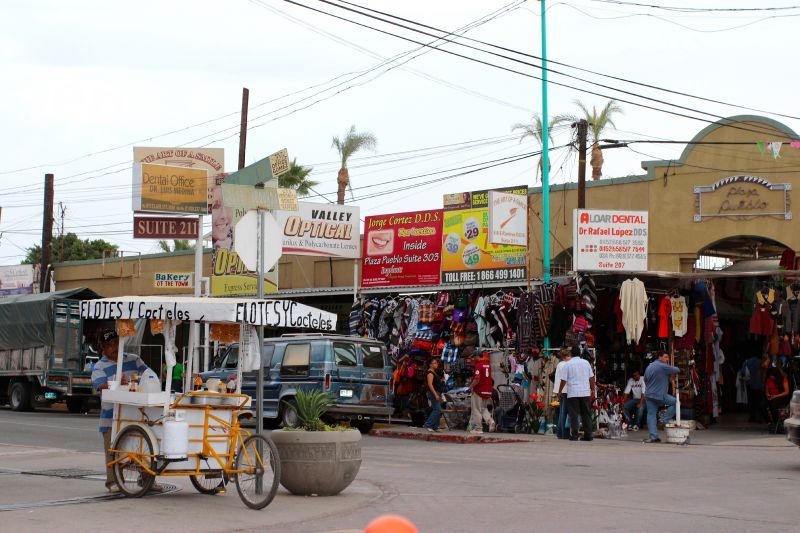 Sources:
Dentistry. Patients Beyond Borders. Web accessed 26 April 2022. https://patientsbeyondborders.com/procedure/dentistry
Yeginsu, Ceylan, Why Medical Tourism Is Drawing Patients, Even in a Pandemic, New York Times, 19 January 2021, https://www.nytimes.com/2021/01/19/travel/medical-tourism-coronavirus-pandemic.html
Devoted to Implant Education, International Council of Oral Implantologists, Web accessed 25 April 2022. ICOI - International Congress of Oral Implantologists
Sands, Roger, Americans Are Flocking To Other Countries For Medical Procedures, Forbes/KPMG, 6 August 2021 https://www.forbes.com/sites/rogersands/2021/08/06/americans-are-flocking-to-other-countries-for-medical-procedures/?sh=4ef16ce7ba39
U.S.-Mexico Border, City of San Diego, Web accessed 26 April 2022 https://www.sandiego.org/plan/visitors-information-services/border.aspx
Mexpro. Website accessed: 26 April 2022. https://www.mexpro.com/
Quechan Casino Resort. Website accessed: 26 April 2022. http://playqcr.com/section/stay
Travel.State.Gov. Website accessed: Website accessed 25 April 2022. http://travel.state.gov/passport/passport_1738.html