Last fact-checked: 26 August 2021
Ankara, the capital of Turkey, is one of the top places in the country—an already-thriving health tourism destination —to receive low-cost dental care at one of our partner clinics.
With Dental Departures, you can find and book with licensed dentists in Ankara with confidence, saving between 50% and 70% away from home on a range of procedures, including root canals, extractions, dentures, implants, crowns, veneers, teeth whitening, braces, fillings and full arch restorations.
Find out more about dental tourism in the Turkish capital with Dental Departures—and make sure to book with us to get the Best Price Online, Guaranteed.
About Ankara & Turkey
Ankara (/ˈæŋkərə/ ANK-ə-rə, US also /ˈɑːŋ-/ AHNK-ə-rə) is situated in the central part of Anatolia, roughly in the central-western part of the country, with a population close to 5 million. While the country capital, this only makes it Turkey's second-largest city behind the sprawling metropolis of Istanbul.
The almost-2,000-year-old city boasts various Hattian, Hittite, Greek, Persian, Roman, Byzantine, Lydian, Phrygian, Galatian, and Ottoman influences and archaeological sites, many of which can still be viewed today, albeit in ruins.
The historical center of Ankara is situated around a hill that rises approximately over the central Ankara River, which is one of the several tributaries of Turkey's mighty Sakarya River. Still today, on the hill, you'll find old ruins of Ankara Castle, promising some well-preserved examples of Ottoman Roman architecture that can also be found throughout the rest of the city. Of these, the highlight is the stunning 20 BC Temple of Augustus and Rome, home to the Monumentum Ancyranum (an inscription of the Res Gestae Divi Augusti.)
Quality of Dental Care in Ankara
In terms of dental care in Turkey, it should be remembered that, in most parts, Ankara is a modern, advanced city with a highly-rated health and dental care system, particularly when you are undergoing treatment at a private clinic in Turkey.
Facilities here compare favourably with those in the UK, Europe or the US; all those listed on our site are equipped with the latest dental tech, including digital x-rays, 3D/CT scanning and computer-aided design/computer-aided manufacture (CAD/CAM) technology.
This often allows for prosthetic devices, like crowns and veneers, to be made on-site, while-you-wait, even on the same day as your initial morning appointment.
As well as those low prices (which we look at in more detail in the next section), patients from the UK and Ireland can look forward to low-cost flights with the likes of Easyjet, Ryanair, Jet2, Thomas Cook and TUI from a wide range of British cities), as well as superb value-for-money hotels thanks to the pound's favourable exchange rate against the Turkish lira.
How Much Does Dental Care Cost in Ankara?
Prospective patients heading to Turkey can typically enjoy prices between 50% and 70% less on their dental care by visiting one of our Turkish providers, including the capital of Ankara, as well as other destinations like Antalya, Bodrum and Istanbul.
Take a look at the table below to see the average prices for different dental treatments at our partner clinics in Ankara:
| | | |
| --- | --- | --- |
| Procedure | Price in Ankara (EUR) | Price in Ankara (GBP) |
| Composite veneer | €150 | £130 |
| Laser teeth whitening | €300 | £260 |
| Full Porcelain/Ceramic Crown | €150 | £130 |
| Full denture | €500 | £430 |
| Root canal (single tooth) | €80–120 | £65–100 |
| Dental implant with crown | €850 | £680 |
| Full-arch restoration with 4 implants and fixed bridge | (from) €5,500 | £4,600 |
Please note that the above prices are based on averages across five of our top clinics in Ankara, calculated at the time of writing.
What Are Some of the Best Dentists in Ankara, Turkey
Get started now by taking a look at some of our top-rated dentists in Ankara below:
Click through to see our price lists, dentist profiles and qualifications, patient reviews, photos, maps and booking information for your dental holiday to Ankara, Turkey.
With more than 100 options in total, you can also view our full list of:
Ankara and Turkey Travel Information
Described slightly unfavourably by Lonely Planet as being " flat, [with] modest surroundings that are hardly the stuff of national poetry " Turkey's capital is still a dynamic city that's full of life, with heaps to do and see.
But in a country promising a wide selection of world-renowned cities and holiday resorts, like Istanbul, Antalya, Izmir and Bodum, it's no wonder why the capital often gets overlooked by international visitors
That said, travelers will find that Ankara today is a sophisticated, truly 21st-century city for international affairs, reflecting Turkey's previously booming economy with its vibrant restaurant scene, hip boutique shops and malls, sidewalk cafes and plentiful nightlife options.
And while you won't find any beaches in this land-locked city, a couple of the main tourist attractions include the Anıt Kabir, a colossal tribute to Atatürk, modern Turkey's founder, as well as the ever-impressive Museum of Anatolian Civilisations.
How Do I Get to Ankara? Can I Fly
Unless you're based in a neighbouring country, the fastest, easiest and probably cheapest way to reach Ankara is by flying directly to the city's international airport, located a few kilometres from the city center.
There are currently direct flights from London (Stansted), as well as Berlin, Paris and Zurich.
Check the latest visa rules and entry requirements from the UK here.
How Much Do Flights to Ankara, Turkey Cost?
At the time of writing, return flights from London to Ankara start at GBP 300 with Turkish Airlines with Pegasus Airlines.
Check price comparison sites like Skyscanner for up-to-date prices.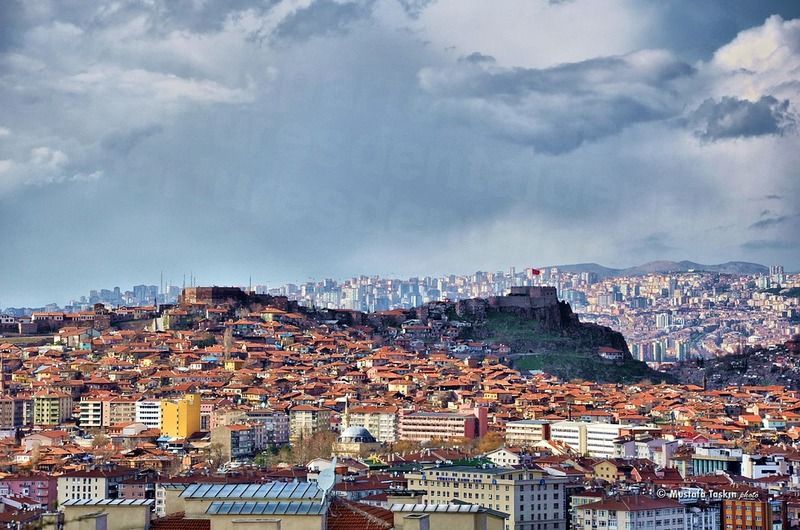 Where to Stay in Ankara?
Looking for a comfortable, spacious yet affordable room in Turkey where you can relax during your dental treatment? Then check out this list of top three-, four- and five-star hotels in Ankara with nights starting at just EUR 65.
Three of the main neighbourhoods of Ankara are listed below:
Ulus: commercial centre of the city, situated north of the Old Town; close to the citadel.
Kizilay: A trendy and upscale neighbourhood, boasting bars, restaurants, boutique shops and a lot of hip young locals.
Çankaya: Ankara's and indeed Turkey's political hub of Turkey, this area is where you'll find most of the city's main museums and galleries.
Find out more about visiting and staying in Ankara here.
Note: Some of our partner clinics offer free or discounted accommodation packages when booking major dental work in Ankara.
What Else Is There to Do in Ankara?
Some of Ankara's main attractions and landmarks are listed below:
Museum of Anatolian Civilizations

Erimtan Archaeology & Art Museum

Ulus' Roman Remnants

Haci Bayram i-Veli Cami

Painting and Sculpture Museum

Cer Modern

Ankara State Opera House

Gençlik Park

Hamamönü Neighborhood (for shopping)

Eymir Lake

Anitkabir (Atatürk Mausoleum)

Citadel Neighborhood
How Do I Book Treatment at a Dentist in Ankara?
Take a look at our partner dentists in Ankara to the right of the page or find more choices in the country with our full list of Turkish dentists here (with almost 200 options to choose from).
Pay the best prices online by booking your free appointment through Dental Departures; connect with our Customer Care Team over the phone or via the contact widget and ask us for a free quote, with no upfront charges when you book.
Sources:
GoTurkey. Website accessed: 4 August 2021. https://www.goturkey.com/
Ankara. Lonely Planet. Website accessed: 4 August 2021. https://www.lonelyplanet.com/turkey/central-anatolia/ankara
Museum of Anatolian Civilisations. Lonely Planet. Website accessed: 4 August 2021. https://www.lonelyplanet.com/turkey/central-anatolia/ankara/attractions/museum-of-anatolian-civilisations/a/poi-sig/452265/360880
Direct flights to Ankara (ESB). Flight Connections. Website accessed: 4 August 2021. https://www.flightconnections.com/flights-to-ankara-esb
Skyscanner. Website accessed: 4 August 2021. https://www.skyscanner.com
Grover, A. The Best Places to Stay in Ankara, Turkey. The Culture Trip. 17 March 2021. https://theculturetrip.com/europe/turkey/articles/the-5-best-places-to-stay-in-ankara-turkey/
Ankara travel guide. Kayak. Website accessed: 4 August 2021. https://www.kayak.co.uk/Ankara.16665.guide
Lee. J. 12 Top-Rated Attractions & Things to Do in Ankara. 15 June 2021. https://www.planetware.com/tourist-attractions-/things-to-do-in-ankara-tr-an-a.htm
Sandilands, Tracey. CAD/CAM Dentistry: What Is It? Colgate. Website accessed: 4 August 2021. https://www.colgate.com/en-us/oral-health/basics/dental-visits/cad-cam-dentistry--what-is-it-
Turkish Liras & Money in Turkey. Turkey Travel Planner. Website accessed: 4 August 2021. https://turkeytravelplanner.com/details/money/index.html