Last fact-checked: 16 July 2021
With direct, inexpensive flights from the UK and a convenient location close to Spain's spectacular southeastern coastline, the historic city of Murcia is an underrated destination for low-cost, safe dental care.
If you're looking to skip the long waiting lists to see a dentist back home while saving up to 70% on treatments like veneers, dental implants, teeth whitening, crowns and dentures, a combined dental holiday to Murcia could be an ideal solution.
Visiting Murcia, Spain as a Dental Tourist
As Spain's seventh-largest city, Murcia is the capital and most populous city of the namesake province in the southeast of the country.
The Murcia Region borders Alicante to the north and Almeria to the south, and is also home to Cartagena, a popular port city that's home to one of the largest Roman archaeological sites in Spain.
Dental Departures has partnered with some of the top clinics both in the city of Murcia and the surrounding area; each one has passed our strict background checks and vetting process, which includes:
Carrying out onsite visits to inspect facilities, ensuring dental centers adopt the latest advances in dental technology, such as CAD/CAM (computer-assisted design/computer-assisted manufacture) technology.

Verification of licenses: every dentist in Spain listed on our site is registered with the Consejo Dentista de Colegios de Odontólogos y Estomatólogos (General Council of Colleges of Dentistry and Stomatology of Spain).

Verification of professional memberships, such as the Spanish Society of Periodontology and Osseointegration.

Ensuring clinics adhere to European Union-wide regulations on hygiene best practices and infection preventionInterviewing past patients about their experience at each clinic, with dentist reviews published on our site.

Ensuring that clinic photos are accurate, and other information—such as making sure addresses and opening times are up-to-date.
We also guarantee that you'll get the best rates available online; if you find a lower price for the same treatment at the same dentist in Murcia, we'll match it.
And as for those savings? You can expect discounts between 50% and 70% compared to prices in the UK. This can equate to savings of a few hundred pounds on treatments like teeth whitening or individual veneers—definitely not to be sniffed, especially if you were already planning a holiday here anyway.
For other more expensive procedures, like the All-on-4® treatment concept in Spain, it's possible to make overall savings of 10 or even 20 thousand pounds—even after taking into account travel expenses.
Find additional Murcia travel information further down this page.
How Much Does Dental Care Cost in Murcia, Spain?
The table below shows prices estimates for a range of dental procedures in Murcia:
| | | |
| --- | --- | --- |
| Procedure | Murcia Price (in EUR) | Murcia Price (in GBP) |
| Composite veneer | €220 | £190 |
| Laser teeth whitening | €350 | £300 |
| Porcelain fused to metal crown (standard alloy) | €300 | £260 |
| Full denture | €600 | £520 |
| Root canal (single tooth) | €150 | £130 |
| Dental implant with crown + abutment | €1,300 | £1,100 |
| Full arch restoration (fixed bridge with 4 implants) | €6,000–8,000 | £5,100–6,900 |
[Please note that these are estimated averages calculated at the time of writing. See our individual clinic listings for the latest prices.]
Finding the Best Dentists in the Murcia with Dental Departures
Take a look at our top five clinics in Murcia below:
For more options, browse through our:
Murcia & Spain Travel Information
Located on the Segura River in the southeast of Spain's Iberian Peninsula, Murcia is a laid-back city offering a number of interesting cultural and historical attractions to make for a pleasant city break for a few days.
Much like the neighboring Alicante and Almeria Regions, Murcia has long, hot summers, mild winters, promising more than 3,000 hours of sunshine a year.
This area is well known for its huerta, a large zone of fruit and vegetable gardens and farms surrounding the city that dates back to Moorish times. These supply many of the city's restaurants with world-class produce, making it a popular spot for foodies traveling in search of some of the finest tapas, paella and barbeque in Spain.
With an international airport receiving direct flights from across Europe, Murcia is a great base from where tourists can travel to nearby coastal cities, resorts and sleepy fishing villages on the Mediterranean Sea.
Popular coastal destinations that are a short drive from the city include Cartagena, Mazarron, San Pedro del Pinatar and Cabo de Paros.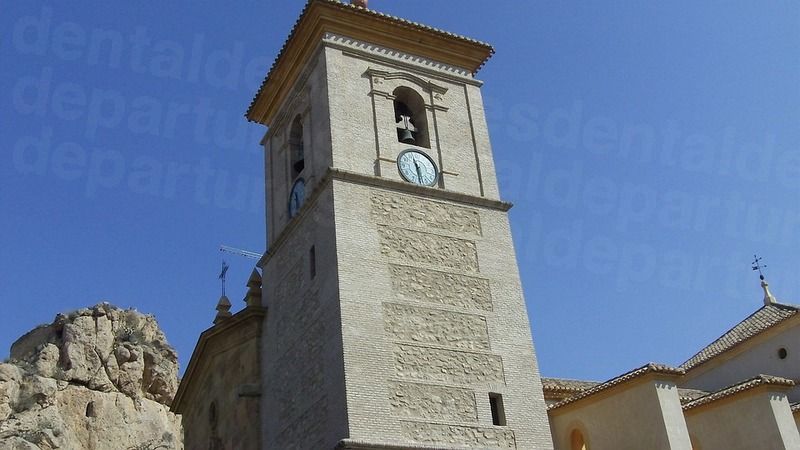 How Can I Get to Murcia?
The best way to reach Murcia from the UK and other parts of Europe is to fly (details in the next section).
The city can easily be reached from other cities in Spain by road, rail or bus, including:
Murcia to Almerica: 2 hr 15 min (218.3 km) via A-7

Murcia to Alicante: 50 min (80.4 km) via A-7

Murcia to Valencia: 2 hr 20 min (228.3 km) via A-7

Murcia to Madrid: 3 hr 50 min (405.4 km) via A-30 and AP-36
Can I Fly to Murcia from the UK?
Around 20 airports in Europe serve Murcia International (RMU) with direct flights every day.
Patients in the UK can fly directly from:
London Gatwick

Birmingham

Bristol

Manchester

Glasgow
The flight from London is approximately 2 hours 40 minutes.
Please note: Our partner clinics in Murcia may offer free shuttle services from the airport direct to the clinic or hotel on arrival.
How Much Do Flights to Murcia Cost?
At the time of writing, return flights from London to Murcia cost between EUR 70–150.
A cheaper option may be to fly to nearby Alicante, which has a larger choice of flights and is less than one hour away by road.
Where to Stay in Murcia?
Murcia has a choice of hotels for practically every traveller and every budget. Average prices for a three-star hotel in the city center are between EUR 50–70 per night.
If you are looking to escape to the beach, top seaside destinations in the Murcia Region include:
Cartagena—a spectacular port city with a Roman Theatre museum and the Underwater Archaeology Museum

Águilas—a tranquil beach town home to San Juan de las Águilas castle

Mazarrón—a coastal area known for its impressive sculptural forms created by erosion

San Pedro del Pinatar—home to one of the largest open-air mud therapy areas in Europe, great for therapeutic resort and spa stays

Los Alcázares—a local's favorite getaway spot with a long seafront promenade with tapas restaurants and charming beach bars

Santiago de la Ribera—a traditional fishing village with four kilometres of golden sand, not far from Los Alcázares

Cabo de Palos—another impressive coastal town close to one of the largest marine reserves of the Mediterranean.
Note: Our partner clinics in Murcia may offer free or discounted accommodation when booking certain treatments. Ask our Customer Care Team for more information.
What Else Is There to Do in Murcia?
If you're staying in the city center, some of the top landmarks to look out for are:
Cathedral de Santa Maria

Real Casino de Murcia

Santa Clara Monastery & Museum

Carrascoy and El Valle Regional Park

Plaza Cardenal Belluga

Romea Theatre

Santuario Ntra. Sra. de la Fuensanta
Find out more about visiting the city of Murcia here.
How Do I Book at a Dentist Murcia, Spain?
Take a look at our featured partner clinics in Murcia; compare prices, read patient testimonials and book your free appointment via Dental Departures.
Our Customer Care Team can be reached at any time of day or night via the toll-free number, email or other options displayed on the contact widget.
Sources:
Speak. C. A Walking Tour of Ancient Sites in Cartagena, Spain. The Culture Trip. 8 April 2017. https://theculturetrip.com/europe/spain/articles/a-walking-tour-of-ancient-sites-in-cartagena-spain/
Spanish Society of Periodontology and Osseointegration. Website accessed: 7 July 2021.
https://www.efp.org/about-the-efp/affiliated-societies/spanish-society-of-periodontology-and-osseointegration-19/
Infection prevention and control in dentistry. European Centre for Disease Prevention and Control. Updated: 2021. https://www.ecdc.europa.eu/en/publications-data/directory-guidance-prevention-and-control/core-requirements-healthcare-settings-1
Advances in Dental Care: What's New at the Dentist. WebMD. 9 October 2019. https://www.webmd.com/oral-health/advances-in-dental-care-whats-new-at-the-dentist
14 Best Restaurants in Murcia. Arrival Guides. 14 May 2021. https://www.arrivalguides.com/en/Travelguides/Europe/Spain/Murcia/eating
Seaside towns in the Region of Murcia. Spain.info. Website accessed: 7 July 2021. https://www.spain.info/en/top/seaside-towns-in-region-of-murcia/
Direct Flights to Murcia. Flight Connections. Website accessed: 7 July 2021. https://www.flightconnections.com/flights-to-murcia-rmu
Beckenham, A. The Best Hotels in and Around Murcia for Every Traveller. The Culture Trip. 28 December 2020. https://theculturetrip.com/europe/spain/articles/hotels-in-murcia/
Murcia. Lonely Planet. Website accessed: 7 July 2021. https://www.lonelyplanet.com/spain/murcia