Last fact-checked: 17 February 2021
In Cali, the salsa capital of the world, you can find affordable, high-quality dental care to help you maintain your dental health. If you're struggling to pay the high prices at home then it might be time to seriously consider booking treatment at one of our dentists in Cali —especially if you're planning to visit Colombia already.
As we explain below, this South American country has turned its fortunes around and is now firmly on the travel industry's list of must-see destinations.
Colombia has certainly had its problems in the not-too-distant past. The latter part of the 20th century saw widespread violence across the country; a broken political system created a vacuum soon filled with left-wing guerrillas, cocaine barons and lawlessness as the competing factions sought control.
The 21st century has, however, brought about change with the death of drugs lord Pablo Escobar, a peace deal with FARC rebels and the break-up of rebel strongholds. These factors (among others) have contributed to the country's new stability—and oh how the country has embraced it!
There has never been a better time to visit Colombia and get to know fascinating, lively cities, like Cali. After Bogota, the capital, and Medellin, Cali is the third-largest city in Colombia with much to offer visitors, whether they visit for a vacation, salsa dancing or dental care.
Cali–In Brief
Cali, or Santiago de Cali, its full title, was founded in 1536 by Spanish conquistador Sebastian de Belalcazar. Nearby Popayan was the political and economic center of the region until the end of the 19 th century—much of the wealth coming from the sugar plantations in the area around Cali. To work the fields, African slaves were shipped in and today a significant portion of the population is of African or European descent.
The arrival of the railroad in the 20th century led to huge economic growth as crops, such as sugar and coffee, could be exported quickly. Today, it is the agricultural, industrial and commercial center of Southwest Colombia.
Cali is a vibrant city, boasting a unique heritage of Colombian, African and Spanish traditions. The city's culture is evident in its historic architecture, modern art and salsa dancing— an activity you just cannot escape from in Cali. Caleños live and breathe salsa, so be prepared to hear it almost everywhere you go, especially at night. It's infectious, and soon you'll be dancing your socks off to its incessant rhythms, which could be just what the doctor (or in your case, the dentist) ordered for your post-treatment recovery.
Why Visit a Dentist in Cali?
If, like many Americans and Canadians, you are struggling to afford rising dental care costs, then perhaps the best solution is to travel to another country where inexpensive treatment is offered to international patients.
While dental tourism used to be about getting expensive, big-ticket treatments like dental implants, it's now increasingly common for people to seek minor procedures and preventive care, like fillings, while they are already vacationing. People are beginning to realize that good dental health is mainly about preventing disease. Regular check-ups and remedial work will prevent bigger, more expensive problems down the line. So, if you are planning a trip to Cali or elsewhere in Colombia, there's no harm in booking an appointment with a dentist while you're there to get your annual check-up, among other things.
Reports indicate that medical tourism is growing in Colombia. Dental tourism is a branch of medical tourism and so it seems likely that this sector will grow too, particularly if prices remain low and the standards of care high.
After price, quality is the next big thing that would-be medical and dental tourists need to take into consideration. Fortunately, Columbia is blessed with excellent medical and dental healthcare facilities. Dental tourists can expect to be seen by highly-qualified, skilled professionals working out of contemporary facilities that are equipped with the latest technologies to aid diagnosis and treatments.
How Does the Cost of Dental Care in Cali Compare with the United States and Canada?
The cost of dental care in Cali is much lower than at home:
| | | | | |
| --- | --- | --- | --- | --- |
| | US Price ($) | Cali Price ($) | Canada Price (CAD $) | Cali Price (CAD $) |
| All-on-4® treatment concept | 20,000 | 6,400 | 26,000 | 10,600 |
| Crowns | 1,200 | 425 | 1,600 | 567 |
| Fillings | 170 | 65 | 225 | 86 |
| Implants | 3,900 | 1,275 | 5,100 | 1,700 |
| Veneers | 1,461 | 390 | 1,937 | 520 |
| Dentures | 1,700 | 320 | 2,254 | 427 |
| Root Canal | 1,700 | 650 | 1,254 | 868 |
| Whitening | 387 | 173 | 513 | 231 |
[Note: These figures are estimates at the time of writing; please check our clinic listings for up-to-date prices.]

Where to Stay in Cali?
You will find plenty of places to stay in Cali, with prices ranging from budget through to mid-range and up into the luxury hotel bracket. San Antonio is a cool neighborhood with plenty of boutique hostel-style accommodation for budget travelers. If you're looking for upscale neighborhoods then take a look at Ciudad Jardin, Santa Monica or El Penon.
Will I Be Safe in Cali?
Cali is generally safe for tourists, but, just like any city, there are less desirable areas where walking around alone at night should be avoided. Apart from the areas around Mio Station "Centro" and El Bulevar, it's best to visit during the day and avoid staying in the city center unless you are with someone you know well. Getting a taxi to your destination is safe.
Colombian's have a phrase, 'no dar papaya', which translates as ' don't give a papaya', i.e. don't make yourself an easy target. Essentially, the advice is to stay inconspicuous by not flaunting your wealth or getting too drunk. Much of it is common-sense and the type of precautions you should take when visiting anywhere unfamiliar.
Is the Quality of Dental Care in Colombia Comparable to Back Home?
Yes. The quality is good providing you find a trustworthy facility. We know this isn't always easy when choosing a dentist overseas, which is why Dental Departures should be your first stop. The clinics listed on our website are reliable because we have already carried out background checks. We check legal/criminal records and confirm dentist qualifications. We verify professional memberships, as well as collate and publish real patient reviews.
Each listing has everything else you need to make an informed decision—like photos, maps and prices. Take a look at Estetica Dental Avanzada to get an idea of what's on offer.
What Happens if Something Goes Wrong? Is my Dental Care Guaranteed?
All dental facilities listed on our website offer guarantees on the work they carry out and on any materials used for prosthodontics (crowns, veneers, etc). It is a very rare occurrence for any of our patients to experience any problems with their dental care, mainly because things are less likely to go wrong thanks to our stringent vetting process.
Unfortunately, no clinic in the world can 100% guarantee that no issues will arise, as each patient is different. So, if you are having extensive dental work carried out, it is wise to take out medical complications insurance. For a small additional cost, this covers the cost of accommodation and flights should you need to go back to your dentist in Cali.
Do the Dentists in Cali Speak English?
The main language throughout Colombia is Spanish, but our dental clinics do have English-speaking staff.
What Payment Methods Are Accepted?
You can see the payment methods accepted at each dental clinic under their respective listings on our site. However, usually bank transfers, Visa and Mastercard debit and credit cards, as well as traveler checks and cash are accepted. Please note that there may be an additional processing charge for credit cards.
When Is the Best Time to Visit a Dentist in Cali?
The weather in Cali is typically hot and humid during the daytime while at night it's a little cooler and more refreshing. Temperatures don't vary too much throughout the year, but July is probably the hottest month and the wettest period tends to be between February and May.
Save for major holidays like Christmas, our dentists are open all year long, so you can book your appointment at a time that suits you best.
What Is There To See in Cali?
Cali's city center promises some notable churches and historic monuments that are well worth checking out. The San Pedro Cathedral is a neoclassical Roman Catholic cathedral and was declared a national monument in 1982. The Iglesia La Ermita is a fine example of gothic-style architecture by the river, while the Iglesia de San Francisco is the largest church in the city.
The Plaza de Poetas is a park dedicated to native poets—and you can even ask one of the scribes who sit in the square to type you a letter. Along a shady boulevard, you'll see a huge bronze statue of a cat created by Hernando Tejada. The walkway is now lined with other cat sculptures by other Colombian artists who were inspired by Tejada's El Gato del Rio.
Venturing into one of Cali's neighborhoods provides an authentic insight into the true diversity of this city. East of the city center, San Antonio ('Old Cali') is a 16th-century hillside neighborhood. Its old colonial buildings, street musicians, antique shops and artsy cafes give it that bohemian vibe making it popular with hipsters. The Granada neighborhood is the city's foodie haven and also home to the Lugar a Dudas art center, which is dedicated to the visual arts with several interesting exhibits.
Cali has one or two festivals that celebrate its diversity. Feria de Cali brings cultural parades, music shows, tango championships and tango parties to town from 25-30 December. In August, the Petronia Alvarez Festival is a five-day event celebrating African Musical heritage. It is worth booking your accommodation further in advance if you're planning to be in the city on these dates.
Other attractions include the Zoologico de Cali, considered to be the best zoo in Colombia; Andoke, a huge butterfly farm just outside the city; and Cristo Rey —a giant statue of Jesus atop a hill overlooking the city. It's not as impressive as Christ the Redeemer in Rio, but worth a trek nevertheless.
Traveling to Cali
Cali does have its one international airport, with plenty of domestic flights heading to major destinations like Bogota, Medellin or Cartagena if you want to explore the country further.
Visa Information
Visas aren't required in Colombia for tourist stays of less than 90 days for Americans, Canadians, Europeans, Aussies or Kiwis.
Getting around Cali
There's no metro in Cali but buses and taxis will get you around safely and on time.
Distance from Cali to Other Major Tourist Locations
● Medellin, 261 miles (421 km)
● Bogota, 287 miles (463 km)
● Zipaquira, 312 miles (503 km)
● Cartagena 650 miles (1,050 km)
● Barranquilla, 778 miles (1,253 km)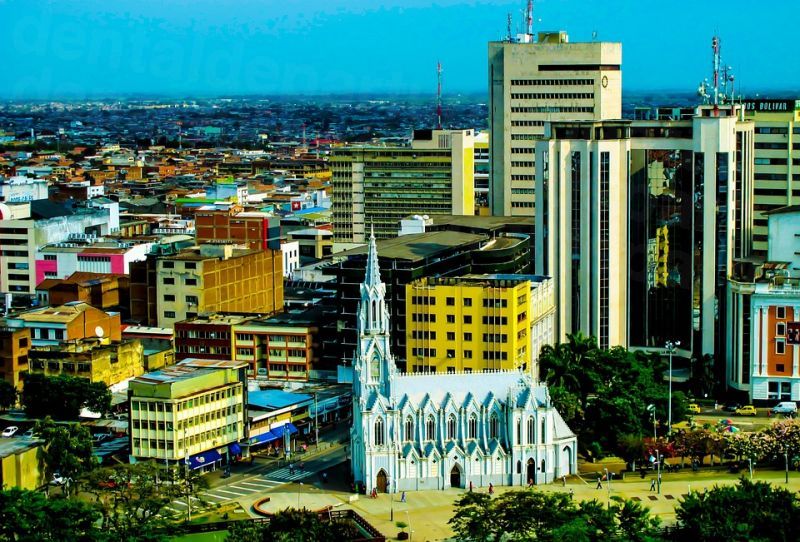 What's Next?
Find a dentist in Cali by searching the listings on our site. If you'd like to learn more or have any concerns, speak to our Customer Care Team who are available 24/7 to take your calls.
Using our freephone number or online chat facility means you don't have to spend a cent getting started. If you are ready to schedule your appointment, book online today with Dental Departures. There's never a charge to you and we're available any time of the day or night.
Sources:
Leadbeater, C & Haines, G. 21 Reasons Why Colombia Should be Your Next Holiday Destination. The Telegraph. 20 July 2018. https://www.telegraph.co.uk/travel/destinations/south-america/colombia/articles/21-reasons-why-colombia-should-be-your-next-holiday-destination/
Cali History. Lonely Planet. Website accessed: 17 February 2021. https://www.lonelyplanet.com/colombia/southwest-colombia/cali/history
Colombia's Medical Tourism Industry Continues to Grow. Oxford Business Group. Website accessed: 17 February 2021. https://oxfordbusinessgroup.com/analysis/health-benefits-medical-tourism-industry-well-set-continued-growth
Woodridge, Anny. 6 Reasons Cali, Colombia is the Salsa Capital of the World. The Culture Trip. 4 May 2017. https://theculturetrip.com/south-america/colombia/articles/6-reasons-cali-colombia-is-the-salsa-capital-of-the-world/
International Living. Save Thousands As a Medical Tourist in These 5 Countries. Huffington Post. 6 December 2017. https://www.huffingtonpost.com/internationallivingcom/medical-tourism_b_11573814.html
Stewart, Harry. The Top 10 Things to Do in Cali, Colombia. 7 November 2017. https://theculturetrip.com/south-america/colombia/articles/the-top-10-things-to-see-and-do-in-cali-colombia/
Baker, Michael. Tourism in Cali, Colombia. USA Today. Website accessed: 17 February 2021. https://traveltips.usatoday.com/tourism-cali-colombia-35912.html
Jones, Rachel. Cali, Colombia: Your Local Guide to the World's Salsa Capital. Hippie in Heels. Website Accessed: 17 February 2021. https://hippie-inheels.com/visiting-cali-colombia-travel-tips/
Preventive care and oral hygiene. Dental Health. Website Accessed: 17 February 2021. https://www.dentalhealth.org/preventive-care-and-oral-hygiene
Dental Prosthetics. Bupa Dental. Website Accessed: 17 February 2021. https://www.bupadental.com.au/prosthodontics