Last fact-checked: 5 April 2020
Looking for low-cost dentistry in Europe? Head to Croatia and book an appointment with one of our dentists in Zadar. Located on the stunning Dalmatian coastline, this small city has much to offer, with the Old Town's marble-paved streets boasting an ancient, medieval heritage with a vibrant café and bar culture. It's a great place for a holiday or break where you can take advantage of value-for-money prices on your dental care.
Check out this Zadar destination guide and book your dental treatment through Medical Departures to ensure you're treated at a quality-checked clinic while not paying over the odds.
Zadar In Brief
Originally an Italian-speaking city held by the Venetians and ceded to Rome in 1921, Zadar became part of Yugoslavia in 1947. Following the Croatian War of Independence, the city spent much of the 1990s in economic decline until the turn of the new century when investment saw a turnaround in the city's fortunes establishing it as a major point of entry for tourists visiting the mid-Adriatic.
Although Zadar comprises a mish-mash of architectural styles (without the medieval film set qualities of other cities in the region), its Old Town is renowned for Roman and Venetian architecture with historical ruins, medieval churches and glass-fronted eateries all creating a cool, cosmopolitan vibe. Pedestrian-friendly, there's no end to the striking views you can enjoy as you wander Zadar's marble streets and gaze out across the dazzling turquoise Adriatic Sea.
At the end of the day, you can sit back, relax, enjoy a delicious Mediterranean-style meal and drink as you watch the sun go down, which Alfred Hitchcock once proclaimed to be "the most beautiful sunset in the world.
The region surrounding the city is rich in natural beauty and history, with national parks ripe for trekking and cycling and a number of gravel and sand beaches said to be among the best in Croatia. Zadar is also a key transport hub where you can easily catch a ferry or book a charter boat to more than 300 islands in the Zadar Archipelago—some uninhabited, others with pretty coastal villages and pine-clad forests that are perfect for biking and hiking and yet more with Croatia's best diving spots.
Zadar has a multitude of attractions to appeal to all-comers. It's laid-back, welcoming and has a Mediterranean climate that makes it an ideal spot for a holiday. Coupled with high-quality, affordable dental care, it is also one to add to your shortlist if you are contemplating a combined holiday/dental trip for both one-off (and normally expensive procedures), or just some everyday dental care while you're there.
Where Is Zadar?
Zadar is situated in the northern Dalmatian region of Croatia. It right next to the Adriatic Sea and is approximately mid-way between Rijeka to the north and Split, to the south.
Why Choose Zadar for Dental Care?
1: Quality: Dental care in Croatia is generally of a high standard. There is only one school of dental medicine in the country, in Zagreb, which is where all dentists from Croatia undertake their training. Dentists are regulated by the Croatian Dental Chamber, where all dentists must be registered before they can practice.
2: Well-Equipped Clinics: Facilities treating international patients offer modern facilities and are equipped with state-of-the-art technologies allowing for accurate diagnoses and successful treatment outcomes. Intra-oral x-rays, 3D/CT scanning and CAD/CAM (computer-aided design/computer-aided manufacture) are just some of the latest advances that are making treatment outcomes more reliable than ever, as well as reducing the time needed to complete procedures, which is a particular plus point for international patients short on time.
3: Advanced and General Treatments Available: The whole gamut of dental care is available in Zadar, catering from the simplest to the most complex of problems. While people tend to think of dental tourists as those who require expensive, one-off procedures, like an All-on-4®, more and more people are now seeking relatively simple dental care they can't obtain at home. It's a growing problem worldwide, where even the most fundamental elements of good dental care, such as regular oral check-ups and other routine procedures to maintain good dental health, including professional teeth cleaning and fillings, are not being carried out, leaving increasing patients with perilous dental health problems.
5: Accessibility: Zadar is accessible from around the UK and Eire with regular flights leaving from around the British Isles taking around two-and-a-half hours.
4: Big Savings: Spearheading the growth of dental tourism is the lower prices that clinics abroad offer—with savings on average of 70% too good to turn down.
How Much Do Popular Dental Treatments Cost in Zadar Compared to the UK or Eire?
The table below shows the savings you can make in Zadar on your dental care:
| | | | | | |
| --- | --- | --- | --- | --- | --- |
| | UK Price (£) | Zadar Price (£) | Eire Price (€) | Zadar Price (€) | Savings |
| All-on-4 | 16,000 | 5,600 | 19,000 | 6,700 | 65% |
| Crowns | 1,200 | 200 | 1,500 | 230 | 83% |
| Fillings | 130 | 57 | 158 | 68 | 56% |
| Implants | 3,000 | 900 | 3,600 | 1,000 | 70% |
| Veneers | 1,400 | 290 | 1,700 | 340 | 79% |
| Dentures | 1,400 | 400 | 1,700 | 470 | 71% |
| Root Canal | 900 | 230 | 1,000 | 300 | 74% |
| Whitening | 400 | 270 | 446 | 300 | 32% |
Please note that these are approximate, averages prices collated at the time of writing.
For exact prices, as well as clinic photos, surgeon profiles, patient reviews and other useful information, check out these three leading clinics in Zadar verified by Dental Departures:
● Dr. Bilan Centar Detalne Medicine
Where to Stay in Zadar?
Zadar has plenty of accommodation options to suit all budgets and preferences—whether that's in the Old Town, by the beach or in the surrounding countryside.
Will I Be Safe in Zadar?
Zadar is a safe destination for tourists with violent crime a rare occurrence. In fact, as a visitor, you are more likely to fall victim to opportunistic thieves and pick-pockets, so do keep your valuables safe, and be aware that pickpocketers are more likely to operate in busy tourist areas where they may get easy-pickings from distracted visitors.
Is the Quality of Dental Care in Zadar Comparable to Back Home?
Zadar has grown into a modern city over the last couple of decades. It has all the amenities and services a 21st-century tourist requires with plenty of accommodation options and places to eat, drink and shop. As a growing tourist destination, its appeal to dental will only get stronger, particularly as the Croatian government is actively promoting this aspect of health and wellness tourism to visitors.
Why Book with Dental Departures?

Dental Departures makes it our business to find the best quality clinics in popular tourist locations to enable you to easily combine your dental care in destinations you want to visit for a holiday. Our clinics are located in accessible places so you can make the most of your precious holiday time without having to schlep somewhere off-the-beaten-track making things more stressful than needed.
We understand the need to offer clinics that deliver on quality as well as price, which is why all of the listings you'll find on our site have already been pre-screened. As well as onsite visits, we carry out searches of legal/criminal records. We confirm dentist qualifications, and professional memberships, publishing this information alongside patient reviews, clinic photos, location maps and prices to enable you to have a wide variety of sources to make an informed choice that's right for you.
What Happens if Something Goes Wrong? Is My Dental Care in Zadar Guaranteed?
All of the clinics listed with Dental Departures have warranties or guarantees on the work they carry out, as well as on lab work, such as crowns and veneers. However, it's worth knowing that no dental or medical procedure can ever be guaranteed completely.
We are all individuals and our bodies react and heal to things differently, but one way of improving the chance of success is to have your treatment carried out at a trustworthy facility that has a proven track record of results, especially when treating international patients.
Very few of our patients have experienced any issues with the dental treatment they have received—and of those that have the problems have been minor and easy to remedy.
If you are going to have a complex or expensive procedure and you want to give yourself complete peace-of-mind, taking out low-cost medical complications insurance is something you should consider. In the event where you have returned home and discovered a problem with your dental work, this will cover your flight and accommodation costs should you need to return to Zadar.
What Language(s) Do the Dentists in Zadar Speak?
While Croatian is the main language, English is spoken widely throughout the country and certainly, our dentists in Zadar speak good English so you will have no communication issues.
What Payment Methods are Accepted in Zadar's Dental Clinics?
Most clinics accept cash in the local currency (the Croatian Kuna, not the Euro), Visa/Mastercard debit/credit cards, travellers cheques and bank transfers. You can look up each clinic's exact accepted methods of payment on their specific listing on our site.
When Is the Best Time to Visit Zadar?
In common with most of Europe, the peak holiday season in Zadar is during summer, in July and August when it is the European school holidays. However, spring and autumn are also good times to go when it is less crowded, prices are lower and the temperatures pleasantly warm without being stiflingly hot. You can still visit Zadar in winter as our dentists are open throughout the year (apart from major holidays, like Christmas), but temperatures can fall close to zero, which may make it difficult getting around if you want to sightsee.
What Else Is There in Zadar?
Standout buildings to visit include St. Anastasia's Cathedral, originally dating back to the 4th and 5th centuries but the current buildings were built in the 12th and 13th centuries. Its 184ft-high bell tower is the tallest structure in the Old Town. The 9th-century St Donatus Church is the largest pre-Romanesque building in Croatia and its unusual circular-shaped Byzantine building is considered to be one of the most important cultural relics in all of Europe. These days, due to its impressive acoustics, it serves as a concert hall rather than a place of worship.
Zadar is home to two unique, modern installations. In celebration of Zadar's awe-inspiring sunsets, artist Nikola Basic's Monument to the Sun is a 22-meter solar disc representing the sun. It soaks up the sun's rays during the day and releases them to power the lights on a giant outdoor dancefloor at night. An adjacent attraction, also by Nicola Basic, is the Sea Organ, a giant harmonica played by the sea. The steps along the waterfront have underwater pipes that sound musical notes when filled with water, creating the harmonica effect.
The city is renowned for its quirky bars and nightlife—from havens where you can escape the city heat, catch your breath and an ice-cold drink while reclining on a day bed overlooking the Adriatic; to outdoor Ibiza-style lounge bars with pools and traditional Brit-style pubs complete with bowls of peanuts.
Outside of the city are some of Croatia's most beautiful national parks. The Plitvice Lakes National Park is a UNESCO World Heritage-listed and a half-hour bus ride away from town. Densely forested, the park has 16 lakes with waterfalls and cascades that descend between each lake. Swimming, hiking climbing and trekking are just some of the activities to be enjoyed while exploring the Park. An hour's bur ride from Zadar is Krka National Park. You can swim at the foot of the seven cascades comprising a particularly picturesque waterfall, or rent a bike and ride through the meandering trails.
Another popular option from Zadar is to take a ferry to one of the nearby islands. Saharun is a short tide away and has one of the best white, sandy beaches in the country, which is usually renowned for its pebble shores. It has been compared to the Caribbean, and if you go outside of the summer months of July and August, you'll miss the crowds.
All-in-all, Zadar is a delightful location if you want to enjoy somewhere a little different from the mainstream, all while taking advantage of the good-quality, affordable dental care available in the city.
Getting to Zadar
Most people fly into Zadar's international airport, but you can arrive by train or bus if you've flown into another Croatian city.
Getting around Zadar
Buses cover the whole of the city, and taxis can be found throughout the city, or you can call one by phone. You can hire a car but, if you intend to stay mainly in the Old Town, you might not need one as it's all pedestrianised.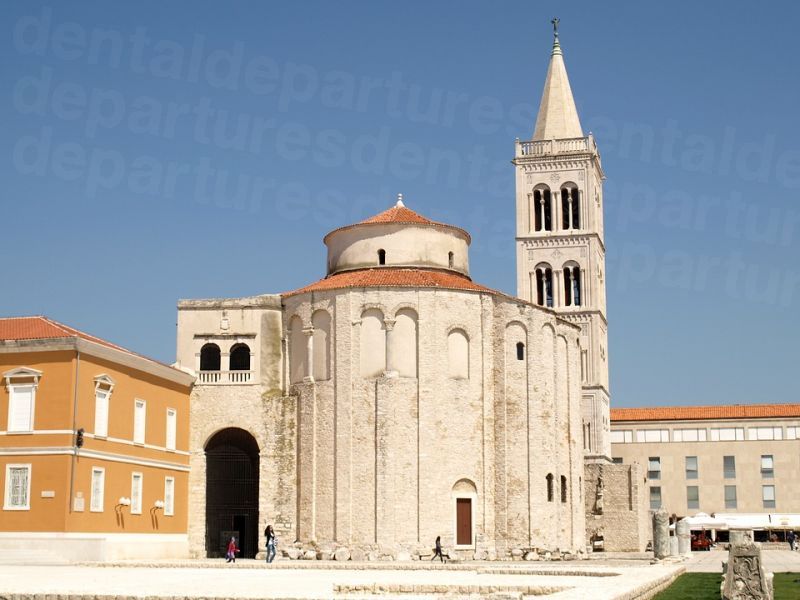 Visa Requirements
UK, EU, US, Canadian, Aussie and Kiwi tourists can say in Croatia without a visa for up to 90 days for free.
Distance from Zadar to Other Tourist Destinations:
● Rijeka, 182 miles (293 km)
● Rovinj, 234 miles (378 km)
● Pula, 245 miles (395 km)
● Split, 98 miles (159 km)
● Zagreb, 177 miles (286 km)
● Dubrovnik, 216 miles (348 km)
Getting Started
Dental Departures' Customer Care Team is available if you want to discuss seeing one of our dentists in Zadar. We can help with other services, including insurance, finance, hotel bookings and can obtain a free, no-obligation quote if you want to price up your dental care.
Or, if you've selected your clinic, you can book your appointment online at any time of the day or night, at no charge to you.
Sources:
Zadar. Rough Guides. Website accessed: 24 July 2019. https://www.roughguides.com/destinations/europe/croatia/northern-dalmatia/zadar/
Sandilands, Tracey. CAD/CAM Dentistry: What is it? Colgate. Website accessed: 9 July 2019. https://www.colgate.com/en-us/oral-health/basics/dental-visits/cad-cam-dentistry--what-is-it-
Boseley, Sarah. 'Inadequate' health response leaves 3.5bn with poor dental care. The Guardian. 18 July 2019. https://www.theguardian.com/society/2019/jul/18/inadequate-health-response-leaves-35bn-with-poor-dental-care
Dental Check-Ups. NHS. 17 September 2018. https://www.nhs.uk/live-well/healthy-body/dental-check-ups/
Burhenne, Mark. Know Before You Go: Teeth Cleanings. Ask the Dentist. 13 June 2019. https://askthedentist.com/know-before-you-go-teeth-cleanings/
5 Reasons Why Healthcare is The Next Big Thing in Croatian Tourism. TimeOut. 12 February 2018. https://www.timeout.com/croatia/things-to-do/5-reasons-why-healthcare-is-the-next-big-thing-in-croatian-tourism
Paris, Natalie. 14 Reasons Why You Should Visit Zadar: Croatia's Coolest City. The Telegraph. 29 June 2017. https://www.telegraph.co.uk/travel/destinations/europe/croatia/zadar/zadar-croatia-coolest-city-dalmatia-coast-adriatic/
Plitvice Lakes National Park. UNESCO World Heritage Centre. Website accessed 24 July 2019. https://whc.unesco.org/en/list/98/
SEE WHAT ALFRED HITCHCOCK MEANT BY THE "MOST BEAUTIFUL SUNSET". Epic Week in Croatia. Website accessed: 20 November 2019. https://feeds.croatia.hr/epic-week/experience/see-hitchcock-meant-beautiful-sunset/