Last fact-checked: 25 April 2023
Dental implants are a popular and effective solution for individuals with missing teeth. Usually made from titanium, these small posts are inserted into the gum to provide a stable base for a crown, bridge or full-arch hybrid denture–fully restoring the function and appearance of your smile.
With rising costs in the West, an increasing number of people are heading abroad in search of more affordable dental implant prices in Latin America, Central and Eastern Europe, North Africa and Southeast Asia.
If you're considering doing the same, let Dental Departures help you make an informed decision: we have facilitated over 100,000 appointments in over 30 countries to date, allowing patients to save up to 70% on the cost of dental implants without having to take unnecessary risks when it comes to safety and standards of care.
Read on to find out what dental implant treatment entails, different types of implant-based restorations available, patient suitability, price comparisons, recommended global dentists and booking details.
Top Countries and Average Costs for Dental Implants
Prices vary greatly from country to country, so it's possible to enjoy substantial savings by comparing your hometown fees to the costs for the same treatment in other countries.
Below, see the average dental implant price comparisons for 3 popular countries for dental tourism (Mexico, Turkey and Thailand):
Dental Implant Prices in Mexico:
| | | |
| --- | --- | --- |
| Type of Implant Procedure | Average Cost in the US | Average Cost in Mexico |
| Single Dental Implant (without crown) | $1,300 - $2,000 | $700 - $1,100 |
| Single Dental Implant with Crown + Abutment | $3,000 - $4,000 | $1,000 - $2,000 |
| All-on-4 Implants (per jaw) | $25,000 - $30,000 | $8,000 - $12,000 |
Dental Implant Prices in Turkey:
Type of Implant Procedure

Average Cost in the UK

Average Cost in Turkey

Single Dental Implant (without crown)

£1,500 - £2,000
(€1,700 - €2,300)

£500 - £900
(€580 - €1,000)

Single Dental Implant with Crown + Abutment

£2,500 - £3,000
(€2,900 - €3,400)

£600 - £1,000
(€700 - €1,150)

All-on-4 Implants (per jaw)

£12,000 - £15,000
(€13,800 - €17,100)

£3,000 - £5,000
(€3,400 - €5,700)
Dental Implant Prices in Thailand:
Type of Implant Procedure

Average Price in Australia

Average Price in the USA

Average Price in Thailand

Single Dental Implant (without crown)

AUD 3,000 - 6,000 (USD 2,000 - 4,000)

AUD 3,000 (USD 2,000)

AUD 1,200 (USD 800)

Single Dental Implant with Crown + Abutment

AUD 4,000 - 7,000 (USD 2,600 - 4,600)

AUD 4,500 -6,000 (USD 3,000 - 4,000)

AUD 2,000 (USD 1,300)

All-on-4 Implants (per jaw)

AUD 30,000
(USD 20,000)

AUD 37,000 - 45,000 (USD 25,000 - 30,000)

AUD 13,500 (USD 9,000)
Please note: The above prices are calculated using average estimates provided to Dental Departures at the time of writing.
What Determines the Cost of Implants?
It should be noted that are many factors that go into determining the price of dental implant treatment, such as:
The material used for the replacement teeth (eg. ceramic, porcelain, zirconia, etc)

The number of teeth being replaced

Method of anesthesia

Whether a bone graft is required

Whether extractions are needed

Diagnostic tests, such as x-rays and CT scans

Location and reputation of the dentist

The brand of dental implant
Why Do People Go Abroad for Dental Implants?
Reason #1: It's Much, Much Cheaper
As the cost of dental implants in countries like the US, Canada, Australia and the UK becomes more and more expensive, patients in the West are increasingly looking for more affordable alternatives abroad–with Mexico, Costa Rica, Hungary, Turkey, Croatia, Spain, Thailand and Vietnam among some of the best places for dental implants in the world.

For example:
Prices for the placement of a single titanium implant (only) begin at just USD 600 (GBP 500) in countries like Mexico and Hungary.


Prices at our global partner clinics for a single titanium dental implant (including abutment and standard crown) start at just USD 1,250 (GBP 1,000).


A full-arch restoration on four implants (eg. All-on-4) at a global dentist costs between USD 5,000 - 10,000 (GBP 4,000 - 8,000), depending on the type/brand of fixed prosthetic.
Reason #2: Rising Global Standards and Safety Protocols
Old stereotypes suggesting that any kind of medical-related travel 'must' be risky are no longer true–providing that you book your treatment with a certified, experienced specialist.
The best global dentists we work with often have decades of experience and hold specialty degrees in implantology from prestigious universities–on top of their original 5 or 6-year degree in dentistry (eg. DMD, DDS).
It's also common for these experts to have trained abroad, becoming members of world-renowned professional organizations such as the American Dental Association (ADA), the International Congress for Oral Implantologists (ICOI) and the International Team for Implantology (ITI). This helps to provide enhanced regulatory oversight and control over dentists worldwide.
In addition, an increasing number of clinics are gaining ISO 9001 accreditation; this quality management system ensures the proper implementation of best practices and guidelines on aspects such as infection control, sterilization, and safety protocols.
Reason #3: Chance for a Combined Dental Holiday
Nobody particularly looks forward to visiting the dentist, but to make the experience a whole lot more enjoyable, many people find it easy to combine their treatment with a vacation or short city break.
Some of our leading partner dentists are based in attractive (and often rather exotic) destinations like Cancun, Cabo San Lucas, Phuket, Chiang Mai, Bali, Budapest, Split, Istanbul, Antalya, Barcelona, Valencia and Hanoi–giving you the opportunity to explore an exciting new city, immerse yourself in a different culture or just soak up the sun on a palm tree-lined beach while waiting for your next appointment!
Why Is Dental Care Abroad Cheaper than the USA, the UK or Australia?
Cheaper dental care abroad does not necessarily equate to lower-quality care. Dentists are able to keep their prices low thanks to:
Lower overall cost of living = lower labor costs for dentists, technicians, assistants and other staff.

More affordable overhead costs for clinics, such as rent, utilities, and equipment.

Governments often provide subsidies and grants to stimulate their healthcare travel sectors.

Competition between clinics in dental tourism 'hotspots' helps to keep prices low.

Favorable currency exchange rates can also equate to more cost savings for international patients.
What Are Dental Implant Success Rates Like?
Several studies, including a 2018 report published in The International Journal of Oral & Maxillofacial Implants, have shown that 10-year dental implant survival rates in Mexico are similar to rates in the USA, averaging between 92% and 97%.
The best implant dentists in the world boast 10-year implant survival rates of at least 96%, going up to more than 98% in some cases.
Best Countries for Dental Implants
See Dental Departures' range of comprehensive destination guides–with prices, recommended clinics and travel tips–in these popular countries for dental implants:
Latin America:
Europe:
Southeast Asia:
Middle East/North Africa: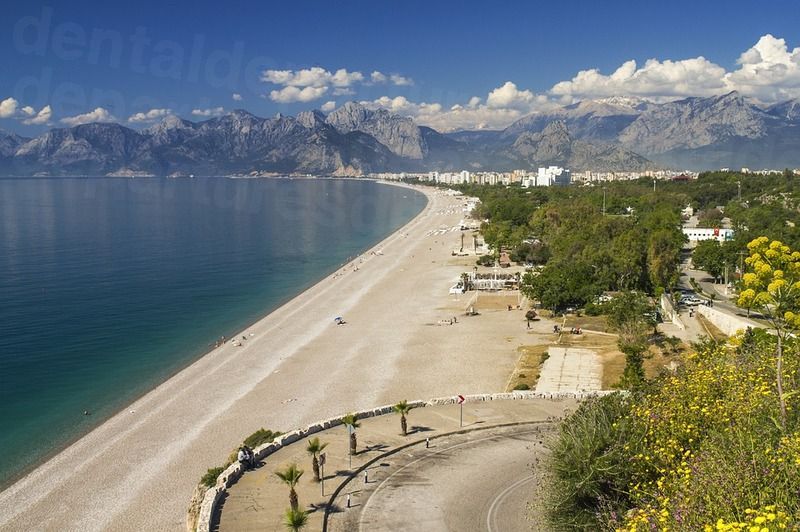 ____________________
Top Rated Dental Implant Centers – Recommended by Dental Departures
Take a look below at some of the most popular clinics in Mexico, Turkey, Hungary and Thailand for high-quality, affordable dental implants.
These background-checked clinics offer a range of teeth replacement solutions, including full-arch restorations of 4, 5 or 6 implants:
Top Clinics in Mexico for Dental Implants:
> See more: All Dental Implant Clinics in Mexico
Top Clinics in Turkey for Dental Implants:
• All on Dental Clinic Istanbul Turkey
> See more: All Dental Implant Clinics in Turkey
Top Clinics in Hungary for Dental Implants:
> See more: All Dental Implant Clinics in Hungary
Top Clinics in Thailand for Dental Implants:
• Bangkok International Dental Center (BIDC) - Main Headquarters
• Bangkok Smile - Dr. Paulo Malo Global Network Headquarters
> See more: All Dental Implant Clinics in Thailand
____________________
Why Book With Us?
With Dental Departures on your side, you can choose from thousands of fully-verified clinics and implantologists around the world who deliver top-quality dental implant treatment at a fraction of the price that you would pay at home.
Our site contains all the information you need to research top clinic locations and start comparing dental implant quotes.
Our team carries out a number of background checks to ensure that professional memberships and qualifications are legitimate. Site visits are undertaken and patient reviews are conducted to guarantee that facilities and services are of the highest standard.
In fact, many of our dentists are members of globally-recognized organizations such as the International Congress of Oral Implantologists, so you are assured the standard of care you receive meets the same high standards that your dentist practices at home.
Other Reasons to Book With Dental Departures:
No upfront charges or hidden costs when arranging an appointment

Our Customer Care Team is on standby 24 hours a day–ready to assist you before, during or after your dental trip

Thanks to our Best Price Guarantee policy, you'll always get unbeatable rates when booking online

We enjoy close affiliations with independent insurance providers who can provide medical insurance for extra peace of mind.

It's free to cancel your appointment anytime up to 24 hours in advance

You can save even more with our range of exclusive promotions and dental tourism packages, which often include accommodation, transfers and other money-saving perks!
Paying for Dental Implants Abroad
Are Dental Implants Covered by Insurance?
In general, it can be said:
Most insurance providers do not cover the cost of dental implants as they are not considered a 'medical necessity' (unlike professional cleanings, fillings, extractions, etc.)

Some insurance plans may cover a small portion of the cost of dental implants in case of injury that results in tooth loss.

Some insurance providers will cover a portion of cheaper teeth replacement solutions, such as removable bridges or full/partial dentures.
Ultimately, the answer to this question depends on your specific dental insurance plan–so it's a good idea to learn the exact details of your coverage directly from your provider.
Can I Use My Dental Insurance Abroad?
While some dentists in Mexico, for example, do work with insurance providers in the USA, it is rare for more complex treatments, like dental implants, to ever be covered.
Again, a quick phone call to your insurance provider will help you work out your total out-of-pocket expenses.
What Are My Dental Implant Finance Options?
Planning a dental trip abroad but not sure how to finance everything? Then see below for the most popular ways that patients booking with Dental Departures pay for both their travel and treatment:
Cash: This is the obvious one… As long as you have enough in the bank, dentists across the world will be more than happy to accept payment in the form of cash or a transfer via debit card/online wire.
Dental clinic private financing: Similar to the above, some dental clinics offer their own financing plans–usually with low-interest rates and flexible repayment options. Feel free to ask our Customer Care Team for more information.
Medical tourism financing companies: Some companies specialize in offering unique, customizable payment plans (i.e. small loans) to help with your medical trip abroad. Most have relatively low-interest rates, but be sure to check exactly how much you'll be paying back and for how long.


Personal loans: Another common option is to apply for a personal loan from a bank or other service provider. But do beware of the risks with this option: missing payments can harm your credit rating, while some small loan companies charge extortionate interest rates.
What Are Dental Implants - General Information
A dental implant is a metal post, usually made from titanium, that is surgically inserted into your jawbone beneath the gum and acts as an artificial root. The implant is threaded to allow an abutment to be screwed into it.
Once in place, your dentist can then use an abutment to mount a crown (replacement tooth) securely onto the implant to provide an identical match to the rest of your natural teeth. In some cases, multiple implants and crowns may be required.
Implant Placement Techniques
Your dentist will decide which is best for you depending on the condition of your mouth and viable bone density. The main implant techniques include:
• Endosteal implants: Considered the 'traditional' and most common implant technique, these are surgically implanted directly into the jawbone.
• Subperiosteal implants: In cases where a patient has lost a significant amount of jawbone density, these can be fitted beneath the gum tissue but above (rather than inside) the jawbone.
• Zygomatic implants: These specialized implants are used in cases where a patient lacks sufficient jawbone density; this longer implant is surgically placed into the zygomatic bone and is usually used as part of a modified All-on-4 technique to replace a full arch of teeth.
> See more: Ultimate Guide to Zygomatic Implants
Are Dental Implants Right For Me?

Simply having missing teeth is not necessarily reason enough to have dental implants. Alternatives, such as dentures or bridges, might be more appropriate–although implants are normally the optimal solution.
During your initial examination, your dentist will consider:
• The overall condition of your mouth
• The quality and quantity of bone remaining in your jaw
• Your dental hygiene routine
• Your general health
To ensure a successful outcome with implants, the condition of your mouth needs to provide a stable working environment. Any broken teeth, gum disease or dental decay must be remedied before dental implants can be inserted.
Your dentist will assess your bone volume and density to ascertain whether the existing bone in your jaw can support dental implants. This process usually involves x-raying the jawbone together with the use of CAD/CAM technology; in some instances, you may need to undergo a cone beam CT scan (not scary, this is simply a specialized x-ray that provides more detailed information on your jawbone and precise placement of implants).
Your personal dental hygiene regime might also affect your suitability for a dental implant procedure. You need to remain committed to maintaining healthy teeth and gums, as a healthy mouth is essential to successful treatment.
Your general health can also impact whether you can be considered for dental implants. Medical and lifestyle variables, such as diabetes and smoking, might affect your suitability. Each case is different; your dentist will discuss these considerations with you in greater detail.
Not sure whether you are a suitable candidate? Then don't worry—you need not risk flying abroad only to be turned away once the dentist takes a look in your mouth. Before you travel, you can obtain a preliminary assessment, as well as a free price quote, from your chosen dentist through Dental Departures.
Our team can also email up-to-date scans and digital X-rays that have been taken at your local clinic.
What Does a Dental Implant Procedure Entail?
For a typical single tooth replacement including attachment of abutment and crown (replacement tooth), there are a minimum of three main stages involved:
Fitting of the implant

Healing phase

Final restoration with the fitting of an abutment and crown
The fitting of the implant is usually performed under a local anesthetic. Your dentist will make a small incision into your gum, then painlessly insert the implant into your jawbone.
If you've had any teeth extracted prior to the surgery, it may be possible for your dentist to fit the implant directly into the existing tooth socket.
However, before having the abutment attached, patients generally need to allow around three to six months for the bone to fully adhere to the implant – a process called osseointegration.
After the healing process, you'll return to the dentist for the attachment of an abutment. This is a small post onto which a crown can be fitted, and screws directly into the dental implant that was inserted into your jawbone.
Once the abutment is in place, attaching the crown is a straightforward process, usually carried out during the abutment fitting.
What Should I Expect After My Dental Implant Procedure?
During your first visit, and once the effects of the anesthetic have worn off, you will be allowed to go home. It should be noted that:
It can take several hours for any feeling to fully return to your mouth

You may require painkillers and anti-inflammatory medicine to help with any discomfort

Avoid any hot food or drinks until feeling has fully returned, and eat only soft foods the first few days following your dental implant procedure.

You may be given antibiotics or an antiseptic mouthwash, along with special brushes to help clean the gaps between your teeth.

During this period (and always), you will want to maintain good oral hygiene to avoid any potential infection.
Once you have fully recovered, your new, implant-retained replacement teeth (or tooth) should work almost exactly the same as your natural ones (function is estimated at approximately 90%). And you've got your smile back!
Full-Arch "All-on-4" Implant Restorations
While dental implants are commonly used to replace single missing teeth, edentulous patients with a mouthful of missing or failing teeth can also benefit from more advanced dental implant systems with full-arch fixed prosthetics.
Treatment systems like the All-on-4® treatment concept or All-on-6 use just four or six dental implants to support a complete arch of replacement teeth (crowns) affixed to a bridge. The treatment can be used to replace all of the teeth in the upper, lower or both jaws at the same time (dual surgery).
Different brands, such as Nobel Biocare's All-on-4® treatment concept or Straumann's Pro Arch® may be used, but the general concept is the same, with the two rear implants placed at near-45-degree angles so as to improve stability. For some patients, this negates the need for bone graft surgery.
> See more: Ultimate Guide to All-on-4
While the planning stage will involve a few hours of consultation during your initial trip to the dentist, the surgery (on the same trip) can sometimes be carried out in just one session. This allows you to leave with your new temporary set of teeth on the same day.
After a healing period of around four months (during which time you'll need to avoid hard foods while back at home), patients return to the same dentist to have their permanent fixed bridge attached to the implants, which will have by now fused with the jawbone.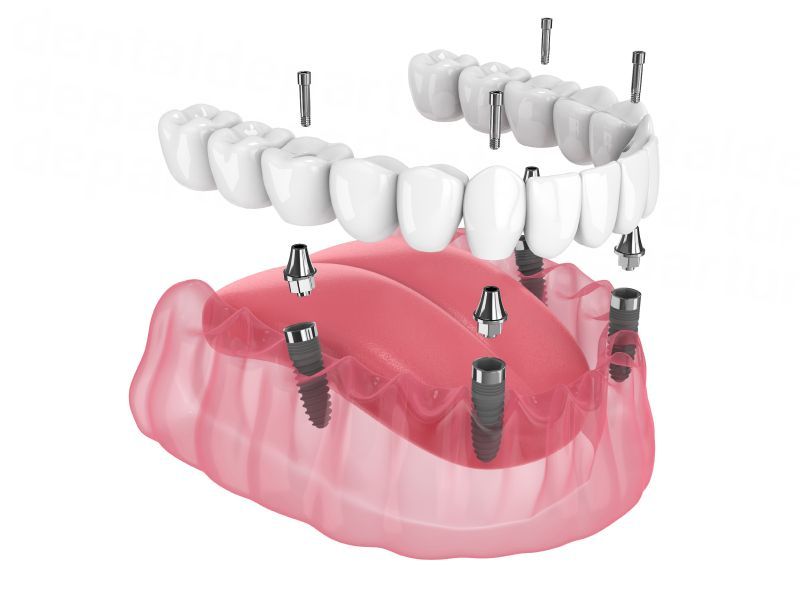 Other Dental Implant Systems
Alternative types of implant and teeth replacement systems include:
• The innovative "3 on-6" (three adjoining bridges are attached to six dental implants to create a full arch of teeth).
• Implant-retained overdentures that, while removable, don't have to be taken out every night like traditional dentures. These can be supported by a minimum of two mini implants per jaw
• Mini implants, which may be used to stabilize dentures or support a temporary crown
• Zirconia ceramic implants (non-metal), which can be used in a similar way as traditional titanium implants to support a crown
Can I Really Get 'Teeth in a Day'?
One of the key advantages of dental implants is that a temporary crown or overdenture can be immediately loaded following surgery, on the same day. But the keyword here is: 'temporary'.
Patients can indeed walk into a dentist's office and leave several hours later with a brand-new set of teeth. This is why you may see the procedure marketed as "same-day implants," "same-day teeth" or "smile in a day".
However, it is important to understand that in most cases, the immediate crown or denture that's initially loaded onto the implants is only temporary. It is lighter and cannot be used to eat hard foods; the implants need time to fuse with the jawbone while the gums heal. There is no shortcut to this process, which is known as osseointegration.
Only when the implant(s) are secure in place, which takes around four to six months, can the permanent crown or fixed bridge be attached.
What Are the Most Popular Dental Implant Brands
Commonly, world-renowned dental implant brands used by our partner dentists around the world include:
Straumann®: a Swiss-based dental implant company

Nobel Biocare®: a leading manufacturer of dental implants and restoration systems, notably the patented All-on-4® treatment concept.

Dentsply Sirona®: another leader in the dental technology sector, with their Astra Tech® implant system widely used by global dentists.

Zimmer Biomet®: a household name (at least for dentists), that supplies a range of implant solutions for both immediate and delayed loading.

BioHorizons®: known for providing some of the most advanced implant technology around, such as their laser-Lok® implants, which help promote faster healing and more reliable osseointegration.

Osstem® implants: known for high success rates, this South Korean-based manufacturer provides top-quality implants made from titanium and zirconia.
How to Book Your Appointment with Dental Departures
Get started by browsing our full list of global dental implant providers here.
If you have any queries, our Customer Care Team is always happy to answer your questions via our online chat facility, by e-mail or on our toll-free telephone number.
Or if you're ready to book, you can schedule your appointment right here at any time of the day or night, with no charge to you.
Sources:
ISO 9001 and related standards. ISO. Website accessed: 18 April 2023. https://www.iso.org/iso-9001-quality-management.html
Kourtis, S. G., Mitsias, M. E., Zampelis, A., & Kalaitzidou, S. Long-term survival rates of dental implants: A systematic review. The International Journal of Oral & Maxillofacial Implants. 2018. https://pubmed.ncbi.nlm.nih.gov/30904559/
Med Loan Finance. Website accessed: 18 April 2023. https://www.medloanfinance.com/
Bieber, C. The 3 Biggest Risks of Taking Out a Personal Loan. Nasdaq. 6 February 2020. https://www.nasdaq.com/articles/the-3-biggest-risks-of-taking-out-a-personal-loan-2020-02-06
Raghavendra S. Jayesh and V. Dhinakaran. Osseointegration. J Pharm Bioallied Sci. 7 December 2015. https://www.ncbi.nlm.nih.gov/pmc/articles/PMC4439679/
Straumann. Website accessed: 18 April 2023. https://www.straumann.com/en/dental-professionals.html
Dental Implants: An Option for Replacing Missing Teeth. American Dental Association. Website accessed: April 2023. https://www.ada.org/~/media/ADA/Publications/Files/patient_47.pdf?la=en
Wong, Natalie, DDS, FAAID, DABOI/ID, Cert Prostho, FRCD(C). Implants FAQ American Academy of Implant Dentistry. Website accessed: April 2023. https://www.aaid-implant.org/faqs/
Raghavendra, S. Jayesh and Dhinakarsamy, V, "Osseointegration", Journal of Pharmacy & Bioallied Sciences, April 2015. https://www.ncbi.nlm.nih.gov/pmc/articles/PMC4439679/
International Congress of Oral Implantologists. Website accessed: April 2023. http://www.icoi.org/
Nobel Biocare. Website accessed: April 2023. https://www.nobelbiocare.com/en-int/all-on-4-treatment-concept
Zygomatic Implants. For.org. Website accessed: April 2023. https://www.for.org/en/treat/treatment-guidelines/edentulous/treatment-procedures/surgical/surgical-protocols-maxilla/zygomatic-implants
Sandilands, Tracey. CAD/CAM Dentistry: What is it? Colgate. Website accessed: April 2023. https://www.colgate.com/en-us/oral-health/basics/dental-visits/cad-cam-dentistry--what-is-it-
Implant-supported Full Arch Restorations. Consumer Guide to Dentistry. Website accessed: April 2023. https://www.yourdentistryguide.com/implants-full-arch/