Last fact-checked: 20 February 2020
Treat yourself to a vacation getaway and cut-price dentistry with dental implants in Colombia. It's possible to save around a third of the price you'd pay for the same procedure at home—that's more than enough money to help offset your vacation to Colombia!
If the gang-ridden streets of Narcos is still your perception of Colombia, then you're in for a surprise. The country has turned around many of its problems and is now widely considered a much safer destination. There is a new cool to many of its cities while tourist favorites like Cartagena are proving popular for visitors seeking the splendor of colonial-era Colombia while remaining close to the nearby Caribbean islands and coral reefs. Colombia's countryside is varied, providing plenty of activities for those who like the great outdoors.
At the best clinics, the quality of dental care in the country is excellent. Booking with Dental Departures can help you find a reliable facility in the destination of your choice.
Am I a Good Candidate for Dental Implants?
As long as you have sufficient viable jaw bone, then you should be a good candidate for dental implants. If you have lost teeth due to periodontal disease (advanced gum disease), which erodes gum and bone tissue, it's possible that you do not have enough jaw bone to hold an implant. However, a bone graft procedure may be possible to augment the jaw and provide a sufficient anchor for the dental implant, but bear in mind that the bone graft will need time to take, so your dental implant procedure may take three to six months to complete and require a return visit.
Why Should I Get Dental Implants in Colombia?
1: Cost: The cost of dental implants is problematic for many people around the world. With an outlay of several thousand dollars, it can put a severe dent in our finances (or worse, rack up a nasty debt). However, even when factoring in flight and accommodation costs, the price of the implant procedure is so low in Colombia that you could end up spending far less overall for your dental care than what you'd pay at home.
2: Quality. Dentists are highly-skilled and well-trained, with a required minimum of five years at medical school to graduate as a dentist. Many dentists undertake training abroad, and specialists, such as implantologists, may have international memberships of professional organizations, such as the International Congress of Oral Implantologists (ICOI).
3: Speed: Clinics are modern and state-of-the-art. CAD/CAM technology for same-day prosthodontics (veneers, crowns, etc) and 3D/CT scanning are some of the most up-to-date equipment you can expect to see.
4: Peace of mind: Dental Departures makes it our business to provide reliable, quality-checked clinics with English-speaking staff to our patients. The background checks we perform include criminal/legal records, confirming dentist qualifications and collating real patient reviews. Along with clinic photos, maps and prices, you can easily compare facilities and make a choice that's right for you.
Below we have listed three of our best-reviewed Colombian clinics to get you started:
● Oralimagen in Medellin
● Dentica by Cristina Suaza in Bogota
● Centro de Implantes de la Costa by Julio Oliver in Cartagena
What is the Cost of Dental Implants in Colombia?
Compare the prices of dental implants in Colombia with your home country:
| | | | | | |
| --- | --- | --- | --- | --- | --- |
| | US $ | CAN $ | UK £ | EUR € | AUS $ |
| Dental Implant Prices – at home | 3,900 | 5,200 | 3,000 | 3,600 | 5,100 |
| Dental Implant Prices – Colombia | 1,400 | 1,800 | 1,100 | 1,200 | 1,900 |
With our Best Price Guarantee, you can be confident that the price you through Dental Departures won't be beaten online.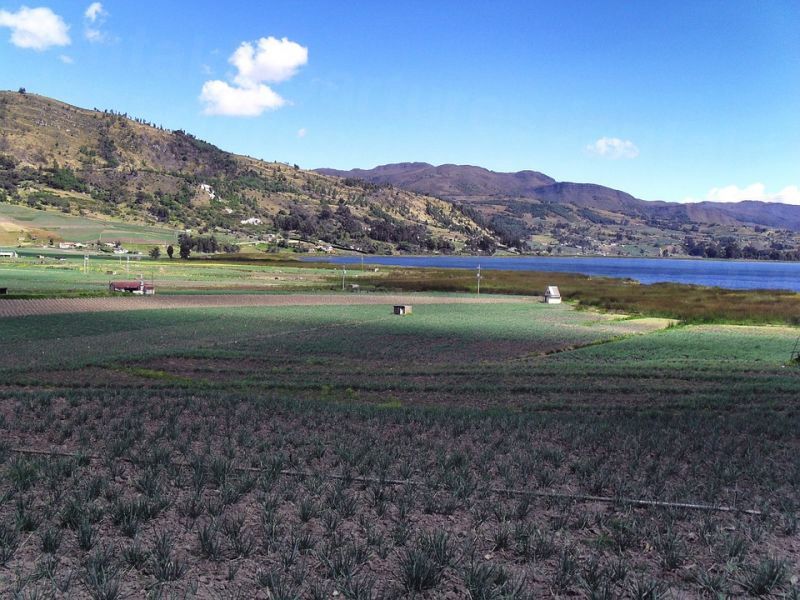 What Is the Procedure for a Dental Implant?
An important thing to bear in mind about the procedure for dental implants is they will typically require two separate trips to Colombia.
The first trip involves having the implant inserted into the jaw. This procedure is carried out under local anesthetic and the dentist will first make a flap in your gum to access the jaw bone underneath. Next, a small hole is made in the bone and the implant inserted. The gum is stitched back in place and the area left to heal for at least three months. During this time, the bone and implant fuse together in a process called osseointegration, forming a secure and stable base for your new replacement tooth (crown) to be attached.
When you return on your next visit, the crown is attached to the implant with an abutment. The dentist reopens the gum and attaches the abutment to the implant. While the implant is not seen above the gum line, the abutment is—and it is this post the crown is attached to. Again, the short procedure is carried out under a local anesthetic—following which you can leave with your newly installed tooth and revitalized smile!
Is Colombia a Good Option for Dental Tourism?
Colombia is an attractive destination for dental tourists looking to combine a vacation and dental care in one trip (or in the case of implants, two trips). Choosing a reliable clinic ensures your treatment will be just as effective as it would be at home, and the country has a number of exciting sites to visit when you're not in the dentist's chair.
If you're curious as to how a country can rebuild itself so successfully after such a turbulent period in its history, then Colombia is a fine example. Historically and culturally, the country has an interesting past, but its renewed energy and vigor in turning things around is palpable, particularly in its cities that have been troubled in the past. Bogota, Medellin and Cali have all transformed into exciting places that now pull in visitors from around the world, irrespective of their alluring health and dental tourism markets.
Archaeological sites and historical architecture leave behind treasure troves from the ancient civilizations and more recent settlers that have made Colombia home. Ancient cities, including the Lost City of Ciudad Perdida and the mysterious San Augustin with its 500 life-sized statues, some of which are 5000 years old, are a link to Colombia's past, even if they cannot fully explain it. The more recent colonial architecture of Cartagena is another well-preserved snapshot of a city built on the wealth of gold and cruelty of slavery.
And it doesn't end there. Adventurers will find plenty to keep themselves occupied with great diving locations and all manner of other outdoor pursuits, including trekking and rafting just outside the cities. The Andean mountains, the Amazon jungle and Caribbean islands are just some of the exciting locations you can experience on your trip to Columbia. Just be sure to arrange any adventurous time off prior to your dental work, as you will want to spend time recovering and chilling post-treatment.
How Do I Arrange an Appointment for Dental Implants in Colombia?
It's easy to find a clinic by searching our website. If you'd like to know more, book an appointment or get a free quote for your dental implants in Colombia, feel free to reach out to our Customer Care Team.
Sources:
Narcos. Internet Movie Database. Website Accessed 3 January 2019. https://www.imdb.com/title/tt2707408/
International Congress of Oral Implantologists. Website Accessed 3 January 2019. https://www.icoi.org/
Periodontal Disease Fact Sheet. American Academy of Periodontology. Website accessed 20 May 2019. https://www.perio.org/newsroom/periodontal-disease-fact-sheet
Krans, Brian. Bone Graft. Healthline. 6 November 2018. https://www.healthline.com/health/bone-graft
Burhenne, Mark. Your First Dental Implant Procedure: What to Expect. Ask the Dentist. 23 March 2019. https://askthedentist.com/dental-implants/
Leadbeater, Chris & Haines, Gavin. 21 Reasons Why Colombia Should Be Your Next Holiday Destination. The Telegraph. 20 July 2018. https://www.telegraph.co.uk/travel/destinations/south-america/colombia/articles/21-reasons-why-colombia-should-be-your-next-holiday-destination/" target="_blank
McGreevey, William Paul et al. Colombia. Encyclopaedia Britannica. 8 January 2019 https://www.britannica.com/place/Colombia" target="_blank .
Friedman, Sophie. How to Spend Two Days in Bogota. Forbes. 13 December 2018. https://www.forbes.com/sites/sophiefriedman/2018/12/13/how-to-spend-two-days-in-bogota/#1b47b14b293d" target="_blank