Last fact-checked: 11 April 2022
Find low-cost, high-quality dental care at one of our dentists in Turkey.
Cosmopolitan, with a rich history and inspiring coastlines, the country is a fascinating holiday destination and, increasingly, a popular dental travel option. For dental tourists, the prices are among the least expensive in Europe.
With an array of locations from ancient cities to stunning beach resorts to choose from, Turkey should definitely make it onto your shortlist.
Turkey in Brief
Considered the Cradle of Civilization, Turkey straddles the East and West continents, sharing history with the ancient Roman, Greek, Persian, Ottoman and Byzantine empires. The former capital and once known as Constantinople, Istanbul is one of Turkey's many attractions, partially located in Europe on the west side of the Bosphorus Straits, and the other on the east side, in Asia.
Istanbul's skyline is punctuated by domes and minarets, while narrow cobbled streets and old wooden houses provide a treasure-trove of restaurants, bars, shops and hookah lounges enticing you in with the aromas of kebabs, coffee, spices and the sweet scent of the hubble-bubble shisha pipes. With stunning ancient architecture to explore, Istanbul is undoubtedly seductive and one of the must-see cities of the world.
Turkey is also blessed with many beautiful and stylish cities, including Antalya, the resort city on the Mediterranean Coast, Fethiye on the southwest Turquoise Coast and Izmir on the Aegean Coast. These destinations offer gateways to the popular beach resorts along the coasts they serve. Whether you prefer to laze in a hammock on a sliver of white sand at the laidback Butterfly Valley in Olu Deniz, or somewhere like Marmaris (more lively with water sports on tap), you'll surely find what you're looking for on Turkey's miles of gorgeous coastline.
Why Visit a Dentist in Turkey?
The well-documented NHS dentistry crisis in the UK shows no signs of abating, and if recent reports by the British Dental Association are to be believed are only going to get worse. More than two-thirds of NHS practices in England have struggled to fill vacancies in the last year, and with the uncertainty over Brexit and more than half of all NHS dentists planning to leave the service in the next five years, quality NHS dental care is likely to become an increasingly rare commodity.
As many patients have already struggled to find an NHS dentist, the outlook remains bleak for UK dental health. The cost of private dental care is just too expensive for many UK citizens, while most people now realise that not going to the dentist is at their health's peril. It's probably not uppermost in people's minds to book in with a dentist while on holiday, but at the prices Turkey's dentists charge, it is certainly worth considering if it's the only way of affordably maintaining your dental health.
It's so important to have dental check-ups to make sure there is nothing untoward going on with your oral health. Often, a problem like gum disease can be stopped in its tracks if appropriate treatment, such as professional teeth cleanings, are given early and regularly.
This alone will save a world of more expensive treatments that will inevitably arrive if your dental health is neglected. The lesson here is that dental tourism is not just for the expensive procedures; thousands of patients travel every year to Turkey for everything from regular check-ups and cleanings to implants, root canals, bridges and more.
Turkey is a modern country with well-trained medical personnel. Its excellent dental tourism facilities compare favourably with any other country in Europe: the best clinics are modern and equipped with the latest technologies, including 3D/CT scanning, digital x-rays and computer-aided design/computer-aided manufacture (CAD/CAM) technology, allowing for onsite while-you-wait prosthodontics, such as crowns or veneers. Thus, from everyday to complex, specialist dental care Turkey has the expertise and facilities to provide excellent quality at affordable prices.
For visitors from the UK and Ireland, low-cost flights are available from both countries to several international airports in Turkey with carriers including Easyjet, Ryanair, Jet2, Thomas Cook and TUI.
How Does the Cost of Dental Care in Turkey Compare with the UK and Ireland?
The cost of dental care in Turkey compares favourably to prices elsewhere and are among the least expensive in Europe:
UK Price (£)

Turkey Price

(£) .

Ireland Price (€)

Turkey Price

(€)

Save

All-on-4® treatment concept

16,000

4,300

17,000

5,100

73%

Crowns

900

170

1,100

200

81%

Fillings

133

50

158

60

62%

Implants

3,045

700

3,600

800

77%

Veneers

1,461

250

1,745

297

82%

Dentures

1,700

758

2,000

905

55%

Root Canal

1,700

312

2,000

373

81%

Teeth Whitening

387

250

462

300

35%
[Note: These figures are estimates at the time of writing; please check our clinic listings for up-to-date prices.]
Where to Stay in Turkey?
Throughout Turkey, you will find high-quality clinics serving dental tourists at many popular tourist destinations. You will be able to find excellent clinics in Istanbul, as well as the resort area cities like Izmir, Antalya and Dalaman. There's a wide choice, and even if you want to head off to one of the beaches farther down the coast, you will find plenty of accommodation options around the airports at Izmir, Antalya and Dalaman where you may want to spend a night or two to get your dental care when you on your way to or from the airport.
Will I Be Safe in Turkey?
It's no riskier getting your dental care in Turkey than anywhere else if you take a little time to find a good facility. Globalization means that medical education throughout the world has become standardized these days; with overseas training and courses, new methods and techniques are soon disseminated across the globe.
As a holiday destination, Turkey is generally safe, save for the usual petty crime such as opportunistic thieves who will take advantage if you don't have your wits about you. Travellers are warned not to travel to the southeast of the country, particularly anywhere along the border with Syria, where violence and terrorist threats are a possibility. However, this is hundreds of miles away from the tourist areas to the west and southwest of the country.
Is the Quality of Dental Care in Turkey Comparable to Back Home?
Clinics that offer services to international patients tend to be top-notch with attentive staff who deliver on customer care as well as quality. Of course, you should always choose a trustworthy clinic, which is why booking through Dental Departures is a good option. The clinics with whom have partnered have all been background-checked by us, with dentist qualifications and professional memberships all verified. Check out popular clinics like:
What Happens if Something Goes Wrong? Is My Dental Care Guaranteed?
The clinics listed on our site all offer warranties on the treatment the dentists provide, as well as any lab work, for example, crowns, veneers or dentures.
While things are far less likely to go wrong if you book with one of our best quality clinics, no medical or dental procedure is 100% guaranteed, as our bodies all react differently. If you are having major dental work carried out, then we would suggest taking out medical complications insurance. For a small, additional cost, if you do need to go back to your dentist in Turkey to fix a problem, then your travel and accommodation costs will be covered and you won't be out-of-pocket.
Do the Dentists in Turkey Speak English?
Yes–all of our listed dentists speak English. In fact, in most major tourist areas English is spoken widely.
What Payment Methods are Accepted?
Mastercard and Visa credit and debit cards are accepted at most dental clinics, as well as cash (Turkish Lira and Euros). Many also accept bank transfers and traveller cheques; check each individual listing for full details.
When is the Best Time to Visit a Turkish Dentist?
July and August are peak seasons for the holiday resorts on the coasts (and these are also the hottest months), but the weather is still hot from May through to October, and even in winter the weather is generally pleasantly warm in the south if not exactly beach weather. Istanbul sees a little snowfall in mid-winter; inland, the Anatolian plateau experiences sharply contrasting seasons with snow on the mountains throughout the year.
Although Turkey is marketed as a summer holiday destination, for active travellers who want to see some of Turkey's ancient attractions without the stifling heat, shop in the bazaars without the crowds and get to know the locals who won't be as busy as they are in the summer, then winter is also a great time to visit. Most of our dentists are open throughout the year.
What Else is There in Turkey?
Turkey is brimming with history, boasting incredible buildings and architecture from long-lost empires, as well as breath-taking natural wonders.
Istanbul's setting on the glittering Bosphorus is a stunning location, and as much as you can admire the views from on land across this waterway separating the East and West, there are plenty of boat tours where you can have lunch and take in the gorgeous scenery as you sail by. Also in Istanbul and not to be missed are the Sultan Ahmed Mosque (the Blue Mosque) and the Hagia Sophia, once a Greek Orthodox church, then a mosque and now a museum. The Topkapi Palace is also a must-see, its opulent and decadent interior giving you a peek into the unbelievable wealth the Ottoman Sultans had accrued—its surrounding, lush gardens offer a tranquil antidote to the bustling city streets.
Pamukkale and the vast ruins of Hierapolis, a Roman ancient spa time, are a good day trip from either the west or south coast. Pamukkale (the Cotton Castle) is one of Turkey's most famous natural wonders, with thermal waters flowing down white travertine terraces, which at dusk cast an otherworldly glow in the setting sun. Hierapolis is at the top and boasts ancient Roman architecture, an amphitheater and warm pools heated with water from the hot springs. The Antique Pool (also known as Cleopatra's pool) was a gift from Mark Anthony to Cleopatra, but the marble columns of the surrounding building fell during an earthquake in the 7th century, and they are now resting in the bottom of the pool.
In the Mediterranean region, Ephesus is one of the most complete, still-standing Roman cities you're likely to encounter and gives you an idea of the grandeur of that period of Roman history. Another of Turkey's naturally beautiful landscapes, wave-like rock and pinnacle formations have been formed by wind and water providing an almost lunar landscape as far as the eye can see.
Around the coasts, you will encounter plenty of activities: traditional fully-crewed Turkish gulets that you can charter to sail around the southwestern coast, or glass-bottomed boats where you can cruise around for just a day.
Traveling to Turkey
Most people fly into Turkey and there are international airports at Istanbul, Antalya, Izmir and Dalaman serving the most popular tourist locations on the coasts.
Visa Information
A visa is required for most foreign nationals to enter Turkey allowing stays of less than 90 days.
Getting Around Turkey
Most of Turkey is well-covered by public transport services, including trains, long-distance buses, domestic flights, taxis, ferries and the dolmus (a local minibus that runs along sets routes but that you can flag down with a hand signal).
Car hire is available at airports as well as in tourist destinations, but you will need to be 21 and have held your license for at least a year. It may be worthwhile getting an international driver's permit (IDP) too.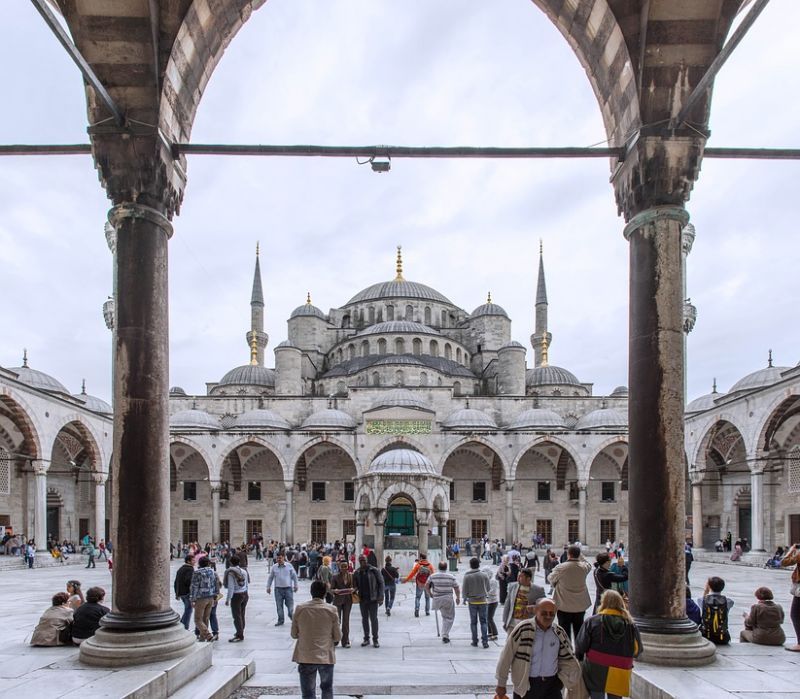 Distance from Istanbul to Other Major Tourist Locations:
Ankara, 280 miles (451 km)

Izmir, 292 miles (471 km)

Ephesus, 333 miles (536 km)

Pamukkale, 411 miles (663 km)

Antalya, 435 miles (700 km)

Cappadocia, 469 miles (756 km)

Fethiye, 490 miles (789 km)

Kas, 526 miles (847 km)
How Do I Get Started Arranging a Dental Trip to Turkey?
Choose a dentist in Turkey from the dozens of clinics we have located across Turkey. You can easily compare facilities, as we include clinic photos and prices, as well as view maps and read real patient reviews. You can book an appointment directly with us, online.
Don't hesitate to speak to Dental Departures' Customer Care Team if you have any questions about global dental care in Turkey, or you want to book an appointment. You can also ask for a free quote. Turkey offers a magical location for a holiday and some of the most affordable prices in Europe so start planning your holiday to better dental health.
Sources:
Yalav-Heckeroth, Feride. 10 Reasons Why You Should Visit Turkey at Least Once in Your Lifetime. Culture Trip. 19 June 2017. https://theculturetrip.com/europe/turkey/articles/10-reasons-why-you-should-visit-turkey-at-least-once-in-your-lifetime/
NHS Dentists Facing Recruitment Crisis. British Dental Association. 4 February 2018.
https://bda.org/news-centre/press-releases/nhs-dentistry-facing-recruitment-crisis
Dental Check-Ups. National Health Service. 17 September 2018.
https://www.nhs.uk/live-well/healthy-body/dental-check-ups/
Chouman, Sarah. Gum Disease: Stages, Prevention and Treatment. Ask the Dentist. 30 April 2019.
https://askthedentist.com/gum-disease-stages-prevention-treatment/
Burhenne, Mark. Know Before You Go: Teeth Cleanings. Ask the Dentist. 27 March 2019.
https://askthedentist.com/know-before-you-go-teeth-cleanings/
Sandilands, Tracey. CAD/CAM Dentistry: What Is It? Colgate. Website accessed: 17 February 2021.
https://www.colgate.com/en-us/oral-health/basics/dental-visits/cad-cam-dentistry--what-is-it-
Nadworny, Katie. Istanbul Travel Guide. National Geographic. Website accessed: 17 February 2021.
https://www.nationalgeographic.com/travel/destinations/asia/turkey/istanbul/
Hierapolis-Pamukkale. UNESCO World Heritage. Website accessed: 17 February 2021. https://whc.unesco.org/en/list/485