Last fact-checked: 5 April 2020
Head to Croatia to save money on your dental care. Dental Departures lists quality-checked dentists in Rijeka, the bustling port city in the north Adriatic that's a gateway to some of the country's most popular and picturesque islands.
If you want to combine a holiday with your dental care, this is one location that can certainly deliver in terms of weather, culture and attractions. It is certainly one to add to your shortlist if you are considering dental tourism.
Rijeka in Brief
Dating back to the Roman settlement of Tarsatica founded here in the 3rd century, Rijeka developed on the right bank of the Rjecina by the 10th century. In 1471 it became part of the Austro-Hungarian Empire and united to Croatia in 1776. Following World War I, it was alternately under Austrian, Hungarian and Croatian rule, before Italy's Benito Mussolini assumed power in 1924. During World War II, Rijeka was taken by Germany in 1943, before the Yugoslavs liberated Rijeka in May 1945. While hardly touched by the Balkans Wars, after the breakup of Yugoslavia in 1991 Rijeka became part of independent Croatia.
As Croatia's largest port, Rijeka's busy waterfront is lined with ships, cranes and cargo—a contrast to the splendour of the Austro-Hungarian and Italianate architecture you'll find elsewhere in the city. Korzo is the main promenade running parallel to the sea. This pedestrianised stretch of Habsburg-era buildings houses shops, cafes and plenty of outdoor terraces to enjoy the weather and watch the world go by while you take a break.
A less popular destination than others along the Adriatic, Croatia's third city is less crowded with tourists than Dubrovnik or Split. This allows for a more relaxing and lower-key experience where you can enjoy what the city offers at a leisurely, unhurried pace. While its neoclassical architecture is reminiscent of other popular Central European cities, such as Prague or Budapest, Rijeka's crystal-clear, cobalt waters and nearby Blue Flag beaches give it an additional edge if you're looking for a holiday destination that's got it all.
Croatia has increasingly become a favourite holiday destination over recent years with more people visiting the country's lesser-known-yet-equally-impressive locations. Rijeka will become European Capital of Culture in 2020 and its star set to rise exponentially. Now is a good time to go if you want to discover it before everyone else does—and particularly if you want to take advantage of good prices on excellent dental care.
Where is Rijeka?
Rijeka is on Croatia's northern Adriatic sea, overlooking Kvarner Bay. It is situated near the borders of Slovenia and Italy and around 81 miles (130 km) southwest of Zagreb, Croatia's capital city.
Why Choose Rijeka for Dental Care?
1: Dental tourism is not just for expensive, one-off procedures like All-on-4®s. If you are among the thousands struggling to find affordable dental care in your home country, the opportunity to combine your care with a holiday could well be a suitable solution. Modern dental care is all about the prevention of disease, which means that visiting a dentist for a regular dental check-up is an important first step in maintaining your dental health.
If you are seeing a dentist at least once a year, the likelihood is that a check-up and routine maintenance treatments such as professional teeth cleanings and fillings can help to keep your dental health ticking over. This is good—not only for your peace-of-mind but also for your bank balance. So, if you can't find a dentist at home, it makes sense to incorporate dental care with your annual holiday?
2: Croatia's dental services are of a high standard. After graduating and gaining their credentials, dentists must be registered with the Croatian Dental Chamber before they can practice. In common with modern dentistry throughout the world, dentists take part in training throughout their careers so they are equipped with the skills and knowledge to dispense the most up-to-date techniques and treatments. Many dentists who are specialists in specific areas undertake additional training enabling them to become affiliated with or members of internationally-renowned professional organisations, such as the International Congress of Oral Implantologists.
3: Clinics in Croatia, particularly those catering to overseas patients, are contemporary, modern facilities equipped with the latest state-of-the-art technologies. 3D/CT scanning, digital radiography and CAD/CAM (computer-aided design/computer-aided manufacture) are just some of the innovations present in many dental clinics that allow for accurate diagnoses and treatment outcomes. Furthermore, dentists are multilingual with English widely spoken.
4: Croatia is positioning itself as a modern healthcare destination. In fact, it is not new to healthcare tourism, having established a hotel specializing in healthcare and wellbeing back in the 19th century to cater to elite Austro-Hungarian visitors. The health and wellness tourism sector is said to be growing at a rapid rate, and the Croatian Government has pledged additional finance to fund its growth.
5: Prices for dental care in Rijeka are significantly lower than many other European countries—on average saving visiting patients around 70%
How Much Do Popular Dental Treatments Cost in Rijeka Compared to the UK or Ireland?
The table below shows the savings you can make on dental care in Rijeka:
| | | | | | |
| --- | --- | --- | --- | --- | --- |
| | UK Price (£) | Rijeka Price (£) | Eire Price (€) | Rijeka Price (€) | Savings |
| All-on-4 | 16,000 | 5,200 | 19,000 | 5,600 | 67% |
| Crowns | 1,200 | 190 | 1,500 | 200 | 84% |
| Fillings | 157 | 42 | 190 | 45 | 73% |
| Implants | 3,000 | 938 | 3,600 | 1,000 | 68% |
| Veneers | 1,400 | 295 | 1,700 | 315 | 78% |
| Dentures | 1,400 | 618 | 1,700 | 660 | 55% |
| Root Canal | 1,100 | 168 | 1,200 | 180 | 84% |
| Whitening | 400 | 280 | 446 | 300 | 30% |
Note: the prices above are approximate. Please check our current prices for your selected clinic for estimated costs of treatment.
Where to Stay in Rijeka?
There are a lot of accommodation options in Rijeka to suit all tastes and budgets. From luxury apartments to cozy inns, you can choose great views over the harbour, soak up the atmosphere of the Old Town's architectural gems or stay by one of Rijeka's beaches in the east or west of the city.
Will I Be Safe in Rijeka?
Rijeka is a safe city for tourists, even at night. Violent crime is rare, but as with any other unfamiliar city, do keep your eyes open and personal belongings secure as pick-pockets are more likely to target victims who aren't paying attention.
Is the Quality of Dental Care in Rijeka Comparable to Back Home?
Croatia is a European Union member and follows Europe-wide regulations; this fact impacts upon so many things, from the quality of the water to the standard of medical devices. You can rest assured that dental clinics in Rijeka adhere to exactly the same regulations that every other European city does, including those throughout the UK and Eire.
While the quality of dental care throughout Croatia is generally of a high standard, it always pays to do your own research to make sure you are happy with the facility you have chosen. This isn't always easy to do, which is why having Dental Departures in your corner will help immensely.
All the dental facilities listed on the Dental Departures' website have already been pre-screened by us. We carry out a number of checks, that taken together offer an all-round view as to the quality of each facility. We do not partner with providers where we have found something lacking, and you won't see them listed on our site.
Our checks include onsite visits and researching legal/criminal records. We verify dentist qualifications and their professional memberships, as well as publish real patient reviews. You can see details under each listing, along with prices, clinic photos and location maps to help making your job of choosing a facility simplicity itself.
Top-rated dental clinics in Rijeka include:
What Happens if Something Goes Wrong? Is My Dental Care in Rijeka Guaranteed?
By choosing a good-quality, trustworthy facility, it is far less likely that things will go wrong. However, it is important to remember that no dental or medical procedure can ever be guaranteed 100%, wherever you are in the world. Fortunately, our patients have experienced very little difficulties with the dental care they have received, which tend to be minor issues that are easily fixed then and there.
All our dental clinics provide guarantees on their work, as well as on any lab work for prosthodontics, for example, dentures, crowns or veneers. If you are able, it's worth your while staying around for a couple of days after the completion of your procedure, to ensure all is well. For instance, if you have had a large filling, you may not realise that it doesn't feel so comfortable until after the numbness from your local anaesthetic has worn off. In this case, a simple trip back to the dentist can easily solve the problem—and your dentist can file down the filling a little to alleviate any discomfort.
If you are having a major procedure, you may want to consider taking out medical complications insurance. This will cover your accommodation and travel expenses should you need to go back to Rijeka to fix a problem with your dental care, so you won't be out-of-pocket.
What Language Do the Dentists in Rijeka Speak?
Croatian is the main language spoken, but English is widely spoken around the country. All of our dentists speak good English so you won't have any communication problems.
What Payment Methods are Accepted in Rijeka's Dental Clinics?
Each of our listings reveals the payment methods accepted at individual clinics in Rijeka. Generally, cash is accepted by our dental clinics (the Croatian Kuna, not the Euro), as well as Visa/Mastercard debit and credit cards, bank transfers and travellers cheques.
When Is the Best Time to Visit Rijeka?
The peak holiday season throughout Europe is during the summer school holidays in July and August. This is also when the weather is at its hottest, when temperatures can reach around 30C (86F). May, June and September are cooler, but still pleasantly warm enough to enjoy a summer holiday, and there are fewer crowds around. Our dental clinics are open all year round, so you can visit any time you want—although be prepared for snowfall during the winter months.
Rijeka has a number of festivals throughout the year, as well as a Carnival, so do check out local listings before you book if you'd like to go specifically during these times, or if you'd rather avoid them!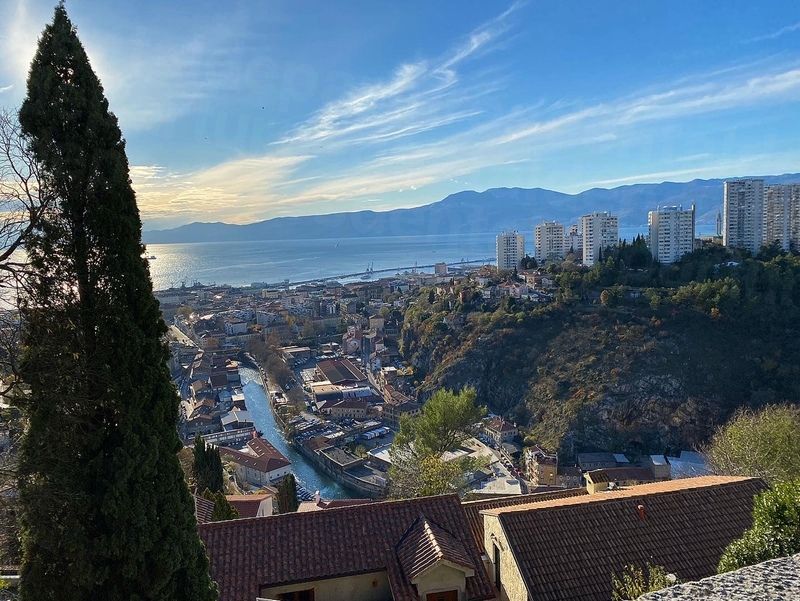 What Else Is There in Rijeka?
While you are wandering the streets of Rijeka, you'll likely stumble across unassuming architecture dating back centuries. One such is the Old Roman Arch on Ulica Stara Vrata, between Korzo and the cathedral. It is the oldest piece of heritage in Rijeka, and was part of the gateway to the old settlement of Tarsatica.
At the crest of the steep hill next to the Rjecina Gorge is Trsat Castle, built in the 13th century. Over time, the castle fell into disrepair but was restored in the 19th century in a Neo-Gothic style. Baroque and neoclassical architecture is much in evidence throughout the city and includes the City Tower, the Croatian National Theatre and the Maritime and History Museum—a white neoclassical palace built for the Hungarian governor, Lajos Batthyany in the 19th century.
There has been a buzz of activity following the announcement of the city's Capital of Culture status with new restaurants and bars springing up and former industrial warehouses converted into arty spaces. The city has always had an anarchic, punkish attitude with art activists and workers cooperatives transforming disused spaces into galleries and workshops.
Rijeka's location offers both beaches and mountains within easy reach. The nature reserve of Gorski Kotar can be found just 12 miles away from the city and promises a huge forest, lakes and villages to explore, as well as wildlife, including bears, the rare Balkan lynx and wolves to spot. Beaches around Rijeka include Pecine, Kantrida and Vila Nora.
Being a port city, Rijeka is a great base if you want to explore the Kvarner Islands, including Krk, the largest island that's connected to the mainland by a toll bridge; Cres an eco-island with nature trails and Pag, renowned for its moon-like landscape, beaches and Ibiza-style nightlife in Novalja, which is also home to the Sonus and Hideout festivals.
Overall, Rijeka provides a great backdrop to a memorable holiday where you can also take advantage of low-cost, high-quality dental care.
Getting to Rijeka
You can take flights from around the British Isles to Rijeka, flying with main airlines and low-cost carriers. Flight times are, on average, around two-and-a-half hours from the Greater London area. Rijeka International Airport is around a half-hour drive to the city centre. You can take a shuttle bus or taxi.
Getting Around Rijeka
Buses and taxis are the best way of getting around Rijeka. You can also get a ferry or catamaran to nearby islands.
Visa Requirements
UK, EU, US, Canadian, Aussie and Kiwis don't require a visa for tourist stays up to 90 days in Croatia.
Distance From Rijeka to Other Tourist Destinations:
Pula, 67 miles (109 km)
Rovinj, 57 miles (92 km)
Zagreb, 100 miles (161 km)
Zadar, 180 miles (290 km)
Split, 254 miles (414 km)
Dubrovnik, 374 miles (603 km)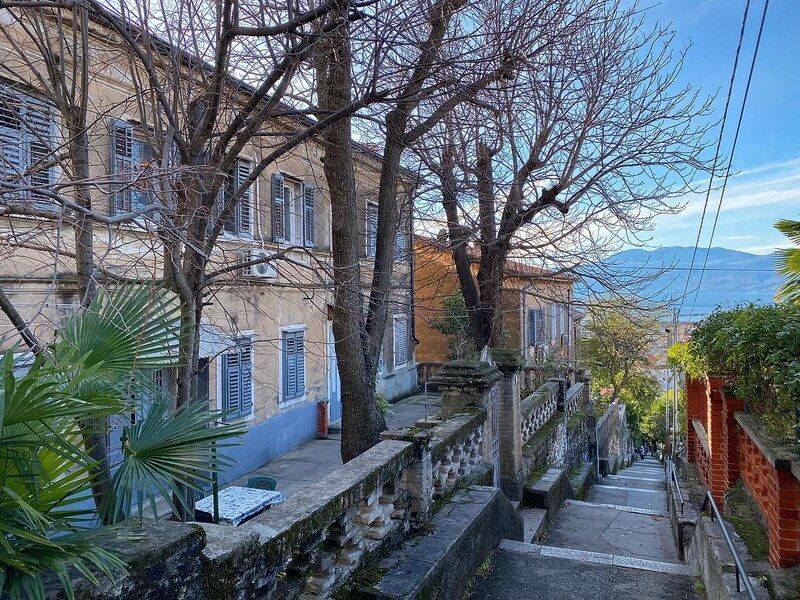 Further Information
Dental Departures' Customer Care Team is on hand 24/7 to provide free information about visiting a dentist in Rijeka. We can also help with additional services, including insurance, finance and hotel bookings. Ask us for a free, no-obligation quote so you can start making plans for your trip or see below for ways to book your appointment.
You can also book your appointment online right here, at any time of the day or night, with no charge to you.
Sources:
Rijeka, Croatia. Encylopaedia Britannica. Website accessed: 23 July 2019. https://www.britannica.com/place/Rijeka" target="_blank
Rijeka to be European Capital of Culture in Croatia in 2020. European Commission. Website accessed: 23 July 2019. https://ec.europa.eu/programmes/creative-europe/news/20160329-rijeka-european-capital-culture_en" target="_blank
Matthews-King, Alex. More than 1 Million Patients Unable to get NHS Dentist Amid Rising Tooth Decay Crisis. The Independent. 2 February 2019. https://www.independent.co.uk/news/health/nhs-dentist-appointments-tooth-decay-sugar-oral-health-a8759546.html" target="_blank
Dental Check-Ups. NHS. 17 September 2018. https://www.nhs.uk/live-well/healthy-body/dental-check-ups/" target="_blank
Burhenne, Mark. Know Before You Go: Teeth Cleanings. Ask the Dentist. 2 August 2019.
https://askthedentist.com/know-before-you-go-teeth-cleanings/" target="_blank 5 Reasons Why Healthcare is The Next Big Thing in Croatian Tourism. TimeOut. 12 February 2018.
https://www.timeout.com/croatia/things-to-do/5-reasons-why-healthcare-is-the-next-big-thing-in-croatian-tourism" target="_blank
Sandilands, Tracey. CAD/CAM Dentistry: What is it? Colgate. Website accessed: 23 July 2019. https://www.colgate.com/en-us/oral-health/basics/dental-visits/cad-cam-dentistry--what-is-it-" target="_blank
5 Reasons Why Healthcare is The Next Big Thing in Croatian Tourism. TimeOut. 12 February 2018. https://www.timeout.com/croatia/things-to-do/5-reasons-why-healthcare-is-the-next-big-thing-in-croatian-tourism" target="_blank
ISO 13485 – Medical Devices. Organisation Internationale de Normalisation (ISO). Website accessed: 23 July 2019. https://www.iso.org/iso-13485-medical-devices.html" target="_blank
15 Best Things to Do in Rijeka (Croatia). The Crazy Tourist. Website accessed: 23 July 2019. https://www.thecrazytourist.com/15-best-things-rijeka-croatia/13/" target="_blank