Last fact-checked: 29 February 2020
Low-cost dental care is within reach when you book an appointment with one of our quality-checked dentists in Alicante . With Alicante Airport—one of Spain's busiest—located in the centre of the popular Costa Blanca and within 10 miles of the city centre, Alicante is an ideal spot for holidaymakers and dental tourists with its mix of history, culture and laid-back beaches.
Alicante—In Brief
Evidence of settlements in Alicante dates back over 7,000 years. Traders from Greece and Phoenicia had begun to arrive by 1000 BC and by the 6th century the Romans took control of the area from the Carthaginians who had conquered much of land before that. Once the Roman Empire was in decline, the Visigoths gained control until the 8 th Century Arab conquest.
The Moors gave the city the name of Alicante, which is Arabic for 'City of Lights.' Following the quick succession of various conquests and different kings, Alicante rose to become a major trading station in the Mediterranean during the 15th century. After several hundred years of subsequent decline, the beginning of the 20th century saw fresh opportunities for exports, particularly during the First World War, leading to a growth in the local economy (coupled with a rather turbulent political landscape).
After the city was taken during the Spanish Civil War in 1939 by General Franco, tourism finally started to emerge in the early 1960s. The late 20th century saw the city transform, as construction, hotels, bars and restaurants began to thrive. Alicante Airport is now the fifth busiest in Spain, bringing millions of tourists from across Europe and beyond to the area to enjoy holidays in the sun and to soak up the sights and attractions of its pretty coastline.
Why Visit a Dentist in Alicante?
Where traditional tourism goes, dental and medical tourism soon follows. In the current climate—where many first-world countries are struggling to provide affordable dental care for their citizens—the option of combining dental care with a holiday is proving to be a cost-effective way of looking after our oral health at a more affordable price.
The NHS dental crisis in the UK is showing no signs of improving, and with prices coming in at around £500 for a basic check-up, teeth cleaning and a filling at a private dentist, it's easy to see why people are often skipping the dentist altogether. The problem with this is that dental problems don't tend to just disappear on their own accord, and this can result in bigger, more expensive problems down the line; for example, missing out on something as simple as a filling could eventually require a root canal to fix. This is one such problem you will know about.
Spain—once the butt of jokes in the UK about unsafe water, has healthcare services that now rank among the best in the world. Like other EU members, Spain has benefited from finance, regulations and guidelines issued by the EU in an effort to standardize health and safety requirements across the Union. What this means for other EU visitors is that they can expect the same standards they experience at home.
Spain's best dentists receive a good standard of training and must be registered with the General Council of Colleges of Dentistry and Stomatology of Spain, or the General Dental Council, in order to practice. Like everywhere else in the world, after qualifying as a dentist, specialisation requires further on-going training and certification, plus the expertise that comes only with experience. Thus, whether your dental work in Alicante is simple or complex, you won't find any shortage of dentists to turn to.
Because the dentists in Spain work privately, competition is keen between providers as patients are free to choose their own dentist (a different experience to some UK patients who, once registered with an NHS dentist, are effectively stuck with that same one for the foreseeable future). It is very much in the interests of dental providers in Spain to provide the best services they can, at the best prices. For this reason, many clinics are ultra modern and high-tech with the latest diagnostic technologies, such as 3D scanning, digital x-rays and even computer-driven technology, like CAD/CAM that offers while-you-wait prosthodontics (eg. crowns and veneers).
Alicante is easily accessible with plenty of air carriers, such as Easyjet, Ryanair, Jet2, Thomas Cook and TUI offering low-cost flights from around the UK and Eire direct to Alicante International Airport.
Spain's weather is a particular draw for sun-starved Brits and Irish who long to escape the often damp and unpredictable weather that spoils so much of the British summertime.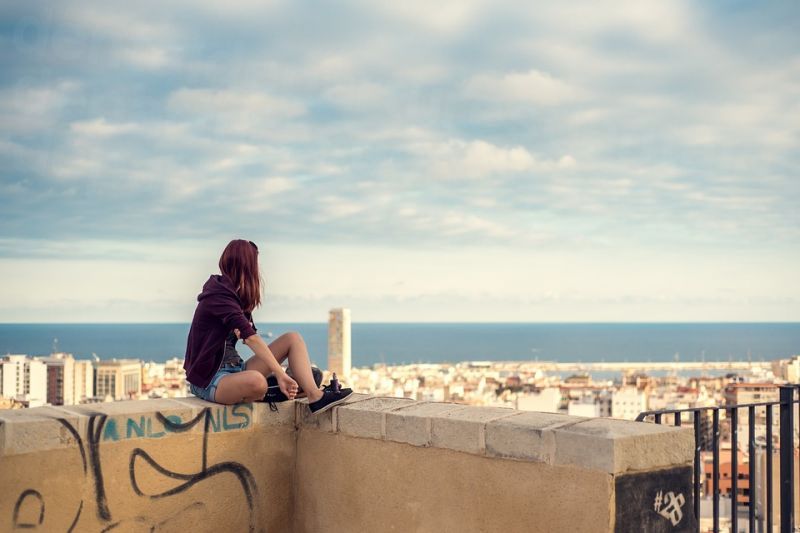 How Does the Cost of Dental Care in Alicante Compare with the UK and Ireland?
The cost of dental care in Alicante is considerably less than in the UK and Ireland:
| | | | | | |
| --- | --- | --- | --- | --- | --- |
| | UK Price (£) | Alicante Price (£) | Ireland Price (€) | Alicante Price (€) | Savings |
| All-on-4s | 16,000 | 6,000 | 19,000 | 7,200 | 68% |
| Crowns | 900 | 300 | 1,100 | 350 | 66% |
| Fillings | 157 | 50 | 188 | 60 | 68% |
| Implants | 3,045 | 1,000 | 3,600 | 1,170 | 67% |
| Veneers | 1,461 | 400 | 1,745 | 460 | 72% |
| Dentures | 1,700 | 533 | 2,000 | 623 | 68% |
| Root Canal | 1,500 | 520 | 1,800 | 600 | 65% |
| Whitening | 387 | 285 | 462 | 333 | 26% |
Where to Stay in Alicante?
Accommodation options in the city of Alicante include hotels, apartments and B&Bs. You can choose beachside, city centre or elsewhere in the province of Alicante at resorts such as Calpe and Javea. Prices range from cheap-and-cheerful to break-the-bank, so you're bound to find somewhere that suits.
Is it Safe in Alicante?
Alicante welcomes tourists. Violent crime is relatively low throughout Spain, especially when compared to other countries, including the UK and the US. The most prevalent crimes on the Mediterranean Coast are opportunist crimes, including bag stealing and pickpocketing. As a tourist, you are likely to let your guard down, so keep your wits about you when you're out and about at the beach, shopping and in bars.
Is the Quality of Dental Care in Alicante Comparable to Back Home?
Dental care in Alicante is more than a match for the dental care you'd receive at home. Dental tourism is growing in the area, and it is in all dental providers' interests to ensure they deliver good-quality services that meet, if not exceed, patients' expectations. If not, patients will go elsewhere. There are more than enough dentists who treat international patients and so the healthy competition is part of the reason why standards remain high and prices low.
To be absolutely sure of receiving top-notch care, we always advise you to do some of your own research and find a reliable clinic that you trust. One way of achieving this is by using the unbiased information provided by Dental Departures. All the clinics listed on our website have been pre-screened by us; if there is anything with which we're not satisfied, then you won't find the facility listed with us.
We carry out a number of background checks, including legal/criminal records, onsite visits, dentist qualifications and professional memberships. Our listings also include patient reviews, location maps, clinic photos and prices—this all allows you to easily make an informed choice as to which clinic is right for you.
The top-rated dental clinics in Alicante include:
● Gardents
● Clinica Dental Integral Dr Bruno Negri
What Happens If Something Goes Wrong? Is My Dental Care in Alicante Guaranteed?
No medical or dental work can ever be completely guaranteed, but you can give yourself a good chance of receiving the expected result by choosing a reliable provider. This is why very few of our patients have experienced problems with their dental care—and most of these issues have been minor.
All Dental Departures' providers offer guarantees or warranties on the work they perform, and for crowns, veneers, dentures or other lab work carried out. You can go back at any time if you have a problem to get it fixed.
If you have an expensive or complex procedure, you may want to consider taking out medical complications insurance for absolute peace of mind. In the event that you have already gone home but need to travel back to your dentist in Alicante because a problem arises in relation to your treatment, your accommodation and travel expenses will be paid for.
Do the Dentists in Alicante Speak English?
Alicante is a major tourist area and so English is spoken widely everywhere, including by our partner dentists.
What Payment Methods Are Accepted at Dental Clinics in Alicante?
Most clinics accept cash (Euros), Mastercard and Visa credit/debit cards, travellers' cheques and bank transfers. Check out the individual listings on our site to confirm.
When is the Best time to Visit a Dentist in Alicante?
Peak season, and therefore the busiest time to visit Alicante, is during the school summer holidays (July and August). This coincides with the hottest time of the year when temperatures frequently top 30C (85F). May-June and September-October are less busy, and it is a little cooler, but still hot enough for swimming and sunbathing. With all that said, our dentists are open throughout the year with the exception of major holiday dates, like Christmas.
What Else is There in Alicante?
A port city on Spain's Costa Blanca, Alicante is the capital of the province. It is an attractive city with a hilltop castle, a quaint Old Town, Barrio de la Santa Cruz, with its narrow, winding streets, colourful buildings and a waterfront promenade overlooking the Mediterranean.
Dating back to the Ninth Century, the Santa Barbara Castle is not the only example of historic architecture in town. A number of other places of worship are well worth checking out too, including the San Nicolas Co-Cathedral, a Renaissance-style building situated right in the heart of the city, and the 14th-century Santa Maria Basilica, the city's oldest church.
The city is not completely built over—you will discover plenty of tranquil parks to get out of the heat and enjoy watching the world go by. Canalejas Park is one of the most popular due to the centenary ficus trees that provide some much-needed shade. La Ereta Park is a good starting point for visiting the picturesque Santa Cruz District and has great views of the Cathedral and Port from its location on Mount Benacantil. At El Palmeral, you'll find lakes, waterfalls and boats for hire, making it a particularly popular destination for day-trippers.
Alicante's beaches are also among its most popular attractions, with the EU Blue Flag for environmental, quality and safety standards awarded multiple times to San Juan Beach, Almadraba Beach, Saladares-Urbanova Beach, The Cabo de las Huertas Coves and Postiguet Beach. Tabarca Island is also a recipient and, with its wide range of wildlife, is Spain's first marine reserve.
Whether your idea of a good night's entertainment is a stroll through quaint, winding streets stopping for drinks and tapas en route as you enjoy the sights, or strutting your stuff in a club until the dawn, Alicante delivers.
Activities in and around town include walking tours, Segway tours, canyoning, jet-skiing, paragliding, caving, zip-lining, paragliding, cycling and golfing and there are numerous other destinations to see along the coast and inland, including the mountaintop village of Guadalest with its precariously-perched castle, and the nearby Algar waterfalls where pretty planting surrounds crystal-clear pools of water where you can swim and cool off.
Travelling to Alicante
Most people fly into Alicante, the regional airport, although Malaga and Granada are within a couple of hours if you are hiring a car and touring the area. Plus, flights may be cheaper to Malaga, depending on the time of year.
Visa Information
Nationals of the EU are free to travel, live and work in any other European country. It is widely expected that UK nationals will be free to enter Spain and other European countries without having to obtain a Visa, regardless of the outcome of Brexit. Nationals from the US, Canada, Australia and New Zealand do not need a visa for tourist stays of less than 90 days.
Getting Around Alicante
The Old Town is perfect for walking, but taxis are available for getting around the rest of the city. Cars can be hired in town or from the airport if you want to explore further afield.
Distance from Alicante to Other Tourist Locations in the Vicinity
● Benidorm, 28 miles (46 km)
● Guadalest, 37 miles (61 km)
● Torrevieja, 31 miles (50 km)
● Valencia, 105 miles (169 km)
● Granada, 217 miles (350 km)
How Do I Arrange a Dental Trip to Alicante?
Book online quickly and conveniently right here, or contact Dental Departures' Customer Care Team to find out more about visiting a dentist in Alicante. We can also help with other aspects of your trip, including hotel bookings and dental finance. Whether it's for important remedial work or to undergo cosmetic dentistry, it's that easy to start planning your trip today.
Sources:
Discover Costa Blanca. Costa Blanca. Website accessed: 7 March 2019.
http://www.costablanca.org/Eng" target="_blank
Alicante History. Alicante. Website accessed: 7 March 2019
https://www.alicante.com/v/history/" target="_blank
Rhodes, D. We Couldn't See An NHS Dentist So We Pulled Our Own Teeth. BBC. 5 September 2017.
https://www.bbc.co.uk/news/uk-england-41113507" target="_blank
Dental Check-Ups. National Health Service. 17 September 2018.
https://www.nhs.uk/live-well/healthy-body/dental-check-ups/" target="_blank
Burhenne, Mark. Know Before You Go: Teeth Cleanings. Ask the Dentist. 18 January 2019.
https://askthedentist.com/know-before-you-go-teeth-cleanings/" target="_blank
Sandilands, Tracey. CAD/CAM Dentistry: What Is It? Colgate Oral Care Center. Website accessed 7 March 2019.
https://www.colgate.com/en-us/oral-health/basics/dental-visits/cad-cam-dentistry--what-is-it-" target="_blank
Alicante City and Beach. Alicante Turismo. Website accessed 7 March 2019.
https://www.alicanteturismo.com/?lang=en" target="_blank
Top 16 Things to Do in Alicante. Expedia. Website accessed 7 March 2019.
https://www.expedia.co.uk/Things-To-Do-In-Alicante.d6023825.Travel-Guide-Activities" target="_blank