Last fact-checked: 17 February 2021
Discover the best dentists in Thailand with Dental Departures. Book your dental appointment in the Land of Smiles with us for quality-checked dentists at affordable prices.
Thailand–In Brief
Dental tourists traveling to Thailand can look forward to dependable care of the highest quality, and be spoilt for choice from the array of options available for a pre- or post-treatment holiday. For an exotic escape, Thailand's charisma compels visitors to discover every corner of this kingdom, arguably the best holiday destination in the world.
Tranquil coastlines, lush mountains and ancient artifacts combine effortlessly to stir the senses. The Thai people's legendary hospitality, fascinating and mysterious while friendly and welcoming, epitomizes its "land of smiles" reputation. Along with mouth-watering cuisine, Thai massage and scores of activities to indulge, it's easy to see why Thailand is so irresistible.
Thailand's economy is one of the largest in Southeast Asia, with 60% of its GDP gained from agricultural exports, as well as electronics, textiles, jewelry, rubber and automobiles. Thailand is one of the world's premier tourist destinations – nearly 20% of Thailand's GDP – including a rising number of international medical and dental visitors. Thailand's healthcare infrastructure is one of Asia's best; in fact, the world's largest international hospital – Bumrungrad International in Bangkok – serves more than 400,0000 patients from 190 countries every year.
Where is Thailand?
Thailand is in Southeast Asia, sharing land borders with Burma, Laos, Cambodia and Malaysia, bounded by the Andaman Sea and the Gulf of Thailand. International flights from around the globe provide non-stop routes to Bangkok and other major tourist destinations in Thailand including Phuket, Koh Samui, Chiang Mai and Pattaya. Its central location makes it the ideal hub for exploring the rest of Asia, particularly since a number of low-cost airlines now fly throughout Thailand and to neighboring countries.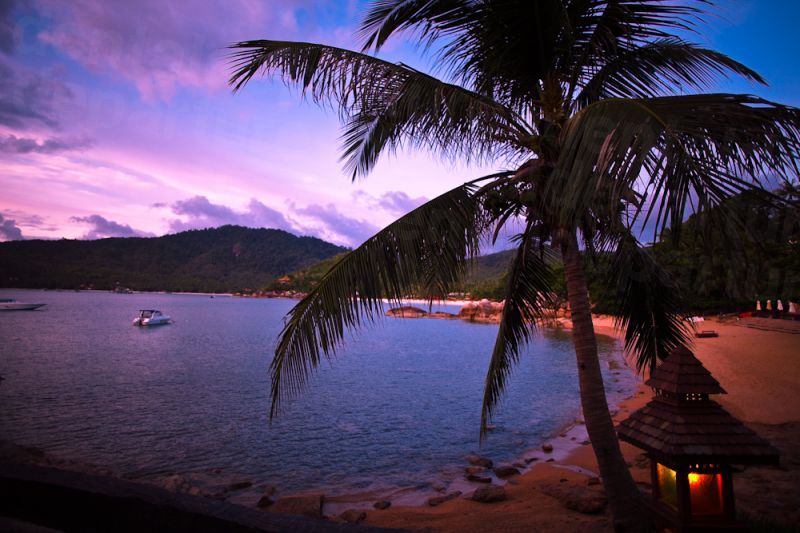 (Image by Jacksoncam)
Why Visit a Dentist in Thailand?
Dental tourists have been visiting Thailand for some years, with the numbers increasing annually. In fact, some people even arrange for their whole family to visit Thailand for their dental care. With a deserved reputation for good quality, affordable treatments, the skill of its dentists and modern, high-tech facilities Thailand's expertise is unsurpassed.
Standards throughout Thailand are generally high and its many hospitals and clinics pride themselves on providing quality clinical care and patients services. Thailand was the first country In Asia to achieve the internationally-recognized JCI accreditation, a US-based initiative aimed at establishing globalized standards in healthcare quality. In fact, two of our most popular dental clinics – Bangkok International Dental Center and Sea Smile Dental Clinic – are among the few dental practices in Asia to have received JCI recognition.
Dentists in Thailand have undergone rigorous training, just as dentists in Western cultures. In fact, many of our dentists have received at least some of their training in the US, the UK or Australia. Furthermore, the best dental clinics in Thailand feature state-of-the-art technology, including digital panoramic x-ray, CT scanning equipment, 3D CAD/CAM and in-house laboratories – not always found in your clinic at home!
Top-notch facilities and substantial savings on equivalent dental treatments at home continue to draw Westerners here, particularly for patients seeking more extensive treatments such as implants or full mouth rehabilitation. Although the overwhelming factor in traveling abroad for dental work is cost savings (who can argue with prices 50-80% lower than at home?). Thailand's expertise in healthcare, the array of available procedures, and its high service and hospitality standards ensure it remains a world leader, consistently ranking highly as a dental tourism destination.
What About Cosmetic Dentistry in Thailand–Can I Get a Smile Makeover?
Anyone who has crossed borders for cosmetic surgery knows of Thailand's stellar reputation for this specialty. The same is true of cosmetic dentistry: from simple teeth whitening to dental veneers and composite bonding to more complex dentures and implants, Thailand is world-renowned for creating new smiles and better health for thousands of patients worldwide. Check out the price comparisons below on some of the more popular procedures.
What Do Thailand Dentists Cost Compared to Australia and New Zealand?
Cost in:

Australia (AUD)

Thailand (AUD)

New Zealand (NZD)

Thailand

(NZD)

Average

Savings

All-on-4® treatment concept

33,995

14,300

35,500

15,100

58%

Crowns

1,520

520

1,600

550

66%

Fillings

200

49

210

52

75%

Implants

5,000

2,480

1,250

2,600

50%

Veneers

1,800

470

1,950

490

73%

Dentures

2,300

890

2,470

930

61%

Root Canal

1,600

300

1,750

315

81%

Whitening

870

280

910

295

67%
[Note: These figures are estimates at the time of writing; please check our clinic listings for up-to-date prices.]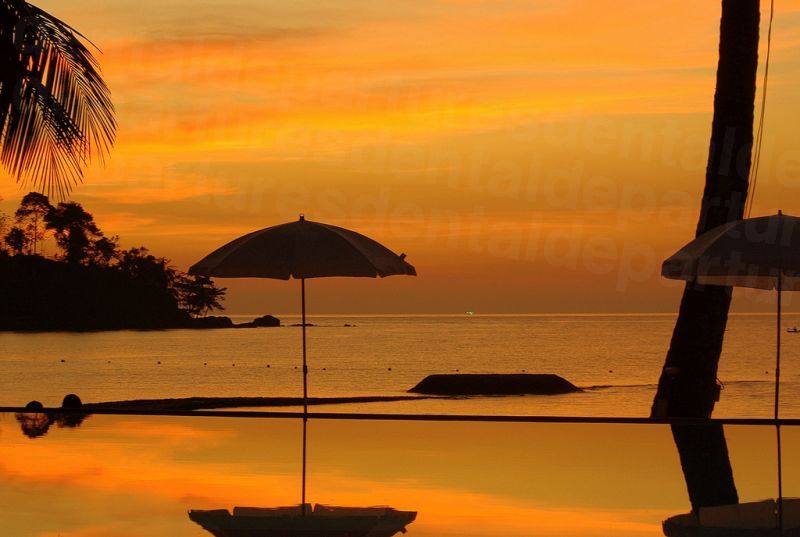 Where Should I Stay?
Thailand has varied and plentiful accommodation options – from some of the finest luxury hotels in the world to budget beachfront bungalows. There are hotels for travelers of every type on every budget. Depending on the amount or type of dental treatment you are seeking, free or discounted hotel rates may be arranged through your appointment with Dental Departures.
Because of Bangkok's legendary traffic snarls, patients receiving care in Bangkok should book lodging near to your selected clinic. Our Customer Service Team can help you locate nearby accommodations; some Thai clinics even offer hotel-to-clinic shuttle services as well.
Is it Safe?
Yes. Thailand is exceptionally safe whether you're exploring the sprawling capital city of Bangkok or visiting an elephant sanctuary outside Chiang Mai. Violent incidents against tourists are virtually non-existent. However, it is always wise to take the usual tourism precautions: don't be flashy with money, carry bags away from the roadside to deter motorbike thieves and beware of pickpockets in crowded areas.
Thailand sometimes experiences vocal and restive politics, which rarely erupts into the streets. Welcoming some 30 million leisure, business (and dental!) tourists every year, the Thai government has keen interests in keeping things running smoothly.
It is probably best to drink bottled water outside of Bangkok. Ice in restaurants and hotels is OK, although best avoided in small towns and rural areas. Thailand's world-famous street food is generally safe for all; dine at popular restaurants and stalls and you'll be fine. Dental patients should be less adventurous with food prior to your appointment, in order to avoid the obvious discomforts of digestive upset while in the dental chair!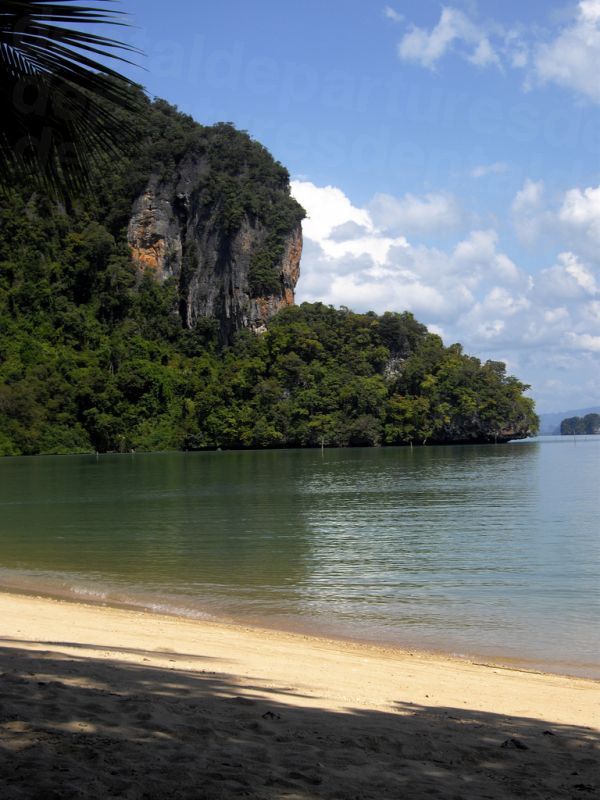 (Image by Rev Stan)
Is the Quality of Dental Care in Thailand as High as Back Home?
Yes – providing you have treatment in a reputable dental clinic. The facilities Dental Departures work alongside have all been rigorously checked to ensure they meet our high standards. We look into a number of areas, including local and international accreditations, dentist qualifications, criminal records and hygiene standards. We also personally visit each clinic, and only when we have verified our checks will they be listed on our site.
Dentists in Thailand are members of the Dental Association of Thailand and are registered and regulated with the Thai Dental Council. Our dentists are experienced in treating international patients, and the clinics here are some of the most modern in the world. We also offer you a Best Price Guarantee, so you can be certain of getting a great dentist for a great price.
What Happens If Something Goes Wrong? Do Thai Clinics Guarantee Their Work?
While our best clinics provide the highest quality care, no dentist anywhere in the world can guarantee 100% clinical success. For any rare complication, Dental Departures will work on your behalf to solve any problems, if you have booked an appointment through us. Less than one percent of our patients experience any problems; in those instances, we work to see any issues are put right.
Do Thailand Dentists Speak English?
Yes, most dentists and staff listed by Dental Departures speak English. Not only do our best clinics depend upon treating international patients, but many have also trained in English-speaking countries. Most of the hotels and restaurants in the tourist areas have English speaking staff as well.
What Payment Methods are Accepted by Thai Dentists?
Cash (in Thai baht, easily exchangeable nearly everywhere)
Visa
Mastercard
Credit/debit cards are the preferred methods of payment; check with your clinic which banks they accept.
When Is the Best Time to Visit a Thai Dentist?
Thailand is a year-round destination, its geography allowing visitors to find suitable weather somewhere in the country. Generally, its location in the tropics means the weather is generally humid and hot but can be divided into the "hot," "cool" and "rainy" seasons. November to February is the cool season when the weather is pleasanter; this also tends to be the busiest time. The monsoon season starts in June, progressing from afternoon showers to prolonged day-long downpours by September or October. Rainfall varies regionally – with the northeast the driest and the south the wettest.
Public holidays and national festivals, such as Songkran (Thai New Year) in mid-April tend to be busy, with accommodation difficult to book and transport tickets selling out. They are experiences not to be missed, but you will want to book everything well in advance to be sure of finding reasonably priced airfare and lodging during your dental trip.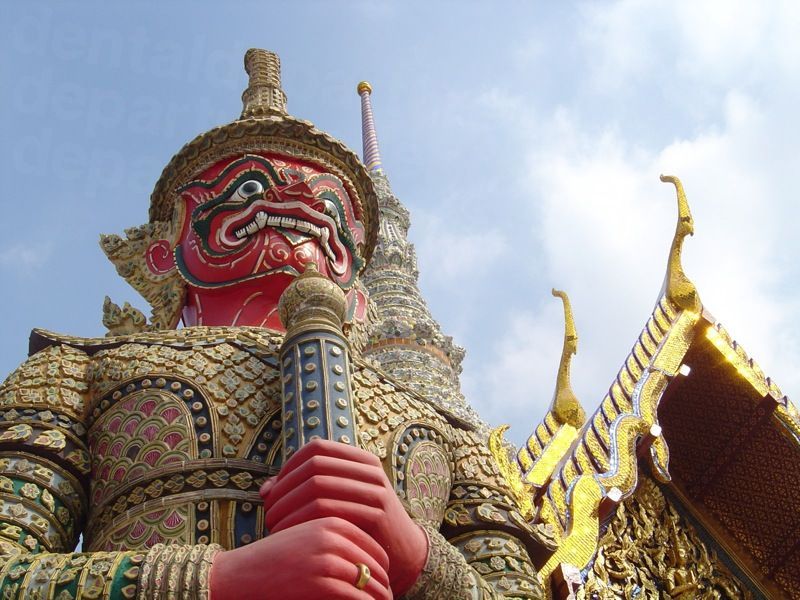 (Image by puuikibeach)
Is Thailand Wheelchair Accessible?
Many of the resorts do not have proper roads or footpaths. In Bangkok high curbs, uneven footpaths and pedestrian bridges flanked with stairs make navigating wheelchairs challenging and boats and buses barely stop long enough even for the fully abled. Some hotels are wheelchair friendly, and many Thai dentists can help with shuttles from the airport and hotels.
What is the Downside? What Should I Know about Visiting?
You may have a preconceived idea about Thailand - and not all of it positive. However, remember that it is scurrilous headlines that sell stories so do keep an open mind and learn to separate fact from fiction and the country is not just about the sex industry and tourist scams. Although you'd be wise to remember the old adage, if something appears too good to be true, then it probably is.
Touting is also an Asian tradition that may be annoying to Westerners. In particular, at popular tourist spots you may be surrounded by touts who get a commission for bringing in guests, often to over-priced and badly located hotels and guesthouses.
You should also be aware that although Thailand's dentists are very well trained and clinics generally well-equipped, poor dentists exist everywhere. We cannot emphasize how important it is to find an established clinic with an appropriate specialist. Our screening process simplifies this process, and particularly if you are undergoing complex treatment we can help find the right specialist to help you.
What Else is There in Thailand?
Aside from its world-renowned beaches, historic temples and warm hospitality Thailand has a diverse natural environment. With more than 100 national parks and over 20 marine parks, the country is filled with unique flora and fauna. Trekking, mountain biking and horse riding are great ways to get out and about exploring the rainforests.
Thailand is the perfect destination for those wishing to learn a new skill on their holiday, or just to try something completely different. Thai cooking, Thai boxing and Thai massage are all popular subjects that can be studied in a matter of a day or over the course of an entire holiday. Other popular activities are scuba diving, rock climbing, golf lessons and even flying lessons.
Thailand has no shortage of festivals and events, such as Songkran (the Thai New Year) in April, and Loi Krathong (the unforgettable Festival of Lights) in November or December, as well as localized events such as Chonburi Buffalo Races or the Ayuthaya World Heritage Fair.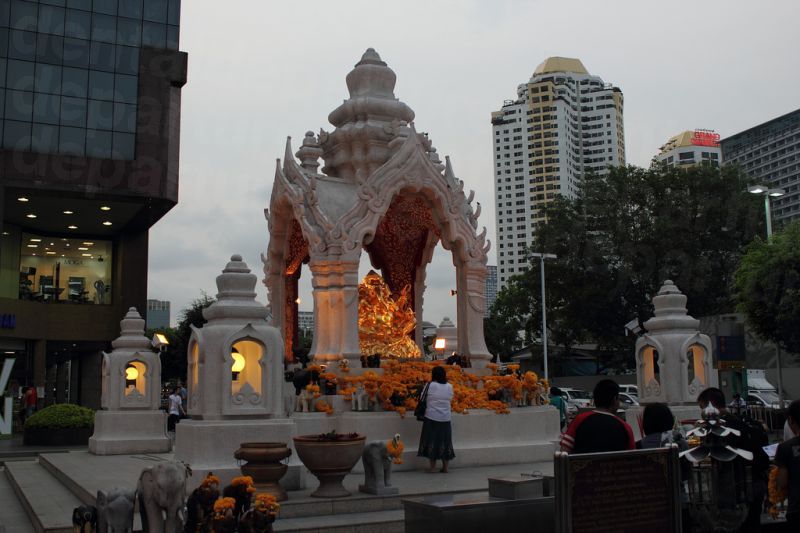 (Image by Max Pfandl)
Traveling to Thailand
Visitors can fly to Thailand on non-stop routes from most countries. As well as Bangkok, most of the other major tourist destinations, including Phuket, Chiang Mai and Krabi have international airports.
It is possible to travel by bus to Thailand from most of its neighbors apart from Burma.
Getting Around Thailand
By air: Getting around Thailand is easy and inexpensive with cheap and plentiful domestic flights. Discount domestic airlines such as Air Asia and Nok Airways scoot millions of tourists around the country every year.
By train: The rail system in Thailand is generally comfortable and efficient. Rail journeys are generally more expensive and take longer than the bus, but are more comfortable. At holiday times and weekends, tickets sometimes sell out well in advance. It is best to book ahead at a station through an agent or from the State Railway of Thailand.
By bus: Cheap, if not particularly comfortable.
By car: While driving around in Bangkok may not be for the faint of heart, exploring the rest of Thailand in a rental car is a cheap way of seeing the real Thailand. Most roads are in good condition and road signs in both Thai and English. Most of the international car rental companies are represented. You will need an international driving licence.
Tourist Visas
Thailand operates tourist-visa exemptions for 41 different nationalities, including those from Australia, New Zealand, the USA, Canada, the UK and most of Europe. Visas are issued without a fee, but your passport must be valid beyond six months from the date of entry into the Kingdom.
Distances and Flying Times to Thailand (Bangkok)
New York: 7518 miles, 19 hours
Los Angeles: 7172 miles, 18 hours
Montreal: 7218, 18 hours
Sydney: 4073, 10 hours
Auckland: 5175, 13 hours
London: 5156 miles, 13 hours
What's Next?
Search our listings to find a dentist, compare prices, check out our verified patient reviews and select a dentist that matches your condition and destination. Then get in touch with our Customer Care Team if you'd like to know more about receiving quality dental care in Thailand, or see below for ways you can easily book an appointment online, at no charge to you.
(Main Image by Celine)
Sources:
3 Top Asian Countries for High Quality, Low-Cost Dental Care. International Living. 23 August 2017. https://internationalliving.com/au/3-top-asian-countries-high-quality-dental-care-low-cost/
Moon, Freda. A Family Adventure in Medical Tourism. New York Times. 8 March 2017. https://www.nytimes.com/2017/03/08/travel/frugal-family-medical-dental-tourism-bangkok-thailand-vacation.html?module=inline
"Thailand's Tourism Myths". CNN. 15 July 2017. https://edition.cnn.com/travel/article/thailand-travel-myths/index.html
Babbush CA, Kanawati A, Kotsakis GA, Hinrichs JE. Patient-related and financial outcomes analysis of conventional full-arch rehabilitation versus the All-on-4 concept: a cohort study. Implant Dent. 2014 Apr;23(2):218-24. doi: 10.1097/ID.0000000000000034. PMID: 24394342. https://pubmed.ncbi.nlm.nih.gov/24394342/
Joint Commission International. Website accessed: 17 February 2021. http://www.jointcommissioninternational.org/About-JCI/
Railway.co.th. Website accessed 17 February 2021.
Dental Association of Thailand. Website accessed 17 February 2021. http://www.thaidental.net/