Last fact-checked: 22 September 2022
Head to Southeast Asia for an unforgettable holiday and return home with a brand new smile, with dental implants in Thailand costing, on average, 60% less than in Australia, New Zealand, the UK and USA.
And with Dental Departures on your side, you'll never have to compromise on quality or price; booking through our site guarantees the best rates online, while all of our partner clinics and dental hospitals have been subject to a strict vetting process.
Read on to see how much your new teeth will cost in Thailand, as well as recommended dentists, dental implant reviews, before & after photos, dentist profiles and travel tips.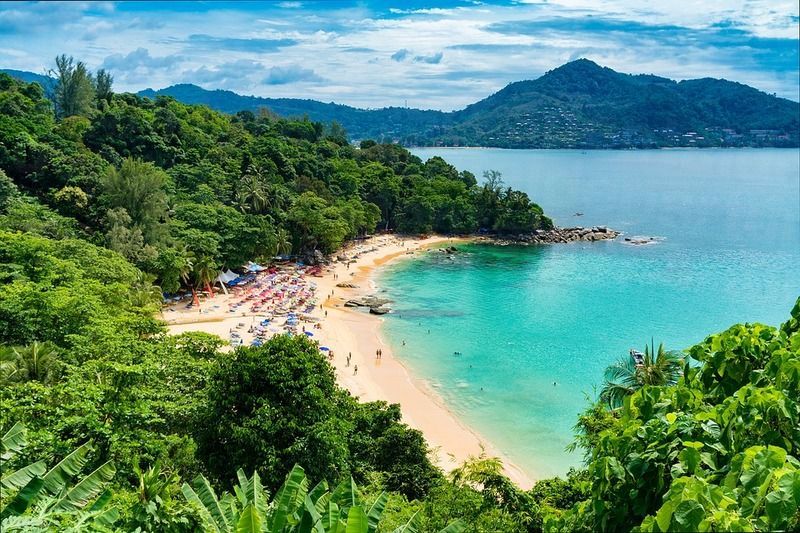 How Much Do Implants Cost in Thailand?
As we look at in more detail further down, how much you pay will depend on the type of dental implant treatment, specifically, the number of teeth being replaced and the types of materials used for the final restoration; for instance, a single implant with porcelain crown would cost a fraction of a full mouth restoration where a full-arch prosthesis is placed on four implants in both jaws.
See the price table below or get in touch with our Customer Care Team for a personalized, no-obligation quote:
Type of Implant Treatment

Average Price in Australia

Average Price in the USA

Average Price in Thailand (You Pay)

Dental Implant Only (single tooth)

AUD 3,000 - 6,000 (USD 2,000 - 4,000)

AUD 3,000 (USD 2,000)

AUD 1,200 (USD 800)

Titanium Dental Implant (including abutment and standard crown)

AUD 4,000 - 7,000 (USD 2,600 - 4,600)

AUD 4,500 -6,000 (USD 3,000 - 4,000)

AUD 2,000 (USD 1,300)

All-on-4 (per arch)

AUD 30,000
(USD 20,000)

AUD 37,000 - 45,000 (USD 25,000 - 30,000)

AUD 13,500 (USD 9,000)

Zygomatic Implants + fixed bridge (per arch)

AUD 35,000 (USD 24,000)

AUD 42,000 (USD 32,000)

AUD 16,000 (USD 10,700)
Please note: The above prices are calculated using average estimates provided to Dental Departures at the time of writing.
Why Choose to Go to Thailand for Dental Implants?
The main reasons to visit Thailand for dental care are threefold:
Low Prices: Dental implants are much cheaper in Thailand, especially when compared to dentists in Sydney, Melbourne, Adelaide and Perth, as well as those on the other side of the world in Europe and the States.

The whole point of medical and dental tourism is to take advantage of more affordable care abroad, and Thailand doesn't disappoint on this front, with patients booking through Dental Departures able to save between 50% and 75%.

Even when factoring in flight costs (potentially for two separate trips), accommodation and a generous holiday budget, those huge savings–particularly when undergoing more complex treatment like a full-arch restoration with a fixed bridge–can still easily add up to four figures (net).
World-Class Quality: When booking through our site, you needn't worry about becoming a "victim" to unlicensed, unqualified or blacklisted dentists–like the ones normally responsible for those dental tourism "horror stories" you see in the tabloids.

A series of background checks ensure that our partner clinics work with only the very top implantologists in Thailand who are highly trained, use state-of-the-art instrumentation and brand-name materials, all while continuing to stay abreast of the latest industry trends with courses, seminars and workshops.

All Thai dentists must register to practice with the Thai Dental Council and the Thailand Ministry of Public Health and of our dentists are members of professional organizations in Western countries, like the International Congress of Oral Implantologists.
Combined Holiday: Thailand has a wealth of desirable destinations where you can visit for treatment while enjoying holiday activities between visits to the dentist. Whether you want to visit the ever-exciting capital of Bangkok, relax on a Phuket beach, or trek around the temples and jungles in Chiang Mai, you'll find quality dental clinics that offer all manner of implant procedures.
More Reasons to Go to Thailand for Teeth Implants:
Other advantages of going to Thailand for dental care:
We work with dentists across the country who can speak English, with larger dental hospitals offering free translation services in whatever language you speak.

From time to time, clinics will offer special packages where all treatment steps are included alongside free airport transfers and even accommodation. Ask your Dental Departures' representative about our exclusive, limited-time promotions.

Bangkok can easily be reached from all corners of the world, with direct flights from 107 airports across nearly 50 countries.

It's cheap! Despite it not being as affordable as it once was, you can still get a 5-star hotel room for under $100, a plate of pad Thai for $2 and a taxi ride across the city for $10 (as long as you agree the price beforehand).

The country is a leading health and wellness destination in Southeast Asia, with spas, massage centers and onsens all offering something for those seeking a little "me time" before or after treatment.
What Happens If Something Goes Wrong?
Our best implant dentists in Thailand guarantee their treatment and lab work, with 5-year, 10-year and even lifetime warranties (depending on how well you look after your new teeth) provided.
As for any trip abroad, you are well-advised to take out travel insurance that covers unforeseen medical expenses; special types of medical tourism insurance can also cover your flights and travel expenses should you need to return to the dentist in Thailand in the rare event that something goes wrong.
In any case, Dental Departures is here to work on your behalf if you ever experience complications or have any other concerns before, during or after your treatment; you can contact us 24 hours a day.
Why Are Dental Implants Cheaper in Thailand Compared to Australia, Europe and North America?
Compared to the West, dental care costs less in Thailand due to the country's lower cost of living, which drives down business overheads. Specifically:
The salaries of dentists and other staff are comparatively lower than the West.

It costs much less for dental students to study at university, even though courses are just as long

Office rental space and property prices are less expensive in Thailand

Utility costs, like water and electricity, cost less
Prices of Different Types of Dental Implants in Thailand
While patients can get some decent bargains on things like teeth whitening, crowns and fillings in Thailand, it's the big-ticket procedures, like implant-retained full mouth bridges, that yield the most savings.
Even when factoring in two trips to Thailand to complete treatment, you can expect to save in excess of $20,000 on a full-arch restoration with 4 implants, in comparison with places such as Australia, the UK, the US and Europe.
The cost varies depending on three main factors:
The number of teeth you are having replaced; for example, a single tooth with a crown on implant vs a whole arch of teeth with an "All-on-4" fixed bridge.

The materials and brands used; for example, standard titanium vs metal-free (zirconia) implants; or full porcelain crowns vs ceramic crowns.

Other treatments or therapies required before the implant procedure can take place; for example, bone grafting may be an option to help increase the lifespan of implants in older patients.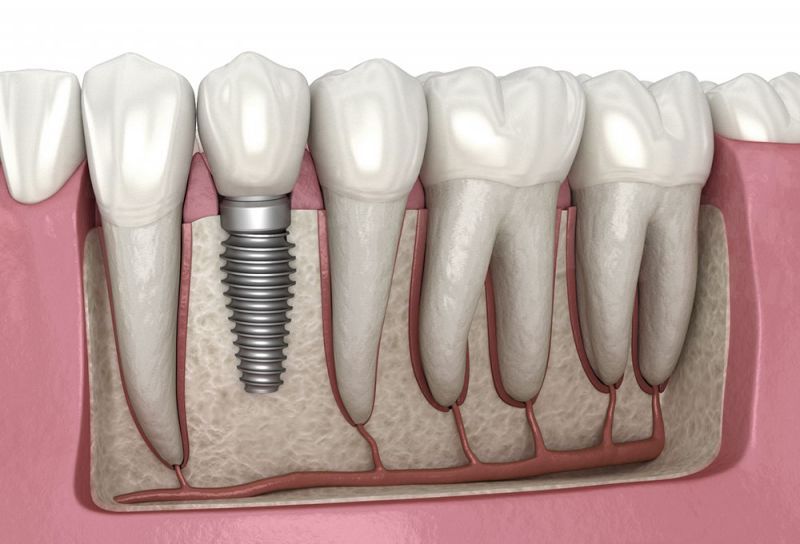 Dental implant. (2022, September 10). In
Wikipedia
.
Types of Dental Implant Treatment + Average Costs
Dental implant (only): This one-stage treatment entails the surgical placement of a single titanium post under local anesthesia (no crown).

> Average price in Thailand = AUD 1,200 (USD 800 / THB 30,000)
Implant with crown and abutment: This full, two-stage dental implant treatment involves the stage as described above together with a follow-up, approximately three or four months later, where a permanent crown is placed using an adjoining abutment. This normally replaces a lightweight temporary crown that is worn (mostly for aesthetic purposes) during the short healing phase.

> Average price in Thailand: AUD 2,000 (USD 1,300 / THB 50,000)
All-on-4 / All-on-6: This treatment involves a "fixed bridge" or "hybrid denture" that is anchored to the top, bottom or both jaws (partial/full mouth restoration). This is held in place with four or six dental implants (depending on the bone viability), as well as specialized abutments and pressure copings. The fixed bridge holds a full row of porcelain or composite ceramic crowns, depending on the brand of system used. For example, all of the materials, tools, software and treatment guidelines are provided by top dental implant manufacturers such as Nobel Biocare® (All-on-4® treatment concept), Straumann® (Pro Arch®), and Zimmer Biomet®.

> Average dental bridge cost in Thailand (on 4 implants): AUD 13,500 (USD 9,000 / THB 330,000)
Zygomatic implants: For those who have suffered bone loss in the jaw and therefore not suitable candidates for traditional implants, these longer rod-like implants can instead be placed into the zygomatic bone; using a similar technique to that of an "All-on-X" system, four zygomatic implants can permanently support a whole arch prosthesis (fixed bridge) in both the upper and lower jaws.

> Average price for full mouth rehabilitation for with 4 zygomatic implants in Thailand: AUD 16,000 (USD 10,700 / THB 400,000)
Read More: Ultimate Guide to Zygomatic Implants Abroad
Top Locations in Thailand for Dental Implants
Dental Departures has partnered with clinics across Thailand; starting with the capital, here are the top places in the "Land of Smiles" for low-cost dentistry:
As the largest and most-visited city not only in the country but all of Southeast Asia, Bangkok has long been a hub for medical travel, boasting numerous JCI-accredited hospitals and home to some of the world's top specialist surgeons and dentists.
A modern, sophisticated and cosmopolitan city, Bangkok is a vibrant metropolis that manages to successfully combine its ancient heritage with 21st-century living. With all the amenities modern visitors expect–superb hotels, great shopping, fantastic restaurants and bars–the city has many more attractions including royal palaces, temples, the canals and Chao Phraya river.
For implant-based restorations in Bangkok, we recommend Bangkok International Dental Center (BIDC) - Main Headquarters where All-on-4 implants start at just AUD 12,000 (USD 8,000) per arch.
> Full list of implant dentists in Bangkok
For those wanting to combine implant treatment–which can necessitate stays of around one week per trip–with a memorable beach break, we'd advise jumping on a plane and heading south. Phuket's tropical island paradise lends itself perfectly to a dental holiday–a chance to recharge your batteries and reclaim your fabulous smile. From 5-star hotels and international-style hospitals to fine-dining restaurants and luxury real estate, Phuket is still one of the planet's most desirable holiday destinations.
Take a look at the highly-rated Sea Smile Dental Clinic (Phuket) where a standard implant including crown restoration starts at just over AUD 2,000 (USD 1,400) per tooth.
> Full list of implant dentists in Phuket
The stunning city of Chiang Mai is found in the mountains of northern Thailand. Due to its location–some 800 miles north of Bangkok–it experiences cooler temperatures compared to the rest of the country, especially when heading up to a higher altitude in the "Thai Highlands" which lead into the eastern Himalayan foothills. It is considered to be the cultural center of Thailand, as well as a major tourism hub, with a growing number of world-class dental clinics.
Patients should take a look at the large CIDC (Chiang Mai International Dental Center) where both local and international patients pay just AUD 2,000 (USD 1,400) for an implant with a zirconia crown.
> Full list of implant dentists in Chiang Mai
For a beach break close to Bangkok, the seaside town of Pattaya offers something for everyone. And while Pattaya may have once only been associated with its naughty nightlife scene, the area now promises a range of family-friendly activities, swanky rooftop bars, high-end shopping malls and lively beaches both close to the main city center and dotted across the rest of Chonburi's coastline.
One of the top clinics for dental implants in Pattaya is OrthoSmile Dental Clinic which offers All-on-6 implants for approximately AUD 13,500 - 15,500 (USD 9,000 - 10,000) per arch.
> Full list of implant dentists in Pattaya (Chonburi province)
Finding the Best Clinic & Dentist For You
Dental Departures helps prospective patients across the world find more affordable, professional and safe dental care; to date, we've partnered with thousands of dental clinics across the world, including over 200 in Thailand.
But before any dentist makes it onto our site, they–and the rest of their team at the same clinic–are subject to a stringent vetting process. If we find anything we don't like–or wouldn't want to have treatment at the respective clinic ourselves–you won't find them listed with us.
Verification Process of Clinics
The Dental Departures verification process involves:
Gathering details about dentists' professional and educational background, which are then published on our site

Looking into the legal history of the clinic and their staff

Cross-referencing licenses and certifications with professional boards

Obtaining official proof showing dentists' memberships with professional boards in Thailand and abroad

Ensuring dentists are registered with the Dental Association of Thailand

Talking with past patients–asking them about their experience; if the feedback is not positive, we'll cut ties with the clinic

Gathering photos of the clinic and publishing them on our site

Collating and publishing thousands of Thailand dental implants reviews
All this information is available on Dental Departures' individual clinic listing pages.
Why Book with Dental Departures?
Use our site or book an appointment via our Customer Care Team and take advantage of:
Free access to our database of hundreds of clinics in Thailand, as well as thousands of other dentists across Southeast Asia; alternative dental tourism destinations in the region include Malaysia, the Philippines and Bali (Indonesia)

Transparent price estimates that you can see on each of our listing pages

Customer support before, during and after your dental holiday to Thailand, available 24 hours a day

Lowest prices: if you find a better rate online, we'll match it thanks to our Best Price Guarantee

Exclusive promotions with all treatment costs, hotel stays and airport transfers all included in one low price

No upfront payments when booking

Free cancellation up to 24 hours before your appointment

Travel tips, including guidance on required documents and visas, accommodation and more
Top Clinics in Thailand for Dental Implants
To see how much full mouth dental implants cost in Thailand, as well as implant reviews, dentist profiles, clinic photos, maps and more useful information, check out these top-rated clinics below: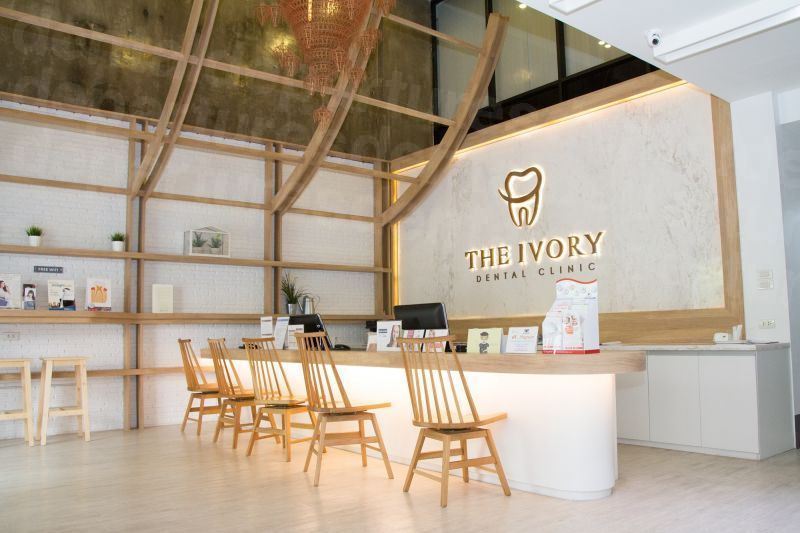 In Brief: Dental Implant Procedure Stages
Basic dental implant treatment is composed of the surgical placement of the implant itself (first stage), followed by the attachment of an abutment and a crown (second stage).
After an initial consultation and evaluation, the implant is inserted into the jaw bone under local anesthetic, acting as an artificial, stable tooth root once properly integrated with the bone. The implant is inserted on your first visit. Unless an extraction is required, this process usually can be achieved in one day.
Your next trip will take place between three to four (or more) months later. This is so the bone and implant fuse together in a process called osseointegration, which provides a stable base for your crown. Following inspection and further evaluations, a flap of skin in the gum line is opened up (under local anesthesia) to reveal the now-sturdy implant. An abutment joins the implant to a crown, which is essentially an artificial tooth that's custom-made and created to match your other teeth in shape and color.
Read More: Ultimate Guide to Crowns in Thailand
Are Dental Implants Suitable for Everyone?
Dental implants are not suitable for everybody. If you have lost a tooth because of periodontal disease (an advanced form of gum disease), then you may not have enough viable jaw bone to insert the implant. Periodontal disease attacks the bone and this may well be the reason you lost your tooth in the first place.
X-rays and scans will enable the dentist to determine if you are a suitable candidate for implants. If traditional implants are a no-go, many patients find that they are able to benefit from zygomatic implants, or opt for additional oral surgery, like bone grafting or sinus lifting to help them become suitable for the procedure.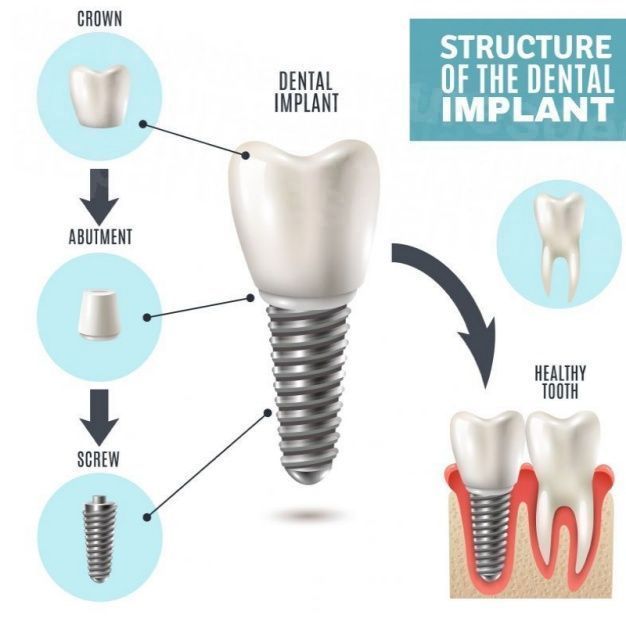 Maintaining Your Implants
The other thing to remember is that you must look after your implants scrupulously. Aside from perhaps using certain toothpastes and gels following surgery, they don't require any special care, but you must have a good oral hygiene regime and see your dentist regularly for check-ups if you want your implants to last a lifetime, which they can do with proper care.
Dental Implant Brands in Thailand
Straumann

Nobel Biocare

Osstem Implants

BioHorizons

Dentsply Sirona
How to Book My Dental Implants in Thailand?
Find a fully verified, highly-rated dentist for your implants in Thailand right here with Dental Departures. Compare our prices, read verified patient reviews, check out clinic photos and book your appointment via our dedicated Customer Care Team.
With Dental Departures, you will always pay the best price–guaranteed–and we are always happy to talk with you via our online chat, e-mail or freephone number.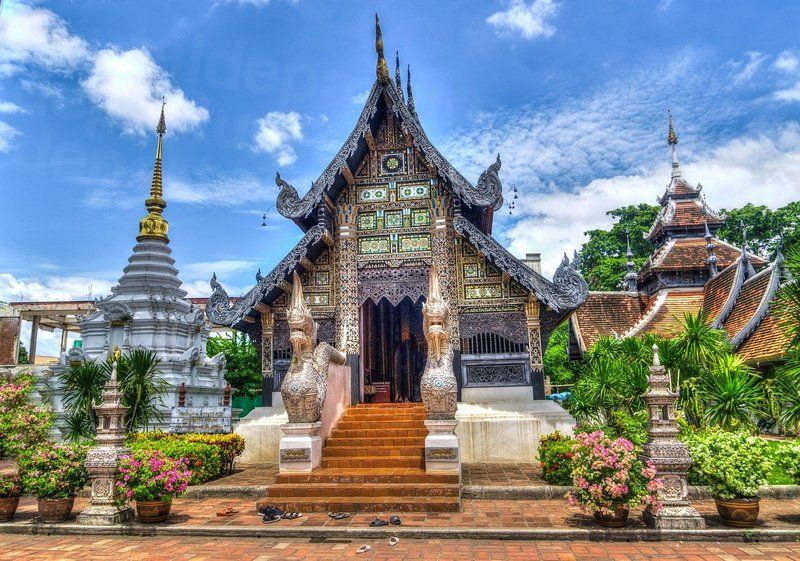 Sources:
International Congress of Oral Implantologists. Website accessed: 20 September 2022. http://www.icoi.org/membership-credentials/
Bangkok. Flight Connections. Website accessed: 20 September 2022. https://www.flightconnections.com/flights-from-bangkok-bkk
Daniel S, et al. Clinical and patient-reported outcomes of implants placed in autogenous bone grafts and implants placed in native bone: A case–control study with a follow-up of 5–16 years. First published: 30 January 2019 https://doi.org/10.1111/clr.13410
Wong, N. All-on-"X": Final Fixed Prosthetic Options for Full Arch Implant Cases. 9 November 2017. https://www.oralhealthgroup.com/features/all-on-x-final-fixed-prosthetic-options-for-full-arch-implant-cases/
Joint Commission International. Website accessed: 20 September 2022. https://www.jointcommissioninternational.org/
Zimmer Biomet. Website accessed: 20 September 2022. https://www.zimmerbiomet.com/en
Northern Thailand: Where The Wild Himalayan Cherry Blooms. The Nation Thailand. Website accessed: 20 September 2022. https://www.nationthailand.com/in-focus/30360734
The Dental Association Of Thailand. Website accessed: 20 September 2022. https://www.thaidental.or.th/
Top Clinics in Thailand for Dental Implants