Last fact-checked 9 February 2020
Restore your missing teeth at a quality-checked clinic for dental implants in Bali – the best replacement for your pearly whites because they look, feel and act exactly like your own teeth.
If you're thinking about the high costs of dental implants in your home country, then Bali offers a more affordable option – along with a spectacular setting to relax and recover from your procedure.
Bali attracts tourists from all over the globe primarily because of its exotic setting, beautiful scenery and rich culture. Increasingly, travelers are combining leisure travel to Bali with dental treatment. Imagine relaxing on a beach while recuperating from your dental work, and you'll see why a dual trip is appealing, not to mention the considerable savings.

Please Tell Me More About Dental Implants
A dental implant is a replacement tooth root embedded into the jawbone to hold a crown or bridge. It's an option for those who have lost a tooth or teeth due to gum disease, injury or other reasons.
This consists of three parts: the implant, abutment and a crown or bridge. The implant is a small screw-shaped post usually made of titanium, which serves a replacement for the tooth root. The abutment is placed on top of the implant, connecting it to a crown or bridge.
What's Involved in a Dental Implant Procedure?
The dental implant process involves treatment planning, insertion of the implant, and placement of a crown or bridge. During the treatment planning, your dentist will discuss the process and perform a comprehensive examination of your teeth, gums, mouth, and jaw. He'll review your medical and dental records. Once it is confirmed this is the best option for you, your dentist will insert the implant into your jawbone. After the healing process (about three to six months), where the bones fuse with the implant, your dentist will attach the replacement teeth (crowns or bridge).
The length of the treatment period depends on your condition. If you need a bone graft a return trip may be needed after three to six months.
What Are the Advantages of Dental Implants vs Dentures?
Provide strong support for fixed or removable replacement teeth.
Improve facial appearance
Promote good oral health
Help you talk, smile, and eat comfortably
Less daily maintenance
Am I a Good Candidate for Dental Implants?
You should have adequate bone and healthy gums to support a dental implant. Your dentist can assess if implants are the right option for you.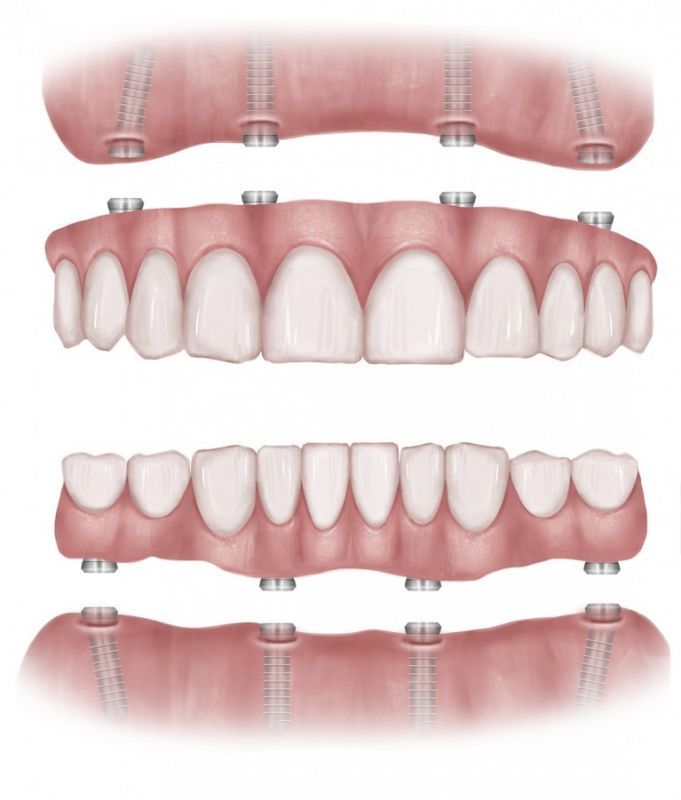 What About the Quality of Implantology Clinics in Bali?
Our best Bali dentists have completed their dental degrees and training from local and international institutions. Our dental practitioners adhere to health and safety standards and many Bali implantologists are members of the International Congress of Oral Implantologists (ICOI).
Clinics in Bali increasingly cater to international travelers and provide patients with a friendly, English-speaking environment.
Feel free to discuss your goals and budget with your dentist. A customized treatment plan can be created to suit your needs.
What Do Implants Cost in Bali?
The cost of implants varies depending on the type of restoration (crown or bridge), additional treatment, and other factors. Price starts at USD $1,258.13; CAD $1,592.87; AUD $1,611.29; NZD $1,807.15; UK £875).
Our past patients have given high marks to implantology work performed at Bali 911 Dental Clinic, Sunset Dental Clinic, and BIMC Hospital Dental Centre, to name a few.
How Can I Find a Dentist in Bali?
Dental Departures will help you select a dentist in Bali for your implants. Start by browsing our website, review at our clinic photos, read dentist profiles, read our verified patient reviews, compare prices and check for exclusive or seasonal discounts. If you have any questions, feel free to drop us an email, call or use our online chat. We are glad to assist you.
Image by: Keulefm
Sources:
Lonely Planet. Website accessed 21 November 2018. https://www.lonelyplanet.com/indonesia/bali
Lennox, D. Brisbane Times. 20 November 2018. https://www.brisbanetimes.com.au/money/planning-and-budgeting/bali-dental-work-australia-crown-teeth-20181120-p50h6j.html
Burhenne, Mark. Ask the Dentist. 27 June 2018. https://askthedentist.com/dental-implants/