Save an average of 70% on dental care at one of our dentists in Malaga . With one of Spain's busiest airports serving the ever-popular Costa del Sol, Malaga makes the ideal location for international visitors to take advantage of lower-cost dental care at quality-checked clinics.
Malaga–In Brief
Malaga is a port city–and main destination–of Southern Spain's Costal del Sol region. The town is brimming with history and, as you would expect from the birthplace of Picasso, a number of impressive galleries and a lively art district in Soho.
The city is typically Spanish in that the culture revolves around a food and bar scene that starts late in the evening at around 10 pm and finishes at 2 or 3 am.
The city's Old Town and Port areas–as well as the Renaissance Cathedral and hilltop Alcazaba–remind us that while many of Malaga's amenities are geared to tourists, the city's historical and cultural attractions are indisputably appealing. The city is the largest on the Costa del Sol, offering beaches, museums, architectural sites, shopping and great cuisine.
In Malaga Province you are never too far from a beautiful beach. La Malagueta and Playa Caleta are around 10 minutes walk from the port area. They are both small, but perfectly formed and clean with great views of the Malaga coastlines. Water sports are plentiful, complemented by 'chiringuitos' (little bars) selling drinks and tapas.
Malaga's rich cultural heritage and coastal position is great for dental tourists who can enjoy their holiday while receiving first-class dental care.
Why Visit a Dentist in Malaga?
Millions visit Spain each year, particularly the British. The Mediterranean region in particular is a big draw, with miles of beaches and coastlines overlooking the Mediterranean Sea. The guarantee of sunny weather is an attraction the UK just can't offer. Thus, as a specific dental tourism destination Malaga has the tourism infrastructure for a rewarding holiday.
The quality of medical and dental care in Spain is generally good. Government regulations are strident and dentists in Spain operate on a private basis, which means that they are in competition with each other. It is, therefore, in their interests to deliver excellent services and be competitive on prices.
The best dental clinics treating international patients are modern and include state-of-the-art technologies, such as panoramic x-rays, 3D/CT scanning and CAD/CAM (computer-aided design/computer-aided manufacture) which allows for same-day prosthodontics (false teeth.), etc.
How Much are Malaga Dentist Prices Compared to the UK and Ireland?
Compare the dentist costs in Malaga with, say, your dentist prices in London or Manchester:
| | | | | | |
| --- | --- | --- | --- | --- | --- |
| | UK Price (£) | Malaga Price (£) | Ireland Price (€) | Spain Price (€) | Savings |
| All on 4 | 16,000 | 6,000 | 19,000 | 7,000 | 62% |
| Crowns | 900 | 450 | 1,100 | 550 | 50% |
| Fillings | 157 | 42 | 188 | 50 | 73% |
| Implants | 3,045 | 1,086 | 3,600 | 1,300 | 64% |
| Veneers | 1,461 | 414 | 1,745 | 500 | 71% |
| Dentures | 1,700 | 418 | 2,000 | 500 | 75% |
| Root Canal | 1,500 | 600 | 1,800 | 725 | 60% |
| Whitening | 387 | 167 | 462 | 200 | 56% |
Where to Stay in Malaga?
Malaga has lots of options for accommodation–from cheap and cheerful to exclusive and luxurious. The town has plentiful lodging on the beachfront, in the historic Old Town and around the Port, so basing yourself in one of these locations will ensure you are not too far from some interesting parts of town (and a dental clinic!).
Throughout the Malaga Province you will find many choices. The coastlines are the most popular, especially in the summer, but likely to be crowded and fully booked. Head inland a little and you'll find the mountains, countryside and the Spanish white towns–offering a completely different experience away from the madding crowds.
What about the Safety in Malaga?
Spain is a relatively stable country politically, and while there have been some political demonstrations in the Catalonia region there has been nothing of that nature in Malaga. The City is reasonably safe, but it is a city and just like other cities in the world it pays not to let your guard down. Opportunist thieves are everywhere, ready to take advantage of distracted tourists. So keep bags in view and valuables out of the reach of pick-pockets.
For dental patients, there aren't any issues to be aware of, but we recommend you do some research and choose a trustworthy dental clinic.
Is the Quality of Dental Care in Malaga Comparable to Back Home?
Yes. In fact, people from the UK may be surprised at the quality of the dental facilities in Spain, which are likely to be more modern than some NHS dental clinics at home, with high-trained specialists and state-of-the-art instrumentation.
At Dental Departures, we run background checks on all the facilities listed on our site. Each listing contains details of dentists' qualifications, professional memberships, patient reviews, clinic photos and prices. You can easily compare clinics and make an informed choice.
Clinics like Valdivia & Armijo Dental Clinic and Ekidental Clinic have been established for decades and offer excellent services to international patients.
What Happens if Something Goes Wrong? Is My Dental Care Guaranteed?
The dentists listed with Dental Departures all offer guarantees on the treatment they provide , including lab work on crowns, veneers or dentures. In the unlikely event you are not happy with the work, we will liaise with your clinic to put it right, for free. For complete peace of mind you may want to consider taking out additional medical complications insurance , which will pay your travel and accommodation costs should you need to return to Malaga to resolve a problem with your dental work.
Do Dentists in Malaga Speak English?
English is not spoken everywhere in Spain, particularly in the non-tourist areas. However, you shouldn't have problems with the language in Malaga, as all our dental clinics have English-speaking staff.
What payment methods are accepted?
Visa and Mastercard credit and debit cards are widely accepted at our dental clinics. Some also accept bank transfers and travellers cheques; you can confirm the details on the listing of your chosen clinic.
When is the Best Time to Visit a Malaga Dentist?
The dental clinics in Malaga are open all year round, so you can plan your trip whenever you like. If you are booking a trip specifically for your dental care you may want to save on your costs by visiting out-of-season. In Malaga, avoid the high season from June to September. Also, be aware of the fiestas throughout the year, as many businesses, including dental offices, may shut down during these events.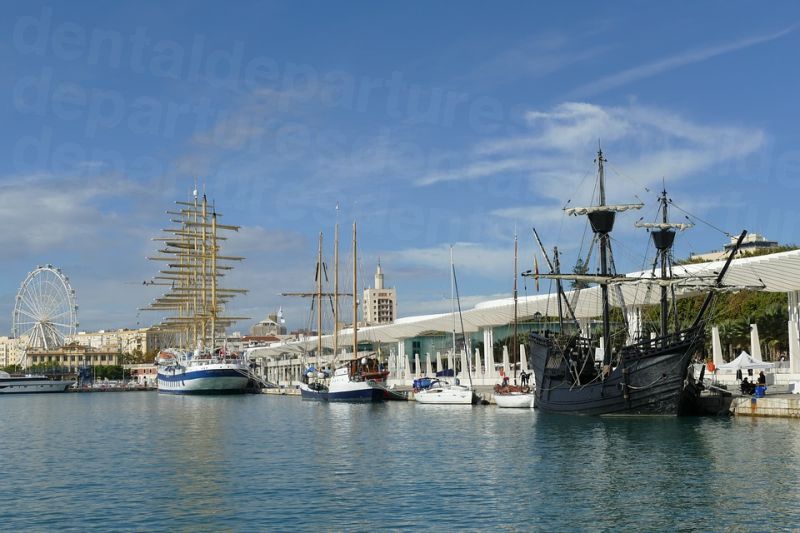 What Else is There in Malaga?
Malaga's port is Spain's oldest continually operated port and has recently undergone a stunning transformation. The Palm Garden of Surprises now provides a garden-lined promenade featuring sculptures, outside seating areas, bars and restaurants. It's a great place for watching the ships come and go, and for a leisurely evening stroll.
If something a little more taxing is more your thing, the Great Malaga Path starts at the Rincon del Victoria. Over 160 km of coastline is divided into stages and runs through 14 villages in the province that can be enjoyed on foot or bike– a great way of seeing the sights along the coast as well as visiting some interesting villages along the route.
For something terrifying, the Caminito del Rey path is one of the 'world's scariest hikes.' The narrowest of walkways are attached to the steep sides of the El Chorro Gorge, offering stunning views of the gorge and the 100m drop to the bottom!
The annual Malaga fiesta 'The Malaga City Fair' takes place in August and is a week-long celebration featuring plenty of flamenco dancing and sherry! A firework display kicks off the celebrations, and if you happen to be on a cruise ship in the Port, you'll get the best views from here. The following day is when everyone takes to the streets and the traditional Andalucian dance, called 'Sevillanas' with finger-clicking and foot-stomping a-plenty, is performed by women in flouncy flamenco dresses. It is quite a spectacle.
Traveling to Malaga
Malaga's international airport is officially called Malaga-Cost Del Airport. It is the fourth busiest in Spain and receives many flights daily from around the British Isles and Ireland.
Visa Information
European Economic Community (EEC) nationals are free to enter and stay for as long as they like in any EU country without a visa. Visitors from countries including the United States, Canada, Australia and New Zealand do not need a visa for stays in Spain of less than 90 days.
Getting around Malaga
Walking: While Malaga provides abundant transport facilities, sometimes the best way of getting around is on foot. Walking allows you to choose your own route, stop whenever you want and spend your free time on your own schedule (and the exercise is a bonus!). Tourist centres have maps and leaflets offering suggested walking routes.
Bicycle: Another option for keeping fit is to hire a bike–which will get you further faster than walking. Bike hire is available in the city centre, as well as the port and local beaches.
Bike Taxi (Trixi): These are a great way of getting around. For a small fee, you sit in a pod-like carriage towed behind a bike.
Horse & carriage: You can pick up a horse and carriage in central locations. They seat four and are a great way of relaxing while you see the sights.
Bus: The local bus network is efficient, allowing passengers to get easily around the city centre.
Metro: The metro runs from Malaga city centre to the west and southwest of the city.
Train: Trains throughout Spain are generally efficient and modern; if you want to go further afield you can travel from the local station, called Centro Alameda. The local services run along the coast to Fuengirola.
Distance from Malaga to Other Local Tourist Destinations
Fuengirola, 21 miles (34 kms)

Torrox, 31 miles (50 kms)

Marbella, 37 miles (61 kms)

Nerja, 41 miles (67 kms)

Algeciras, 86 miles (139 kms)
How do I Get Started on My Dental Trip to Malaga?
You can search for a dentist in Malaga on our website. Our Customer Care Team is available 24 hours a day and you can speak directly to one of our representatives if you have any questions, or want a free, no obligation quote.
Choosing your dentist in Malaga with Dental Departures not only gives you access to reliable clinics but also the lowest prices with Dental Departures' best price guarantee .