Last fact-checked: 17 February 2021
Discover the ultimate city for a dental holiday in Colombia and book in with a quality-checked dentist in Cartagena.
An exceptionally pretty city, Cartagena de Indias is a historic port city and undoubtedly one of the stars of the Caribbean Coast. Its maze of old cobbled streets and colorful colonial buildings draped with bougainvillea contained within 13km of old city walls invites unhurried exploration. The day's heat might force you to slow down a little, allowing you to take in the sights at a more leisurely pace and stop for refreshments at any number of tempting restaurants, cafes and bars.
Cartagena–In Brief
The city of Cartagena de Indias was founded in 1533 by Pedro de Heredia, a Spanish conquistador, and by the middle of the 16th and early 17th centuries was a major port for transporting gold, slaves and other riches. Following independence from Spain in 1811, it continued as a leading port, but by the 1840s its population and commerce declined steeply. The opening of the petroleum fields in the Magdalena River Valley in the early 20th century revitalized its fortunes and oil, along with coffee and platinum are now important exports from Cartagena, as it usually referred to.
Increasingly, tourism is playing an important role in the city's economy with its historical background, UNESCO World Heritage status and location in the Caribbean proving to be a major draw for visitors from across the globe.
If you are searching for an exciting, culture-filled location in which to undergo a dental procedure, then Cartagena is one for the shortlist. You'll find dental expertise and a myriad of options for low-key or high-octane activities to keep you occupied for your pre- or post-dental treatment time.
Why Visit a Dentist in Cartagena?
Access to affordable, good-quality dental care is becoming more of a pipe dream to masses of the population in so-called first-world countries. Americans, Canadians, Brits, Irish, Aussies and Kiwis are struggling to find dentists for even basic dental care, let alone manage to pay the steep bill after treatment.
With no imminent solution to the problem, people are turning to dental tourism both as a means of attending to their regular dental needs, and as a way of obtaining expensive dentistry they can't afford at home. Huge savings can be made when taking a holiday specifically to receive dental care - even when factoring in flight and accommodation costs - while other people are incorporating their dental care into their annual vacation and saving at the same time.
As for Colombia, while large parts of the country were no-go areas a few decades ago, Cartagena has always escaped the worst of the problems with a steady flow of visitors. As a result, very little has changed in the city; it has a good infrastructure and friendly locals that are welcoming to tourists. Modern amenities, including dental facilities, are well established with the best dental clinics fully equipped with state-of-the-art technologies, such as 3D/CT scanning, CAD/CAM (computer-aided design/computer-aided manufacture) and digital x-rays.
How Does the Cost of Dental Care in Cartagena Compare with the United States and Canada?
Most dental treatments in Cartagena cost at least 60% less than at home, with certain procedures as much as 80% less. If you were undergoing the All-on-4® treatment concept, for example, this equates to saving a whopping US $10,000.
| | | | | | |
| --- | --- | --- | --- | --- | --- |
| | US Price ($) | Cartagena Price ($) | Canada Price (CAD $) | Cartagena Price (CAD $) | Savings |
| All-on-4® treatment concept | 20,000 | 7,000 | 26,000 | 9,500 | 65% |
| Crowns | 1,200 | 400 | 1,600 | 540 | 66% |
| Fillings | 170 | 80 | 225 | 108 | 52% |
| Implants | 3,900 | 1,300 | 5,100 | 1,700 | 66% |
| Veneers | 1,461 | 420 | 1,937 | 556 | 71% |
| Dentures | 1,700 | 320 | 2,254 | 424 | 81% |
| Root Canal | 1,700 | 620 | 1,254 | 830 | 63% |
| Whitening | 487 | 300 | 513 | 405 | 38% |
[Note: These figures are estimates at the time of writing; please check our clinic listings for up-to-date prices.]

Where to Stay in Cartagena?
Cartagena has accommodation options for all budgets and tastes. From hotels overlooking the beach with views across the water to boutique hotels in old colonial buildings in the city center, you'll be spoilt for choice.
Will I Be Safe in Cartagena?
Cartagena is a safe city, as is resurgent Colombia as a whole. No longer a failed state, Colombia has been hitting the travel industry'smust-see' lists for some years now.
Obviously, the usual caveats apply that any traveler should be aware of, no matter where in the world they are. Tourists can be targets for petty thieves, so keep your wits about you when you are in any unfamiliar destination. Don't advertise showy jewelry or electronics and stay away from lonely, dark streets at night, particularly if you are alone. The Colombian's have a saying 'no dar papaya', literally translated it means 'don't give a papaya', but essentially it says don't make yourself an easy target. They are wise words to heed, wherever you may be.
Is the Quality of Dental Care in Cartagena Comparable to Back Home?
There are very good health and dental care facilities in Cartagena, but you should always do your own research before you choose any clinic or dentist. We know this isn't quite so easy when opting to go abroad for your dental care as it's unlikely that friends or family will be able to give you recommendations as they can at home. This is where Dental Departures steps in.
The dental providers we have partnered with have all been subject to background checks before being listed on our site. Legal/criminal records and onsite visits form part of our checks, and we verify dentist qualifications and their professional memberships. Our listings also contain clinic photos, real patient reviews, location maps and prices. This all makes it simple to find what you want and make an informed decision as to which clinic is best for you.
Some dental clinics in Cartagena you may want to take a look at are:
What Happens If Something Goes Wrong? Is My Dental Care Guaranteed?
All of our clinics offer warranties or guarantees on both the work they carry out, as well as on any lab work, for example, crowns, dentures, etc. If you do have a problem, it will be put right free-of-charge.
Those undergoing major dental work may want to consider taking out medical complications insurance. This will give you total peace of mind so that if you return home and discover a problem, then your travel and accommodation fees will be paid for you to return to Cartagena to get the problem fixed.
Fortunately, because our dentists have all been quality-checked then problems are rare. However, as with any medical procedure, no treatment can ever be guaranteed 100%, so if you do have any worries at all then the small extra charge for insurance may be worth it.
Do the Dentists in Cartagena Speak English?
Although Spanish is the main language in Colombia, you will hear English, particularly in the tourist areas—and all of our listed dentists serve international patients and thus speak English; language won't be a problem at the dental office.
What Payment Methods Are Accepted?
Cash, Visa and Mastercards (debit and credit), bank transfers and traveler checks are all accepted at most clinics (although there may be a small surcharge for credit cards). Each of our individual clinic listings gives information about how to pay.
When Is the Best Time to Visit a Dentist in Cartagena?
The rainy season in Cartagena is April to May and June to August, but the temperatures are reasonable even throughout the year at between 80-85F (27-29C). Even during the rainy seasons, it tends toward sudden, brief downpours rather than steady rain for hours at a time.
The busiest times of the year in Cartagena are December through January and Holy Week (Easter). Be sure to check out if there are any festivals on when you intend to go, as this may also make things busy, and many businesses often close down for periods during the festivals. Aside from that, our dentists are open all year round.
What Else is There in Cartagena?
The city is best explored on foot, particularly the Old Town where you can amble along at your own pace. The Casa de Marques Val Dehoyos is a good place to start. The old house is typical of the architecture of old Cartagena and there is a tourist office inside where you can get maps and information.
The massive fortress-like Cartagena Cathedral is well worth a look, too. Begun in 1575, it was partially demolished by the British during the Anglo-Spanish War and finished in 1602. The Castillo de San Felipe de Barajas is the largest of the fortresses built to protect the city from pirates—and there is a tunnel system underneath used to supply and evacuate the fortress. Las Bovedas, originally dungeons, have now transformed into boutique shops. Head up to the Convento de la Popa, built by Augustinian monks in 1607, for terrific views of the city. If you've any energy left, head back to the city walls, climb up the ramparts and enjoy the sunset and cocktails in a bar overlooking the sea.
As well as exploring the Old Town, Cartagena's newer areas, including Bocagrande and El Laguito, are trendy, upscale districts with plenty of shopping, restaurants, bars and hotels that are not to be missed.
Souvenir shopping is heaven in Cartagena with almost every street corner in Bocagrande and the Old Town crammed with artisan-made crafts. Colorful, beaded jewelry, papier-mache masks and leather goods are popular.
The beaches in Cartagena are typical city beaches, and while perfectly adequate, they aren't the idyllic tropical Caribbean beaches more fitting for that postcard-worthy shot. The good news is that excellent shorelines aren't too far away: less than an hour's boat ride brings you to the Isla Grande and its emerald Caribbean waters. You can relax on the beach or hire a kayak and explore the mangroves. Another beach trip is Playa Blanca—with its palm-fringed, white sand it does get busy at weekends.
Another trip outside the city is to the El Totumo Mud Volcano where you can bathe in its (allegedly) healing, warm mud.
Traveling to Cartagena:
Cartagena has an international airport so you can fly direct. Alternatively, you could fly into the capital, Bogota, or even elsewhere in the country, and take a domestic flight to Cartagena.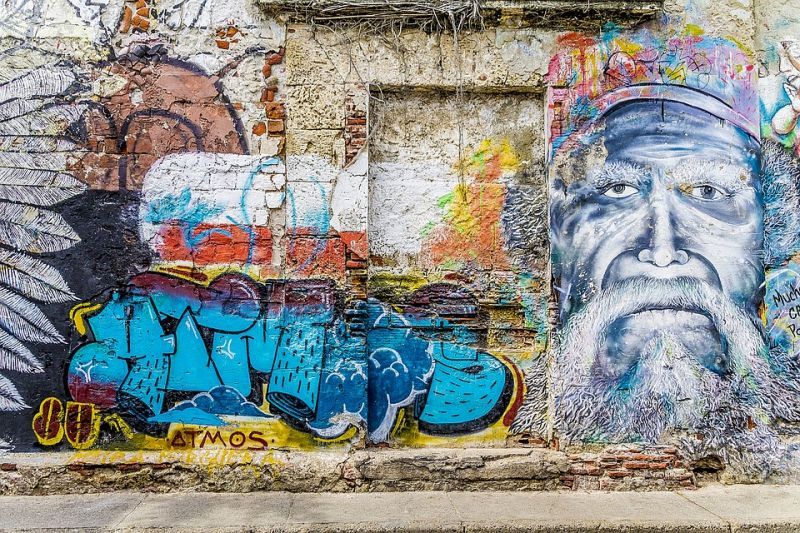 Visa Information
No visa is required for stays of less than 90 days for tourists from America, Canada, Europe, Australia and New Zealand.
Getting Around Cartagena
Yellow taxis, private cabs and Uber offer some of the cheapest and most reliable ways of getting around.
Distance from Cartagena to Other Tourist Locations
● Islas del Rosario, 21 (35 km)
● Barranquilla, 83 miles (135 km)
● Medellin, 391 miles (630 km)
● Bogota 660 miles (1,063 km)
How Do I Get Started Arranging a Dental Tourism Trip to Cartagena?
You can find and book a dentist in Cartagena by searching our online listings and booking an appointment directly online, at no charge to you, any time of the day or night.
Or, feel free to ask our Customer Care Team for a free quote, or to discuss your plans with them. We can also help with other aspects of your trip, including hotel bookings, insurance and finance. With our special exclusive discounts, you'll always get the lowest prices available.
Sources:
Welcome to Cartagena. Lonely Planet. Website Accessed: 17 February 2021. https://www.lonelyplanet.com/colombia/caribbean-coast/cartagena
Cartagena, Colombia. Encyclopedia Britannica. Website accessed: 17 February 2021. https://www.britannica.com/place/Cartagena-Colombia
Port, Fortresses and Group of Monuments, Cartagena. UNESCO. Website accessed: 17 February 2021. https://whc.unesco.org/en/list/285
Balsinger, Olivia. I Saved Thousands of Dollars by Having Surgery Abroad. New York Post. 31 July 2018. https://nypost.com/2018/07/31/i-saved-thousands-of-dollars-by-having-surgery-abroad/
5 Tips for Choosing the Right Dentist. Ameritas. 16 August 2018. https://www.ameritasinsight.com/wellness/choosing-a-dentist
Modak, Sebastian. How Colombia, Once Consumed by Violence, Became Your Next Destination. Conde Nast. 9 November 2017. https://www.cntraveler.com/story/how-colombia-once-consumed-by-violence-became-your-next-destination
Hamre, Bonnie. All About Traveling in Cartagena. Trip Savvy. 12 September 2018. https://www.tripsavvy.com/cartagena-colombia-guide-1635583
Cole, Heather. Best Things to do in Cartagena des Indias. Conversant Traveller. 28 April 2018. https://www.conversanttraveller.com/things-to-do-in-cartagena-de-indias/
Bell, Chris. 20 Must Visit Attractions in Cartagena, Colombia. Culture Trip. 3 December 2018. https://theculturetrip.com/south-america/colombia/articles/20-must-visit-attractions-in-cartagena-colombia/