Last fact-checked: 8 July 2021
Take a trip to sunny Valencia and save up to 70% on your dental bills when booking an appointment with Dental Departures.
Find fully verified dentists in Valencia, treatment prices, Spain travel tips, booking information and more with this destination guide.
Visiting Valencia as a Dental Tourist
With a mix of contemporary and historic buildings, patients travelling to Spain's third-largest city can look forward to a combined beach/city break before or after their visit to the dentist, with this southeastern coastal region overlooking the Mediterranean Sea, not far from the Balearic Islands.
What's more, the city is quick and easy to reach from the UK and other parts of Europe; with roundtrip airfares costing less than EUR 100, you'll be able to maximise your overall savings on dental care while enjoying a well-earned holiday.
Reasons to choose Valencia for dental care:
Prices in Valencia are between 50% and 70% less than those back home. These huge savings are persuading people to fly to this part of Spain specifically to undergo dental work, such as smile restorations with dental implants, veneers or dentures. Others may choose to nip into the dentist while on holiday, making slightly more modest savings on minor treatments like fillings or teeth whitening.
The country has strict regulations with regard to who can practice dentistry (such as qualifications, licenses and professional memberships). This is something that Dental Departures checks before listing any clinic on our site, making sure that the professionals practicing at each one are registered with the Spanish Dental Association or the Consejo Dentista de Colegios de Odontólogos y Estomatólogos (General Council of Colleges of Dentistry and Stomatology of Spain).
The warm temperatures, beaches, superb food and host of cultural attractions mean you won't be short of things to do when you're not in the dentist's chair.
Valencia is easy to reach, with low-cost carriers like Ryanair and EasyJet, as well as national carriers (Air France, Swiss Air, Lufthansa) connecting the region with the rest of Europe.
While not all dentists in Spain speak English, those featured on our site certainly do; in fact, we only list dental tourism-friendly clinics that are ready to welcome international patients, with many offering additional complimentary services like free airport pick-ups and accommodation packages.
How Much Does Dental Care Cost in Valencia?
Dental care in Valencia costs an average of between 50% and 70% less than you would expect to spend in the UK.
England is one of the most expensive countries in the world for dental care, and so patients are finding they can save several hundred—or even several thousand pounds, simply by flying abroad to countries like Spain for treatment.
Of course, your net savings will depend on how expensive the treatment is in the first place, as well as your budget for lodging and other amenities during your travels.
Below, see estimated prices in Valencia for dental veneers, dentures, laser teeth whitening implants, full-arch restorations (such as the All-on-4® treatment concept and All-on-6), crowns, and root canal therapy:
| | | |
| --- | --- | --- |
| Procedure | Valencia Price (EUR) | Valencia Price (GBP) |
| Composite veneer | €170-200 | £140-170 |
| Laser teeth whitening | €250-500 | £214-330 |
| Crown (Porcelain Fused to Metal) | €300 | £250 |
| Full denture | €650 | £560 |
| Root canal (single tooth) | €180-350 | £150-300 |
| Dental implant with crown | €1,200-1,900 | £1,000-1,600 |
| Full-arch restoration with 4 implants (per jaw) | €6,000-7,500 | £5,100-6,500 |
Please note that the above prices are based on averages across five of our top clinics in Valencia, calculated at the time of writing.
Other treatments available in Valencia include fillings, orthodontics (including Invisalign® braces), full mouth rehabilitation with implant-supported overdentures , gum disease treatment, implants, post/core build-up and full mouth reconstructions with bone grafting or sinus lifting. These international facilities also offer emergency care for anyone who might require treatment while in-country.
What Are the Best Dentists in Valencia, Spain?
Get started with some of our most highly-rated dentists in Valencia:
Click through to see dentist reviews, price lists, dentist profiles including specialties, before and after photos, maps and more useful information.
For more options, take a look at our full list of verified dental clinics in Spain.
Patients interested in visiting Valencia may also be tempted to travel south along the coast where there are a number of popular holiday resorts closer to Alicante. These alternative dental tourism destinations include:
How Long Will I Need to Stay in Valencia for Treatment?
Minor dental work, such as laser teeth whitening or fillings, will only require one appointment, lasting anywhere from 30 minutes to a couple of hours.
For more complex restorative work where a prosthetic device needs to be manufactured (based on impressions of your mouth) and then fitted at a later stage, two or more appointments may be required, several days apart.
In some dental implant cases, two separate trips to Valencia will be required as the implants will need time to fuse with the jawbone before a final fixed bridge, overdenture or another kind of fixed prosthesis can be attached. A temporary version will normally be fitted during this four-six-month-long healing phase.
Do check to see whether your clinic has specialised in-house CEREC equipment , as this digital ceramic milling technology will often allow the dentists to create veneers and crowns while you wait.
Valencia Travel Information
Giving both Madrid and Barcelona a run for their money in terms of cultural attractions, museums, galleries and dining options (minus the inflated prices and long queues), Valencia is certainly one of Spain's more underrated holiday destinations.
This is especially true considering the miles of unspoiled coastline to explore, with pristine, uncrowded beaches to be found just a short drive from the city center .
Take a look at some of the most hip bars, restaurants, cafes, galleries and popular tourist attractions in and around the city with this handy 48 hours in Valencia itinerary .
While Valencia can be reached directly from across the UK, its strategic position on Spain's southeastern coast makes it a great base from which to explore other cities, beach resorts and even islands, such as:
Benidorm (1.5 hours drive)

Castellón de la Plana (1 hour drive)

Murcia (2.5 hours drive)

Alicante (2 hours drive)

Barcelona (3.5 hours drive)

Ibiza (45-minute flight)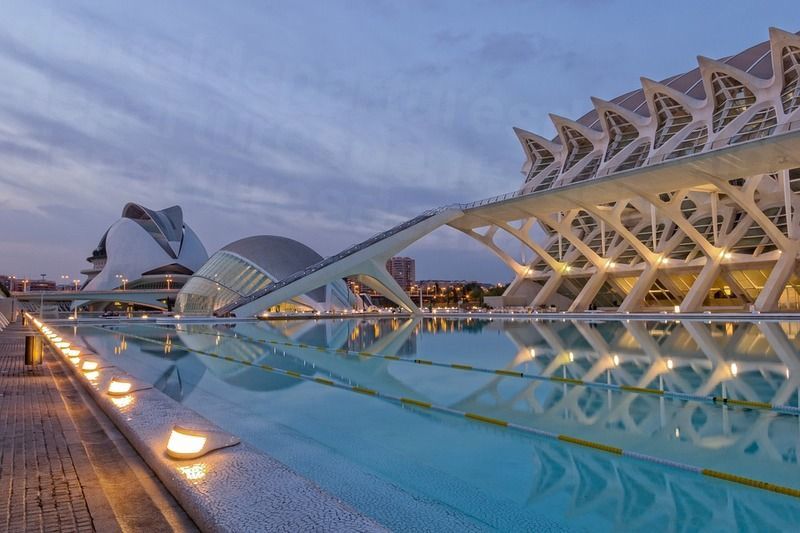 What Else Is There to Do in Valencia?
Top things to see and do in Valencia include:
City of the Arts and Sciences

La Lonja de la Seda (UNESCO World Heritage Site)

Central Market

Oceanogràfic (aquarium)

Valencia Cathedral

Malvarrosa Beach

Barrio del Carmen (hip dining and nightlife neighborhood)

Jardín del Turia (park)
How Do I Get to Valencia?
The best way to reach Valencia from the UK or other European countries is by air. The flight time from London to Valencia is approximately 2.5 hours.
Carriers currently flying directly to Valencia include Ryanair, EasyJet, British Airways, Air France, Swiss Air, Lufthansa and KLM.
The ride into the city from the airport takes approximately 20 minutes with the metro system costing around EUR 4 and taxis around EUR 20.
How Much Do Flights to Valencia Cost?
While single tickets can be found for as little as EUR 20 (providing you don't have checked-in luggage), most of the London-Valencia return flights we found at the time of writing cost just under EUR 100 (GBP 90) (via Skyscanner).
Do expect to pay a little more when flying from outside of London, such as Edinburgh, Dublin or Manchester.
Note: Some of our partner clinics also offer free or discounted shuttle services to and from the Valencia International Airport, especially for those undergoing major treatments. Feel free to ask one of our representatives for more details.
Where to Stay in Valencia?
The majority of accommodation options in Valencia are priced between EUR 50-150 (GBP 45-130) (via Booking.com ).
At the lower end of this scale, you can expect more compact, basic rooms that still offer plenty of in-room amenities. The more expensive options tend to be located around the coast, many with direct beach access and/or sea.
Those on a tighter budget can find single private rooms or shared dorm rooms for EUR 10-30, even in the city center.
Note: Some of our partner clinics offer free or discounted accommodation packages when booking major dental work in Valencia. Talk to our Customer Care Team to see how we can make your dental trip more affordable.
How Do I Book Treatment at a Dentist in Valencia?
Take advantage of the best prices online by booking your free appointment through Dental Departures and pay up to 70% less on Spain's Mediterranean coast.
Connect with our Customer Care Team and ask us for a free quote at one or several of our listed clinics; you can cancel without incurring any charges (up to 24 hours before your appointment) and it doesn't cost anything to book in advance.
Sources:
Bell, G. The Five Best Unspoilt Beaches Around Valencia City. Spain-Holiday. 9 February 2021. https://www.spain-holiday.com/Valencia-City-Centre/articles/the-five-best-unspoilt-beaches-around-valencia-city
Spanish Dental Association. Website accessed: 8 June 2021. http://www.consejodentistas.es/
Going to the dentist in Spain. Expatica. 3 June 2021. https://www.expatica.com/es/healthcare/healthcare-services/dental-care-in-spain-582615/
Most Expensive Dental Care in the World. Live Dental. Website accessed: 8 June 2021. http://www.livedental.in/articles/dr-luana/351-most-expensive-dental-care-in-the-world
Martínez, F; Segura-Andrés G, Faus-López J, Agustín-Panadero R. Rehabilitation with implant-supported overdentures in total edentulous patients: A review. J Clin Exp Dent. 2013;5(5):e267-e272. Published 2013 Dec 1. doi:10.4317/jced.50817. https://www.ncbi.nlm.nih.gov/pmc/articles/PMC3892270/
Sandilands, Tracey. CAD/CAM Dentistry: What Is It?. Colgate. Website accessed: 8 June 2021. https://www.colgate.com/en-us/oral-health/basics/dental-visits/cad-cam-dentistry--what-is-it-
Skyscanner. Website accessed: 8 June 2021. https://www.skyscanner.com
Dowd A. NHS waiting list hits 14 year record high of 4.7 million people. BMJ 2021;373:n995. 15 April 2021. https://www.bmj.com/content/373/bmj.n995
CEREC - CAD/CAM solutions for dental practices. Website accessed: 8 June 2021. https://www.dentsplysirona.com/en/explore/cerec.html
Bennette, A. 48 hours in. . . Valencia, an insider guide to the city of paella, playas and pyrotechnics. The Telegraph. 24 July 2020. https://www.telegraph.co.uk/travel/destinations/europe/spain/valencia/articles/valencia-travel-guide/
Valencia. Lonely Planet. Website accessed: 8 June 2021. https://www.lonelyplanet.com/spain/valencia-and-murcia/valencia
Tereza, M. Getting from Valencia Airport to City. Welcome Pickups. 29 November 2019. https://www.welcomepickups.com/valencia/airport-transfer-to-city