Last fact-checked: 7 July 2021
Find out how you can save between 50-70% on your dental care while enjoying a fantastic city break in Hungary's historical city of Sopron.
While Budapest may be considered Europe's " Dental Tourism Capital," certain destinations along Hungary's western border actually offer even lower prices—welcoming thousands of visitors every week coming in search of safe, inexpensive treatment carried out by experienced, English-speaking specialists.
Discover background-checked clinics in Sopron, compare prices and book with Dental Departures to secure the best prices online.
Visiting Sopron as a Dental Tourist
The historical city of Sopron is a true hidden gem situated right on Hungary's northwestern border.
A short drive from both Vienna and Bratislava, the city is worth a visit in its own right thanks to the plethora of medieval architecture, colourful plazas, parks, boutique shopping and a thriving cosmopolitan cafe and dining scene.
But in recent years, Sopron, along with nearby Gyor and Mosonmagyaróvár that comprise the wider Győr-Moson-Sopron county, has seen a huge influx in dental tourists.
The reasons for this are threefold:
Prices: Dental care here costs up to 70% less than in Western Europe, such as the UK and Germany. This is thanks to lower operational overheads, a lower cost of living and high competition among Hungarian dentists driving prices down.
Convenient Destination for a Holiday: The city can easily be reached from Vienna's international airport which is under 50 km away. After touching down, dental tourists can drive, take a train or catch a bus to Sopron, enjoying a cultured city break before or after treatment.
And while exploring Sopron may often feel like stepping back in time—especially as you pass by crumbling Roman city walls and forts—the dental clinics here are very much up-to-date.
The clinics in Sopron listed on our site offer some of the latest advances in dental technology, such as:
CAD/CAM (computer-assisted design/computer-assisted manufacture), which allows dentists to manufacture and fabricate high-quality prosthetics and restorations, like crowns and veneers.
Laser dentistry: This helps to reduce discomfort, offering a suture-free option for a range of dental treatments. Lasers use intense light energy, resulting in quicker, often pain-free healing periods.
How Much Does Dental Care Cost in Sopron?
Compared to prices in the UK, prices for treatment in Sopron are between 50% and 70% lower.
Take a look at the table below to give you an idea of the prices in Sopron (given in euro and pound sterling):
| | | |
| --- | --- | --- |
| Procedure in Sopron | Sopron Price (EUR) | Sopron Price (GBP) |
| Composite veneer | €150-300 | £130-260 |
| Laser teeth whitening | €300 | £260 |
| Porcelain fused to metal crown (standard alloy) | €220 | £190 |
| Full denture | €450 | £390 |
| Root canal (single tooth) | €100 | £45 |
| Dental implant with crown | €950 | £810 |
| Full arch restoration with 4 implants | €5,500-7,000 | £4,700-6,000 |
[Please note that these are estimated prices at the time of writing. See our individual clinic listings for latest prices.]
As you can see, this can add up to savings of a few hundred pounds or euros on basic treatments, like teeth whitening or single crowns; for more extensive procedures like implant-supported "All-on-X" restorations and full smile makeovers with veneers, patients can easily make four- or five-figure savings compared to undergoing the same treatment back home.
Finding the Best Dentists in Sopron with Dental Departures
Some of the top-rated clinics in Sopron are:
Bossclinic —specialists in a range of preventative and restorative dentistry, such as full-arch rehabilitation with multiple implants and custom-made fixed bridge.

Hillside Dental —a modern, multidisciplinary dental center located inside the Mediterrano Complex which has free parking and a host of shopping options.

Coradent —specialists in prosthodontists and implantology, offering an in-house dental laboratory for quick turnaround times.
For more choices, check out our full list of verified dentists in Sopron, Hungary.
How Long Will I Need to Stay in Sopron for Treatment?
Many clinics today are able to produce "same-day" prosthetics thanks to in-house dental labs.
For instance, treatment for veneers or crowns may involve an appointment in the morning where you'll undergo evaluations and have impressions made. You can then head back a few hours later to have the prosthetic fitted.
Other treatments, like teeth whitening, teeth cleaning, fillings, and even root canals, will only require you to be in Sopron for one day.
In other cases, treatment may take several days, particularly for extensive smile makeovers or dentures.
Those seeking dental implant surgery to restore a whole arch of missing teeth, like an All-on-6, will generally need to make two separate trips to Hungary as the implants require at least four months to heal.
Sopron Travel Information
Originally established by the Celts before being developed by the Romans as a trading center between the Baltic, Adriatic and Byzantium Seas, Sopron boasts a rich and diverse history, having since been occupied by the Germans, Avars, Magyars and Slavs.
As a result, Sopron is today considered the prettiest city in western Hungary, with its medieval city walls, centuries-old churches and cobbled streets creating a scene reminiscent of some of the more popular tourist destinations in Central Europe.
The surrounding countryside is also well-known for its wine, with dozens of vineyards dotted across the lush green hills in Győr-Moson-Sopron county.
Location-wise, Sopron is positioned in between the Danube's "Big Three," namely Vienna, Bratislava and Budapest. The region, comprising the borders of Austria, Slovakia and Budapest, is also known as " Europe's Golden Triangle," thus allowing easy access for dental patients based in the region or those planning to fly into one of the several nearby airports.
Some of the top things to see and do in town include heading up the iconic old fire tower for 360-degree views of the area; guided walking tours of the ancient old town; visiting local distilleries (and of course sampling the product); exploring the Forest Park; and antique hunting at Storno House.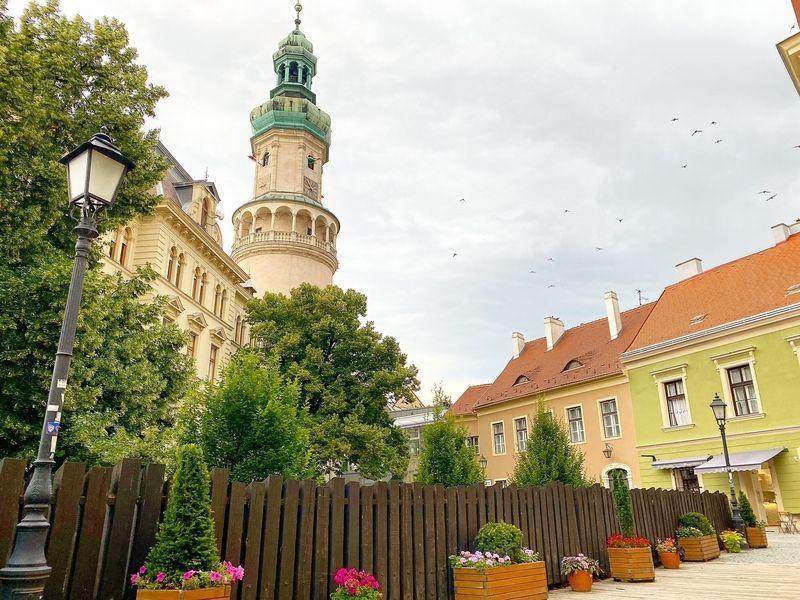 How Do I Get to Sopron?
The most common way dental tourists reach Sopron is by driving; the Austrian border is literally minutes away and the process of getting through the road checkpoint is quick and simple.
The city also sits on the main train line connecting Budapest and Vienna, with the train station here technically connecting the region with the rest of Europe. Check out Interrail Eurail for more information about long-distance train travel in Europe.
If you're not lucky enough to live in Austria or another neighbouring country, don't worry: there is another way...
Can I Fly to Sopron?
While Sopron does not have its own airport, it's still quick and cheap to fly into one of the many regional airports, particularly Vienna International which is less than an hour away.
Nearby airports are listed below:
Vienna (48.5 km)

Bratislava (70.5 km)

Graz (115.4 km)

Budapest (202.4 km)

Zagreb (220.8 km)
Please note: Our partner clinics in Sopron may offer free shuttle services to and from Vienna or Bratislava. Feel free to ask our Customer Care Team who can help you plan your onward journey after touching down.
How Much Do Flights to Sopron Cost?
Return flights with Ryanair, Wizz Air, EasyJet, British Airways and Austrian Airlines are available from across the UK.
When flying to Vienna, Bratislava or Budapest, return flights from London cost EUR 50–100.
Note: Prices were obtained from Skyscanner at the time of writing.
Where to Stay in Sopron?
From backpacker hostels and inexpensive boutique hotels in the city center to thermal spa resorts and stunning manor house stays in the surrounding countryside, there's no shortage of places to stay in and around Sopron.
Most hotel rooms listed on Booking.com cost between EUR 50–100 per night.
For a more diverse choice, check out these holiday rentals in Sopron listed on Airbnb.
Note: Our partner clinics in Sopron may offer free or discounted accommodation when booking lengthier treatments. Ask our Customer Care Team to see how we can help you save even more.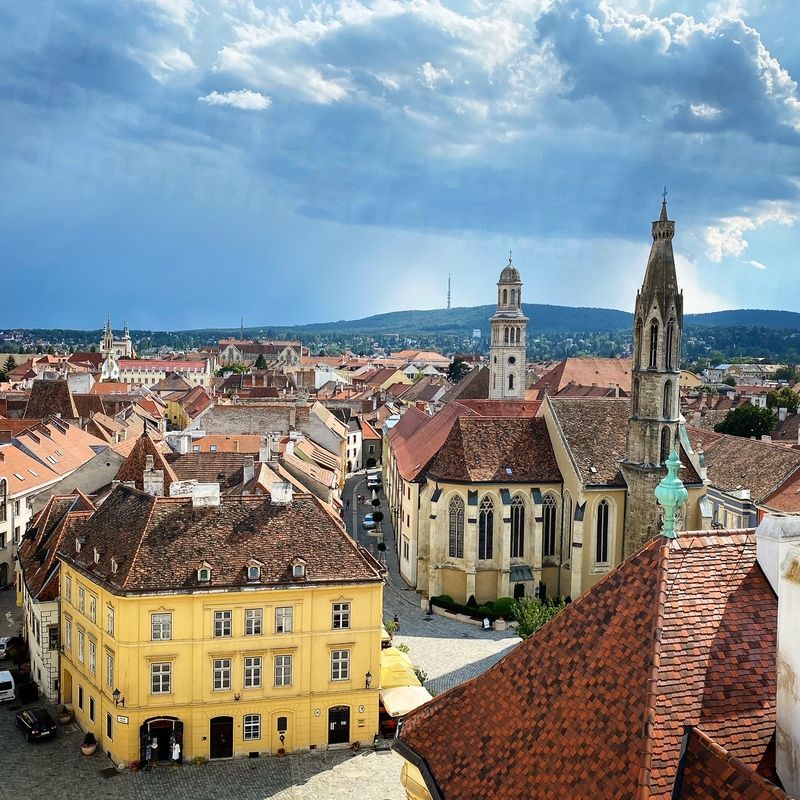 What Else Is There to Do in Sopron?
Some of the best attractions and activities in Sopron are listed below:
Guided walking tours of the Old City

Vineyard and wine-tasting day-trips

Climb the historic fire tower

Hike through Sopron Forest Park

Admire the impressive Goat Church

Go antique hunting at Storno House

Explore Sopron Museum inside the Old Synagogue

Try some classic Hungarian food in one of the main Old City Restaurants
How Do I Book at a Dentist in Sopron?
Get started today by getting in touch with the Dental Departures Customer Care Team via the toll-free number, email or other options displayed on the contact widget.
One of our representatives can provide you with a range of free quotes for your dental work in Sopron, with no upfront charges and no cancellation fees up to 24 hours before your appointment.
Sources:
Kovacs E, Szocska G. 'Vacation for your teeth' - dental tourists in Hungary from the perspective of Hungarian dentists. Br Dent J. 2014;215(8):415-8. doi: 10.1038/sj.bdj.2013.995. PMID: 24157766. https://pubmed.ncbi.nlm.nih.gov/24157766/
Airports near Sopron. Rome2Rio. Website accessed: 25 June 2021. https://www.rome2rio.com/s/Nearby-Airports/Sopron
Encyclopaedia Britannica. Gyor-Moson-Sopron. Website accessed: 25 June 2021. https://www.britannica.com/place/Gyor-Moson-Sopron
Advances in Dental Care: What's New at the Dentist. WebMD. 9 October 2019. https://www.webmd.com/oral-health/advances-in-dental-care-whats-new-at-the-dentist
How did Budapest become the Capital of Dental Tourism? Daily News Hungary. 20 October 2018. https://dailynewshungary.com/how-did-budapest-become-the-capital-of-dental-tourism/
Wong, N. All-on-"X": Final Fixed Prosthetic Options for Full Arch Implant Cases. 9 November 2017. https://www.oralhealthgroup.com/features/all-on-x-final-fixed-prosthetic-options-for-full-arch-implant-cases/
Robert Elsenpeter. Bringing the dental lab in-house. Dental Products Report. Website accessed: 25 June 2021. https://www.dentalproductsreport.com/view/bringing-dental-lab-house
Zemler, E. Top 10 Travel Places in Central Europe. USA Today. 15 March 2018. https://traveltips.usatoday.com/top-10-travel-places-central-europe-63799.html
Europe's Golden Triangle - Prague - Vienna - Budapest. Hello Travel. Website accessed: 25 June 2021. https://www.hellotravel.com/deals/125806.html
22 Best Things To Do In Sopron, Hungary. Trip101. 27 November 2020.
https://trip101.com/article/things-to-do-in-sopron-hungary
Interrail Passes. Website accessed: 25 June 2021. https://www.interrail.eu/en
Pinto, A; Valentin, B. The Best Castle Hotels near Sopron. May 2021. https://castle-hotels-guide.com/sopron/
Holiday rentals in Sopron. Airbnb. Website accessed: 25 June 2021.
https://www.airbnb.co.uk/sopron-hungary/stays
K, Szolgálat. Information On General Rules Of Border Crossing. Police. hu. 10 May 2021. http://www.police.hu/en/content/information-on-general-rules-of-border-crossing
Skyscanner. Website accessed: 25 June 2021. https://www.skyscanner.com
Booking.com. Website accessed: 25 June 2021. https://www.booking.com/