Last fact-checked: 8 July 2021
Combine your dental care with a memorable holiday in the Spanish capital, saving up to 70% when booking at one of our background-checked dentists in Madrid.
With return flights from across the UK and Europe available for less than EUR €50, it can make excellent financial sense to skip the long waiting lists back home and opt to see a specialist in Spain instead, with popular treatments including dental implants, teeth whitening, crowns, root canals, veneers and dentures.
Find out more about visiting Madrid as a dental tourist, including prices, recommended clinics and travel tips, with this Dental Departures guide.
Visiting Madrid as a Dental Tourist
Spain is one of the most-visited countries in Europe for dental tourism, and so it only makes sense that the bustling capital welcomes its fair share of patients seeking safe, high-quality and affordable treatment away from home.
And while Madrid might not be able to provide the same beach holiday experience that many Brits and Germans seek every year, the city is packed full of sights to see and cultural things to do, as we look at in more detail further down in the "Travel Information" section.
Madrid's international airport is only 2.5 hours away from London, with budget carriers like Ryanair and EasyJet having often-unbelievably cheap tickets available, especially when using sites like Skyscanner a few months in advance.
Reasons to choose Madrid for dental care:
Prices in Madrid are, on average, around 60% lower than in the UK, equating to savings of several thousand euros or pounds when undergoing more complex treatments, like dental implants or full mouth restorations.
Our partner clinics in Madrid are equipped with the latest dental technologies, such as digital x-rays and CAD/CAM, allowing them to process prosthetic devices, like crowns and bridges, while you wait.
How Much Does Dental Care Cost in Madrid?
Dental care in Madrid costs, on average, between 50% and 70% less than in countries like the UK and Germany.
Below, see estimated prices in Madrid for dental implants, full-arch restorations (such as the All-on-4® treatment concept and All-on-6), veneers, crowns, teeth whitening, root canal therapy and dentures:
| | | |
| --- | --- | --- |
| Procedure | Madrid Price (EUR) | Madrid Price (GBP) |
| Composite veneer | €160-220 | £135-190 |
| Laser teeth whitening | €300-480 | £260-410 |
| Full Porcelain/Ceramic Crown | €340-660 | £290-570 |
| Full denture | €600 | £515 |
| Root canal (single tooth) | €150-250 | £130-215 |
| Dental implant with crown | €450-650 | £390-560 |
| Full-arch restoration (per jaw) | €8,000-12,000 | £6,900-10,300 |
Please note that the above prices are based on averages across five of our top clinics in Madrid, calculated at the time of writing.
What Are Some of the Best Dentists in Madrid, Spain?
Get started now by taking a look at five of our top dentists in Madrid:
Click through to see our transparent price lists, dentist profiles, past patient reviews, facility photos, maps and booking information.
For more options, see our wider network of licensed dental clinics in Spain, with popular locations including Barcelona, Alicante and Almeria.
How Long Will I Need to Stay in Madrid for Treatment?
The length of stay and number of appointments/visits will depend on the complexity of your desired treatment, as well as whether or not your chosen dentist has its own dental laboratory for processing prosthetics, such as crowns and veneers.
For instance, treatment for a single veneer or crown may be completed in as little as one or two days, with specialized ceramic milling devices (CEREC) able to process restorations while you wait.
For more complex treatment, such as dental implants, two trips will normally be required as you'll need to wait for the implants to fuse with the jawbone before a permanent restoration can be attached during your follow-up visit to Madrid.
Madrid Travel Information
Madrid is not your average stuffy European capital; in fact, Travel + Leisure magazine recently went as far as saying that it feels " more distinctive and authentic than many other modern capitals " thanks to an explosion of local creativity.
This can be witnessed by locals and tourists alike in the form of pop-up art galleries, hip weekly markets, concept stores, bold gastronomic experiences, hip cocktail bars and dozens of festivals dedicated to celebrating forward-thinking art and music.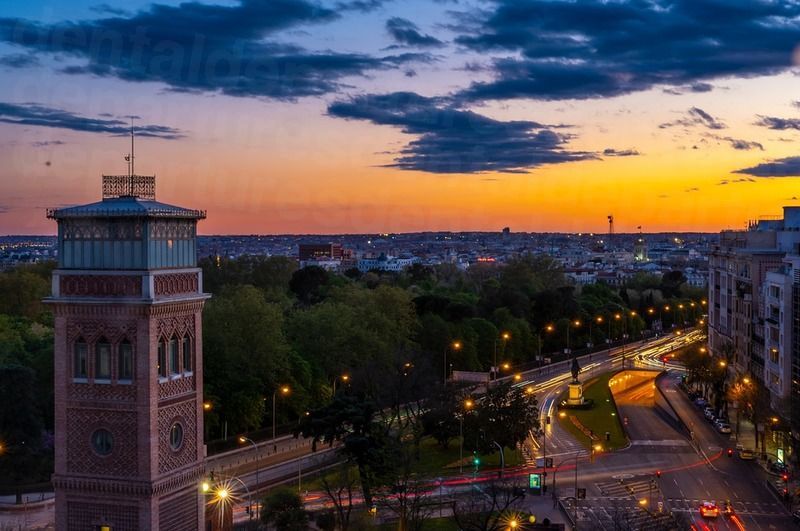 What Else Is There to Do in Madrid?
Aside from hip off-the-beaten-path things to do, Madrid is of course home to a number of historic landmarks which always have (and probably always will) feature in the city's Lonely Planet guide.
The most famous, and therefore more-visited, attractions in Madrid are:
Gran Vía (shopping district)

Palacio Real (royal palace)

Museo del Prado (history museum)

El Retiro park

El Rastro market

Museo Nacional Centro de Arte Reina Sofía (national art museum)

Plaza Mayor (the city's central square)

Templo de Debod

Puerta de Alcalá (monument)
How Do I Get to Madrid?
The vast majority of Madrid's 10 million annual international visitors arrive at the city's international airport, which is about 15km from the city center.
Direct flights are available from around the UK, Europe and major international cities, taking around 2.5 hours from London.
The city center can be reached via bus, train, metro or taxi for just a few euros.
How Much Do Flights to Madrid Cost?
Flights from London can be snapped up for as little as EUR 50 (GBP 45) net.
When booking in advance, it's possible to find one-way tickets starting at just EUR 15, although do be careful about additional baggage charges and taxes when using budget carriers like Ryanair and EasyJet.
Direct flights are also available from across Europe and the rest of the world, with the Spanish capital linked to Asia, North America, South America and Africa.
Note: Some of our partner clinics also offer free or discounted shuttle services to and from the Madrid International Airport, especially for those undergoing major treatments. Feel free to ask one of our representatives for more details.
Where to Stay in Madrid?
From ten-euro-a-night hostel beds to one-thousand-euro-a-night luxury penthouses, Madrid really has it all when it comes to accommodation options.
However, the majority of hotels currently listed on Booking.com cost between EUR 50–100, and are generally three or four stars with double beds and ensuite bathrooms.
This means you can enjoy a comfortable stay in the city without having to worry about going over budget.
Note: Some of our partner clinics offer free or discounted accommodation packages when booking major dental work in Madrid. Talk to our Customer Care Team to see how we can make your dental trip more affordable.
How Do I Book Treatment at a Dentist in Madrid?
Take advantage of the best prices online by booking your free appointment through Dental Departures.
Connect with our Customer Care Team and ask us for a free quote at one or several of our listed clinics; then, you can mull over your decision before choosing a clinic and dentist in Madrid that's right for you.
You can cancel without incurring any charges (up to 24 hours before your appointment) and it doesn't cost anything to book in advance—as you'll pay at the clinic.
Sources:
Skyscanner. Website accessed: 3 June 2021. https://www.skyscanner.com
Dowd A. NHS waiting list hits 14 year record high of 4.7 million people. BMJ 2021;373:n995. 15 April 2021. https://www.bmj.com/content/373/bmj.n995
Climate Madrid (Spain). Climates to Travel. Website accessed: 3 June 2021. https://www.climatestotravel.com/climate/spain/madrid
CEREC - CAD/CAM solutions for dental practices. Website accessed: 3 June 2021. https://www.dentsplysirona.com/en/explore/cerec.html
M, Höfler & J. Schwarz. Madrid Travel Guide. Travel + Leisure. Updated 2021. https://www.travelandleisure.com/travel-guide/madrid
A, Barker. Madrid: a capital of creativity with pop-ups, concept stores and Instagram-ready cocktails. Evening Standard. Website accessed: 3 June 2021.
https://www.standard.co.uk/lifestyle/esmagazine/madrid-a-capital-of-creativity-with-popups-concept-stores-and-instagramready-cocktails-a3086581.html
Madrid. Lonely Planet. Website accessed: 3 June 2021. https://www.lonelyplanet.com/spain/madrid
How to get from Madrid Airport to the city centre? Kiwi Taxi. Website accessed: 3 June 2021. https://kiwitaxi.com/blog/how-to-get/madrid-airport-centre
Booking.com. Website accessed: 3 June 2021. https://www.booking.com/
Booking.com. Website accessed: 3 June 2021.