Last fact-checked: 1 March 2020
Head off to sunny Spain for low-cost dental care combined with a holiday or city break. Dental Departures makes it easy for you to book an appointment with quality-checked dentists in Almeria—a gem on Spain's Mediterranean Coast that also happens to be Europe's driest city.
Almeria–In Brief
Part of Spain's wonderfully varied Andalusian region, the city of Almeria and its eponymous province are tucked away between the more crowded and commercial Costa del Sol and Costa Blanca. Quite why this part of the Med is not as popular with British holidaymakers is a mystery, although that's not necessarily a bad thing. The region is blessed with gorgeous coastlines interspersed with hidden coves, fishing villages and miles of beaches. Inland, the terrain mostly consists of uninhabited desert (the only one in Europe) and mountainous terrain.
Almeria has a long and illustrious history with evidence of prehistoric culture in El Argar and Los Millares. Following the collapse of the Roman Empire, the nomadic Germanic Visigoths moved in before they were over-ran by the Arab Moors; later, the Catholic monarchs, Isabel of Castile and Ferdinand of Aragon, re-took the area, the final stronghold of the Moors.
Following the War of Succession in the early 1700s, the French ruled Spain until the early 1900s. However, the Spanish Civil war of 1936-1939 saw the installation of dictator General Francisco Franco, supported by Hitler and Mussolini, who ruled until his death in 1975.
After Franco's death, democracy was restored. The poverty that was rife in Andalucia throughout Franco's dictatorship was improved dramatically. An active member of the European Union, the standard of living in Spain increased and modern infrastructure of improved transport and healthcare systems developed.
Today, tourism in the area is one of Andalucia's most important industries, and while over-development in some parts has changed the landscape beyond recognition, Almeria has retained a traditional, romantic image of Spain with its imposing castle, tree-lined squares and bougainvillea-clad verandas. This enduring appeal, plus a mild, sunny climate is a draw to visitors from around the world.
For dental tourists, the appeal of low-cost, good-quality dental care is also another reason to head to Almeria where there are more than enough opportunities to relax and enjoy the scenery before, during and after undergoing dental work.
Where Is Almeria?
The province of Almeria is situated in Southern Spain, in the Andalusian region. The capital city of Almeria sits right on the coast, overlooking the Gulf of Almeria.
Why Choose Almeria for Dental Care?
The price of dental care in some European countries is expensive—the UK and Ireland especially. In the UK, this is compounded with the current crisis in the National Health Service's dental services with increasing numbers of patients unable to register with an NHS dentist—a situation likely to worsen if the British Dental Association's data about recruiting NHS dentists is to be believed. People are beginning to realise that looking after their dental health is a means of saving money in the long-term because prevention of disease is paramount in modern dentistry. Just by attending regular dental check-ups, many problems can be averted at an early stage. For example, professional teeth cleaning to remove tartar and fillings to remove tooth decay are just a couple of simple procedures that maintain dental health.
With prices for a consultation, filling and teeth cleaning at a private dentist costing around £400 in the UK (€470) and the same costing less than £150 (€176) in Almeria, the economics of combining everyday dental care with a holiday makes more sense than ever. For more complex, bigger treatments it's a no-brainer.
With Spain a member of the European Union, there are robust Europe-wide regulations to which the country adheres. Medical education is good and all dentists must be registered with the General Council of Colleges of Dentistry and Stomatology of Spain in order to practice. Furthermore, dental clinics in Spain are generally modern, equipped with state-of-the-art technologies, including digital x-rays, 3D/CT scanning and CAD/CAM (computer-aided design/computer-aided manufacture) allowing for same-day onsite design, milling and fitting of prosthodontics, like crowns and veneers.
There are frequent, low-cost flights to Almeria from some regional airports in the UK and Ireland, includingEasyjet,Jet2, British Airways and Iberia. However, other airports in the near vicinity, including Malaga and Granada, are also possibilities.
The weather is one of the major reasons that British and Irish travellers favour Spain—and as the driest area in Europe, Almeria is the perfect antidote to the rain-blighted British Isles.
How Much Can I Save on Dental Treatments in Almeria Compared to the UK or Eire?
Dental treatments in Almeria may cost you up to 85% less than at home. Plus, Dental Departures guarantees the best prices so you will always receive the best prices available when booking through us.
| | | | | | |
| --- | --- | --- | --- | --- | --- |
| | UK Price (£) | Almeria Price (£) | Eire Price (€) | Almeria Price (€) | Savings |
| All-on-4 | 16,000 | 8,000 | 19,000 | 9,300 | 50% |
| Crowns | 1,200 | 250 | 1,500 | 293 | 79% |
| Fillings | 157 | 50 | 190 | 58 | 68% |
| Implants | 3,000 | 1,200 | 3,600 | 1,400 | 60% |
| Veneers | 1,400 | 370 | 1,700 | 434 | 73% |
| Dentures | 1,400 | 500 | 1,700 | 586 | 64% |
| Root Canal | 1,000 | 150 | 1,250 | 180 | 85% |
| Whitening | 400 | 300 | 120 | 352 | 25% |
Where to Stay in Almeria?
You can stay in modern hotels in the city centre Almeria or go even off-the-beaten-track with a casa in the mountains. There's plenty of scope depending on what suits you best.
Will I Be Safe in Almeria?
Almeria is a peaceful, safe city and there are no specific worries that tourists should be aware of. That said, petty thieves operate throughout the world on unsuspecting tourists who often don't take as much care of their belongings as they would at home. If you are on holiday, our best advice is to keep your guard up and don't fall easy prey to pickpockets or opportunist thieves simply because you aren't paying attention.
Is the Quality of Dental Care in Almeria Comparable to Back Home?
Generally, healthcare in Spain is ranked among the best in the world. Dental clinics are certainly high-tech and up-to-the-minute in terms of equipment, design and décor. Dentists are highly-skilled offering treatments across the gamut of dentistry, from everyday care through to complex procedures requiring multidisciplinary expertise.
That isn't to say that you shouldn't choose your dentist with care. At the end of the day, it is down to you to take as much care of your own health as you can, which means spending some time researching dentists, clinics, as well as your own expectations in terms of whether you are comfortable receiving dental care in a foreign country.
Dental Departures makes things much easier, facilitating the process of booking a trip as a dental tourist from start to finish. We have established a network of global dental providers who deliver excellent care in popular tourist areas that are easily accessible to holidaymakers.
All of the dental clinics we have listed on our site have been pre-screened by us to ensure that you can rely on the quality of the care you receive. Our checks include legal/criminal records and onsite visits. Plus, we verify dentist qualifications and professional memberships, as well as publish prices, clinic photos and patient reviews to make it easy for you to see all the relevant information you need to make an informed decision.
Take a look at our top-rated dental clinics in Almeria and start planning your dental trip today:
● Clinica Dental Alberto Fernandez & Ayora
What Happens if Something Goes Wrong? Is My Dental Care Guaranteed?
While no medical or dental procedure can ever be guaranteed completely, you can minimise any potential risk by choosing a reliable dentist. This is why very few of our patients have ever experienced any problems with their dental care when booking with us. Even so, all our clinics offer warranties on their work. This applies to any lab work as well; for example, crowns, veneers and dentures; you can return at any time to have a problem fixed for free.
If you are having extensive work carried out, you may want to think about taking out medical complications insurance—a low-cost way of ensuring that your accommodation and travel expenses are paid for in the unlikely event that you need to return to the dentist in Spain (or anywhere else in the world) if a problem arises once you have returned home.
Will the Language Be a Problem? Do I Need to Know Spanish?
English is not spoken everywhere in Spain, especially in the more rural communities. However, all of our dental clinics have English speakers and so language will not be a barrier to obtaining good-quality dental care in Almeria.
What Payment Methods Are Accepted in Spain's Dental Clinics?
Most payment methods, including cash (Euros), Visa and Mastercard debit/credit cards, travellers cheques and bank transfers are accepted at most of our clinics. Check out each clinic's listing page to see a comprehensive list of payments accepted.
When Is the Best Time to Visit a Dentist in Almeria?
The weather in Almeria is pleasant throughout the year, with the hottest temperatures in July and August. April to June and September to November still sees average temperatures hotter than a typical British summer, so it's still a good time to visit for mild weather without the crowds. Like most of Europe, the peak holiday season is July and August, in line with the school summer holidays.
Our dentists are open throughout the year, save for important holidays and festivals, so it's a good idea to check opening times before you firm up your trip.
What Else is There to Do and See in Almeria?
The city of Almeria is dominated by the imposing Moorish palace, The Alcazaba, that overlooks the city. It was built in the 10th century on the ruins of a fortress. Insides its walls are gardens, Islamic architecture, military baths and the ruins of a castle built by Ferdinand and Isabella after they took the city in 1489.
The six-towered Almeria Cathedral, built in the 1500s in the Gothic-Renaissance style, but with baroque and neoclassical features added in the 18th century, is also an impressive building. Heading inside to see the stone-pillared cloisters, walnut choir stalls and ribbed ceiling is probably worth the small entrance fee, especially with the audio guide that provides a running history lesson as you walk around.
Beneath Almeria's streets is a network of tunnels built at the outset of the Spanish Civil War. A brief video giving the background to the war is shown before you take the 50-step descent into the tunnels.
Aside from all that history and culture, the region is home to plenty of white, sandy beaches, (particularly around Almeria Bay) where you'll find cafes, bars and restaurants dotted all along the main promenade. Elsewhere, the desert landscapes and whitewashed houses of San Jose make an idyllic backdrop for a relaxing day on the beach.
East of the city is Cabo de Gata, a natural park consisting of Europe's only subtropical desert. Surprisingly, there are numerous things to see and do here—from checking out the wildlife on the salt flats near the headlands, climbing the summit of the now-extinct volcano El Fraile to discovering abandoned mining villages and secluded beaches.
The desert around Almeria was the location for many movies produced in the 1960s, including 'Cleopatra', and Sergio Leone's 'The Good, The Bad and The Ugly'. You can visit the sets at three sites, just outside the town of Tabernas, complete with saloons, jails and gunfights and at one of them there is a swimming pool where you can have a cooling dip—so don't forget your swimwear!
Getting to Almeria
You can fly direct to Almeria from a number of airports in the UK and Europe. Flying into Malaga or Granada (which is often cheaper) may be a good option for those planning to hire a car.
Getting Around
You can explore much of the city on foot while taxis provide an inexpensive and reliable means of getting around. If heading further afield, you may want to hire a car.
Visa Requirements
EEC citizens, including UK and Irish citizens, can currently enter Spain without having to obtain a Visa.
Visitors from the US, Canada, Australia and New Zealand don't require a visa for tourist stays of less than 90 days.
Distance From Almeria to Other Tourist Destinations:
● Cabo de Gata, 18 miles (29 km)
● Tabernas, 24 miles (40 km)
● Motril, 67 miles (108 )
● Granada, 103 miles (157 km)
● Malaga, 125 miles (202 km)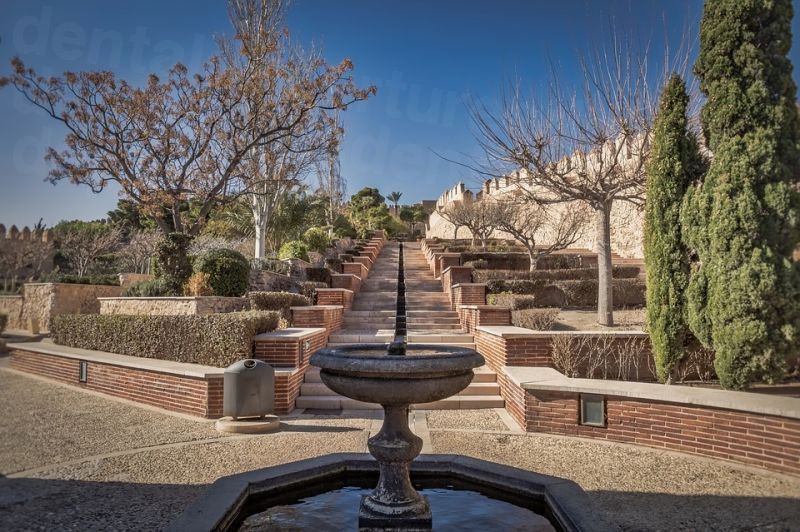 How Do I Book My Dental Appointment in Almeria?
Dental Departures' Customer Care Team can answer your questions about finding a dentist in Almeria, as well as booking your appointment or organising a free quote. Just get in touch on the free phone number, online chat or send an email. You can also book directly online via any of our clinic's pages. There's never a charge to you for our services.
Sources:
An Historical Overview of Andalucia, Spain. Andalucia. Website Accessed: 20 February 2019.
http://www.andalucia.com/history/home.htm" target="_blank
NHS Dentistry Facing Recruitment Crisis. British Dental Association. 4 February 2018.
https://bda.org/news-centre/press-releases/nhs-dentistry-facing-recruitment-crisis" target="_blank
Dental Check-Ups. NHS. 17 September 2018.
https://www.nhs.uk/live-well/healthy-body/dental-check-ups/" target="_blank
Burhenne, Mark. Know Before You Go: Teeth Cleanings. Ask the Dentist. 18 January 2019.
https://askthedentist.com/know-before-you-go-teeth-cleanings/" target="_blank
15 Best Things to Do in Almeria. The Crazy Tourist. Website accessed 20 February 2019.
https://www.thecrazytourist.com/15-best-things-almeria-spain/5/" target="_blank
12 of the Best Beach Towns in Southern Europe. The Guardian. 28 April 2018.
https://www.theguardian.com/travel/2018/apr/28/12-best-beach-town-holidays-europe-france-spain-portugal-greece-italy-croatia" target="_blank
Mini Hollywood Theme Parks. Choose Almeria. Website accessed 20 February 2019.
https://choose-almeria.com/mini-hollywood.html" target="_blank
Almeria Getting Around. Lonely Planet. Website accessed 20 February 2019.
https://www.lonelyplanet.com/spain/almeria/practical-information/transport/getting-around/a/nar/2158e46c-7bcd-4dfa-84c9-fab5714e9930/1004351" target="_blank
Spain's health care efficiency ranks first in Europe, third in the world. Espana Global. 10 November 2018.
https://espanaglobal.gob.es/en/current-news/innovation/spains-health-care-efficiency-ranks-first-europe-third-world" target="_blank