Last fact-checked: 17 February 2021
With prices among the cheapest in Europe, Turkey is a hot spot for dental tourists. Take advantage of the low prices on your next holiday. Visit one of our dentists in Antalya to get your oral health back on track, or improve your smile with affordable cosmetic dentistry treatments.
Antalya–In Brief
Antalya is the capital city of the Province of Antalya. Nicknamed "The Pearl of the Mediterranean," its combination of contemporary elegance and timeless chic draws a diverse range of visitors who can soak up the sun on its beaches, as well as discover Turkey's culture and traditions.
Serving one of the most popular holiday destinations in Turkey, Antalya Airport is one of the busiest in the country, especially during the European summer holiday season. The airport is eight miles (13 km) northeast of Antalya City Centre and is the gateway to resorts located in this particular stretch of the Turkish Riviera around the Gulf of Antalya.
The old town, Kaleici (literal meaning 'within the castle'), provides meandering streets and well-maintained Ottoman houses wrapped around a Roman harbour. Sandwiched between a backdrop of smoky mountains and impossibly turquoise-blue waters, it's not hard to see its appeal. However, it doesn't end there.
Visitors to the region are spoilt for choice. Sunken underwater cities, ancient archaeological sites, water parks and all manner of outdoor activities—from white water rafting to golfing can all be enjoyed in the area, as well as just taking in the gorgeous scenery of the Med and pine-clad Taurus mountains. Whether you are a holidaymaker or dental tourist, Antalya is a stunning location to enjoy value-for-money dental care in glorious surroundings.
Why Visit a Dentist in Antalya?
Reports of an NHS dentistry crisis are coming in thick and fast as the UK's largest dental provider, with over 10 million patients on its books, recently admitted it doesn't have enough dentists to provide treatment.
With previous reports highlighting the problems for those patients unable to sign on with an NHS dentist, this marks a worrying development where even those who are on the books of an NHS dentist are unable to get the most basic care, like a check-up, let alone treatment. Thus, for anyone planning a holiday to Antalya, booking in with a dentist while you are there makes perfect sense, particularly if you want to keep your dental health affordably in check.
For anyone concerned about the standard of dental care in Turkey, there is no need. Medical personnel are well-trained and qualified; clinics treating dental tourists tend to be contemporary and modern and the latest state-of-the-art diagnostic and therapeutic equipment, including digital x-rays, 3D/CT scans and CAD/CAM (computer-aided design/computer-aided manufacture) are readily available.
Low-cost flights are available from international airports across the UK and Ireland throughout the year for less than £100 (eg. £84 return flight Manchester to Antalya with Thomas Cook in January 2019) from a variety of carriers, including Turkish Airlines, Easyjet, Ryanair, Jet2, Thomas Cook and TUI.
How Does the Cost of Dental Care in Antalya Compare with the UK and Ireland?
Dental treatments in Antalya cost significantly less than in the UK and Ireland:
UK Price (£)

Turkey Price

(£)

Ireland Price (€)

Turkey Price

(€)

Save

All-on-4®treatment concept

16,000

4,000

17,000

4,700

75%

Crowns

900

125

1,100

149

86%

Fillings

133

42

158

50

68%

Implants

3,045

500

3,600

610

80%

Veneers

1,461

200

1,745

240

85%

Dentures

1,700

365

2,000

435

78%

Root Canal

1,700

100

2,000

120

90%

Teeth

Whitening

387

211

462

252

45%
Where to Stay in Antalya?
A robust range of accommodation options in Antalya is available to suit all tastes and budgets, either in the city of Antalya or in the wider province. Head to Lara Beach for a typical resort holiday in attractive surroundings or Side if you want waterfront dining and unspoiled beaches. Belek is good for golfers, and the medieval town of Alanya has it all, with beaches, mountains, lively nightlife and vibrant harbour. Or, Beldibi's pine-clad mountains, olive groves and golden sands provide a beautiful spot to unwind and really relax.
Will I Be Safe in Antalya?
While Turkey has seen political upheaval over the last few years, civil unrest is not aimed at tourists—although you should avoid getting caught up in political rallies, which usually take place in major cities, such as the capital, Ankara—miles away from the Province of Antalya. The vast majority of the country, particularly the coastal tourist areas along the Med, including Antalya, are almost entirely unaffected.
Threats from terrorism are, as in most European countries, a possibility and in parts of Turkey, it remains high. However, when you compare that with the UK (currently 'severe'), then there's really no reason to preclude traveling to Antalya. While Antalya generally enjoys a low crime rate but you should take the same standard security precautions as you would anywhere else.
As for dental care, providing you take the time to find a reliable provider, your dental treatment should not pose any problems.
Is the Quality of Dental Care in Antalya Comparable to Back Home?
The standard of dental care is very high, particularly at clinics that treat international patients that are embracing the concept of dental tourism.
As well as the clinical quality they offer, these dentists speak excellent English and you will find clinics located in convenient locations so you don't have to travel too far. All our clinics have already been background checked, so you can see details of dentist qualifications and professional memberships on our website, as well as clinic photos, patient reviews and prices. Clinics such as Beyaz Ada Clinic, Alanya Dental Center and Antalya Dental Clinic are just a few of the top-rated facilities you can book to experience the best in dental care at the lowest prices around.
What Happens If Something Goes Wrong? Is My Dental Care Guaranteed?
All Dental Departures clinics provide guarantees or warranties on your dental care, including for any lab work, such as dentures, crowns and veneers. If you do have a problem, just get in touch with our Customer Care Team, who will work with the clinic to resolve any issues, free of charge.
Because our background checks help ensure that our clinics all offer good-quality services, it is rare that anything major goes wrong with your treatment. However, because no dental or medical outcome can ever be guaranteed, you may want to consider taking out low-cost medical complications insurance. If for some reason you have a problem once you have returned home then this insurance will cover your accommodation and travel costs for your return to Antalya and get the problem resolved.
Do the Dentists in Antalya Speak English?
Antalya is a popular location for Brits and English is widely spoken in hotels, restaurants and other tourism venues. All our dentists speak English so there's no need to worry you won't be able to communicate.
What Payment Methods are Accepted by Dentists in Antalya?
Cash, including Euros and Turkish Lira, are accepted, as well as Visa and Mastercard credit and debit cards (although you may incur an additional small surcharge). Bank transfers and traveller cheques may also be accepted; the individual listings for each clinic on our site give further details.
When is the Best Time to Visit a Dentist in Antalya?
Peak season in Antalya is July and August, the European school holidays. This is when temperatures are also at their hottest. If you prefer the weather to be a little cooler, and resorts less crowded, then Spring or early Summer—from April to June--is a good time to go—as well as Autumn—from September to November. Winter is cooler, but still around the 15C mark, which is still better than some UK summer temperatures!
With year-round sunshine, it will still be pleasant, if not necessarily sunbathing weather. Our dentists are open throughout the year so you will still be able to take advantage of low-prices as well as cheaper accommodation and flight costs.
What Else is there in Antalya?
It would probably be easier to ask 'what isn't there in Antalya.' Whatever floats your boat in terms of a holiday location you will probably find somewhere along the Gulf of Antalya. One of Turkey's most enduring features is its history, including architecture, artifacts and remnants left behind from Roman, Ottoman, Byzantine and other empires that have claimed Turkey over the centuries. Coupled with its unique, naturally-occurring phenomena and breath-taking landscapes, you have the perfect combination for a memorable trip
Notwithstanding the 400 miles of golden beaches along the Gulf of Antalya with its gently-lapping, crystal-clear waters framed by verdant, tree-clad mountains, olive and orange groves, there is so much more. Yacht-filled marinas and harbours, including Antalya's and Side's, provide upmarket enclaves to sit, eat and drink while admiring the views. Quaint alleys are teeming with restaurants, boutiques and bazaars while Turkey's traditional hammams, shisha bars and the unmistakable aroma of Turkish kebabs are never far away.
Nature lovers will be drawn to the Olympos National Park, with its mountains, pine forests and abundant wildlife, including golden eagles, vultures and wolf packs. The summit of Tahtali Mountain can be reached easily and is popular with hikers. You can camp if you intend to make a day or two of it. If you don't fancy the walk, you can take a cable car from Bursa straight to the top at Sarialan, or stop en route at the meadows at Kadiyayla. The Greco-Roman ruins of Phaselis are nearby, as is the legendary fire-breathing monster, that is, in fact, the glowing, natural gas fires of the Yanartas rock formations. The leaping flames are quite a sight, especially once darkness falls, when there are still a surprising number of people in the area admiring the phenomenon, taking advantage of the flames and barbecuing their evening meals.
The Goynuk Canyon is another popular spot—especially if you want to escape the heat. A short hike brings you to cool lakes where you can swim and take part in other activities, including zip-lining, canyoning and white water rafting. The canyon is also part of the long-distance hiking trail—The Lycian Way—a fascinating 300-mile coastal footpath running from Antalya to Fethiye, taking in scenic views and some ancient sites along the way.
Kekova Island is another interesting spot to visit to the west of Antalya. Many visitors take a boat trip and make a day of exploring caves and viewing the fascinating submerged remains of a Lycian city. Unfortunately, swimming is no longer allowed here because previous visitors were taking pieces of the relics as souvenirs. However, you are allowed to swim further up the coast in shallower waters where you will find other remains to explore, as well as an ancient Byzantine chapel standing right on the beach.
Antalya offers a world of possibilities for dental tourists with a fine choice of clinics to choose from, as well as umpteen possibilities for holiday activities in between dental appointments.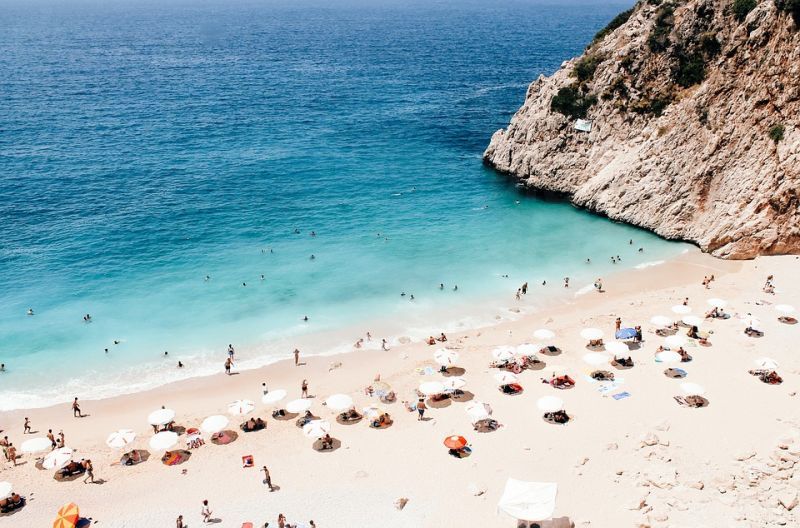 Traveling to Antalya
Antalya's international airport receives regular flights from around the world, although Dalaman Airport is another possibility if you are visiting the west of Antalya Province. Search for flights on Skyscanner.
Visa Information
Foreign nationals need to apply for a visa for stays of up to 90 days.
Getting around Antalya
You can easily get around the cities by bus, dolmus (a minibus that follows a predetermined schedule and route) and taxi, while Antalya City also has a tram service. Car and bicycle hire is reasonably easy and cheap, but you need to be 21 to hire a car and to have held your licence for a year.
Distance from Antalya City to Other Tourist Locations in the Area
Antalya Airport, 8 miles (11 km)
Belek, 14 miles (24 km)
Goynuk, 21 miles (35 km)
Kemer, 29 miles (48 km)
Side, 45 miles (74 km)
Alanya, 82 miles (133 km)
Demre, 87 miles (141 km)
How Do I Get Started Arranging a Dental Trip to Antalya?
You can choose a dentist in Antalya from our listings by booking your appointment online, or asking us for a free quote.
If you need any help don't hesitate to speak to our Customer Care Team who will be more than happy to talk you through any aspect of dental tourism to Antalya, and assist you with arranging your trip toward better, and more affordable, dental health. There is never a charge to you for our services.
Sources:
NHS dental shortage. Sophie Borland, Jaya Narai; Daily Mail. Website accessed: 17 February 2021. https://www.dailymail.co.uk/news/article-5964757/Chaos-thousands-patients-NHS-dentists-recruitment-crisis.html
Travel alert. US Dept of State (Turkey Consulate). Website accessed: 17 February 2021. https://travel.state.gov/content/travel/en/traveladvisories/traveladvisories/turkey-travel-advisory.html
Skyscanner. Website accessed: 17 February 2021. https://www.skyscanner.com.html
Dental tourism — bargain dentistry and a vacation to boot. The Washington Post. 1 September 2019. https://www.washingtonpost.com/health/dental-tourism--bargain-dentistry-and-a-vacation-to-boot/2019/08/30/4fd4a466-aef0-11e9-a0c9-6d2d7818f3da_story.html
Understanding NHS dental charges. NHS. Website accessed: 17 February 2021. https://www.nhs.uk/nhs-services/dentists/dental-costs/understanding-nhs-dental-charges/