Last fact-checked: 4 April 2020
Visit a dentist in Split for low-cost, high-quality dental care while on your holiday in Croatia. This historic city on the Dalmatian Coast is renowned for its beaches, impressive Roman Palace and a lively, cosmopolitan atmosphere—perfect for well-earned time away while receiving affordable dental work.
Split – In Brief
After World War II, Split experienced significant growth as part of Yugoslavia, establishing a large shipbuilding industry and becoming an important port. Croatia declared independence from Yugoslavia in 1991 when unrest throughout the region led to the Yugoslav Wars.
Peace came to Croatia in 1995, and although Split didn't sustain too much damage during this period, its industry and economy had declined. After the war, the economy began to grow but stalled during the Financial Crisis. A focus was placed on tourism, and Split has started to develop again.
Now one of Croatia's major tourist destinations, this lively city with its balance of tradition and modernity, striking coastal mountains and impossibly turquoise waters of the Adriatic is the perfect destination for a holiday. For dental tourists, the added attraction of low-cost, high-quality dental care is too good an opportunity to miss.
Where Is Split?
Split is located in the middle of Croatia's Dalmatian Coast. Situated on the scenic eastern shore of the Adriatic Sea, it is the second-largest city in Croatia and an intraregional transport hub with links to the Adriatic islands and the Apennine Peninsula.
Why Choose Split for Dental Care?
Affordability. Lack of access to affordable dental care in many first-world economies, including the United States and the United Kingdom, is a growing crisis. More than a million people in England cannot register with an NHS dentist, forcing them to go without important dental care or succumb to the services of an expensive private dentist.
If you require major dental work, travelling to a destination like Split can be satisfyingly cost-effective, but it can be equally as rewarding in helping you save money on everyday dental care.
It is human nature to forego check-ups and preventive care if there doesn't appear to be a problem. However, it is often the case that dental problems remain undetected and asymptomatic, which is why it is so important to maintain regular check-ups with a dentist, so that small problems can be dealt with and nipped in the bud before they develop into major issues.
For savvy travellers, one way to maintain dental health and save money is to incorporate annual dental check-ups with a holiday, where preventive measures, such as dental fillings and professional teeth cleaning, cost a fraction of the price at home and only take up a small amount of precious holiday time. It's a small price to pay for gaining peace of mind.
Excellent Quality. Obviously, price should not be your only concern. Reliability, quality and reputation are of utmost importance. Generally, the standard of dental care in Croatia is high. All dentists in the country must study at the School of Dental Medicine in Zagreb, and, once qualified, must become a member of the Croatian Dental Chamber in order to practice.
It is now common practice for dentists across the world to participate in ongoing training throughout their careers, which ensures they keep abreast of new techniques and technologies.
Dentists in Split offering services to international patients tend to be multilingual with clinics equipped with state-of-the-art diagnostic and therapeutic technologies, including panoramic x-rays, 3D/CT scanning and CAD/CAM dentistry.
How Much Do Dental Treatments Cost in Split Compared to the UK or Eire?
You can save up between 60 and 80% on the cost of dental treatments in Split. Furthermore, Dental Departures guarantees the best prices so booking through us will ensure you'll always get the best prices available.
| | | | | | |
| --- | --- | --- | --- | --- | --- |
| | UK Price (£) | Split Price (£) | Eire Price (€) | Split Price (€) | Savings |
| All-on-4 | 16,000 | 6,400 | 19,000 | 7,100 | 60% |
| Crowns | 1,200 | 180 | 1,500 | 200 | 85% |
| Fillings | 157 | 38 | 190 | 42 | 75% |
| Implants | 3,000 | 875 | 3,600 | 976 | 70% |
| Veneers | 1,400 | 290 | 1,700 | 323 | 79% |
| Dentures | 1,400 | 545 | 1,700 | 657 | 61% |
| Root Canal | 900 | 90 | 1,000 | 100 | 90% |
| Whitening | 400 | 160 | 446 | 178 | 60% |
Note: the prices above are approximate. Please check our current prices for your selected clinic for estimated costs of treatment.
Where To Stay in Split
Split's accommodation options are varied and include well-known chain hotels, as well as boutique apartment hotels, Airbnbs and villas. From coastal getaways to historic old town stays, you'll find something that's just right for you—at a price that suits.
Will I Be Safe in Split?
You should have no major concerns or worries about safety in Split. The streets are safe and in the Old Town, you will usually encounter throngs of people about during the day and at night. There are no particular problems with petty crime, such as pick-pocketing, but you should be aware that there is always the chance, as there is in any city, of thieves looking for easy pickings on the unsuspecting. Be vigilant and don't leave your common-sense at home.
Is the Quality of Dental Care in Split Comparable to Back Home?
Healthcare tourism is said to be increasing in Croatia as travellers from EU countries where rising costs and lack of national health services are motivating people to look overseas. The Croatian government is actively promoting the country as a high-quality, low-cost healthcare destination with popular services including dental care, cosmetic surgery and fertility treatments.
With wellness tourism also an associated fast-growing sector, these services dovetail agreeably with healthcare services and offer visiting patients all-encompassing facilities that are on a par, if not better, than services at home.
Dental Departures recognises that trust is an essential component for dental and medical tourists. It is not always so easy to glean the right information when trying to assess healthcare services in another country—that's even if you know what information you should be looking for. This is why you can rely on all of the facilities listed on our website. We have made it our business to carry out our own background checks to provide you with all the salient information you'll need.
Unfortunately, no one piece of information holds the Holy Grail of reliability. Rather, looking at a number of different criteria can give an accurate overall picture. This includes onsite visits, dentist qualifications, professional memberships, patient reviews and legal/criminal records. If we find something during our research that doesn't satisfy our criteria, when we simply don't partner with that facility, and you won't find it listed on our site.
Our listings also include other information to help you make a decision, including prices, clinic photos, location maps and more. Check out some of the leading dental clinics in Split below:
What Happens If Something Goes Wrong? Is My Dental Care Guaranteed?
All the clinics listed with Dental Departures provide warranties or guarantees on their work, so you can return if you have a problem with the dental care you've had carried out in Split.
That said, no matter where in the world you go, all dental and medical treatments carry a small risk and cannot be guaranteed completely to work out. Choosing a reliable facility lowers the risk of complications and the need for unnecessary follow-up care. Expertise, together with the use of the latest technologies, make for accurate diagnosis and predictable treatment outcomes.
If you are having major dental work carried out, you may wish to consider taking out medical complications insurance. This will pay for your travel and accommodation expenses in the highly unlikely event that you need to go back to your dentist in Split should a problem arise once you're back home.
What Language Do the Dentists in Split Speak?
Around 80% of Croatians are multilingual, the majority of them being English speakers. Our dentists in Split are all fluent in English.
What Payment Methods are Accepted in Split's Dental Clinics?
Cash is accepted in Split's dental clinics. The local currency is not the Euro but the Croatian Kuna. Bank transfers, traveller cheques and Visa/Mastercard debit/credit cards are also typically accepted. You can check out the individual clinic listings for specific information.
When is the Best Time to Visit Split?
Peak holiday time in Europe is during the summer school holidays in the months of July and August. It is also the hottest time of the year with temperatures typically around 30C (86F). Our dentists are open throughout the year so you can go anytime, but if you want to take advantage of warm weather then April-June and September-October are good times to go outside of the peak time.
The winter months are often the best period to snag the best discounts on airfare and lodging; dentists serving an international clientele are more likely to offer deals on treatment as well.
What Else is There in Split?
Split is a uniquely charismatic city—the only one on the planet built inside a Roman palace. Diocletian's Palace is a UNESCO World Heritage Site, and exceptionally well-preserved. It is a so-called city within a city with shops, cafes, museums and bars within its walls. You'll find the locals frequent the seafront cafés in the daytime, and the bars and restaurants dotted throughout the meandering alleys of the Palace after dark.
The Old Town, within the walls of the Palace, is a great place to lose yourself. Browse some of the interesting boutiques and stroll through the summer antique market at the north end of town. Peristil, the main square, is where you'll find the elegant Cathedral of Saint Domnius and its 57-meter bell tower looming over the proceedings. The trek up to the top is worth the effort for birds-eye views of the city in all its glory.
Outside the city walls is the Riva—a modern waterfront lined with palm trees, shady seating areas, places to eat and, of course, shop. You can also catch ferries and catamarans here to some of the nearby islands, including Brac, Solta, Vis and Croatia's answer to Cannes in Hvar.
While shingle (rather than soft white sand) comprises many of the beaches along the Dalmatian coast, the shimmering, crystal-clear waters more than make up for it. In summer, the beach at Bacvice proves hugely popular—it's the closest one to the city with shady pine trees, soft sand and a café where you can grab soft drinks and ice-cold beers.
Split is a fantastic location for visitors, and if you are planning on receiving dental care while you are in town, there's plenty to see and do before and after your visits to the dentist.
Getting to Split
You can fly direct to Split—with regional departures from across the UK and Ireland.
Getting Around
Although you can hire a car, parking can be difficult in Split. Plus, as most of the city is pedestrianised, there's little point anyway. Buses and taxis are the best way to get around town.
Visa Requirements
Tourists visiting for less than 90 days from the UK, EU, US, Canada, Australia and New Zealand do not require a visa.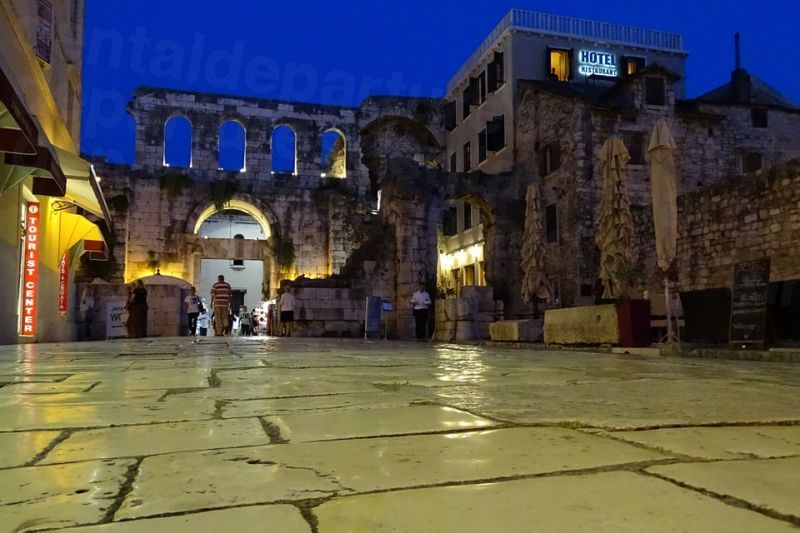 Distance from Split to Other Tourist Destinations:
Rijeka, 194 miles (313 km)
Rovinj, 214 miles (346 km)
Pula, 322 miles (519 km)
Zagreb, 255 miles (411 km)
Dubrovnik, 142 miles (229 km)
How Can I Find out More About Visiting Split as a Dental Tourist?
Dental Departures' Customer Care Team is available to answer any questions you have about finding a good-quality dentist in Split. Get in touch for further information, get a free quote or enquire about other services, including finance, hotel bookings and insurance.
Or if you've settled on a clinic, you can book your appointment with us quickly and conveniently, using our online appointment scheduler, at no cost to you.
Sources:
Split, Croatia. Encylopaedia Britannica. 14 March 2016. https://www.britannica.com/place/Split-Croatia
History of Split. Visit Croatia. Website accessed 14 June 2016. https://www.visit-croatia.co.uk/croatia-destinations/split/history-split/
Mathews-King, Alex. More than 1 Million Patients Unable to get NHS Dentist Amid Rising Tooth Decay Crisis. 2 February 2019. https://www.visit-croatia.co.uk/croatia-destinations/split/history-split/
Dental Check-Ups. NHS. 17 September 2018. https://www.nhs.uk/live-well/healthy-body/dental-check-ups/
Burhenne, Mark. Know Before You Go: Teeth Cleanings. Ask the Dentist. 18 January 2019. https://askthedentist.com/know-before-you-go-teeth-cleanings/
Sandilands, Tracey. CAD/CAM Dentistry: What is it? Colgate. Website accessed: 14 June 2019. https://www.colgate.com/en-us/oral-health/basics/dental-visits/cad-cam-dentistry--what-is-it-
5 Reasons Why Healthcare is The Next Big Thing in Croatian Tourism. TimeOut. 12 February 2018. https://www.timeout.com/croatia/things-to-do/5-reasons-why-healthcare-is-the-next-big-thing-in-croatian-tourism
Holt, Laura. Split, Croatia: Diocletian's Palace, Fine Streetside Restaurants, and Other Reasons to Linger. The Independent. 26 May 2015. https://www.independent.co.uk/travel/europe/split-croatia-diocletians-palace-fine-streetside-restaurants-and-other-reasons-to-linger-10276043.html
Historical Complex of Split with the Palace of Diocletian. UNESCO. Website accessed: 14 June 2019. https://whc.unesco.org/en/list/97