Last fact-checked: 1 March 2020
Wise up on affordable dental care and book an appointment at a dentist in Medellin—an up-and-coming destination for traditional and dental tourists alike. Colombia's infamous city is now singing a different tune as a thriving, contemporary destination that is leaving its chequered past well behind. Innovation, elegant public spaces and an ingenious infrastructure are now synonymous with this happening city—so do yourself a favor and experience the joy of Medellin.
Medellin – In Brief
Once dubbed the Murder Capital of the World, Medellin's recent accolades include being named the "Innovative City of the Year" by the Wall Street Journal and Urban Land Institute. With local government, businesses and communities working together, the fabric of the city has been modernized and transformed, creating accessible recreational facilities while improving health, education and community services at the same time. Against a stunning backdrop of mountains and coffee plantations, the city is alive with culture, hip restaurants, classy cafes, and cosmopolitan bars in what is one of the travel industry's hottest destinations today.
With its temperate climate, the City of Eternal Spring enjoys just the right kind of weather to make the most of the great outdoors. Getting around the city is easy with its graffiti-free and clean underground system (look and learn London and New York!); however, for breathtaking views, Medellin's popular cable-cars are the way to go—there's nothing quite like a bird's eye view to get a real sense of place.
The city is big on attractions, too. Whether you like to take it easy by leisurely ambling through green spaces (of which there are plenty) or prefer adrenaline-inducing activities, like paragliding, then there's sure to be something here to peak your curiosity. And that goes for dental tourists alike, who will soon find that Medellin is a great destination for low-priced, reliable dental care with more than enough things to do between visits to the dentist.
Why Visit a Dentist in Medellin?
As dental charges spiral ever-upwards in America, Canada and other English-speaking countries across the world, people are beginning to realize that there isn't going to be a simple fix to the cost problem any time soon.
The new reality is plain and simple: if you can't afford to properly maintain your dental health at home, then it's up to you to find an alternative solution. And by far the safest and most reliable route to take here is dental tourism, especially if you have a procedure in mind where you can plan a trip specifically for treatment to reap the most savings. Dental tourists nowadays are also starting to take advantage of the cheap prices after they have arrived in a foreign country. This more spontaneous approach may save you money, but it pays more to do your research before getting on the plane, as well as booking through a trusted site like Dental Departures.
In terms of where to go, Colombia is a fantastic option, with Medellin fast becoming one of the must-visit spots on any kind of trip to this fascinating South American country. Medical, dental and health tourism figures are increasing—and with its lush landscapes, proximity to nature and abundance of organic food, it's easy to see why Colombia is a growing destination in this sector.
How Much Does Dental Care in Medellin Cost Compared to the US and Canada?
Prices for dental care in Medellin are between 60-80% lower than at home in the US and Canada. Check out the cost of these popular treatments:
| | | | | | |
| --- | --- | --- | --- | --- | --- |
| | US Price (US $) | Medellin Price (US $) | Canada Price (CAD $) | Medellin Price (CAD $) | Average Savings |
| All-on-4® | 20,000 | 7,700 | 26,000 | 10,200 | 61% |
| Crowns | 1,200 | 300 | 1,600 | 400 | 75% |
| Fillings | 170 | 50 | 225 | 66 | 70% |
| Implants | 3,900 | 1,100 | 5,100 | 1,400 | 71% |
| Veneers | 1,460 | 420 | 1,937 | 556 | 71% |
| Dentures | 1,700 | 330 | 2,254 | 440 | 80% |
| Root Canal | 1,700 | 225 | 1,254 | 298 | 86% |
| Whitening | 387 | 150 | 513 | 198 | 61% |
Where to stay in Medellin?
One of the best places to stay in Medellin has to be the upmarket neighborhood of El Poblado. From budget options to luxury five-star hotels, this area caters to all-comers and the neighborhood is very popular with foreigners. You'll find lively bars, trendy restaurant and boutique shopping right on your doorstep here. If you prefer things a little quieter, head to the more residential area of Envigado, just to the south of El Poblado, or Laureles.
Will I be Safe in Medellin?
Generally, yes. Medellin's homicide rates have reduced by over 80% in recent years while petty theft, like pickpocketing, is on the decline. In fact, the city has redeemed itself so much that it is now becoming a desirable location for Americans to retire, with an already-thriving ex-pat population to prove this point.
It must be remembered that Medellin is still a work in progress and, like most major cities around the world, there are areas that are best avoided, particularly at night.
The key to your safety when visiting any unfamiliar city is to keep your wits about you and don't make yourself an easy target by being ostentatious with your wealth, or by being so drunk that your common-sense takes leave. The usual caveats apply. Stick to lively, tourist areas and take taxis (yes—Uber is available) after dark.
Is the Quality of Dental Care in Medellin Comparable to Back Home?
The standards at clinics catering to dental tourists are generally high. Some clinics, like the highly-recommended Colombia Care Dental, employ well-trained dentists; clinics like Oralimagen are equipped with the latest technologies, including CAD/CAM (computer-aided design/computer-aided manufacture) where onsite laboratories can create crowns or veneers as you wait; while multidisciplinary services covering every aspect of dental care are included at many clinics, including Dental Home - El Poblado
It's always wise to do your research on any dental clinic you are planning on visiting—and that goes for home as well as abroad. It's not always easy to check out qualifications and facilities when the clinic isn't local; using our site to find a clinic takes away this problem, as we have carried out all the necessary background checks for you.
All the clinics listed with Dental Departures are subject to our checks that include legal/criminal records, onsite visits, verification of dentist qualification and confirmation of professional organizations. Clinic photos, real patient reviews, maps and prices are all included in each listing, giving you the resources to make your own conclusion on where is best for you.
What Happens if Something Goes Wrong? Is My Dental Care Guaranteed?
Booking with a reliable dental facility means that things are less likely to go wrong, and this is confirmed by the fact that only a tiny fraction of our patients have had any problems at with their dental care.
Nevertheless, all of our partner clinics offer warranties or guarantees on their work, as well as on any lab work needed for treatments like dentures, crowns and veneers. If you have any issues you can go back and get it resolved for free. Depending on your procedure, especially if you are having more expensive work carried out, it's worth taking out medical complications insurance, which covers the cost of return flights and accommodation should you need to return to your Medellin dentist.
Do the Dentists in Medellin Speak English?
While Spanish is the main language throughout Colombia, all of our listed dental clinics have English-speaking staff so that you won't have any problems being understood.
What Payment Methods Are Accepted?
Cash, bank transfers, Visa and Mastercard credit and debit cards are usually accepted, as well as traveler checks.
When Is the Best Time to Visit a Dentist in Medellin?
Medellin has a temperate climate, which means that temperatures stay much the same all year round. Known as the City of Eternal Spring, it is mild enough throughout the year to enjoy the outdoors without it being too hot or cold.
In terms of peak times to visit, it tends to be busy over Christmas, New Year and Easter week; this is when accommodation costs and flights are likely to be at their highest. The 10-day August Flower Festival is also a popular time of year in Medellin. Our listed dental clinics are open throughout the year but do check for national holidays or festivals where clinics may be shut for a few days.
What Is There To See and Do in Medellin?
El Poblado is the neighborhood that most foreigners stay in. It's upscale and has a vast amount of rental apartments and hotels, high-end shopping malls, boutiques and a nightlife area that buzzes with people enjoying its wealth of restaurants, bars and clubs.
El Centro, Medellin's Downtown, has plenty of attractions, including shopping in the streets of Carabobo and Avenida Junin. The Museum of Antioquia houses art collections from local artists Fernando Botero and Pedro Nel Gomez while the nearby Botero Plaza contains dozens of Botero's sculptures.
Medellin is blessed with green spaces to get away from it all; take a cable car up and follow one of Arvi Park's trails on foot; explore the colorful Joaquin Antonio Uribe Botanical Gardens; and feel the grass between your toes at Parque de Los Pies Descalzos (Barefoot Park).
You can find walking tours that will take you around the best parts of the city, but if you'd like something a little more adrenalin-filled there's mountain biking and all-terrain vehicles for hire from local adventure companies. Paragliding in the mountains is about an hour's bus ride away from Medellin. The dependable thermals make this a popular activity, not to mention the fact that it's only around $40 dollars for a flight!
Just a little out of town is the ancient lost city of Ciudad Perdida, believed to have been founded some 650 years earlier than Peru's Machu Picchu. It's a four-day trek through the Colombian jungle to get there, although the journey is not, apparently, as arduous as Machu Picchu.
For something less strenuous, take the cable car up to Barrio Santo Domingo. Once famous for being the home to Pablo Escobar, you'll get to mingle with a friendly local community and admire the stunning views across the city and beyond from this high vantage point.
Finally, the legacy of Pablo Escobar is something that most Paisas are trying to move on from. There are a number of companies offering Escobar-themed tours which many locals are not particularly happy about. It's still all too raw and people are suffering from their own losses from that particular period in history. Inevitably, tour companies making money out of the drug baron's name doesn't sit well. For outsiders, however, a morbid curiosity is compelling, especially when fuelled by popular TV series, like Narcos. Do remember that you can always visit the sites related to Escobar on your own, without having to pay a tour company or old associates of his who are cashing in on his legacy.
Traveling to Medellin
Medellin's international airport does receive direct flights from cities such as New York and Miami, but you can also get a domestic flight from other popular locations around the country, including Bogota, Cali, Cartagena and Barranquilla.
Visa Information
No visa is required for Americans, Canadians, Europeans, Aussies and Kiwis for stays of less than 90 days.
Getting around Medellin
The underground, cable cars and taxis are the best ways of getting around the city.
Distance from Medellin to Other Major Tourist Locations
● Bogota, 260 miles (421 km)
● Cali, 260 miles (419 km)
● Cartagena 392 miles (631 km)
● Barranquilla, 257 miles (415 km)
● Ciudad Perdida, 8 miles (14 km)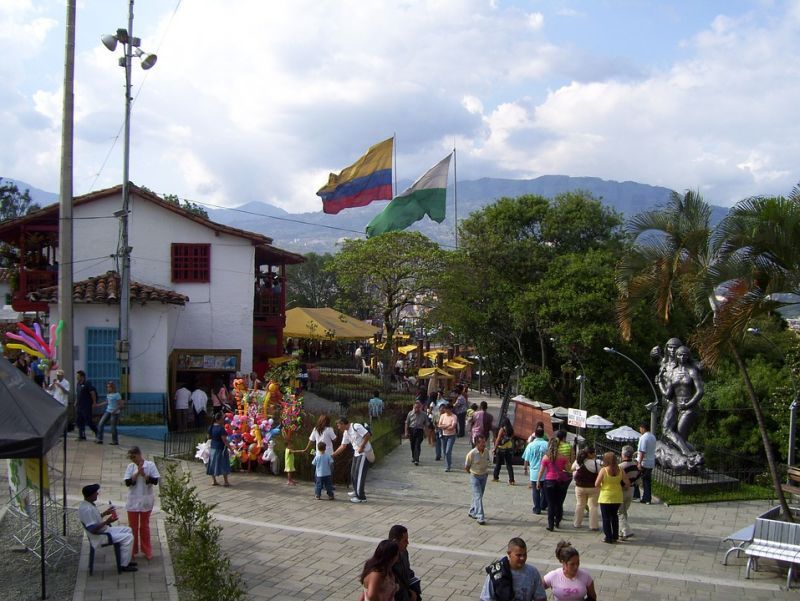 How Do I Get Started Arranging a Dental Tourism Trip to Medellin?
Search for a dentist in Medellin from our listings and book your appointment online at any time of the day or night. If you'd like further information or have any questions, feel free to speak to our Customer Care Team who are available 24/7 to assist in your quest for high-quality, value-for-money dental care.
Sources:
City of the Year: Medellin. Wall Street Journal Magazine. Website accessed 7 January 2019.
http://online.wsj.com/ad/cityoftheyear
Balsing, Olivia. I saved thousands of dollars by having surgery abroad. New York Post. 31 July 2018.
https://nypost.com/2018/07/31/i-saved-thousands-of-dollars-by-having-surgery-abroad/
Moon, Freda. A Family Adventure in Medical Tourism. New York Times. 8 March 2017.
https://www.nytimes.com/2017/03/08/travel/frugal-family-medical-dental-tourism-bangkok-thailand-vacation.html
Vincent, Jessica. What You Should Know about Colombia's Spectacular Flower Festival. Culture Trip. 30 May 2018.
https://theculturetrip.com/south-america/colombia/articles/what-you-should-know-about-colombias-spectacular-flower-festival/
Lee, David. The Ultimate List of Things to Do in Medellin. Nomadic Matt. 29 November 2018.
https://www.nomadicmatt.com/travel-blogs/ultimate-list-medellin/
Ryan. The Controversy of the Pablo Escobar Tour in Medellin. Desk to Dirtbag. Website accessed: 7 January 2018.
https://www.desktodirtbag.com/pablo-escobar-tour-medellin-colombia/
Ciudad Perdida. Lonely Planet. Website accessed: 7 January 2018.
https://www.lonelyplanet.com/colombia/ciudad-perdida
Treating violence like a disease helped cut Colombia's murder rate by 82%. Apolitical. 15 May 2018.
https://apolitical.co/solution_article/treating-violence-like-a-disease-helped-cut-colombias-murder-rate-by-82/
Sovie, Sephen. Why is Dental Care in the US So Very Expensive? Medium. 9 September 2018.
https://medium.com/publishous/why-is-dental-care-in-the-us-so-very-expensive-bb5738f029d6
Puri, Sameer. Material Choices for CAD/CAM Dentistry. Dentistry Daily. 1 February 2018.
https://www.dentistrytoday.com/technology/10396-material-choices-for-cad-cam-dentistry