Last fact-checked: 7 July 2021
This Dental Departures destination guide reveals everything you need to know about receiving low-cost dental care in Mosonmagyarovar, a charming Hungarian town situated just a short drive from the Austrian and Slovakian borders.
Compare prices, read past patient reviews, find useful travel tips and get free access to our expanding list of verified dentists in Mosonmagyarovar, one of the world's most popular dental tourism destinations.
Visiting Mosonmagyarovar as a Dental Tourist
With the highest concentration of dentists per capita in the world, the Hungarian border town of Mosonmagyarovar has long been a popular choice for international patients seeking more affordable dental work.
Most of these patients drive across from nearby Austria, although with prices of up to 70% lower than in the UK, the US and Germany, the town is starting to attract a more diverse clientele seeking low-cost care away from home.
Part of the wider Győr-Moson-Sopron county, the small, quaint town is also known as simply "Óvár" (definitely good news for foreigners not proficient in the native language!)
While the Hungarian capital of Budapest has become known as one of the world's " dental tourism capitals," many patients find that cities like Mosonmagyarovar, as well as nearby Sopron and Gyor, are much easier to reach when driving eastwards from neighbouring European countries.
Whatsmore, prices outside the capital tend to be a little lower than in Budapest, in spite of the fact that dentists have the same qualifications, licenses and professional training.
Patients intending to fly can also travel from nearby Vienna or Bratislava (40 and 30 minutes by road, respectively).
The town's 150-year-old train station is on the main route connecting Budapest with Vienna, forming part of the regional "Golden Triangle" between Slovakia, Austria and Hungary.
Find more Óvár travel information further down this page, including flight routes and prices, accommodation choices and things to do while you're there.
How Much Does Dental Care Cost in Mosonmagyarovar?
Dental care in Mosonmagyarovar costs between 50% and 70% less than other European cities, like London, Edinburgh or Berlin.
Below, see a price table for a range of popular treatments in Mosonmagyarovar, including veneers, crowns, teeth whitening, dental implant treatment, dentures and root canal work:
| | | |
| --- | --- | --- |
| Procedure in Mosonmagyarovar | Mosonmagyarovar Price (EUR) | Mosonmagyarovar Price (GBP) |
| Composite veneer | €170 | £145 |
| Laser teeth whitening | €200 | £170 |
| Porcelain Fused to Metal Crown (standard alloy) | €170 | £145 |
| Full denture | €400 | £340 |
| Root canal (single tooth) | €55 | £50 |
| Dental implant with crown | €800 | £690 |
| Full arch restoration with 4 implants | €7,000 | £6,000 |
[Please note that these are estimated prices at the time of writing. See our individual clinic listings for latest prices.]
Finding the Best Dentists in Mosonmagyarovar with Dental Departures
Before any clinic is featured on Dental Departures, our team carries out a number of background checks, including verification of licenses, qualifications, professional memberships and experience.
Two top clinics in Mosonmagyarovar listed on our site are:
Specialising in dental restorations, this highly-rated clinic is located close to the city centre. The center has an in-house dental laboratory for processing prosthetics, as well as its own on-site massage facilities and comfortable lounge area. Individual treatment planning, combined with the use of the latest techniques, ensures that their services are both effective and flexible.
This sizable clinic works with approximately 30 dentists, technicians and assistance with 7 modern treatment rooms. Their team includes specialist implantologists who have undergone training in California, USA and are certified members of the International Congress of Implantology (ICOI). The clinic has its own in-house laboratory equipped with the latest CAD-CAM dental technology.
We are constantly updating our list of partner clinics in Mosonmagyarovar; for more choices, see our full list of dentists in Hungary here, which includes clinics based in Sopron, Budapest and Gyor.
How Long Will I Need to Stay in Mosonmagyarovar for Treatment?
Some patients are able to drive into Mosonmagyarovar for their appointment in the morning and head back home a few hours later; this may also be possible when flying into nearby Vienna or Bratislava.
This would typically be achievable when undergoing general dental work where only one appointment is necessary, like teeth whitening, or in cases where the clinic is able to produce "same-day" prosthetics, such as veneers or crowns.
For dental surgeries or more complex implant-based restorations, you may need to plan a stay for several days, often with two separate trips needed.
For overnight stays, the town is home to a number of decent hotels and guesthouses, as we see in more detail in the following section.
Mosonmagyarovar Travel Information
Drawing comparison to Los Algodones, aka "Molar City" in Mexico, Hungary's border town of Mosonmagyarovar is known for one thing and one thing only: inexpensive, high-quality dental care.
Welcoming over 150,000 patients a year, it comes as no surprise that the town is well-prepared to receive foreign visitors, with plenty of hotels, guesthouses, western-style restaurants, convenience stores and English/German-speaking staff.
Away from the dentist's chair, this ancient spa town has a couple of interesting spots to check out, including the Futura science museum, the Flexum-Thermal Spa and a handful of other destinations where you can treat yourself to a massage or manicure.
For evening entertainment, don't expect to find the same range of cocktail bars and lounges as the Budapest or Bratislava; most of the watering holes in town are more in the form of cozy pubs, as well as a few hotel bars which stay open until around midnight.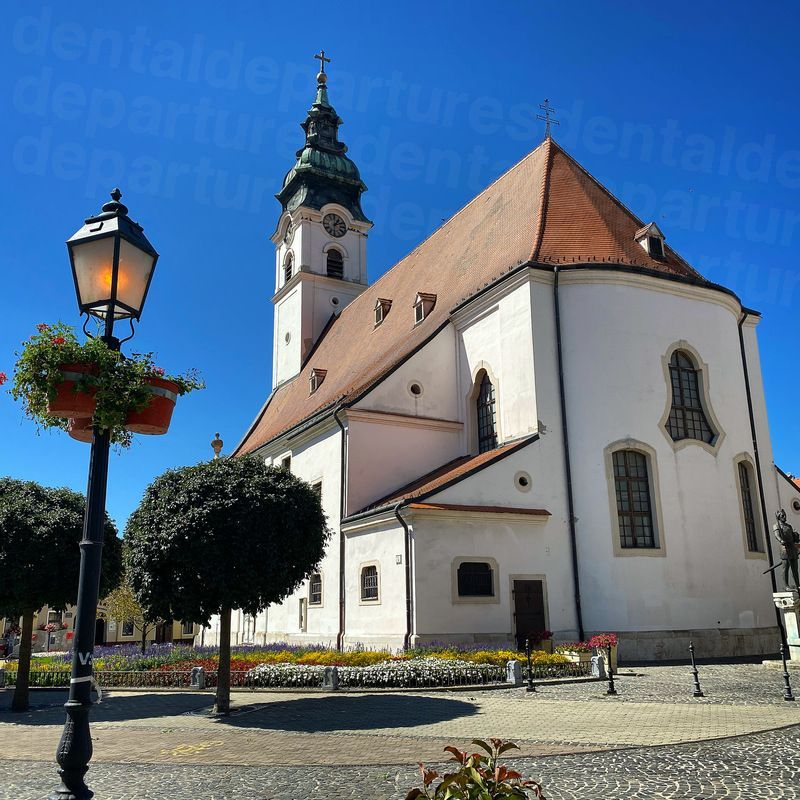 How Do I Get to Mosonmagyarovar?
The majority of patients visiting "Ovar" for dental work drive across from the Austrian border (a few minutes to the east) or the Slovakian border (roughly the same distance to the north).
Do make sure to check the latest entry requirements when driving over the land border into Hungary. At the time of writing, there is no need to apply for a visa in advance.
There is also a train station in the town center with trains running to and from Budapest/Vienna. Private and public buses (coaches) also run on a daily basis.
Can I Fly to Mosonmagyarovar?
Unsurprisingly, this small town does not have its own airport. However, flying into the region from across Europe is certainly a viable option with three major international airports located in the vicinity:
Budapest—1 hr 45 min (193 km) via M1

Bratislava—35 min (50 km) via M15 and E65/E75

Vienna—1 hr (70 km) via A4
The flight time from the UK is approximately two hours. Direct flights currently run from all London airports, Edinburgh, Manchester, Bristol, Luton, Birmingham and Dublin.
Please note: Many of our partner clinics offer free shuttle services to and from the airport when arriving in Vienna or Bratislava. Ask our Customer Care Team for more details.
How Much Do Flights to Mosonmagyarovar Cost?
Whether flying to Vienna, Bratislava or Budapest, return flights from the UK (London) are available for as little as EUR 40 and no more than EUR 100 when booking with budget carriers like Ryanair, Wizz Air or EasyJet.
Do expect to pay a little more than this when flying with national carriers.
Note: Price estimates were obtained from Skyscanner at the time of writing.
Where to Stay in Mosonmagyarovar?
The town and surrounding area has around two-dozen hotels, guesthouses and resort-style options to pick from.
Most options currently listed on Booking.com fall into the EUR 50–100 price range.
Highly-rated four-star hotels include Aquasol Resort and Hotel Lajta Park, both priced at approximately EUR 100 per night for a double or deluxe room.
Note: Some of our partner clinics offer free or discounted accommodation packages when booking major dental work in Mosonmagyarovar. Talk to our Customer Care Team to see how we can make your dental trip more affordable.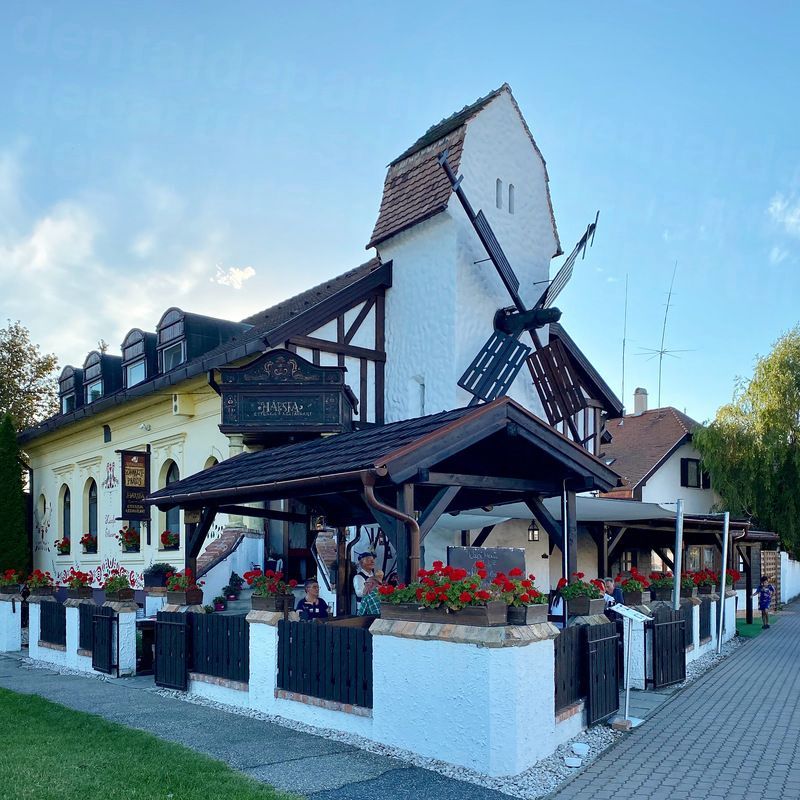 What Else Is There to Do in Mosonmagyarovar?
As we've mentioned, the main reason people visit Ovar is to get their teeth fixed for hundreds or even thousands less than back home. That said, it might be worth doing a bit of bargain shopping before you head home, with items such as books, cigars, wine, clothing and souvenirs all proving popular with dental day-trippers.
For more sights in town, check out this Mosonmagyaróvár travel guide , or see a quick list below:
How Do I Book at a Dentist in Mosonmagyarovar?
Thanks to our Best Price Guarantee pledge, you'll never pay more than you have to when booking your dental care in Mosonmagyarovar or anywhere else in Hungary.
To get started, use our contact widget or phone our Customer Care Team via the toll-free number provided. You can also connect to a Dental Departures representative via email or with our online chat function.
Sources:
Hungary becomes a hotspot for dental tourism. European CEO. 21 December 2018. https://www.europeanceo.com/lifestyle/hungary-becomes-a-hotspot-for-dental-tourism/
How did Budapest become the Capital of Dental Tourism? Daily News Hungary. 20 October 2018. https://dailynewshungary.com/how-did-budapest-become-the-capital-of-dental-tourism/
Mosonmagyarovar. Virail. Website accessed: 21 June 2021. https://www.virail.com/train-mosonmagyarovar-gyor
Golden Triangle Tour - Hungary. CG Journeys. Website accessed: 21 June 2021. https://cgjourneys.ca/tours/hungary-golden-triangle-tour
International Congress of Oral Implantologists. Website accessed: 21 June 2021. https://www.icoi.org/
Wong, N. All-on-"X": Final Fixed Prosthetic Options for Full Arch Implant Cases. 9 November 2017. https://www.oralhealthgroup.com/features/all-on-x-final-fixed-prosthetic-options-for-full-arch-implant-cases/
Jacobs, Harrison. This tiny Mexican town has more than 350 dentists — and treats the thousands of Americans who flock across the border for dental care. Business Insider. 3 January 2018. https://www.businessinsider.com/andrew-waits-photos-of-molar-city-2014-6
K, Szolgálat. Information On General Rules Of Border Crossing. Police.hu. 10 May 2021. http://www.police.hu/en/content/information-on-general-rules-of-border-crossing
Robert Elsenpeter. Bringing the dental lab in-house. Dental Products Report. Website accessed: 9 March 2021. https://www.dentalproductsreport.com/view/bringing-dental-lab-house
Skyscanner. Website accessed: 21 June 2021. https://www.skyscanner.com
Booking.com. Website accessed: 21 June 2021. https://www.booking.com/
6 Best Things To Do In Mosonmagyaróvár, Hungary. Trip101. Website accessed: 21 June 2021. https://trip101.com/article/things-to-do-mosonmagyarovar-hungary