Last fact-checked: 17 February 2021
Vacationing in Costa Rica and want to take advantage of the county's low dental prices? Our dentists in Alajuela deliver quality care at a fraction of the price you'll pay at home.
If you're heading for the coast, Alajuela is a great alternative to stopping in Costa Rica's capital city, and at only 3 km away from Juan Santamaria International Airport, it's also quicker and cheaper to reach than San Jose.
Alajuela—An Overview
Known as the "City of Mangoes" (not surprisingly, because of its abundance of mango trees), Alajuela is not a tourist destination as such, although it certainly has all the amenities and services you would expect and need. It is a reasonably small town and, truth be told, there isn't a huge amount to see and do; however, for dental tourists coming here to saving potentially thousands of dollars, a lack of exciting attractions shouldn't be a dealbreaker
Known as Villahermosa in Colonial times, and briefly Costa Rica's capital in the 1930s, it is only 54 miles (87 km) northwest of San Jose, but with a slightly warmer climate–and far fewer people–it's an agreeable get away from the hustle-and-bustle of the capital city.
In common with any decent-sized town, Alajuela has its fair share of restaurants, bars, clubs and other entertainment options, so the fact that it's not a tourist destination in itself doesn't mean it is has nothing to offer, either for a night out or to pass the time in the daylight hours.
Small enough to get around on foot, visitors can head to Alajuela's Central Park which provides a shady place to sit and unwind underneath a square filled with mango trees. Two blocks further south from Central Park is the beautiful tree-lined Juan Santamaria Park.
Although you can probably walk the entire downtown in one afternoon, frequent buses are useful for inexpensively getting across the town, or you can take one of the red taxis to explore a little further afield.
Most people who visit Alajuela use it as a base to visit other nearby attractions, such as Sarchi or as a stop-off before heading to the coast. Its central position and close proximity to the airport make it ideal for visitors and dental tourists who appreciate a less hectic pace of life than somewhere like San Jose offers.
Where Is Alajuela?
Alajuela is almost in the center of Costa Rica, 54 miles (87 km) to the northwest of San Jose.
Why Visit a Dentist in Alajuela?
Easy access: As affordable dental care becomes increasingly harder to come by in many countries, such as the US and Canada, dental tourism is a viable alternative to those who want to combine their dental care with a trip abroad. Costa Rica is a popular vacation destination where savvy patients can save thousands of dollars on expensive dental procedures, like All-on-4s.
A compact town, it is easy to get around and undeniably convenient. Want the facilities of a big city, but without the traffic? Near to the airport? Easy to reach other destinations? Alajuela ticks all the boxes.
North Americans will find it particularly convenient with flights arriving frequently at Juan Santamaria International Airport from across the United States and Canada.
Low cost: Of course, savings on the 'big ticket' items is what dental tourism is renowned for, but more recently, the savvy are combining their regular dental care and vacation to maintain their dental health without having to pay the earth for it. People are realizing that the key to dental health is preventive care with regular oral check-ups at the dentist's, where tooth decay and the onset of gum disease can be spotted and easily fixed with minor treatments, such as dental fillings or professional teeth cleaning.
How Much Can I Save on Dental Care in Alajuela Compared to the US and Canada?
See the table below comparing prices for popular dental treatments in Alajuela:
| | | | | | |
| --- | --- | --- | --- | --- | --- |
| | US Price ($) | Alajuela City Price ($) | Canada Price (CAD $) | Alajuela City Price (CAD $) | Savings |
| All-on-4® treatment concept | 20,000 | 9,600 | 26,000 | 12,100 | 52% |
| Crowns | 1,200 | 330 | 12,900 | 445 | 72% |
| Fillings | 170 | 55 | 225 | 74 | 67% |
| Implants | 3,900 | 1,700 | 5,100 | 2,295 | 56% |
| Veneers | 1,461 | 420 | 1,937 | 567 | 71% |
| Dentures | 1,700 | 500 | 2,254 | 675 | 70% |
| Root Canal | 1,700 | 850 | 1,254 | 1,147 | 50% |
| Whitening | 487 | 350 | 255 | 472 | 28% |
(Image by Peter Andersen)
Where to Stay?
Why not begin your dental holiday at an affordable 5-star spa hotel, or a wellness and healing retreat? These are some of the accommodation choices in Alajuela, alongside chain hotels, bed & breakfasts and self-catering suites or apartments.
Is it Safe?
Yes – there are no US travel advisory warnings for Costa Rica. Many people who visit Alajuela say they feel much safer here than in the capital city, San Jose.
Is the Quality of Care the Same as Back Home?
Costa Rican dental care is of a good standard. Dentist training is thorough and on par with training in the US and Canada. Many dentists, particularly those who treat international patients, are keen to demonstrate their expertise to foreign patients by undertaking training and qualifications in the United States.
These days, cross-border training is not unusual; dentists who have trained and become qualified in another country are then eligible to join that country's professional body, such as the American Dental Association, which means they are governed by the same standards as dentists in America.
You may be wondering just why the prices for dental care are so much lower in Costa Rica. Is there a catch? The answer to this often-asked question is simply down to the lower cost of living in Costa Rica. Overheads, including staff wages and office rent, are all cheaper for local businesses–and the savings are passed on to you the patient. It is not because the facilities are in any way inferior, or because the materials in use here are low-grade, because neither is true.
The brands and equipment available and in use in the United States are available here, as well as the latest technologies, like 3D/CT scanning and CAD/CAM dentistry.
In fact, what many people don't realize is that many American dentists actually use the services of laboratories in Costa Rica or Mexico for making their patients' dentures or other dental devices because it costs them a lot less. Unfortunately, in these cases, the savings are rarely passed on to you!
Doing some background research will help put your mind at ease, which is why Dental Departures takes this part very seriously.
We conduct a number of checks, which when taken together gives us a good indication as to the trustworthiness and overall quality of each clinic. These include criminal and legal record checks, dentist qualifications, professional memberships, clinic photos, site visits and online reputation. We publish all of this information on our site under each listing. These resources, alongside real patient reviews, gives patients an excellent overview of the particular clinic or dentist they are thinking of booking with.
Clinics in Alajuela you should take a look at include:
• Clinica dental Dr Johnny Pinchansky
• Eco Dent y Spa
• Catedral Dental
What Happens if Something Goes Wrong? Is the Work Guaranteed?
Our dentists all offer warranties on the work they do and on the materials used in any lab work, for example, prosthodontics (eg. crowns, veneers, dentures, etc.), and if there is an issue, it will be fixed free-of-charge under warranty.
Please be aware that our dentists' warranties only cover the work they carry out. It does not extend to additional travel or accommodation costs you may incur, and in this case, we suggest taking out an additional medical complications insurance policy that will cover you for these additional travel expenses. A small extra outlay for total peace of mind can be worthwhile for some.
Do I Need to Speak Spanish?
You won't need to speak Spanish in order to be understood by our dentists. They all have English-speaking staff at their offices.
Throughout Costa Rica, you will find most people speak at least some English, especially in the main tourist areas.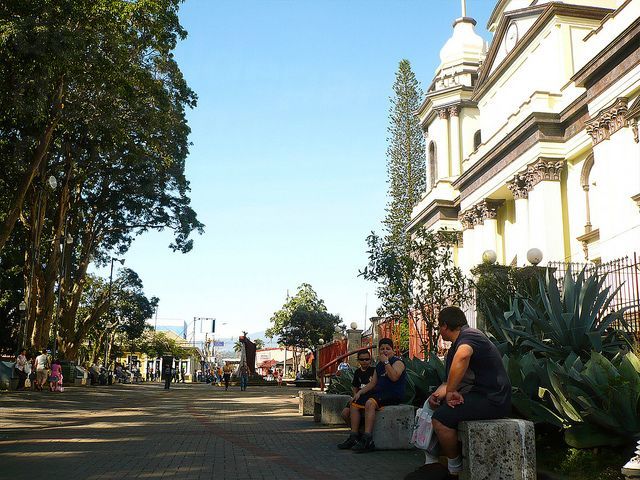 What Payment Methods Are Accepted?
The US Dollar is accepted everywhere, but check each individual clinic listings for other methods of payment. Each clinic usually accepts at least one of the following: debit cards, credit cards, bank transfers, traveler and personal checks. Please be aware that credit card transactions may incur a small processing fee of between 3-4%.
Is My US or Canadian Dental Insurance Accepted?
It isn't very likely your clinic in Alajuela will be able to bill your insurance company directly, but you may be able to claim your costs back once you go home if your provider allows for out-of-network care. You will need to check with them, and if they do, be sure to have them send you the appropriate paperwork to bring with you.
When Is the Best Time to Visit One of Our Dentists?
Our listed dentists in Alajuela are open all year round, save for the usual public holidays, allowing you to visit practically any time of year. The weather is moderate in this region of Costa Rica with pleasant temperatures throughout the year.
Is it Wheelchair-friendly?
It is unlikely that anywhere is completely accessible in a wheelchair, but you shouldn't have too much trouble getting around. Ticos (Costa Ricans) are friendly and always willing to lend a helping hand.
Most of our dentists do have wheelchair-friendly access, and there are now a reasonable amount of hotels that are also wheelchair-friendly. Do speak with a member of our Customer Care team if you are worried about this aspect of your trip–we can always find a way of getting you to one of our dentists.
What Is the Downside? What Should I Know About Visiting?
A local anesthetic is the preferred method of pain relief in Costa Rica. However, many of our dentists do offer sedation dentistry as an option, but as the services of an anesthesiologist are required, it will need to be booked in advance. It will also incur an additional charge of $400.
Costa Rica has much to offer walkers, trekkers and anyone that likes to set off into the wilderness. If this is you, please make sure you are prepared for your trip, and take plenty of water, food, maps and a compass. It's also a good idea to let someone know where you are going and what time your expected return will be.
Do take into consideration the nature of your treatment and listen to your dentist's advice as to what you can and can't do in the days immediately following any work.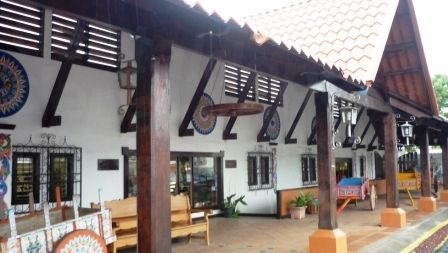 (Image by Axxis 10)
What Else is There in Alajuela?
One of Alajuela's joys is its compactness–making it fairly easy to visit the attractions in a short space of time. The Alajuela Cathedral was finished in 1863 and built-in a neoclassical style with a pink-colored dome at the back. It is simple and elegant, with the exception of the dome which has more ornamentation. It is next to the Central Park, which is somewhat of a meeting point for visitors and residents alike.
The Alajuela Cultural Center stands where the old Municipal Palace once was. It is now a historical landmark and is open to the public from Monday to Saturday. It is home to, amongst other things, the Municipal Archive, and also has attractive gardens.
The Juan Santamaria Plaza is home to the Juan Santamaria historical national monument. Losing his life to enable his country to defend its freedom and independence, he is one of Costa Rica's most revered heroes. Juan Santamaria History Museum is also worth checking out. Located within a former fortress, this is now a historical and architectural point of interest.
La Garita, one of Alajuela's tiny suburbs, has a zoo with a rescue and breeding center. Here you will discover more than 100 bird species, as well as monkeys and crocodiles. Another spot for nature lovers is the Butterfly Farm in La Guacima where you can stroll through butterfly habitats secured by overhead netting so no need to worry about them getting in your hair.
Fans of soccer (orfútbol as it's called locally) may want to visit the Alejandro Morera Soto Stadium, home to one of Costa Rica's oldest clubs, Liga Deportiva Alajuelense. Shoppers should head to the Central Market, located in the center of town, and with almost 250 vendors selling all manner of goods from fish to shoes, irresistible and if there any room left for culture, Alajuela's Municipal Theater is considered to be one of the most important in the country.
Of course, Costa Rica is compact; in Alajuela, it's easy to get around the rest of the country with the chance to explore rainforests, coastlines and whatever else takes your fancy.
Getting There–Flying in:
Juan Santamaria International Airport (SJO) is the nearest airport, just a short drive away.
Distance From Alajuela to Airport and Other Places of Interest:
• Juan Santamaria International Airport: 54 miles (87 km), 2 hours
• Sarchi: 38 miles (62 km), 1 hr 45 mins
• Chacarita: 66 miles (106 km), 2 hrs 20 mins
• Jaco: 55 miles (88 km), 2 hrs
• Limon: 110 miles (177 km), 3 hrs 20 mins
How Do I Book an Appointment?
You can book your appointment online with one of our quality-checked dentists. Dental Departures' Customer Care team are also available practically 24/7 and you can contact them via our online chat facility, or our toll-free phone number.
We can help you to find a trustworthy dentist in Alajuela to have your dental problems resolved for the best prices available anywhere.
(Main Image by Lex Mercurio)
Sources:
The Editors of Encyclopedia Britannica. Alajuela. Encyclopedia Britannica. 13 July 2013. https://www.britannica.com/place/Alajuela-Costa-Rica
Dental Check-Ups. National Health Service. 17 September 2018. https://www.nhs.uk/live-well/healthy-body/dental-check-ups/
Chouman, Sarah. Gum Disease: Stages, Prevention and Treatment. Ask the Dentist. 30 April 2019. https://askthedentist.com/gum-disease-stages-prevention-treatment/
Burhenne, Mark. Know Before You Go: Teeth Cleanings. Ask the Dentist. 27 March 2019. https://askthedentist.com/know-before-you-go-teeth-cleanings/
Sandilands, Tracey. CAD/CAM Dentistry: What Is It? Colgate. Website accessed: 17 February 2021. https://www.colgate.com/en-us/oral-health/basics/dental-visits/cad-cam-dentistry--what-is-it-
Smith, Oliver. 29 Reasons Why You Should Visit Costa Rica. The Telegraph. 30 August 2016. https://www.telegraph.co.uk/travel/destinations/central-america/costa-rica/articles/29-reasons-you-should-visit-Costa-Rica-right-now/