Last fact-checked: 11 April 2022
Looking for low-cost dentistry in Europe? Head to one of Europe's fastest-growing holiday destinations that's got it all—sun, sea, amazing cities, an engrossing history and incredible landscapes—and check out one of our dentists in Croatia.
A member of the European Union since 2013, Croatia has retained its own currency, the kuna, so it still proves good value for Brits who are wanting to see their money go a little further than it does against the Euro.
Croatia–in Brief
Officially called the Republic of Croatia, the country is on the cusp of Central and Southeast Europe, on the Adriatic Sea. Its location has made it a desirable territory that rival empires have fought over for centuries.
After the collapse of the Austro-Hungarian Empire following World War I, Croatia became independent; along with Montenegro, Serbia and Slovenia, the new kingdom of Yugoslavia was formed in 1929. However, following the end of World War II, tensions within the Kingdom began to develop, with Croatia subsequently declaring independence in 1991, culminating in the wars that engulfed the region for the next 10 years.
Tourism began to recover after the war and has been rising steadily since. Visitor numbers reached 17,400,000 in 2017—the highest ever in Croatia's history. There is no doubt that some visitors have been drawn to the country because of the phenomenal attraction of the popular tv series Game of Thrones—some of it having been filmed in iconic locations throughout the country.
TV dramas aside, Croatia is a stunningly beautiful country with a rich cultural legacy that's particularly apparent in its architecture. Roman baths, Venetian palaces, Napoleonic forts and Slavic churches rub shoulders in a real-life history lesson set against gorgeous backdrops of misty mountains, rolling farmlands and craggy coastlines hugging the Adriatic Sea.
If you aren't tied to school holidays, try visiting Croatia from May-June or September-October; the weather during these months is still hot enough for sunbathing and swimming, but you'll miss the crowds. Of course, you can visit any time (especially as winters are relatively mild), and it is worth noting that our Croatian dental clinics are open for business throughout the year.
Where is Croatia?
Straddling central and southeast Europe with a coast on the Adriatic Sea, it is bordered to the north by Slovenia and Hungary; to the east by Bosnia & Herzegovina; and Montenegro to the south.
Why Choose Croatia for Dental Care?
According to a press release by the British Dental Association in 2018, NHS dentistry is facing a recruitment crisis. For a nation already struggling with access to affordable dental care and the uncertainty over Brexit, this is certainly not good news. It doesn't look like anyone finding it difficult to sign up with a dentist (let alone one they can afford) is going to find it any easier in the near future.
Not seeing a dentist regularly is a problem when it comes to your oral health, particularly because a large part of maintaining good dental health is with preventive care. That is to say, preventive measures, such as regular check-ups and basic maintenance procedures, such as professional teeth cleaning and dental fillings, can address small problems as they arise, thus preventing them from developing into bigger oral health issues.
As it becomes increasingly difficult to find an affordable dentist, dental tourism is becoming more of an attractive option for Brits and other nationalities across the world. After all, who doesn't want to go on holiday to an exciting new destination every once in a while? And while dental care is hardly anyone's idea of fun, the sacrifice of a little holiday time to get a clean bill of dental health for much less than at home is surely worth the effort in anyone's book.
Dentists in Croatia offer good-quality services. All dentists there study at the School of Dental Medicine in Zagreb—the only one of its kind in the country. Once qualified, dentists must become a member of the Croatian Dental Chamber to practice dentistry, but, like other dentists across the world, many undertake ongoing, lifelong training both at home and overseas in order to keep ahead of the newest techniques in dentistry, as well as to obtain specialist status.
While Croatia has its fair share of ancient cities and towns, its healthcare facilities are contemporary and modern with English-speaking dentists. State-of-the-art technologies, such as 3D scanning, panoramic X-rays and CAD/CAM (computer-aided design/computer-aided manufacture) are available to provide patients with accurate diagnoses and treatments from the simplest of procedures to the most complex.
How Much Can I Save on Dental Treatments in Croatia Compared to the UK or Eire?
You can save up to 75% on dental treatments in Croatia—and as Dental Departures guarantees the best prices, you can rest assured you'll always get the best deals.
| | | | | | |
| --- | --- | --- | --- | --- | --- |
| | UK Price (£) | Croatia Price (£) | Eire Price (€) | Croatia Price (€) | Savings |
| All-on-4 | 16,000 | 8,400 | 19,000 | 10,000 | 47% |
| Crowns | 1,200 | 400 | 1,500 | 450 | 66% |
| Fillings | 157 | 30 | 190 | 36 | 80% |
| Implants | 3,000 | 600 | 3,600 | 720 | 80% |
| Veneers | 1,400 | 400 | 1,700 | 450 | 71% |
| Dentures | 1,400 | 838 | 1,700 | 1,000 | 40% |
| Root Canal | 1,000 | 151 | 1,250 | 180 | 84% |
| Whitening | 400 | 167 | 120 | 200 | 58% |
Please note: These prices are estimates at the time of writing.
Where to Stay in Croatia?
When staying in Croatia you'll have so many options to choose from. City? Beach? Island-hopping? Off-the-beaten-track? Whether you are on a tight budget or going all-out, all eventualities are covered in terms of accommodation choices.
Will I Be Safe in Croatia?
Croatia is a safe place for tourists to visit. Crime levels are low overall and violent crime is rare. However, like any popular tourist location, petty crime, including pick-pocketing, is something to be aware of.
Is the Quality of Dental Care in Croatia Comparable to Back Home?
Croatia has become increasingly popular for holidaymakers—and where holidaymakers go, dental tourists soon follow—especially when the quality of care is so reliable. Healthcare is tipped to be one of Croatia's biggest draws (as it if doesn't have enough) and the government is committed to promoting the country as a year-round destination for medical, dental, health & wellness travellers.
For anybody considering heading abroad for medical or dental care, it's always worth your while doing some research. While healthcare facilities in Croatia are generally good, you can never take chances when it comes to your health. That's why it's important to find a reliable facility that is trustworthy and with which you feel comfortable.
Dental Departures understands this completely, which is why we always conduct our own checks so that you can choose a dentist with complete confidence. We conduct onsite visits and check legal/criminal records. We also collect patient reviews, confirm dentist qualifications and verify professional memberships—all of which you can see under each listing on our site. Clinic summaries also include facility photos, prices, maps and other useful information to enable you to make an informed choice.
Take a look at Croatia's most popular dental clinics:
What Happens if Something Goes Wrong? Is My Dental Care Guaranteed?
One of the positives of choosing a good-quality clinic is that things are far less likely to go wrong. New technologies make diagnosis and treatment planning extremely accurate these days. However, there is never a 100% guarantee with any medical or dental procedure, simply because our bodies are all different and we don't necessarily react to things in the same way.
It's worth bearing in mind that all of our clinics do offer guarantees on their treatment, which means, in the unlikely event of a problem, you can go back to the dentist to have it fixed.
Obviously, if you have undergone a complex or expensive dental procedure, you may consider it prudent to take out medical complications insurance. In this case, if you have returned home and a problem arises with your dental work necessitating a trip back to Croatia, your travel and accommodation expenses will be covered.
What Language Do the Dentists in Croatia Speak?
Croatian is, of course, the main language in Croatia. However, it's estimated that around 80% of Croatians are multilingual, with most of this group fluent in English. You shouldn't have too much trouble finding English speakers in the country—and all our top dentists are fluent in English.
What Payment Methods are Accepted in Croatia's Dental Clinics?
Croatia's dental clinics typically accept cash (the Croatian Kuna, not the Euro!), as well as debit cards, credit cards, travellers cheques and bank transfers. Check out the listings for each dental clinic on our site for a complete list of accepted payments.
When is the Best Time to Visit Croatia?
Like most of Europe, peak holiday season falls during the summer months of July and August when it's the school holidays. This also coincides with the hottest temperatures. May, June and September are also good times to visit Croatia. The weather will be warm enough to swim in the sea and all the attractions will be open, but you'll notice considerably smaller crowds.
What Else Is There in Croatia?
From ancient cities to stunning national parks and golden, sandy beaches, Croatia is blessed with a myriad of stunning locations in which to enjoy a holiday. We've summarised some of its most popular locations below:
Zagreb
Zagreb is Croatia's capital city. Situated in the northwest of the country near the borders of Slovenia and Hungary, the city's buildings reflect 18th and 19th century Austro-Hungarian architecture. With the Gothic Cathedral and 13th century St Mark's Church, it may not have the appeal of golden beaches or the Adriatic Sea, but it is certainly strong competition for other popular Central European cities, like Prague and Budapest. The Upper Town is where you'll find many of the city's iconic buildings set around cobbled streets lit by gas lamps while the Lower Town's parks, theatres, restaurants, bars, clubs and shops keep visitors occupied around the clock.
Split
Split is Croatia's second city and is located on the Dalmatian Coast. The Old Town is dominated by the 4th century Diocletian Palace, a UNESCO World Heritage Site. This site is almost like a city within a city, with hundreds of buildings inside its walls, including museums, chapels, cafes and shops. A climb up the Cathedral's bell tower is rewarded with panoramic views for miles around. Split's harbour, the seaside promenade Riva, ferry services to nearby islands, including Hvar, Vis and Korcula, plus locations that have been seen in Game of Thrones make this a particularly interesting place where you can enjoy both beach and city life.
Rovinj
Another charming old Croatian town and fishing port located on the west coast of the Istrian Peninsula. Colourful houses and Venetian-style palaces are crowded around a circular peninsula that juts out into the Adriatic Sea. Cobbled streets, a seaside promenade, some rocky beaches and umpteen waterside restaurants and cafes make for a laidback visit in this romantic setting.
Rijeka
Rijeka is a port city on Kvarner Bay in the northern Adriatic. Renowned as a gateway to the nearby islands of Kvarner Bay, the city's main promenade is lined with Habsburg-era buildings and the Croatian National Theatre has ceiling paintings by Gustav Klimt. The city is to be named the European Capital of Culture in 2020 and you will discover a buzz of activity as the place spruces up and transforms dormant spaces into bars, restaurants and other attractions. The city already has a pretty café-lined seafront so there's nothing from stopping you heading there before then (before it truly cements its place on the tourist trail).
Dubrovnik
One of Croatia's most popular attractions, the distinctive Old Town can be found behind huge 16th-century walls. Overlooking the ultramarine waters of the Adriatic, Dubrovnik is a UNESCO World Heritage Site that's packed full of centuries-old architecture. Lose yourself in the winding streets while sampling the wares at cafes, shops, bars and restaurants. Chic hotels, beaches and the fact that it doubles up as King's Landing in Game of Thrones make this a must-visit location.
Croatia certainly has more than enough stunning locations to enjoy a holiday. With Dental Departures, you will be able to find a quality-checked dentist to arrange your dental care while you are there.
Getting to Croatia
Flights are cheap and plentiful from across the UK and Eire to many locations in Croatia, including direct to Dubrovnik, Rijeka and Split.
Getting Around
There are domestic flights between Zagreb, Split, Dubrovnik, Zadar and Pula if you want to see some of the different cities in Croatia. It's also possible to hire a car, but parking may be difficult in the old walled cities, like Dubrovnik and Split. Major cities are also connected by rail and buses connect to the country's more remote villages.
Reaching the islands is possible by ferry or catamaran and getting around in town is usually best by taxi. Your hotel can arrange these, and make sure you negotiate the prices upfront because fares can differ widely.
Visa Requirements
For tourist visits of less than 90 days, visitors from the UK, EU, US, Canada, Australia and New Zealand don't require a visa.
Distance From the Country's Capital (Zagreb) to Other Tourist Destinations:
Rijeka, 103 miles (166 km)
Rovinj, 162 miles (262 km)
Pula, 166 miles (268 km)
Split, 255 miles (411 km)
Dubrovnik, 370 miles (600 km)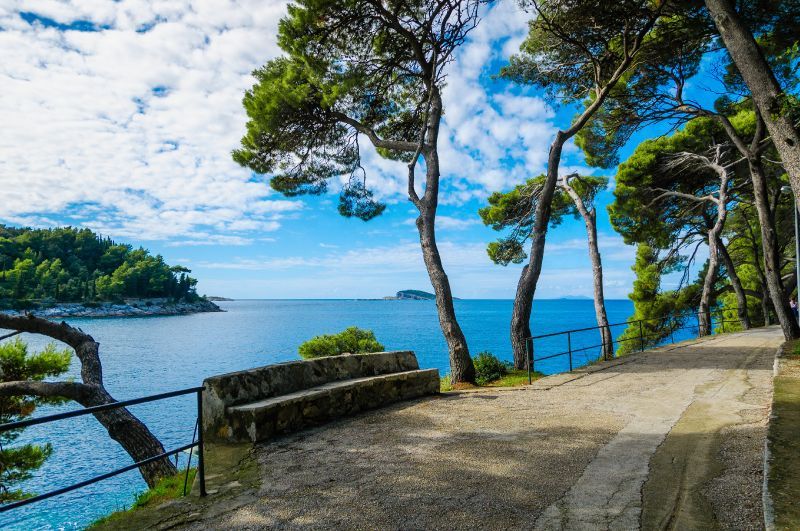 How Do I Book My Dental Appointment in Croatia?
Speak with Dental Departures' Customer Care Team to find out more about arranging treatment at a dental clinic in Croatia. We can also help you with finance, hotel bookings and insurance—or we can get you a free quote—just ask!
Or if you're ready to schedule, you can book your appointment online at any time of the day or night, at no charge to you.
Sources:
David-Barrett, Liz et al. Croatia. Encyclopedia Britannica. 19 February 2019. https://www.britannica.com/place/Croatia
NHS Dentistry Facing Recruitment Crisis. British Dental Association. 4 February 2018. https://bda.org/news-centre/press-releases/nhs-dentistry-facing-recruitment-crisis
Dental Check-Ups. NHS. 17 September 2018. https://www.nhs.uk/live-well/healthy-body/dental-check-ups/
Burhenne, Mark. Know Before You Go: Teeth Cleanings. Ask the Dentist. 18 January 2019. https://askthedentist.com/know-before-you-go-teeth-cleanings/
Dentistry. Patients Beyond Borders. Website accessed: 13 February 2019. https://patientsbeyondborders.com/procedure/dentistry
5 Reasons Why Healthcare is The Next Big Thing in Croatian Tourism. TimeOut. 12 February 2018. https://www.timeout.com/croatia/things-to-do/5-reasons-why-healthcare-is-the-next-big-thing-in-croatian-tourism
Best Time to Visit Croatia. On the Go Tours. 11 January 2019. https://www.onthegotours.com/uk/Croatia/Best-time-to-visit
Historical Complex of Split with the Palace of Diocletian. UNESCO. Website accessed 13 February 2019. https://whc.unesco.org/en/list/97
Rijeka's European Capital of Culture 2020 promo video released. Croatia Week. 25 March 2019. https://www.croatiaweek.com/rijekas-european-capital-of-culture-2020-promo-video-released/