Last fact-checked: 11 February 2020
Repair damaged teeth and improve your appearance while on holiday by booking your dental crowns in Thailand.
Those in-the-know are traveling to Thailand for dental crowns, mainly thanks to the lower prices compared to back home. This Dental Departures guide walks you through what this treatment entails, as well as prices and how to get started with your dental tourism trip.
Why Have Dental Crowns in Thailand?
Amazing hospitality, a landscape that ranges from lush mountains to white sandy beaches, world-renowned cuisine and countless activities to try… we could go on. It's little wonder why Thailand's popularity shows no sign of decreasing.
Its 'Land of Smiles' reputation is now becoming synonymous with expertise in dentistry (rather than just the friendly locals), with many patients who have undergone care here insisting that Thailand's standards surpass their service and expectations at home.
No matter where you are in the country, it's evident that Thailand is committed to providing first-class care and hospitality for international dental tourists. This is especially true in the major cities and tourist resorts, like Bangkok, Chiang Mai, Phuket and Pattaya, where you will find quality facilities with well-qualified and highly-skilled dentists.
Dental and medical care are competitive, which means that dental clinics strive to provide the best services to ensure they have an edge over competitors. This is good news for patients as it keeps prices lower while guaranteeing that dental clinics will provide quality services.
Thai dental clinics have state-of-the-art facilities and equipment and are careful to maintain excellent standards of hygiene and safety in line with international protocols. Labs in Thailand have access to the same materials as your dentist at home, which goes to show that paying lower prices doesn't equate to substandard dental treatment in Thailand.
How Long Do Dental Crowns Take in Thailand?
The procedure for dental crowns usually takes two or three days; you'll need an initial appointment on day-one and another follow-up three to four days later, with any lab work carried out in between. Clinics with on-site laboratories will be able to complete dental crowns in just a couple of days, sometimes even the same day.
To prepare your tooth for a crown, the dentist will first thoroughly clean and shape the tooth with a drill. Impressions are made and sent to the lab. Before you leave (and get to enjoy island life for the next few days), the dentist will fit a temporary dental crown for protection.
On your second visit, the temporary crown is removed and the surface of the tooth is filed down in preparation to receive the permanent crown. Once you and your dentist are happy with the crown's fit, shape and color, it will be firmly cemented in place.
How Much Can I Save on Dental Crown Treatment Compared to Australia or New Zealand?
Dental crowns in Australia start from around AUD $1,200 whereas you can expect to pay the equivalent of around AUD $264 in Thailand. Zirconia crowns are around AUD $1,500 in Australia compared to just AUD $444 in Thailand.
It's worth noting here that the materials used for your crown will affect the price. If price is one of your main concerns, then porcelain-fused-to-metal (PFM) crowns are usually the best choice. If you'd rather go with the most natural-looking (also the most hard-wearing and long-lasting), then the slightly more expensive zirconia is a better option. Your dentist will discuss the merits of each type of material with you during your first appointment.
As you review our clinics and dentists you will find dozens of high-quality, well-reviewed facilities throughout Thailand. Some of our patients' favorites:
● Bangkok International Dental Center (Bangkok)
● Sea Smile Dental Clinic (Phuket)
● The Dental Design Center (Pattaya)
● Dental 4 You (Chiang Mai)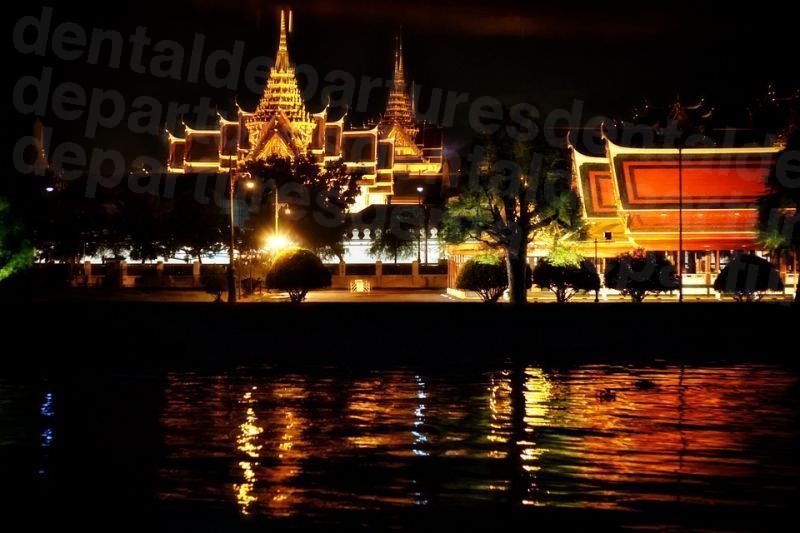 Can I Book an Appointment Online?
Yes–you can book an appointment with any of our listed clinics for your Thailand dental crowns with Dental Departures. Read reviews, compare prices, check-out photos and uncover exclusive discounts, as well as our best price guarantee. You can talk to us anytime via our free online chat, phone number or email.
Sources:
Dental Council (Thailand). Website accessed: 28 February 2019. http://www.dentalcouncil.or.th/en/" target="_blank
Statistics International Tourists Arriving in Thailand as of 31 January 2019. Association of Thai Travel Agents. January 2019. http://www.atta.or.th/?p=4019" target="_blank
Crowns. Dental Health. Website accessed: 28 February 2019. https://www.dentalhealth.org/crowns" target="_blank
Different Types Of Dental Crowns. Colgate Oral Care Center. Website accessed: 28 February 2019. https://www.colgate.com/en-us/oral-health/cosmetic-dentistry/bridges-and-crowns/different-types-of-dental-crowns-0215" target="_blank