Last fact-checked: 16 September 2022
Save up to 75% on dental implants in Turkey at one of our quality-checked, fully-verified clinics. Dental Departures has partnered with some of the top implant dentists abroad, with more and more Brits and other Europeans discovering the advantages of traveling to Turkish cities like Istanbul, Antalya, Izmir and the capital of Ankara to restore their smiles while enjoying a beach or city break.
In this guide, discover the cost of dental implants in Turkey, as well as recommended clinics, tips for travelling and how different procedures can help permanently replace missing or failing teeth–without resorting to traditional dentures.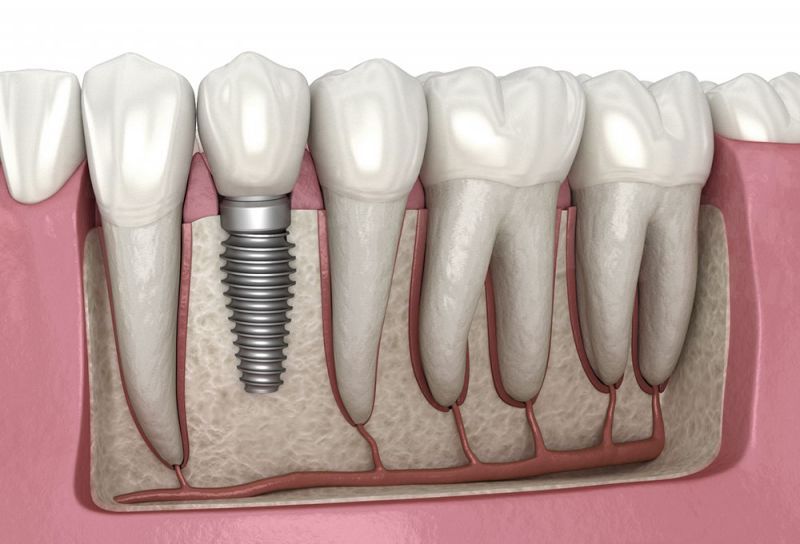 Dental implant. (2022, September 10). In Wikipedia.

Turkey Dental Implants Price vs the UK
Why Are Prices Lower in Turkey?
Dental implants are cheaper in Turkey thanks to the country's lower cost of living compared to the UK and other EU nations; coupled with a favorable exchange rate compared to the pound or euro, this has a knock-on effect, making overhead costs for clinics much more manageable, and thus lowering prices.
Specifically, office space rental fees, dentist salaries and other operational costs are all much more affordable compared to clinics in London, Manchester, New York, Berlin, Paris or Zurich.
How Much Are Implants in Turkey?
Before we go any further, check out the below price comparison and see how you can save on dental implants in Turkey (compared to private dentists in the UK)... without compromising on quality:
Type of Implant Procedure

Average Cost in the UK:

You Pay in Turkey:

Single Dental Implant (without crown)

£1,500 - £2,000
(€1,700 - €2,300)

£500 - £900
(€580 - €1,000)

Single Dental Implant with Crown + Abutment

£2,500 - £3,000
(€2,900 - €3,400)

£600 - £1,000
(€700 - €1,150)

All-on-4 Implants (per jaw)

£12,000 - £15,000
(€13,800 - €17,100)

£3,000 - £5,000
(€3,400 - €5,700)

3 on 6 (per jaw)

£17,000 - £19,000
(€19,600 - €22,000)

£7,000 - £9,000
(€8,000 - €10,400)
Please note: Prices are based on average prices provided by our partner clinics at the time of writing.
Why Choose Turkey for Dental Implants?
Turkey has emerged as one of the most-visited countries in the world for Brits, EU nationals and patients from the Middle East seeking more affordable medical treatment, with dental care (alongside hair transplants and cosmetic surgery) as one of the most sought-after areas of treatment.
Turkey's rise as a global dental tourism hotspot is summarised below:
Lower Cost of Care: As you can see from the table above, patients can expect to save between 50% and 70% on dental care in Turkey.
Thus, when looking at dental implant prices in countries like England, Germany and Italy, patients are able to save a tidy sum when replacing a single tooth–at least enough to cover the cost of a well-earned holiday. More impressively, full mouth restorations in Turkey (with two full-arch fixed bridges attached to 4 or 6 implants per jaw) may well end up costing £10,000 - £20,000 less than back home.
With increased awareness of Turkey's significantly lower prices, patients who'd normally not be able to afford these types of implant-retained "hybrid dentures" are thinking twice about settling for the most common and cheapest teeth replacement solution, i.e. traditional plastic dentures that are prone to slipping and require daily maintenance.
Short Waiting Times: Upon booking an appointment in Turkey through Dental Departures, patients are generally able to start their treatment within a week or two, if not sooner. This is in stark contrast to the situation in the UK and EU, where waiting lists to see an NHS dentist are at an all-time high–up to three years in some cases.
Even for time-critical treatment, such as root canal therapy to save an infected tooth, millions of Brits are being forced to wait months on end due to the lengthy backlog and exodus of qualified professionals. For basic check-ups, waiting times in parts of the country are now measured in years, not months.
This is forcing patients to seek expensive private care–or in extreme cases–take matters into their own hands, such as using self-prescribed pain medication or finding potentially dangerous DIY dentures and veneers on social media.
Quality of Care: The past two decades have seen the rise of hundreds of high-quality clinics in Turkey–and the very best of these can be found listed on the Dental Departures site.
And if you are hesitant to travel abroad for treatment after reading sensationalist "horror stories" in the press, don't let this unrepresentative reporting dissuade you: Our strict verification process ensures that all of our partner clinics are staffed by fully licensed, knowledgeable and experienced practitioners with the right expertise to carry out specialist procedures, like dental implant surgery.
Quality is further assured by dentists' gleaming track records, which we monitor on a constant basis, as well as memberships with professional organizations, like the International Congress of Oral Implantologists. Clinics also adhere to world-renowned regulations, such as those outlined by the International Organization for Standardization (ISO) and other agencies.
Combined Holiday: Key tourist destinations, especially Istanbul, Izmir, Antalya and nearby resort towns dotted across the Southern Turkish Riviera, are all easy to reach from across Europe and the Middle East, making this an ideal spot for a well-earned holiday.
Flight times from London are approximately four hours, and with budget-friendly airfares and a favorable exchange rate with the Turkish lira, patients from across Europe can really maximize their savings while making the most of their downtime between appointments.
In addition, formal visas are not required for UK nationals for all but one EU member state, meaning it's free to enter the country when staying for 90 days or less. (Click here for the latest UK entry requirements into Turkey).
Other Reasons to Go to Turkey for Teeth Implants:
Our partner clinics across Turkey work with English-speaking dentists, with additional translation services available in languages like Russian, Spanish and Arabic.

The best Turkish dentists place guarantees and warranties on the lifespan of implants, as well as fixed prosthetic teeth like crowns and hybrid dentures.

Success rates are high, with implant survival rates similar to, if not better than, those back home.

Clinics are becoming increasingly geared towards welcoming international dental tourists, offering inclusive services like free x-rays, consultations, airport transfers, and accommodation in Turkey.

With ongoing promotional packages, you'll know exactly what you're paying for the whole course of treatment before you go–so there is no need to worry about any hidden extras.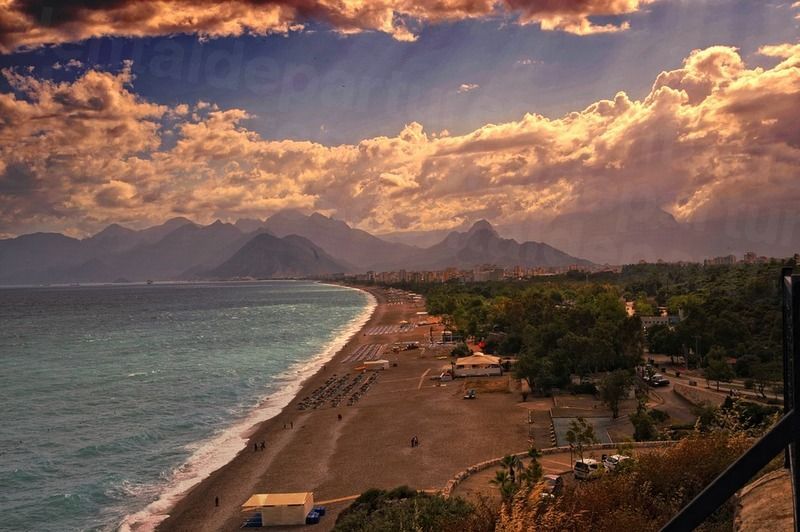 Costs of Different Types of Dental Implants in Turkey
The type of treatment you opt for is the most important factor determining the price of implants in Turkey.
Procedures range from replacing a single missing or damaged tooth with a titanium implant and crown, all the way to full mouth rehabilitation where four, five or six implants are used per jaw to support a full row of prosthetic teeth (eg. eg. full-arch bridge or "All-on-6").
Costs will also depend on the material used to manufacture the crown or bridge. For example, the most affordable option may be porcelain-fused-to-metal (PFM), while the more natural-looking all-ceramic, long-lasting zirconia, or ultra-durable e.max (ceramic with lithium disilicate) options may cost a little more.
Read More: Ultimate Guide to Crowns in Ankara, Turkey
Types of Implant Treatment + Average Costs
Implant with crown and abutment: this two-stage treatment involves the placement of a titanium post into the jawbone; once fused, a crown is placed using an adjoining abutment approximately three to four months later.
> Average price in Turkey: £600 - £1,000 (€700 - €1,150)
All-on-4 / All-on-6: this full-arch restoration system is provided by top dental implant manufacturers such as Nobel Biocare® (All-on-4® treatment concept), Straumann® (Pro Arch®), Osstem® and BioHorizons®. In short four or six (depending on jawbone viability) are surgically placed into each jawbone; following a process of osseointegration (3-4 months), the patient returns for a full-arch fixed bridge (or "hybrid denture") to be permanently attached. Patients can opt to replace a single arch or go for dual arch surgery, which may also be described as a full mouth reconstruction / full smile makeover / full mouth restoration.
> Average All-on-4 price in Turkey: £3,000 - £5,000 (€3,400 - €5,700)
Zygomatic implants: Zygomatic implants are longer and designed for patients who do not have enough viable bone density for traditional, shorter titanium implants. Instead, they are placed into the zygomatic bone, rather than the jaw, and can often be used to support a full arch-fixed bridge as part of a full mouth restoration. (Please enquire within for prices)
3-on-6: Instead of using one full-arch bridge like an All-on-4/All-on-6, this innovative treatment involves the placement of 3 interconnected bridges that link together to form a brand new set of teeth. Each bridge is attached to two implants, hence the name, 3 (bridge) on 6 (implants).
> Average price in Turkey: £7,000 - £9,000 (€8,000 - €10,400)
Read More: Ultimate Guide to 3 on 6 in Turkey
Top Locations for Dental Implants in Turkey
The majority of dentists geared toward welcoming patients from abroad are located in the country's largest and most visited city of Istanbul. This iconic city, straddling both Eastern Europe and Western Asia can be reached within 4 hours from the UK, with direct flights from dozens of major airports from all across Europe.
> Find our full list of verified Implant Dentists in Istanbul here
For those looking for a combined dental in Turkey holiday where the beach is never too far away, the popular city of Antalya–or one of its many nearby coastal towns–makes perfect sense. Surrounded by attractive seaside towns, like Alanya or Side, the area retains much of its own identity by not being too overdeveloped, while the spectacular mountain terrain toward the north is host to endless activities for adventure seekers.
> Find our full list of verified Implant Dentists in Antalya here
This historical Turkish port city is known for its attractive waterfront location, with a bustling harbour dotted with restaurants, cafes and bars overlooking the Aegean Sea. It's a great setting to while away the hours as the sun goes down with a cocktail, or to take in a stroll after enjoying some of the region's fine cuisine, known to be some of the best in the country. Izmir can also be used as a hand base to reach a nearby beach resort on the Aegean coast.
> Find our full list of verified Implant Dentists in Izmir here
As the country's capital, Ankara is home to a growing number of large hospitals and clinics that are dedicated to welcoming international medical tourists, with many coming in search of more affordable mouth restorations in Turkey. While not the most-visited city in the country, Ankara still boasts plenty in the way of historical and cultural attractions, as well as bustling dining and nightlife scenes.
> Find our full list of verified Implant Dentists in Ankara here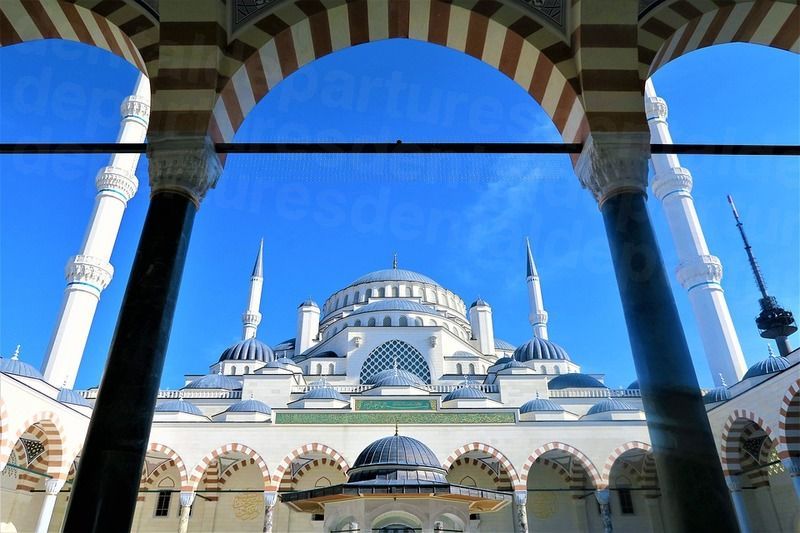 Finding the Best Clinic & Dentist For You
Dental Departures has teamed up with the best dental clinics in Turkey to offer you low-cost dental care that you can rely on.
We carry out a number of background checks on all the verified facilities you see on our website, including onsite visits and publication of real patient reviews, maps and prices. We also confirm dentist qualifications and professional memberships. You can search our listings and see all this information for free, helping you to make an informed decision about which dentist to choose for your dental implants.
Verification Process of Clinics
Our verification process involves:
Looking into dentists' professional and educational background

Conducting legal investigations into the clinic

Cross-referencing licenses and certifications with professional boards

Asking for proof of dentists' memberships with professional boards in Turkey and abroad

Interviewing past patients–asking them about their experience

Taking first-hand photos of clinic exteriors and interiors, featuring their dental technology used to carry out diagnostics and evaluations, such as digital 3D/panoramic imaging and CT scanners.

Monitoring reviews and what people are saying online; if we spot a potential problem, we'll look into the matter so you don't have to.
All this information is available on our clinic listing pages.
Why Book with Dental Departures?
Advantages of using our site (or Customer Care Team) to book your appointment include:
Free access to a database of more than 200 clinics in Turkey, as well as thousands of other dentists around the world

Transparent price estimates that you can see on each of our listing pages

24-hour customer support before, during and after your dental holiday in Turkey

Best Price Guarantee: if you find a better price online, we'll match it

Exclusive promotions, often featuring free hotel stays and airport transfers

No upfront payments–no credit card details required to book an appointment

Our team can facilitate remote video consultations with your chosen dentist, helping ease any worries you may have before you fly

Travel tips, including guidance on required documents and visas, accommodation and more
Top Clinics in Turkey for Dental Implants
To get started on your search for a top implant dentist in Turkey, take a look at our recommended clinics–with each page featuring prices, photos, implant reviews, maps, doctor information and more.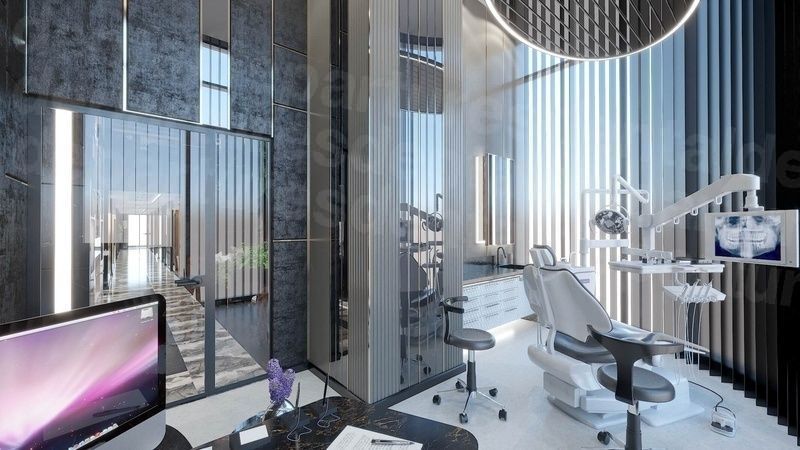 The ultra-modern BergDent Clinic in Istanbul
In Brief: Dental Implant Procedure Stages
How Long Will Treatment Take?
It's important to bear in mind that the complete procedure typically takes two trips—and sometimes three if you have bone loss and need to have a bone graft prior to the implant procedure.
For each trip, which should be 3-4 months apart, plan to stay for between 5-7 days in Turkey, depending on the extent of your treatment.
Stages of Dental Implant Treatment in Turkey
A typical dental implant procedure consists of two main parts:
Stage 1: The implant acts like a tooth root and is fitted on your first visit. Like a tooth root, it is hidden under the gum line, and so once placed, you won't see the implant at all. For the procedure, your mouth is first numbed and the dentist makes an incision into the gum to access the jaw bone. The implant is placed into your jaw and the gum stitched over. The implant will then need to be left to heal and fuse with your jawbone in a process called osseointegration, which can take several months to achieve.
It should also be noted that this stage will generally involve an initial consultation with your dentist (not necessarily on the same day as surgery). Before you leave Turkey, you may be asked to come back to the dentist for a check-up, to see how the gum has responded, as well as to fit a temporary crown or bridge that should be worn for the next few months.
Stage 2: After 3-4 months, which should be enough time to allow the implant(s) to integrate with the bone and gums to heal, you will return to your dentist in Turkey for the final restoration. Once evaluated and happy with your condition, the temporary crown/bridge will be replaced with a heavier, more durable and ultimately permanent version.
You will be given a local anaesthetic and the gum will be opened up so the dentist can attach the abutment to the implant. The abutment protrudes above the gumline and is the means by which your crown is attached to the implant. Once the abutment is placed, the crown (false tooth) is attached and your dental implant treatment is complete.
Note: During both trips, you will need to see the dentist 5-10 days after each part of the procedure so that they can ensure everything is healing as it should be and there are no signs of infection.
Brands of Dental Implants Used in Turkey
While some Turkish dentists use domestic brands to save on costs, the top clinics in the country will tend to work with world-renowned manufacturers that provide everything from the implants themselves to the material (used to create prosthetic teeth), specialized hand tools, software and strict guidelines as to how the procedure should be performed.
Popular dental implant brands include:
BioHorizons®

MIS®

Dentsply Sirona®

Zimmer Biomet®

Nobel Biocare®
Am I a Suitable Candidate?
It should be noted that not all patients are suitable candidates for traveling to Turkey for dental implants, particularly full mouth restorations/reconstructions.
A provisional online assessment can be made by your chosen dentist in Turkey before you travel. Dental Departures can assist in this process by sending through your digital x-rays, which can be taken by your local dentist, who may also be able to assess your suitability for a small fee.
Due to the unique placement of different types of implants in certain systems, patients with bone loss or diminished bone density may still be viable candidates for full-arch replacements.
For those initially deemed not suitable for dental implants, procedures and techniques such as bone grafting, sinus lifts or opting for alternative implants, like zygomatic implants, may be a viable workaround option.
Patients should also be in good overall health and quit smoking several months before the surgery. Pre-existing medical conditions, like diabetes, should also be discussed with your dentist before treatment commences.
Visiting Turkey as a Dental Tourist
With more than its fair share of history–from empires including the Roman, Byzantine and Ottoman–this strategically placed nation on the Silk Road has fascinating legacies to discover. From Patara's ancient ruins rising incongruously from a Mediterranean beach to the massive splendour of Topkapi Palace in Istanbul, you can experience the past through these relics that have withstood the test of time.
Turkey's diverse landscapes provide the usual Mediterranean vistas of olive groves and miles of sandy, white beaches. But it also has uniquely wonderful topography you won't see anywhere else—Cappadocia's chimney rock formations and the travertine terraces of Pamukkale number among its most famous attractions.
You'll find all the trappings for a great holiday: restaurants, bars and shopping, as well as activities including windsurfing, diving, kayaking and canyoning in the mountains, traditional gulet cruises around the Aegean and Mediterranean, hot-air-balloon rides over Cappadocia and even paragliding off Babadag Mountain in Oludeniz.
And of course, before or between visits to the dentist, there's always the opportunity to try a Turkish kebab, get a massage in a traditional hammam (Turkish bath) and barter for trinkets, spices and lamps in a Turkish bazaar.
For more information about visiting this spectacular country as a dental tourist, visit our Ultimate Guide to Dentists in Turkey here.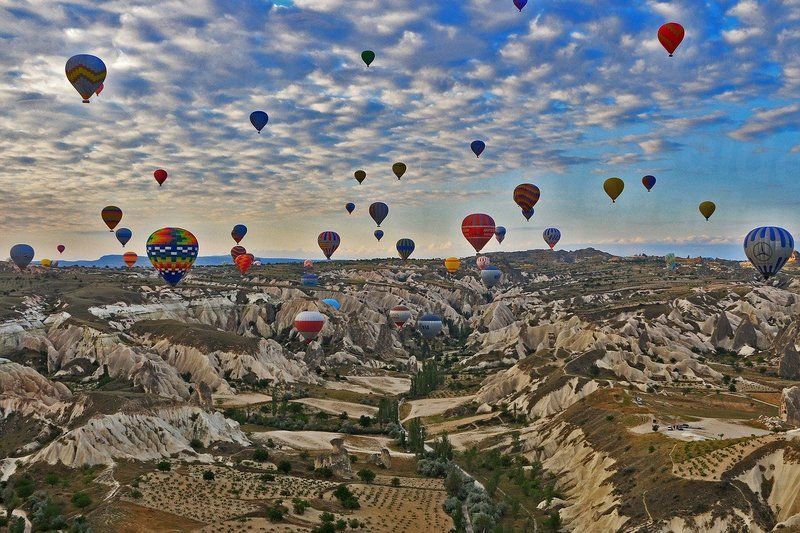 FAQs
Q. How Much Can I Save on Getting Dental Implants in Turkey?
A. Prices are typically 50% - 70% lower than in the UK. This can add up to savings of over £20,000 for patients seeking full mouth restorations in Turkey.
Q. Is it risky to undergo treatment in Turkey?
A. When booking at a Dental Departures-verified clinic, dental implant treatment in Turkey carries the same very small risk as any top dentist back home. Take a look above at the section outlining our strict dentist screening process for more information.
Q. Should I choose crowns or dental implants for my smile restoration?
A. Our partner dentists will be able to give you a free consultation, and we can arrange for an initial meeting online before you fly to help you decide. After proper evaluation and diagnosis, they will be able to give you the right advice according to your goals and budget.
Q. Can I get only my top teeth replaced?
A. Yes, this is known as a partial smile makeover and can be done on the top or bottom rows of teeth. Full mouth restorations require dual arch surgery.
Q. Is dental implant surgery painful?
A. No–apart from the prick of a needle. Dentists use a local anesthetic to numb all of the affected area, and light sedation may also be available to help you feel more comfortable. However, following treatment, the gums tend to be quite sore, so a short course of painkillers is normally prescribed.
Getting Started with Dental Departures
First, take a look at our full list of over 200 dentists for the best dental implants in Turkey.
You can go right ahead and book an appointment online for your dental implant in Turkey, or ask for a free, no-obligation quote.
If you have any questions about dental tourism in Turkey, then our Customer Care Team is always happy to assist, so get in touch via the online chat, or the free phone number.
Sources:
Green, R & Rogers, L. Full extent of NHS dentistry shortage revealed by far-reaching BBC research. BBC News. 8 August 2022. https://www.bbc.com/news/health-62253893
International Congress of Oral Implantologists. Website accessed: 9 September 2022. http://www.icoi.org/membership-credentials/
ISO. Website accessed: 9 September 2022. https://www.iso.org/home.html
Turkey. Gov.uk. Website accessed: 9 September 2022. https://www.gov.uk/foreign-travel-advice/turkey/entry-requirements
People in England 'face three-year waits for dentist appointments' The Guadian. 24 May 2021. https://www.theguardian.com/society/2021/may/24/people-in-england-face-three-year-waits-for-dentist-appointments
Hodges, John A. DDS. Full-arch, dental implant-supported bridges: Why offering coverage may save medical insurance companies money. Dentistry IQ. 30 August 2016. https://www.dentistryiq.com/dentistry/article/16352459/fullarch-dental-implantsupported-bridges-why-offering-coverage-may-save-medical-insurance-companies-money
Misch, Dr. Carl E. The Hidden Consequences of Losing Teeth. The Doctor: Dentistry and Oral Health. Website accessed: August 2022. https://www.deardoctor.com/articles/hidden-consequences-of-losing-teeth
Hiossen Implant. Website accessed: August 2022. https://hiossen.com/
Neodent - Staumann. Website accessed: August 2022. https://www.straumann.com/neodent/gb/en/professionals.html