Last fact-checked: 19 February 2020
Save a substantial amount on the cost of dental implants in Izmir, Turkey. Dental Departures guarantees the best prices , allowing you to save up to 80% at one of our quality-checked dentists.
But first of all, what should I know about visiting Izmir, be it for dental care, a holiday or both?
The historical Turkish city is characterised by its pretty waterfront location, with an attractive harbour dotted with restaurants and bars overlooking the Aegean Sea. It's a lovely setting to watch the setting sun with a cocktail in hand as the world goes by, or to take in an evening stroll after a leisurely meal (although it's best to do any restaurant-hopping before your dental treatment). The city is a gateway to many beach resorts on the Aegean coast, and its laid-back lifestyle, wonderful bazaars and cultural attractions make it a good location for dental tourists.
If you're a beach bunny then there's no reason why you can't use Izmir as a base, spending time here for your dental work and then heading off along the coast, or to Ephesus—home to one of the original Seven Wonders of the World and a good day trip from town.
What Is a Dental Implant? Would it Be Suitable for Me?
Dental implants are the Rolls Royce of tooth replacement options. Unlike other non-permanent solutions (like dentures), or those that compromise surrounding teeth ( crowns), a dental implant is a permanently-fixed, secure method of replacing single or multiple teeth.
The implant is embedded into your jaw, just like a tooth root, and with a crown (false tooth) attached, it looks, feels and acts exactly like your own tooth. You don't have to worry about it slipping or falling out - plus, there is some evidence that dental implants can actually be beneficial to dental health by halting the onset of bone loss.
Most people with good oral health are suitable for dental implants. However, if you have lost a tooth as a result of periodontal disease, you may have suffered significant bone loss in the jaw, making the placement of the implant difficult. If there is no bone, there is nothing for the implant to attach to. In this case, all is not lost: a bone graft procedure prior to the implant may be possible. This augments the bone to provide a solid base for implant-bone integration.
Why Should I Consider Going to Izmir for Dental Implants?
For British and Irish patients struggling to pay for treatment at home, Turkey offers a much more affordable alternative. Already a popular holiday destination, Turkey is famed for its impressive historic architecture, beaches and vast array of leisure activities. While there was a bit of hiatus with the attempted coup and terrorism a few years ago, holidaymakers are now returning in their droves. For Brits especially, with the pound falling in value against the Euro and the Dollar, the exchange rate against the Turkish Lira is one of the few currencies where the pound remains strong—so Turkey is one place where Brits will get more for their money. For example, just over £50 can get you a night at one of Izmir's five-star, city center or waterfront hotels.
Turkey has become a notable spot for dental tourism in Europe. Dental clinics that cater to international patients tend to be staffed by skilled clinicians who can comfortably converse in English. Dentists in Turkey are well-qualified and clinic facilities meet internationally recognized health and safety standards while being equipped with the latest diagnostic and therapeutic technologies, including 3D/CT scanning, computer-aided design/computer-aided manufacture (CAD/CAM) and digital x-rays.
We always recommend spending some time fact-finding before you fly—you need to have total confidence in your chosen clinic and dentist. However, with so much paid-for content and falsified reviews online nowadays, finding a truly reliable dentist abroad is easier said than done. To make life easier, we've already carried out our own background checks. Dental Departures only partners with facilities that have good-quality standards. We conduct onsite visits and check legal/criminal records, as well as confirm dentist qualifications and verify professional memberships.
You can see all of this information neatly packaged under each clinic listing, together with independently-verified patient reviews, prices, location maps and clinic photos—giving you the opportunity to make your own decision as to which clinic in Izmir—or anywhere else in the world—is right for you.
Below are some of our top-rated dental clinics in Izmir for implants:
● Dent KM
How Much Can I Save on the Cost of Dental Implants in Izmir Compared to the UK or Ireland?
You can save an incredible 80% on dental implants in Izmir. This equates to savings of over £2,000 per tooth! Compare the prices you would expect to pay at home in the table below:
| | | | | | |
| --- | --- | --- | --- | --- | --- |
| | UK £ | EUR € | US $ | CAN $ | AUS $ |
| Dental Implant Prices At Home | 3,000 | 3,600 | 3,900 | 5,200 | 5,100 |
| Dental Implant Prices in Izmir | 600 | 690 | 780 | 1,000 | 1,100 |
What Is the Procedure for Dental Implants?
The procedure for dental implants typically requires two trips to the dentist—and if you need a bone graft it will normally be three.
If you do have a bone graft, you will have to wait at least a year following the procedure, as time is needed for your body to create new, healthy bone tissue that can accommodate an implant.
The first step is the placement of the implant. This is carried out under local anaesthetic or conscious sedation and will involve the dentist making an incision in the gum line to access the jaw bone beneath. A small hole is made in the jaw and the dental implant placed. The gum is stitched back in place over the implant and stitched. Once the stitches have dissolved, you won't see any evidence of the implant in your mouth as it is all hidden underneath the gum. A period of three months is then required for the implant to fuse with your jaw bone in a process called osseointegration.
On your return to the dentist, the replacement tooth or teeth will be attached to the implant. This part of the procedure can be carried out under a local anaesthetic as it doesn't take too long. The dentist opens up the jaw again to expose the implant. The implant is joined to the crown or crowns by an abutment. This is screwed into the implant and the upper part protrudes through the gum. To complete the final step of the procedure, the crown is secured to the upper part of the abutment.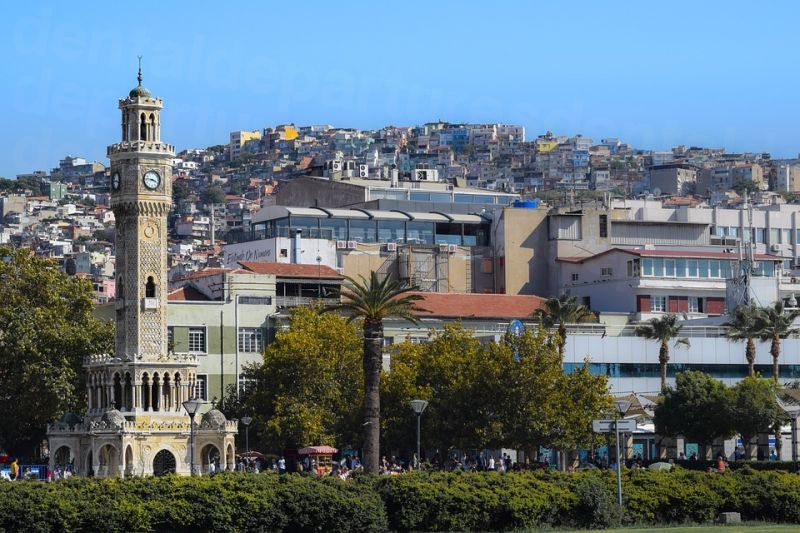 Booking Dental Implants in Izmir
You can connect with Dental Departures' Customer Care Team to get a free quote or further information about dental implants in Izmir—or simply book directly online through any of our listing pages.
Now is a great time to receive that dental implant in Turkey with the favourable exchange rates. So, don't dally and combine your trip with a holiday for the most cost-effective way of improving your smile.
Sources
Ephesus. UNESCO. Website accessed: 26 April 2019.
ttps://whc.unesco.org/en/list/1018
Misch, Carl E. How Dental Implants Stop Gradual Bone Loss and Replace Teeth. Dear Doctor. 8 January 2011. https://www.deardoctor.com/articles/hidden-consequences-of-losing-teeth/" target="_blank
Krans, Brian. Bone Graft. Healthline. 6 November 2018. https://www.healthline.com/health/bone-graft" target="_blank
Burhenne, Mark. Your First Dental Implant Procedure: What to Expect. Ask the Dentist. 18 January 2019. https://askthedentist.com/dental-implants/" target="_blank
Turkey: High-quality Dental Tourism Booming. Affordable Luxury Travel Co. 21 February
2019. https://affordableluxurytravelco.com/2019/02/21/turkey-high-quality-dental-tourism-" target="_blank